For many moms a nursing pillow is a must. It's almost like a rite of passage. All of my friends have them and so do I! However, I always noticed that after the first few months those once well-loved pillows are typically cast aside. In fact, I see them for sale on resale pages and at garage sales all the time!! While these pillows are great for nursing and helping to cushion/prop up a baby who is just learning to sit up, they don't have much use beyond that short period.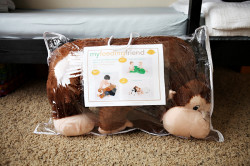 Julie Menconi, mother of four former nurslings, felt that typical nursing pillows left a lot to be desired and came up with the idea of a grow-with-me nursing pillow. My Feeding Friend is a line of four adorable "pillows" that can be used throughout many stages of a child's life. It serves as a cute and cozy breastfeeding support pillow, a cuddly tummy time friend, soft support for sitting up, and finally as a familiar and comforting bedtime buddy for toddlers.
Samuel and I were sent an adorable My Feeding Friend – a monkey! I could tell right away that this little primate was going to be a big hit with Samuel. As soon as I pulled it out of the package Sam was grinning. Of course, I decided to try it out immediately, so I scooped Sam and the monkey up and we settled in to nurse. I would love to say that it went great, but it didn't. The problem – Sam was much too busy cuddling his new monkey to bother with nursing! Every time I thought he had decided to nurse, he suddenly turned his head and buried his face in the monkey's fur, all the while giggling. It was hilarious! Needless to say, I ended up just putting both of them on the floor to play.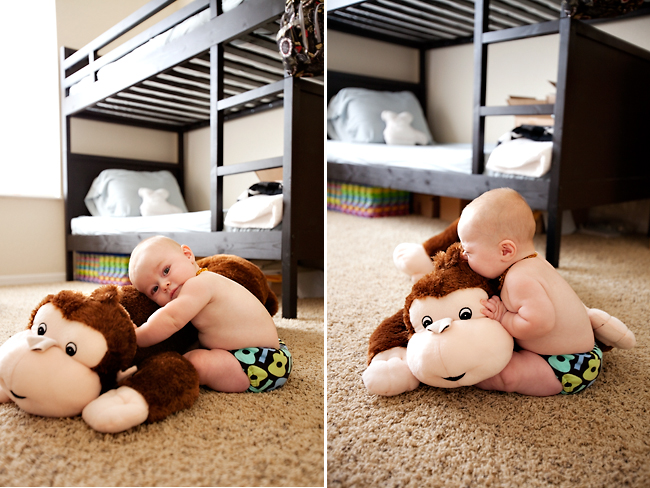 Since then we have managed to successfully nurse using our new pillow. Admittedly, it has taken some getting used to. It is much longer than the pillow I am used to using and doesn't wrap around my body as easily. However, because it is longer I can tell it will be more comfortable in the long run as Samuel grows taller because he won't outgrow it nearly as fast.
Samuel also loves to sit on the floor with his monkey and cuddle it. And as most 6-month olds will, he also tries to eat it. One word of caution: When you first receive your My Feeding Friend, shake it out a bit before giving it to your little one to play with. I found that our monkey lost bits of loose fur here and there during the first couple of days. I was careful to make sure Samuel didn't eat any of it, and now it is no longer a problem.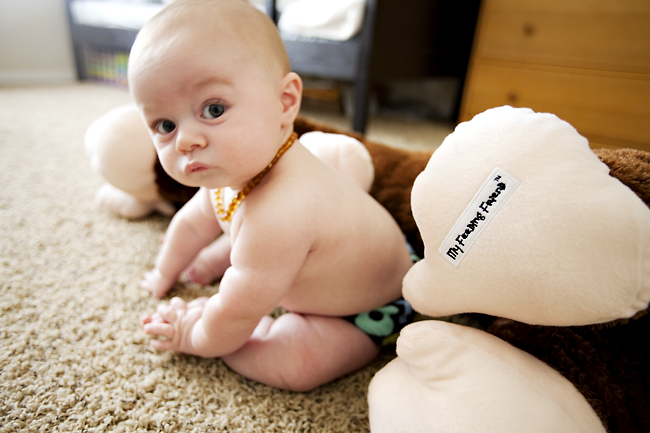 My Feeding Friend comes in the form of four different animals, a tiger, a puppy, a turtle and a monkey, with more animals slated for distribution in 2013.
Overall, I think this is a great idea. It is really sweet to think that Samuel can use his monkey while nursing and sitting up now, and still use it years from now as a cuddly nighttime companion.
Buy It:
You can find My Feeding Friend
here
or on Amazon.com