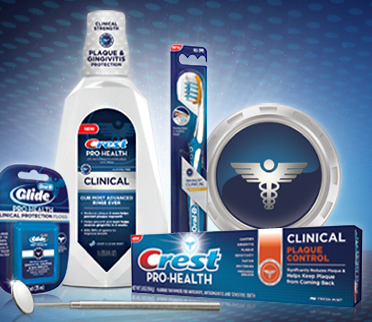 About a month ago, I wrote about the new Oral-B and Crest Pro-Health Clinical Plaque Control line of products, which helps us keep that "dentist clean" feeling for longer. The four products included are:
Crest® Pro-Health® Clinical Plaque Control Toothpaste, which helps remove plaque and prevents it from returning. This toothpaste also protects against gingivitis, cavities and tooth sensitivity and it whitens teeth and freshens breath.
Crest® Pro-Health® Clinical Rinse is the most advanced rinse ever from Crest and provides clinical strength plaque and gingivitis protection. It's clinically proven to reduce plaque and help prevent plaque regrowth. Additional, it prevents and reverses gingivitis in as little as two weeks. It also kills 99% of germs to prevent bad breath.
Oral-B® Pro-Health ® Clinical Pro-Flex Toothbrush has individual "Pro-Flex" sides that adjust to the unique shape of each person's teeth and gums. This results in more efficient plaque removal than other manual toothbrushes. It removes up to 93% of plaque in hard-to-reach areas, reduces gingivitis and up to 34% more plaque removal along the gum line and is gentle on enamel and gums.
Oral-B® Glide ™ Pro-Health ® Clinical Protection Floss works to prevent cavities by effectively removing plaque and bits of food from between teeth. In removing plaque, the floss can reverse gingivitis within 2 weeks as part of a full dental health routine. It slides up to 50% more easily in tight spaces than regular floss picks and gently stimulates gums. The light coating of wax allows for better grip.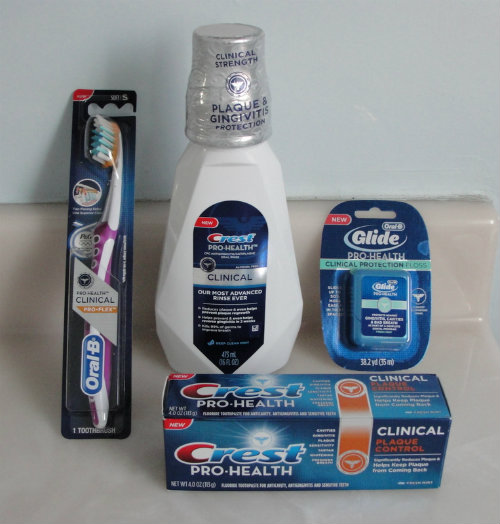 I received all four products about six weeks ago and I put aside my normal stuff, which tends to be whatever I have a coupon for. I admit it's been too long since I've been to the dentist. I don't have a great excuse other than being busy with the kids and the whole find-a-sitter-mid-week issue. But I really do need to go. I do take pretty good care of my teeth and I don't think I have any big issues, but I knew I had some plaque buildup.
I expected to have decent results with these plague-control products; afterall, Crest and Oral B are pretty good companies. But I wasn't expecting the results to be amazing. I'm not exaggerating; after using the toothbrush, toothpaste, rinse, and floss for just a couple of weeks, I could tell any plague was reduced a lot. Imagine using these fresh after seeing the dentist and continuing to use them until the next appointment!
All four products work together to provide results, but the two things that stood out to me the most were the toothpaste and the toothbrush.
The toothpaste was great because it covers so many issues. Not just plaque control, but it fights against cavities, helps reduce tooth sensitivity, and whitens teeth, among other things. Normally we have to choose a focus, but Crest Pro-Health Clinical Plaque Control does a great job covering the field.
The toothbrush really surprised me. I have a pricey power tootbrush that I typically use. I'll be honest; I was a little reluctant to put it aside as I tried out the Oral-B Pro-Flex Toothbrush. But again I was surprised – the toothbrush works really well. I didn't feel like it was missing spots or leaving plague behind like I've experienced with other manual toothbrushes.
I was really impressed with the Crest Pro-Health Clinical Plaque Control products. I highly recommend them and I will definitely be buying these again.
Disclosure: I wrote this review while participating in a test drive campaign by Mom Central Consulting on behalf of Crest and Oral-B and received product samples to facilitate my candid review. Mom Central Consulting sent me a promotional gift to thank me for taking the time to participate.