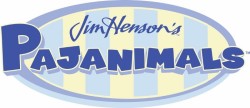 Nap Time! Two words that can strike dread in parents and kids alike. In our house we call it Quiet Time but that doesn't necessarily mean that it is quiet. Max is always asking me, "Where's my pillow? Where's my blanket? Can I read a book? I need a lovey!" We spend, what seems like half of quiet time, looking for all the items on his want list. So I was very excited to learn that we would be reviewing Jim Henson's Pajanimals Snuggle Up Story Mat and Plush Pajanimals Friend.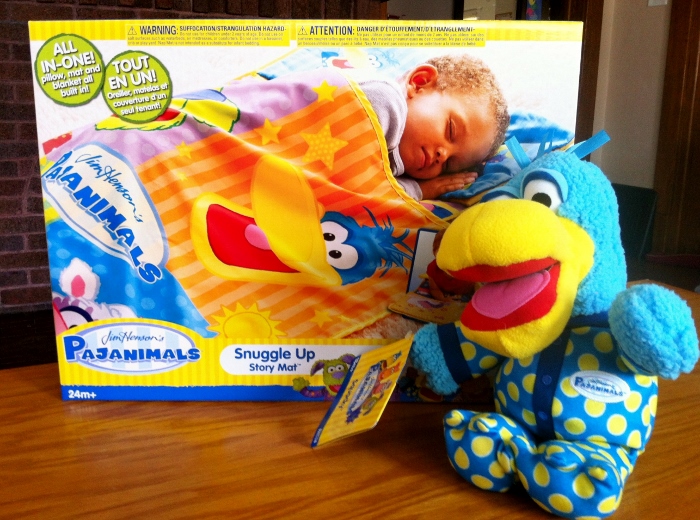 We are big fans of the show Pajanimals, airing daily on Sprout and Saturday mornings on NBC. Max's favorite character is Squacky the high energy, self imagined super hero duck. Squacky and his friends, Apollo the dog, Cowbella the cow, and Sweet Pea Sue the pony, embark on adventures in growing up.
When the packaged arrived I set Squacky and the Snuggle Up Story Mat on the coffee table and waited for Max to discover them. He was so excited to see Squacky and was very anxious for me to take the mat out of the box. When I told him that the mat was his pillow, blanket and book for quiet time, he was ready to go to bed.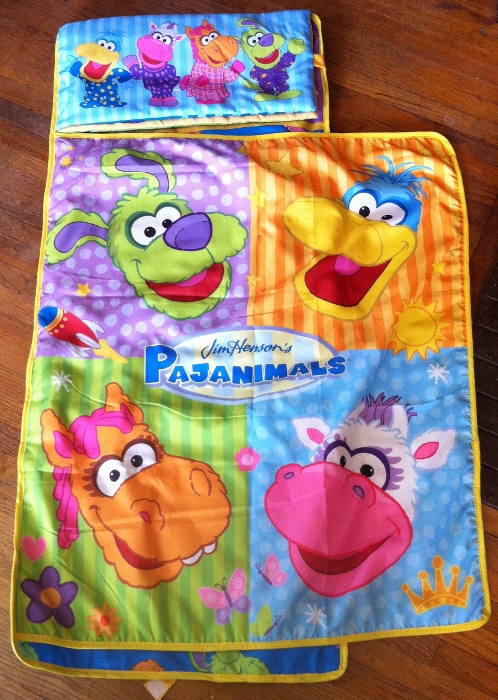 I was very pleased with the size of the mat. It measures approx. 42″ long and 18″ wide. The blanket is wider than the mat and covers up my big 3 year old well. The blanket is lined with a soft fleece and is very warm. The pillow is also a very cute picture book that features all four characters. When Bella, my 5 year old, saw the mat she immediately laid down, curled up and covered up.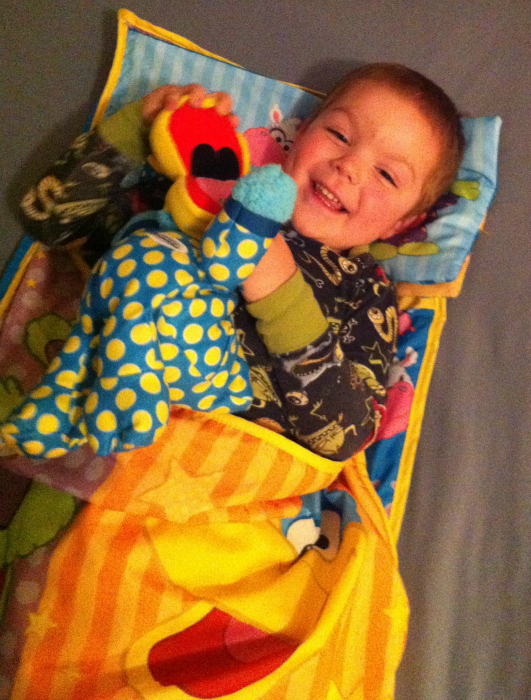 The 15″ plush animal is absolutely adorable! Squacky has become apart of our family. He has made appearances at our dinner table, in our school room, buckled up in a seat belt, and almost in the bath tub (Mom has to draw the line somewhere). He appeals to boys and girls alike and according to Max, he gets along well with the other stuffed animals.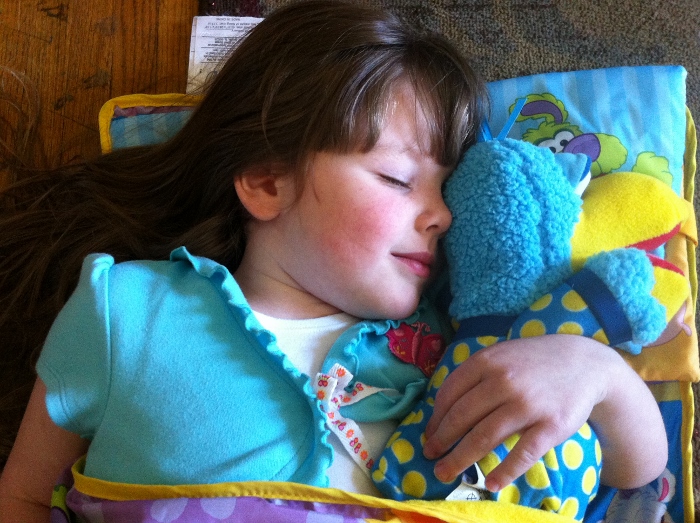 The Snuggle Up Story Mat and Pajanimals Friend have made quiet time in our house much easier. The storybook pillow provides a way for Max to go from play time to quiet time smoothly. He enjoys reading the book and telling stories to his new friend Squacky. I used to worry when things got too quiet in his room until I realized that he was sound asleep and dreaming of his adventures with the Pajanimals.

Buy It:
The Snuggle Up Story Mat is priced at $29.99 and are available at www.tomy.com/pajanimals
The Plush Pajanimals Friends are available in 2 sizes, 9″ and 15″, and the 15″ plush is priced at $19.99. They are available at www.tomy.com/pajanimals
A
Win It!
1 lucky winner will receive a 15″ Plush Pajanimals Friend of their choice!

CLOSED