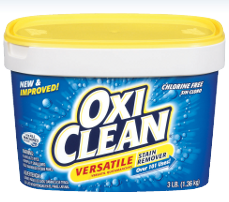 Let's just face the facts; life is dirty. Especially if you have children, clothes get filthy. From grass stains to ketchup spills to just plain dirt, the laundry room can be daunting at times. But you don't have to spend hours scrubbing at stains or worse, throw clothes away because they were ruined. There are some great products out there to help.
Between my four children, I have a wide variety of laundry to tackle every week. I see everything from sweaty karate clothes to baby food drool. From chalk mixed with dirt (oh yes, my kids had that idea this summer) ground into clothing to blood from my two year falling and biting his lip. My laundry area can look downright scary at times.
OxiClean is a proven classic and the one I've used for years. There are always new products on the market claiming to be better and I don't know about all the little details, but I do know that I've always come back to OxiClean. It's my favorite stain remover and it works.
OxiClean works by unleashing bubbling oxygen for effective cleaning and stain removal. OxiClean's newly reformulated Versatile Stain Remover has 40% more oxygen power per scoop than the current version and is safe to use on both colors and whites. OxiClean helps detergent to clean more effectively while adding stain fighting power and it also works to brighten colors and whiten whites.
OxiClean is great for pre-soaking tough stains. To me, the real test of how well a stain-fighting product works is on white clothing; those just seem to be the hardest for getting stains out. I had a white onesie for Luke that he had gotten quite dirty between drool and some baby food. I knew this would be the perfect time to try the new OxiClean powder and handy soaking bin I was sent.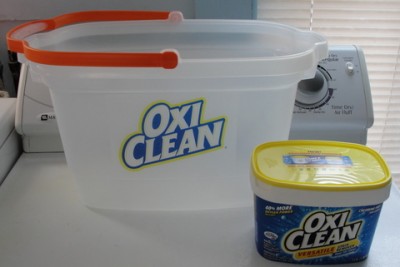 I added the appropriate amount of OxiClean to the water: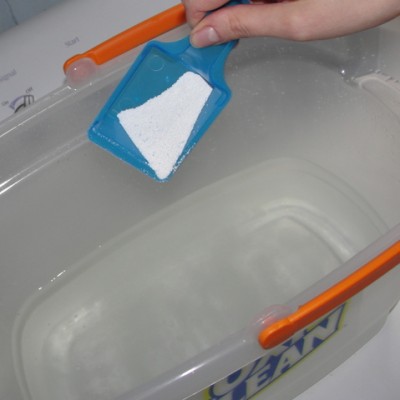 and tossed in the onesie. I let it soak for about 5 hours and then washed it.
You can see for yourself how well it worked – Before: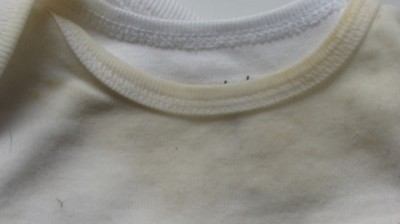 And after: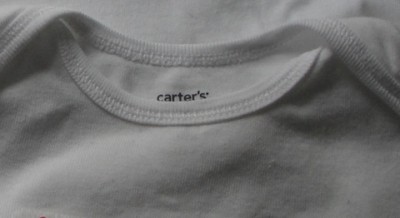 That was with no extra scrubbing or stain treatment either! The onesie looks brand new!
One of the other reasons I love OxiClean is that by simply adding a scoop to each load of laundry, I feel covered in case I forget to pre-treat a stain. I try to pre-treat stains, but sometimes one will slip past me. I'll have started a load and remember about the filthy knees on Emily's pink sweat pants that I had forgotten to pre-treat. Oops! But as long as I added OxiClean, I know I'm good because it will take care of those stains with it's boost of power.
But what about on the occasion that I've missed a really bad stain and the typical detergent + scoop of added OxiClean didn't work to eliminate it completely? That used to be the death toll for clothes – once you've washed and dried it, isn't the stain supposed to be set in and not able to be removed? Well I've found that I can soak these clothes in OxiClean, rewash them, and the stain comes out!
OxiClean is also great for other areas in our homes. Did you know it can treat stains on carpet, upholstery, or even hard surfaces? I've used OxiClean powder for carpet stains for years too. Even my husband knows to ask for OxiClean if something gets spilled. I'll hear "Hon, Joshua spilled his cup in the living room! Where's the OxiClean?!"
OxiClean really lives up to it's "versatile" name and I can't say enough about how much I like this great product. I've used OxiClean for many years and will continue to for many more to come.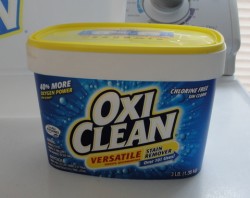 "I wrote this review while participating in a blog tour by Mom Central Consulting on behalf of OxiClean and received OxiClean items to facilitate my review and a promotional item to thank me for taking the time to participate."