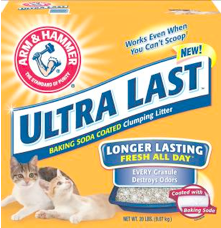 Pets are members of the family too. I love our cat, Shadow. He loves to snuggle with me and is such a little personality the way he "talks" to me. He is a great cat but but sometimes scooping out his litter box is the last thing I want to do it. It's one more thing on my never-ending to-do list and to put it frankly, it stinks! I don't think anyone would admit to enjoying scooping or emptying out the cat litter box. It's just the nature of the chore. But it's important to do because it can smell up a room quickly if it's not taken care of in a timely manner and who wants that nasty smell lingering? There are enough smells around with kids!
I am excited to tell you about a great new product I was recently introduced to: Arm & Hammer Ultra Last Clumping Cat Litter. I never thought I would be excited about cat litter, but I really am about this! This cat litter reduces smell, makes scooping the litter box easier, and is less work.

Arm & Hammer Ultra Last Clumping Cat Litter has a new formula that features powerful Arm & Hammer baking soda odor destroyers. These little clumps work overtime to ensure longer-lasting odor control. It also forms solid clumps so you can easily remove the yucky stuff without having to sift through everything time and time again.
Arm & Hammer Ultra Last Clumping Cat Litter works so well that it controls odors even if you forget a daily scoop. Sound good? It sure did to me! And I can tell you it really does work!
Shadow's cat litter box is in the bathroom and we use our handy DIY mess-free cat litter box that we made ourselves. It eliminates 99% of the mess already and helps contain odors with the way its designed, but when I miss a daily scoop, we can still smell it. Even then, I will sometimes go in the bathroom and there is a tell-tale smell that Shadow was recently in there. Yuck. And Shadow still tracked a little bit of the old litter out onto the lid.
Since trying our new Arm & Hammer cat litter, I have been amazed that there is no odor at all. I walked into the bathroom earlier and I knew Shadow had just used the cat litter box. I opened up the lid and there was no yucky smell. In fact, it smelled fresh. I almost couldn't believe it but there was obvious evidence the litter box had been used. It was amazing.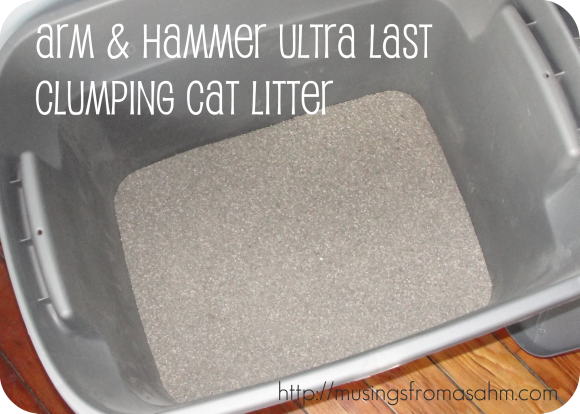 When I scoop the litter (usually every other day), it's also incredibly easy to scoop the big chunks out. With our old brand, I had to sift and scoop repeatedly to get everything. Now it's so quick! I've also noticed that there is less litter tracked out because the granules do such a good job of clumping.
I am very impressed with the Arm & Hammer Ultra Last Clumping Cat Litter. Even though it's a little more expensive than the old brand, it saves me so much time, frustration, and does such an amazing job that it's worth it. We're saying good-bye to the old litter and hello to less-mess and less-smell with Arm & Hammer Ultra Last. And hello to more cuddle time with my sweet kitty.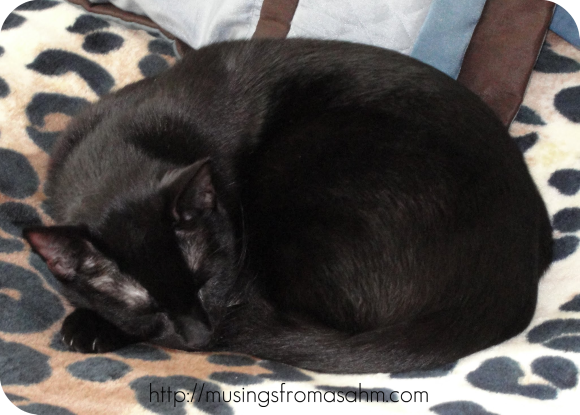 You can read more and try Arm & Hammer Ultra Last Clumping Cat Litter for free with a mail-in-rebate on their website.
Buy Arm & Hammer Ultra Last Clumping Cat Litter online and in stores everywhere.
"Disclaimer: I wrote this review while participating in a blog tour by Mom Central Consulting on behalf Arm & Hammer and received a product coupon to facilitate my review and a promotional item to thank me for taking the time to participate."