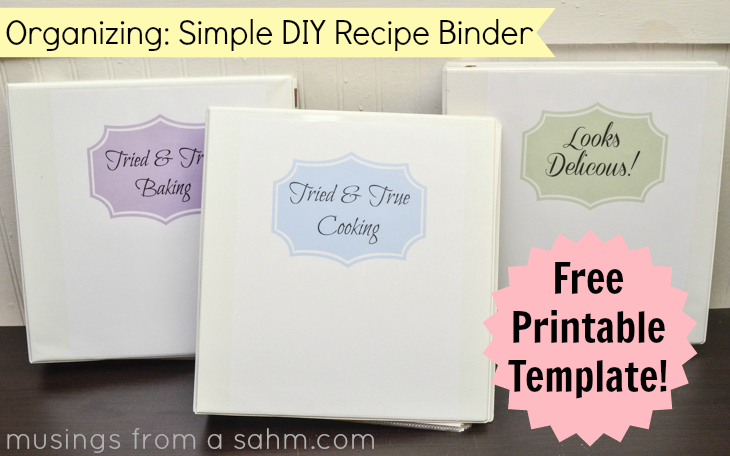 I've been working on organizing my recipes for years, but nothing I tried actually worked. I could rarely find a recipe without a great deal of frustration and often resorted to printing out yet another copy from the computer. It was quite pathetic. So a few weeks ago, I knew what my next organizing challenge was going to be: recipe organization!
For this organizing challenge, I'll share how I made a simple DIY recipe binder for organizing recipes. Anyone can do it – all you need are a few simple supplies and a little time.
I even created free printables for your DIY recipe binder!
Note: Scroll to the bottom for a link to my brand new recipe binder printable (2016)!
Before and After
Before, I had recipes everywhere. On the fridge, in my recipe drawer, in my cookbook rack, in bins on my pantry shelves. Tons of cooking magazines. It was BAD. I didn't even take a BEFORE picture.
But AFTER is much improved. All of my recipes are in one spot, with the exception of a few holiday cookbooks that I keep with my Christmas boxes. That cookbook rack belonged to my Grandma, so even though my binders are a little long for it, it's not going anywhere. 🙂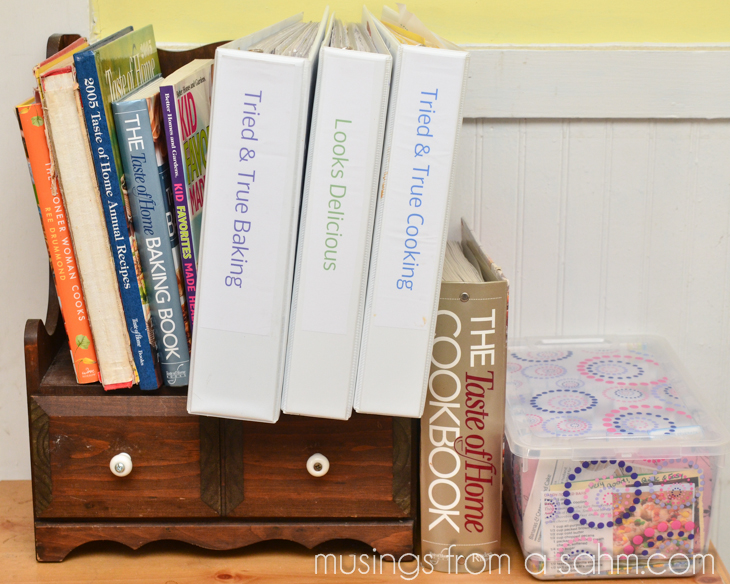 I also organized my recipes with a new recipe box, but I'll share that next week.
Supplies:
Here's what you'll need for this recipe binder: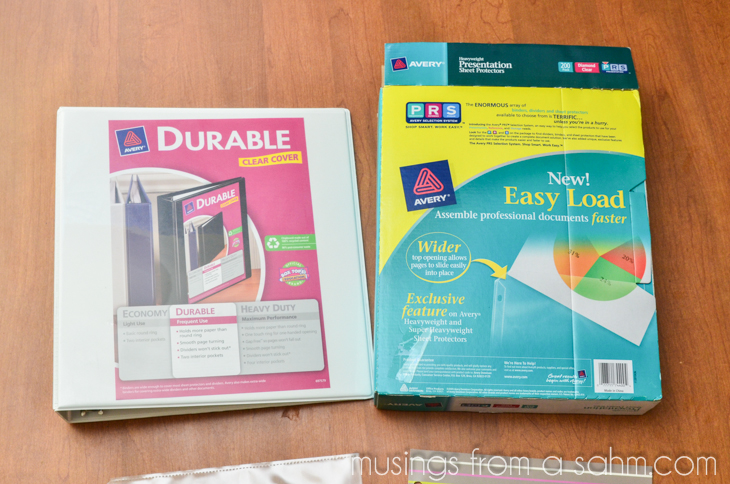 Free Printables for Your Recipe Binder Cover(s)
I have three binders – "Tried and True Baking", "Tried and True Cooking", and "Looks Delicious!" (for recipes I want to try.)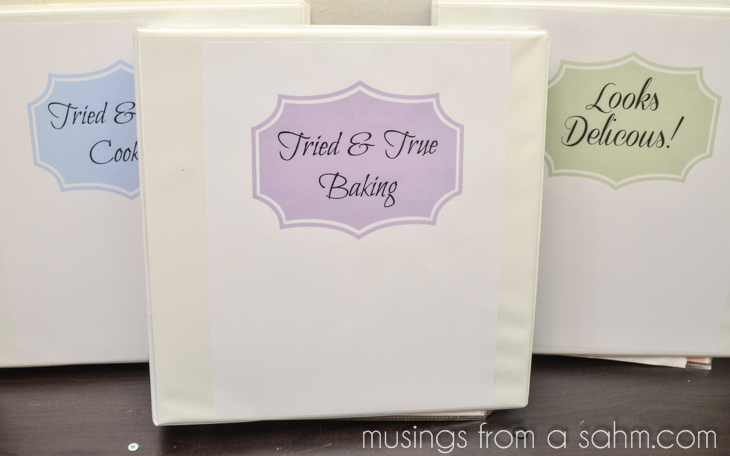 Decide how many binders you need. You can always change it later, which is one of the nice advantages to this simple DIY recipe binder system.
Print out your binder labels from here:
Choose from:
There's two pages to each printable. Tuck the first page into the clear plastic window of your binder. This is your binder cover.
Cut out the second page to fit into the side of the binder.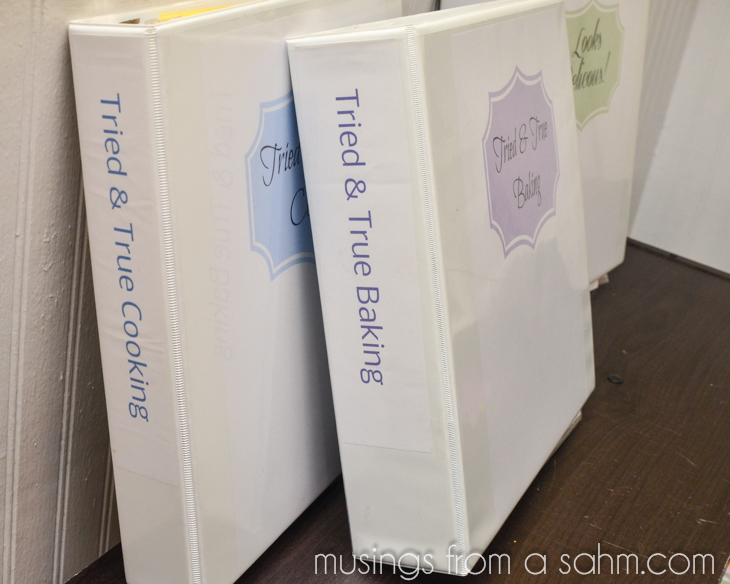 Recipe Categories
Write down what your recipe categories are.
My categories are:
Tried & True Cooking:
Appetizers & Beverages
Main Dishes
Beef
Casseroles
Chicken
Fish
Salads
Side Dishes
Soups & Sandwiches
Tried & True Baking:
Breads & Muffins
Breakfast
Cakes & Cupcakes
Cookies & Bars
Other Desserts
Pies
You'll need one divider for each category. Label each divider by hand or print out a free label for each divider. (I prefer printed labels to my handwriting; it's much neater.) If you don't have the Avery stickers (I didn't), cut out the labels and attach them with clear tape.
You could put the dividers into your binders right now, but the clear plastic protectors for your recipes will stick out farther, making it hard to see your dividers. So I recommend placing each divider into a clear plastic protector.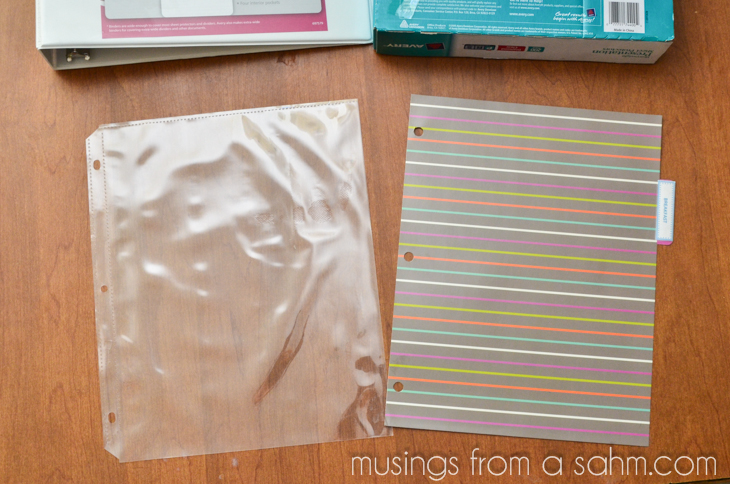 You'll need to cut space for the tab on the side. (For the bottom tabs, I cut straight down on the plastic protector and taped the top together so the divider won't fall out.)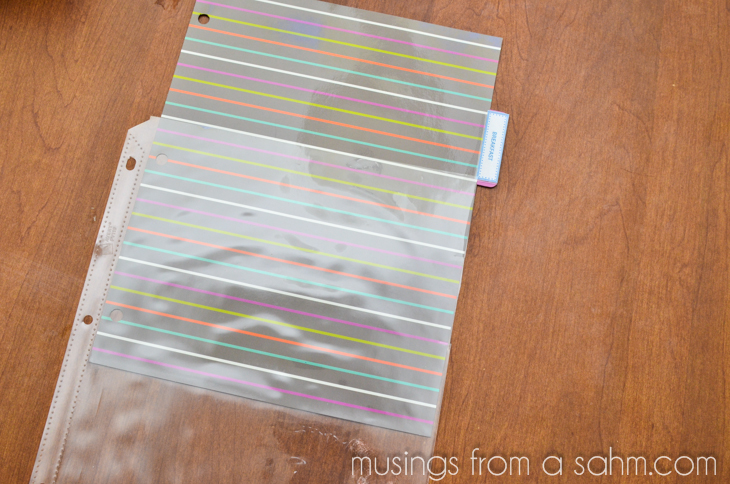 Once you add all your dividers, it should look something like this: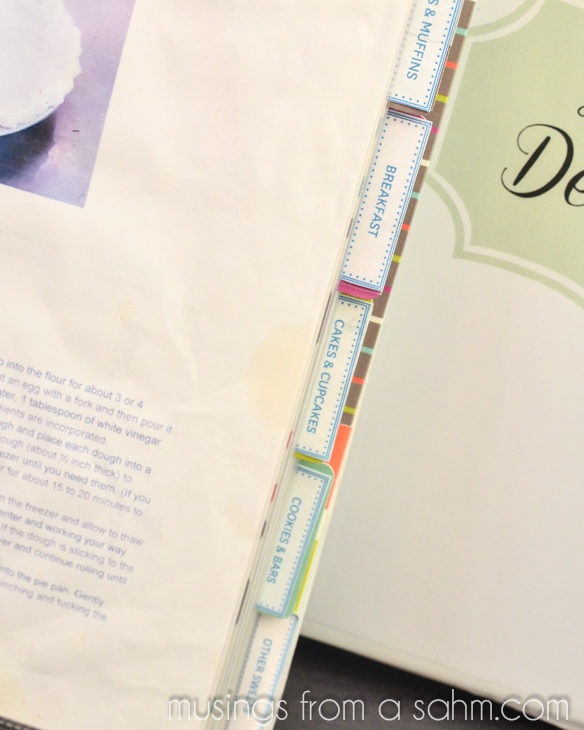 Add Your Recipes
Now, you can have fun adding your recipes!
While you don't have to, I highly recommend using clear plastic protectors; not only do they make it incredibly easy to pop recipes into your recipe binder (no need to three-hole-punch them because the plastic protectors are already punched), but it really does protect your recipes.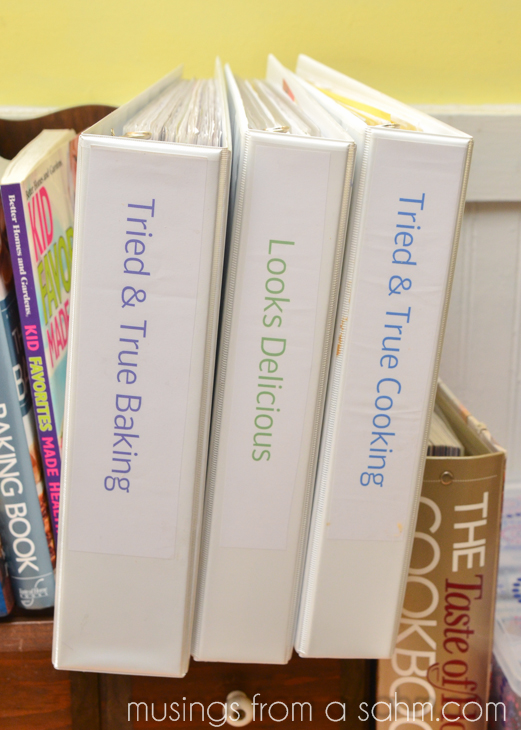 This system works; everything's organized so nicely and I can actually find recipes again!
Give it a try; it's easy and you can have your recipes organized nicely with this simple DIY recipe binder too!
I'd love to hear how this DIY recipe binder works for you – leave me a comment!
Update: I had a brand new gorgeous recipe binder printable set created. You can download it for free here: DIY Recipe Binder (2016)
Have you read these organizing posts?
Menu Planning Made Easy {It's Free!}
Organizing Spices
A Simple Frugal Solution for Organizing Tea
10 Free Printable Labels