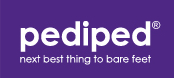 Tiny little toes, chubby feet, and first steps are all precious parts of our little ones growing up. Those little feet need protection, especially in the colder months. Therein lies the dilemma because little ones do much better learning to walk barefoot than when wearing shoes. But it's not practical for them to be barefoot all the time, so what do you do?
Luckily there's a solution. Pediped Originals® shoes are ideal for little ones crawling and learning to walk. Their soft, flexible soles are recommended by doctors because they allow children to closely mimic barefoot walking. Made with the highest quality leather available, Pedipeds have a soft foam insert between layers to offer optimal comfort as well.
My youngest, Luke, just turned 10 months old and he is already standing and is so close to taking his first steps. I was so thrilled when Pediped offered to send me a pair of their Originals because he really needed a better pair of shoes. His old shoes were a regular pair of activewear shoes and they were stiff and didn't let him move around as he is used to. Luke is pretty laid back about things and could really care less about what he's wearing. But he did not like wearing those old shoes because they interfered with his mobility. I didn't like it either, but there were times when we'd go out that he really needed to be wearing more than just socks.
Enter Pediped. First the packaging is very nice; this is no ordinary "shoe box." The box shows off the cute shoes inside and allows for convenient storage.
The first thing I noticed about the shoes themselves is that they were so light! They are much lighter than Luke's old shoes and I knew they would be more comfortable for him.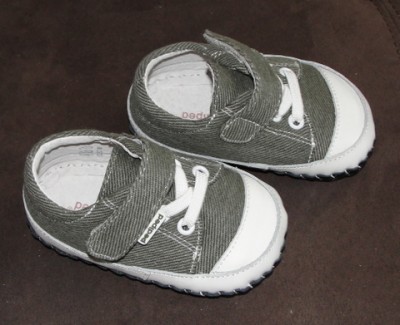 I put Luke's new Pediped shoes on him right away. He is 10 months old and they sent me the 6-12 months size. I had to really "open" up the shoe before putting it on Luke because he has fat feet, but they're very flexible and fit him!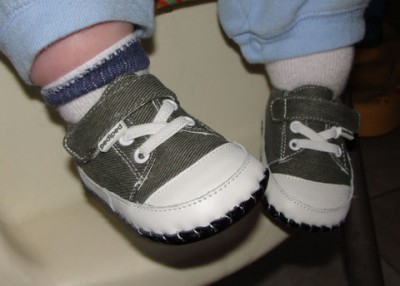 Once on him, the velcro secures it snuggly, but not too tight. You need the shoe to stay on because little ones kick and crawl and go all over, but you don't want it so tight it's uncomfortable. Pediped found that perfect combination. There is room for Luke to grow too so I am happy he will be able to wear his new shoes for awhile.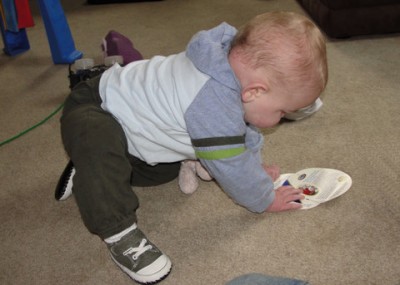 The real test for the shoes came when I put Luke down and let him crawl away. He didn't even seem to notice his new shoes which is exactly what we want. When Pediped says that their leather is soft, they really mean it. The shoes are so flexible, Luke was able to crawl all over, pull up, and stand as easily as if he hadn't been wearing them. And he doesn't slip all over our wood floors.
Pediped Originals® are recommended for approximately ages 0-2 years and are considered the "pre-walker" shoe, meaning they are perfect for little ones learning to walk. Once the child has learned to walk, he or she can move onto the next phase of Pediped shoe – the Grip 'n' Go™ shoe – which is for toddlers transitioning from early walking to a confident stride. With over 120 designs
All Pediped shoes come in a variety of styles and colors. With over 120 designs throughout the three footwear lines, it can be hard to choose which one! The price can be a little steep ($32.00 for the basic Originals) but when you consider the quality and benefits to these shoes, I think it is worth it.
Pediped shoes are so comfortable for Luke that I put them on him every day. I can really see why their logo is Pediped: the next best thing to bare feet. I am a huge fan of Pediped shoes and highly recommend them to anyone with little ones.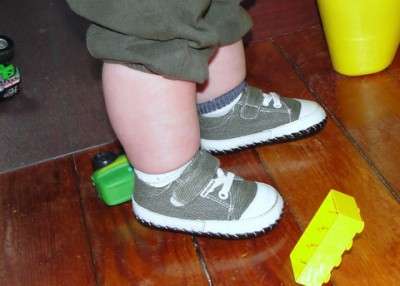 Buy It:
You can buy Pediped Originals shoes online starting at $32.00
Disclaimer: Thank you to Pediped for providing me with a free pair of shoes to review. I did not receive any monetary compensation and my opinions are my own and were not influenced by the sponsor.