I'm a big fan of Pediped shoes. They're adorable, easy to put on, and best of all, they are good for our little ones' feet and promote healthy walking.
Last fall, I reviewed a pair of the Pediped Originals shoes. They were perfect for Luke, who was about 10 months old and beginning to test the waters for taking his first steps. He started walking right around his first birthday in the beginning of January and he's been on the go ever since. When he outgrew his Pediped Originals (they grow so fast, don't they?), I was thrilled when they offered to send me a pair of Pediped Grip 'n Go shoes.
I did a video review – check it out here:


Pediped Grip 'n Go shoes are recommended for ages 9 months to 3 years and are perfect for active toddlers who are learning to walk more confidently. With all the advantages of the Originals, including soft flexibility, Grip 'n Go's also have G2 Technology, which includes a specialized soft rubber sole, rounded edges that mimic the natural shape of a child's foot, heel stability, and a soft toe box that allows toes to curl and grip the floor. That makes for a great combination of support and flexibility, which is important for toddlers.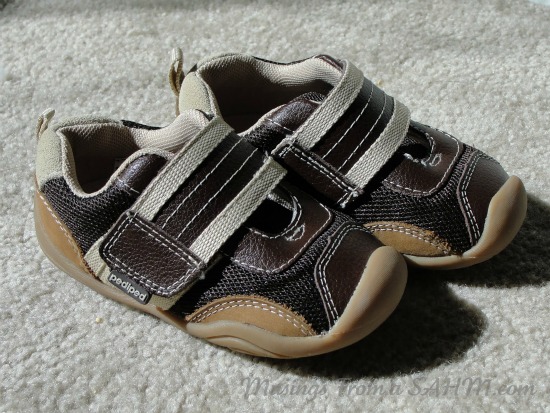 We were sent a pair of the Adrian Chocolate Brown Grip'n Go Shoes for Luke. Some of their features include an all natural rubber sole, sneaker style athletic shoe with a velcro strap to keep them secure, fabric upper, and they are machine washable. They're also approved by the American Podiatric Medical Association for promoting healthy foot development.

These are my 3 favorite things:
1) They are incredibly easy to put on. The one piece of velcro, combined with how wide the shoe opens up, makes it a snap to put Luke's foot in, velcro, and he's off running. Gone are the days of fighting with a shoe that's difficult to put on a wiggling child.
2) The soft rubber gripping sole. Luke is running now and he has to have grip on the bottoms of his shoes to help keep him from falling. He trips enough as it is as he tries to add more speed all the time, so I need to know he's not going to slip because of his shoes. With the Grip 'n Go shoes, I know this is taken care of.
3) They are machine washable. How awesome is this? That's what every mother needs – to be able throw their child's shoes in the wash without worrying about ruining them.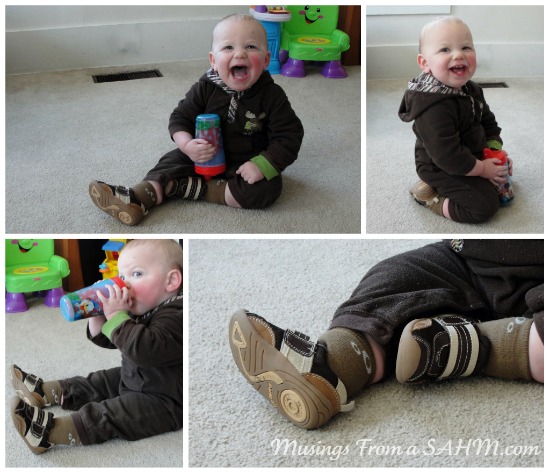 We've had our new Pediped Grip' n Go shoes for over a week now and I can tell they are so comfortable for Luke. I quickly put them on him in the morning and he is off running without looking back. He is also able to crawl and crouch down without getting knocked off balance, thanks to their soft flexibility.
Here's a video I took of him walking running in his new shoes.

Pediped has a nice variety of stylish designs for both boys and girls to choose from.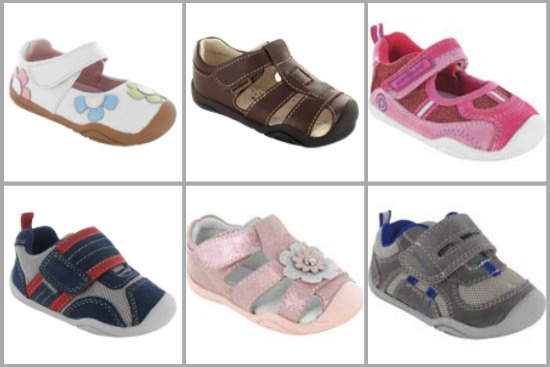 I want to address one thing I'm sure you are all thinking. What about the price tag? Pediped Grip 'n Go shoes are $47. When you have multiple kids and live pretty frugally like we do, that's a lot of money, especially when toddlers grow so quickly. In my opinion, these shoes are worth every penny. Even if I hadn't been sent these shoes to review, I would have bought Luke a pair. Knowing that my child has shoes that won't hurt his feet or interfere with his walking, and the time and frustration they've saved me in not having to struggle to put them on him, make them 100% worth the cost. There are a few things worth spending extra money on and Pediped shoes are one of them. Even my husband agrees; he loves Pediped shoes as much as I do.
I highly recommend Pediped's Grip 'n Go Shoes.
Buy It:
Buy Pediped Grip 'n Go shoes for boys and girls online.
Prices range from $47 on up.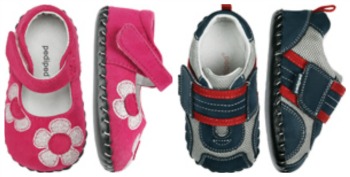 >Disclaimer: Thank you to Pediped for the free product I was sent to review. I received no monetary compensation and my opinions are my own and were not influenced by the sponsor.