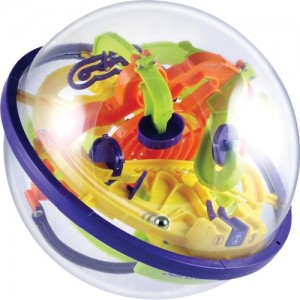 The Perplexus is a 3-D maze game where kids can maneuver a small marble around challenging barriers inside a large-sized transparent sphere. With numerous paths and dozens of barriers to overcome, players race each other or the clock. Perplexus is also a great tool for cognitive development, encouraging children to exercise their problem-solving, motor and dexterity skills, as well as improving hand-eye coordination.
Recommended for ages 6+, this is a toy that can be enjoyed by kids and adults alike. There are some great educational aspects and benefits to the Perplexus including thinking, strategy, perseverance, numeracy, visual stimulation, focus, fine motor skills, self-esteem, and challenge.
The Perplexus has been nominated as Educational Toy of Year by the Toy Industry Association. This is like the "Oscars" for the toy industry and it is a consumer vote.
Please vote for Perplexus for Educational Toy of the Year.
Follow these simple steps:
1. Go Here
2. Select Perplexus
3. Click Submit My Vote at the bottom
4. Register your information to complete your vote.
Buy It:
You can find the Perplexus Original for an ARP of $24.99 at stores everywhere.
Purchase on Amazon for $19.99
Disclaimer: I was not compensated for this post in any form. I am offering this giveaway for my readers' enjoyment!