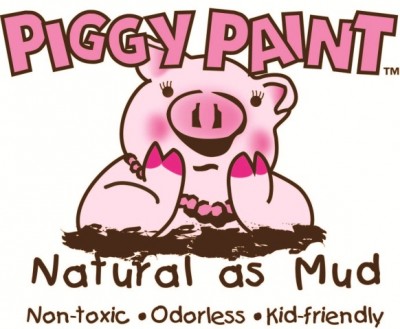 My little girl, Emily, is just like me: she loves to do girly things and be pretty. One of those things is painting her nails. It's fun, but I don't like the strong odors and chemicals that are associated with common nail polish. That's why I was happy to hear about Piggy Paint Nail Polish: "Natural as Mud."
Piggy Paint polish is non-toxic, odorless, and kid-friendly. It's specially made with natural ingredients so it's free of scary stuff like formaldehyde, tolune, phthalates, BPA, ethylacetate, and acetone. Natural doesn't mean sacrificing quality though; Piggy Paint has found the perfect combo of being gentle for tender skin and noses, yet it dries with a durable finish that can be easily removed with Piggy Paint's gentle, low odor nail polish remover. Another bonus is that both products are made in the good ol' USA!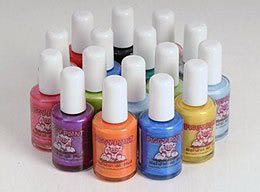 Piggy Paint began with a mom who decided to no longer use regular nail polish when she noticed it ate through a foam plate. There was no way she wanted to put that on her children's fingers, especially when those fingers ended up in their mouths. She began a search for a safer alternative and Piggy Paint was started.
Piggy Paints has an adorable selection of colors and has expanded the line with an adult line of colors so there's a safe nail polish for moms too! And now Piggy Paints has another great new version with their nail pens. With a felt tip for easy coverage and a quick drying formula these make nail polish fun even more fun!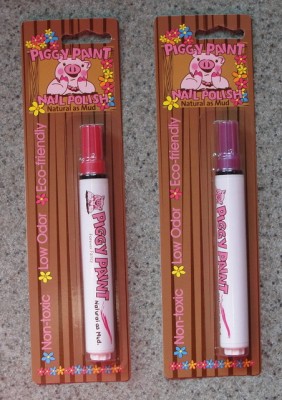 I was sent two cute colors to try out with my daughter. We received pink and purple and Emily and I have really enjoyed these. Emily was thrilled because they were her own special polish and she even commented that they didn't smell "yucky" like other polish.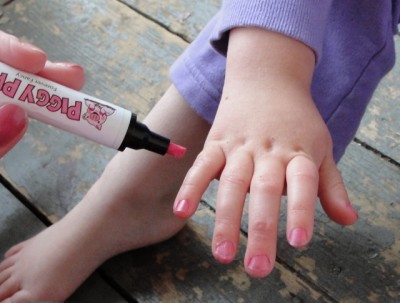 I loved these pens because they were so easy to apply and they dried so quickly. Young kids don't like to sit still for long (I even have a hard time not touching things after doing my own nails!) and Emily is no exception. I don't paint her nails nearly as much as we'd both like because I worry she will get it on things. But Piggy Paint came to the rescue; when they say "quick drying formula" they mean it. Within just a couple minutes Emily's nails were completely dried. I also loved the easy format of the nail pens. I didn't have to worry about knocking a bottle of nail polish over. Quick and easy all the way through!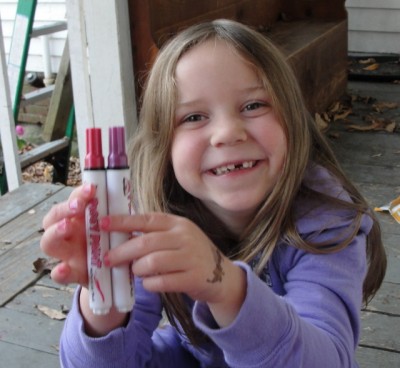 We are new fans of Piggy Paint and with Christmas just around the corner, what a great stocking stuffer for that special little girl in your life!
Buy It:
Piggy Paint is offering a 10% discount to my readers. Use code: Sahm10 at checkout!
Disclaimer: Thank you to Piggy Paint for the free product I was sent to review. I received no monetary compensation and my opinions are my own and were not influenced by the sponsor.