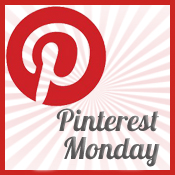 Another busy weekend has flown by far too quickly! I have 3 sick kids, so here's hoping and praying they get over better fast. How was your weekend?
Back to Pinterest, which is why you're really here…. and the quick rules: Comment on the link above yours, then link to a post with your favorite Pinterest finds (like I have here), something you'd like pinned (no giveaways please), or your Pinterest profile. Have fun!
This week, I pinned some yummy looking strawberry recipes. Check these out:
Summer is just about here and with that comes family fun, travel plans, lots of outdoor activities. All that means time away from the computer – for me
and
you
.
Which is a
good
thing, right? My good friend and co-host, Nicole of
Mama to Four Blessings
, and I have decided to pause Pinterest Monday for the summer so we'll have more time with our families and you with yours. This will be the last linky for the summer and we'll start back up in the fall.
So link up today and enjoy the fun! And be sure to stick around – just because Pinterest Monday is taking a break doesn't mean there won't be lots of other great stuff here at Musings!