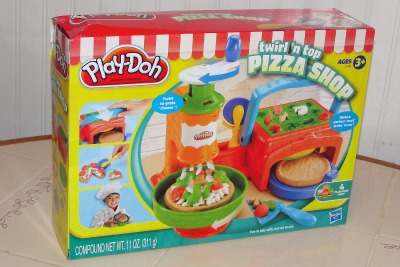 My kids all love Play-Doh and I love to see their Play-Doh creations. I was thrilled to get the chance to try out the new Play-Doh Twirl 'n Top Pizza Shop. We saved it as one of Emily's birthday gifts since she just turned 5 and is the perfect age for this set.
The Play-Doh Twirl 'n Top Pizza Shop comes with a pretend "oven" where kids can "bake" their pizza crust, a "cheese" sprinkler, a mold to make pizza "toppings," and some other accessories including a dish, server, cutter, pan, and of course some play-doh itself.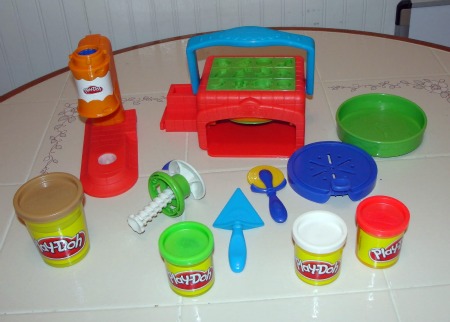 When we first pulled it out, I was happy that assembly was super easy and in no time, Emily was able to start creating her pizza. She started with a ball of dough, flattened it down, and put it in the "oven." Then she pulled down on the oven handle which creates the crust imprint on the dough. Once it was "baked," it was time to add cheese.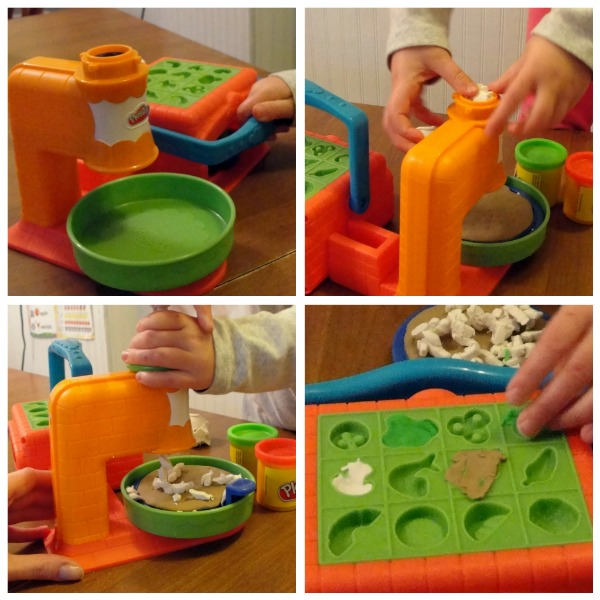 The cheese sprinkler was a little tricky for Emily at first. She needs help in getting the sprinkler handle attached and removed and sometimes she asks me to hold the set cheese sprinkler set down as it tends to move around a lot as she turns the handle. This is the only less-than-ideal part of this set, but I don't know how the Play-Doh folks would make it easier short of a much larger, more expensive set, so I wouldn't let this small detail turn you away.
It's a lot of fun to watch the cheese sprinkle onto the pizza as the wheel spins the pizza, so the cheese can be sprinkled all over. Once this is finished, then it's time to add toppings. This is one of the funnest parts – kids can make a simple cheese pizza or they can put tons of various toppings from peppers to anchovies to tomatoes and even meatballs.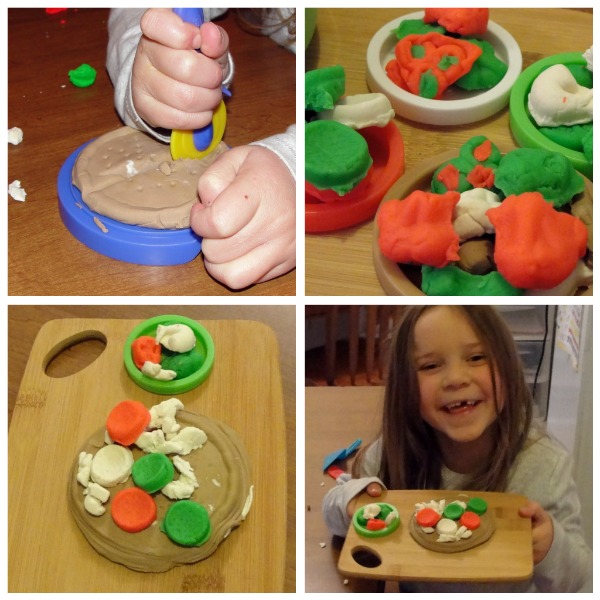 Once the toppings are added, then it's time to cut the pizza into slices with the handy pizza slicer. Then it's time to "eat!" Yummy!
The Play-Doh Twirl 'n Top Pizza Shop is recommended for ages 3+ but I think it is more suited to ages 4+. My daughter just turned 5 and is able to do everything, but I think parts of it might be too difficult for children younger than age 4. This set has been a huge hit in my household; I knew the kids would like it, but they surprised me with how many hours they've spent playing pizza shop and creating different pizza varieties. Emily even told me this was one of her favorite "best presents!"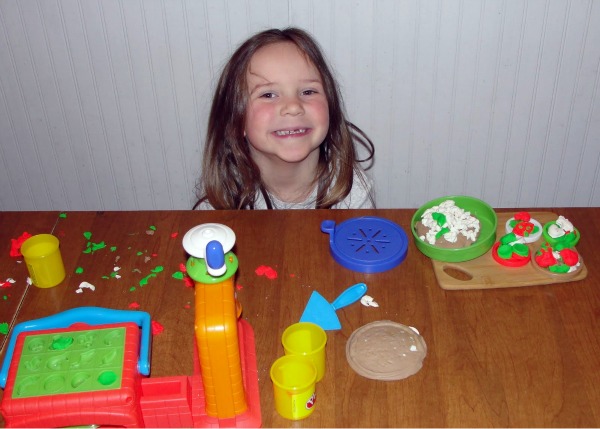 The Play-Doh Twirl 'n Top Pizza Shop is a great addition to the Play-Doh family and I highly recommend this set. It's simple yet fun and will provide hours of fun for children of all ages. If you are looking for a fun, inexpensive gift, this toy is perfect!
Buy It:
The Play-Doh Twirl 'n Top Pizza Shop can be found in stores nationwide for around $14.95 and on Amazon
Disclaimer: Thank you to Hasbro for the free product I was sent to review. I received no monetary compensation and my opinions are my own and were not influenced by the sponsor.