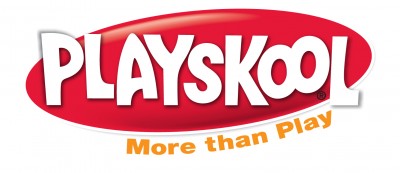 Out of all the many toy reviews I've done over the last few weeks, this was one of my favorites. The smiles, giggles, and dances that Playskool's Sesame Street Let's Rock Band with Elmo, Ernie, and Cookie Monster has brought so much fun and laughter.
Just like many of you, we have some Elmo fans in our house – specifically, Joshua (who is turning 3 tomorrow!) and my 18 month old, Luke. To say they were excited when I pulled these characters out of the box is an understatement.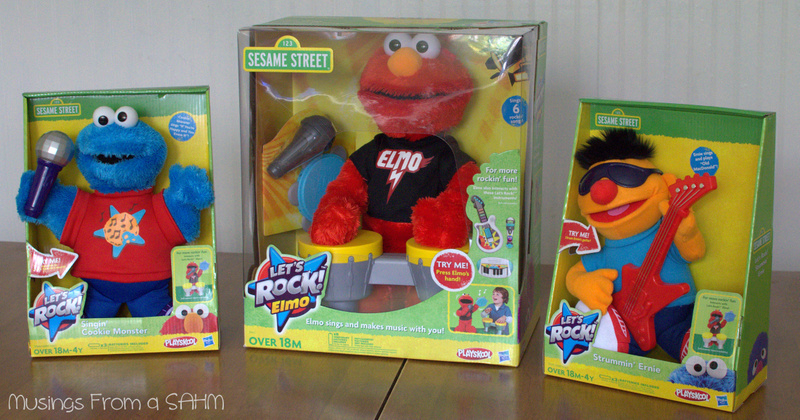 There are three characters; each is sold separately.
Sesame Street Let's Rock Elmo sings and dances in his sporty rock-concert tee. He has his own microphone, tambourine, and set of drums. Kids can give Elmo an instrument to use and he actually recognizes it. Let's Rock Elmo has quite a variety of things to say and can sing 6 rockin' songs.
Sesame Street Let's Rock Singin' Cookie Monster can sing into his microphone. If you put it close to his mouth, he sings louder; move it away and he sings softer. Cookie Monster can interact with Let's Rock Elmo for more fun!
Sesame Street Let's Rock Strummin' Ernie rocks and plays his cool guitar. Strum his arm along the guitar and help him make music. He can interact with Let's Rock Elmo as well.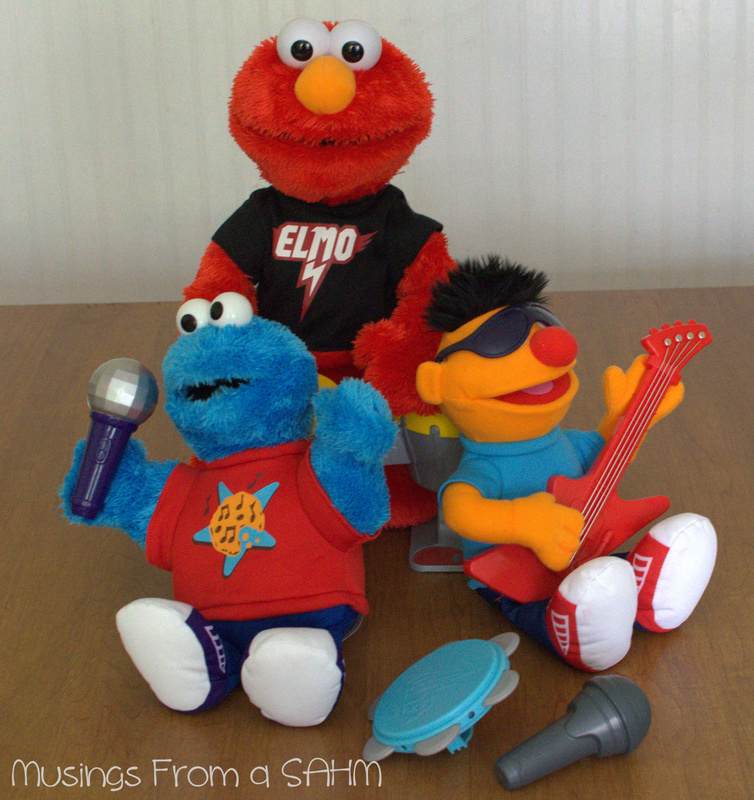 Elmo is awesome and I have no complaints. Ernie and Cookie Monster don't stand upright and that makes it hard for toddlers/preschoolers to get them to "rock" with Emo. But they are more cuddly, so it's a trade off.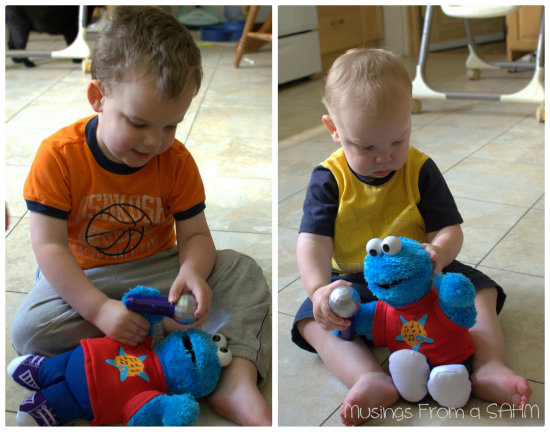 As adorable as he is, I wasn't a big fan of Cookie Monster. To get him to start singing, you have to move the microphone by the base of his arm. Of course 1 and 3 year old's don't understand that and it was frustrating as they couldn't get Cookie to work most of the time. When I did it, Cookie talks and sings "If you're happy and you know it" which is very cute. It's also neat to hold him in front of Elmo and have Elmo sing along with a phrase added here and there. But again, I had to do this; my little kids couldn't figure it out.
Let's Rock Strumming Ernie worked much better. When his arm is moved up and down, he "rocks out" on the guitar. If you hold his arm down for a couple of seconds, he'll play a song. He sings Old MacDonald Had a Farm. His shades can be moved up and down too. Joshua loves to strum Ernie's arm on the guitar. Watch him do it here:
Let's Rock Elmo is the kids' favorite. This guy does so much. He sings, dances, and can interact with the Cookie and Ernie. We've had singing toys, like this, before and the songs get repetitive and boring very quickly. But Let's Rock Elmo has such a wide repertoire of sayings and songs that it hasn't. Even after having these toys in our house for over a month, I still don't mind them.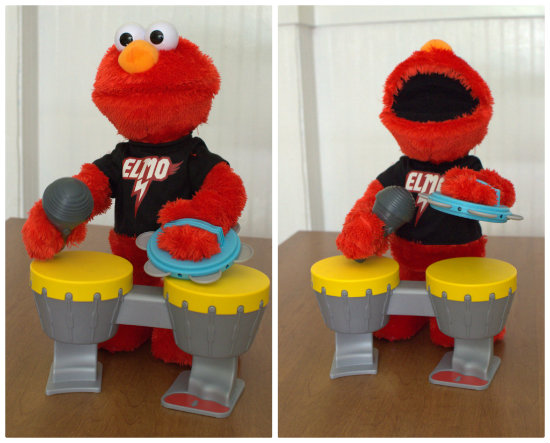 Elmo is Luke's favorite. Luke can be in a cranky mood and I just turn Elmo on and he's smiling and dancing. He especially loves to dance with Elmo. And he's still trying to figure out how Elmo's mouth works – he's always putting his finger in there.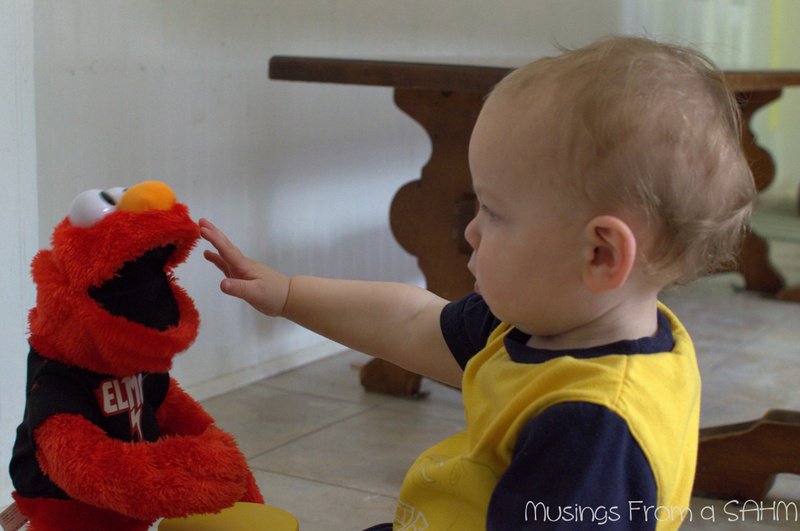 Joshua will sing along with Elmo, especially the "A-B-C" song.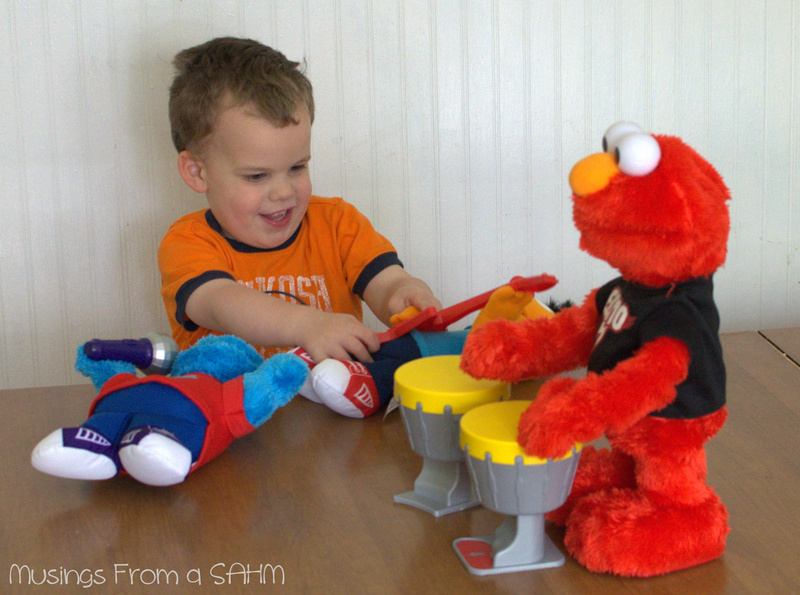 I think it's so neat how Elmo can recognize which instrument is near him. If his microphone is nearby, he says "Elmo loves the microphone!" Elmo is so interactive that I've found Joshua talking to him. "Elmo, want your drum?" and Luke sits there and has long conversations where he babbles incoherently. I may not understand what he's saying but Elmo seems to!
I highly recommend Let's Rock Elmo and Let's Rock Strummin' Ernie. The toys are fun, interactive, and kids love them!
Buy It:
You can find these toys nationwide and online.
Let's Rock Elmo

Let's Rock Strummin' Ernie

Let's Rock Singin' Cookie Monster