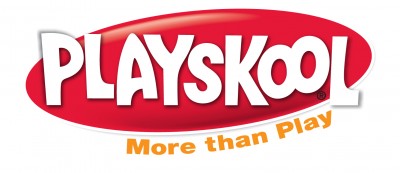 Playskool is a household name for most families, including ours. They have so many great toys for kids, from Weebles to Tonka Chuck to Wheels Pals and more. We are big fans of Playskool already and I'm so excited to have had the chance to review and share with you a few of their latest toys. With the holiday season quickly approaching, what better time to check out some gift ideas!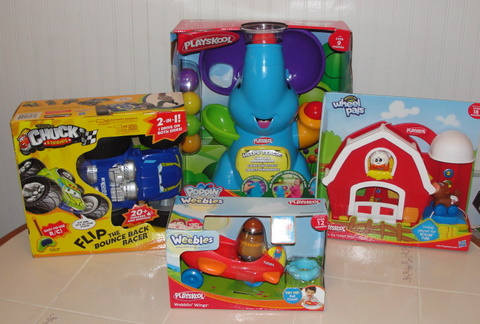 I was sent four toys: a Weebles Wobblin' Wings airplane, Wheel Pals Rolling Acres Farm, Tonka Chuck Flip the Bounce Back Racer, and the Elefun Busy Ball Popper. I'm not sure who was more thrilled to get the box – the kids or me! I love when there is something fun for the kids to play with. (They are playing with some of their Playskool toys right now as I write this!)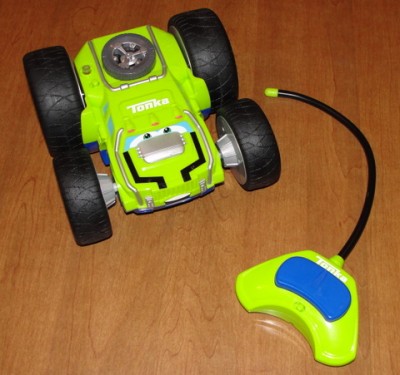 Joshua is 2 and he loves Tonka Chuck. The Tonka Chuck & Friends Flip the Bounce Back Racer is perfect for small children who love cars and racing. This is Joshua all the way. The age recommendation is ages 3 and up, so he's a little young for it, but as he gets older, I know he will enjoy it even more. This fun RC racer car allows kids to have the fun of a remote control racer. The car is sturdy and can go pretty fast. The remote control could have a little better range to it, but as it's for the younger age group, it's really fine. For more fun, kids can make the car go fast and then stop it quickly so it will flip over. This is a great gift for the Tonka Chuck fans in your life.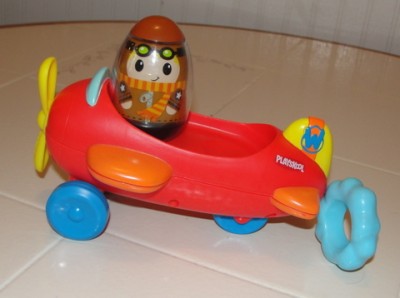 Weebles are very popular in my house. Who wouldn't like them? Weebles wobble but won't fall down! One of the newest addition to the collection is the Weebles Wobblin' Wings airplane. The sturdy string on the back of the plane can be pulled for a realistic "rumbling" as children pretend play with the plane. The propeller even spins too! Of course there is a Weebles pilot character to "wobble" around.
The age range is 12 months on up and I'd say that's pretty accurate. Luke (at 9 months) is too young to know how to pull the string for the rumbling action, but Joshua figured it out very quickly. And Luke loves grabbing the Weebles character as he wobbles around.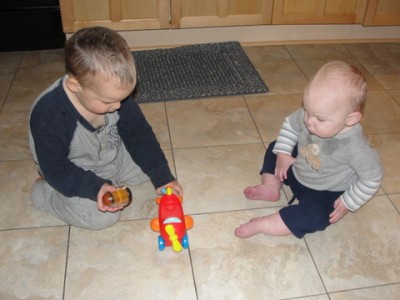 I love toys like the Weebles airplane because it is fun, yet simple – there's no batteries or tons of noise or music; pure fun and leaves room for the child's imagination.
Playskool Wheel Pals are new for our house, but they are here to stay. The Wheel Pals Rolling Acres Farm is a small set with two cute "Wheel Pal" characters – a cow and a chicken. The fun pals can fly down the ramp and roll all over as they play and visit with each other. If your child loves barnyard animals, this is sure to be a hit. It is a simple toy with no batteries or bells and whistles, but again it allows for the imagination which is great. Joshua has played with this toy probably the most out of all of them and as Luke gets older, I know he will enjoy it too.
Last, but not least, is the Elefun Busy Ball Popper.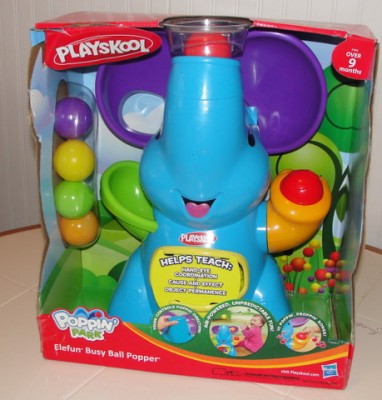 This lively Playskool toy brings fun music, balls, and an air-powered poppin' game. It's simple – baby can take the balls, drop them in the elephant's ears and watch as the ball rolls down the chute to the bottom or flies through the popper and into the air. The "trunk" can be moved around 360° for new angles. My Luke just turned 9 months so the timing was perfect.
The packaging was a little tricky to get opened, but with some sharp scissors I was able to get everything out. The elephant requires 4 'D' batteries to power the music and air-powered popper.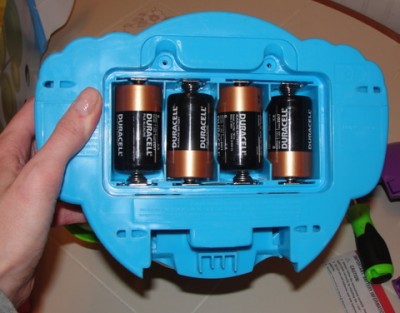 Once that was in, I put the ears on. I have to say this was a little difficult – I couldn't get the last ear popped in all the way but luckily my husband was able to. The same for the little yellow "stabilizer" in the back.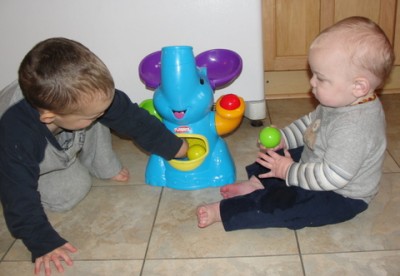 Luke is still learning how to put the balls in the holes, but his favorite thing is the grab the balls out of the bottom section. Joshua loves the Elefun Popper too; actually I'm not sure who likes it more. Usually Joshua puts the balls into the popper, they fly through, and Luke finds them and holds them until Joshua takes them out of his hand and puts them through again. It has kept them both occupied together (with only occasional fighting) for long periods of time.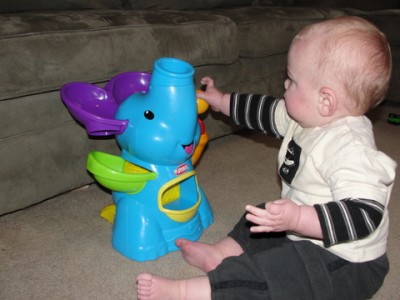 The air-powered "popper" is noisy, but it didn't bother me and wouldn't deter me from recommending this toy. Plus if your household is anything like mine, there is already enough noise and one more thing isn't a bit deal. And my little ones didn't mind in the least. You can also turn the music and popper off by an easy switch behind the elephant's upper leg too. The elephant will tip over if baby tries to pull up using it, so if you have a young baby just learning to stand, I would watch at the beginning. Luke figured this out pretty quickly by himself.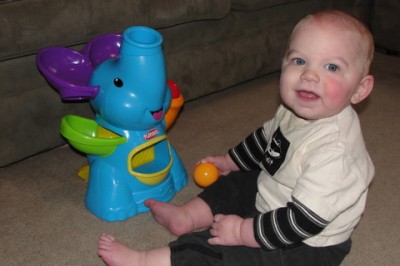 Check out Luke enjoying his new toy here:

The music and popper will turn off automatically after a short period of play (maybe 30 seconds or so) but it's easy for baby or toddler to push the red button the elephant's leg and turn it back on. Joshua figured this out immediately, although the first few times it turned off, he was very offended and took it personally with a loud "HEY!" But then he pushed the button and all was well again. You can see that in this video here:
We really enjoyed our Playskool toys and I look forward to many more hours of fun for the kids. I am glad to know of some great new toys to recommend for presents as the holiday season approaches!
Buy It:
You can find these Playskool toys and many others at stores nationwide and online.
Disclaimer: Thank you to Hasbro / Playskool for the free products I was sent to review. I received no monetary compensation and my opinions are my own and were not influenced by the sponsor.