The Perplexus was a hit toy for 2011 and there's no wonder why. With it's challenging, fascinating, and incredibly fun 3D puzzle, it's more than just another toy for the kids. Nate & I enjoy playing with our Perplexus Original just as much as Nathan does. The plastic ball contains over 12 feet of twisting, turning paths and the goal is to move the ball through this without letting it fall off the path. You'll turn, shift, and flip the ball as you concentrate hard. It sounds simple, but it's harder than it seems. It's a super fun challenge that will keep you and your kids occupied for hours.
The Perplexus was one of Nathan's favorite Christmas gifts and he plays with it all the time. I love that it doesn't have any batteries and helps improve hand-eye coordination and fine motor skills. It's great for encouraging kids to focus as well. The game is recommended for ages 6 and up and it's one of those rare toys that is really enjoyed by all ages. We've actually had a couple arguments around here about who is going to take the Perplexus challenge next!
Once you beat the first level for Perplexus Original, the fun doesn't end there; there are 3 levels total that test you and let you improve and build upon what you've learned. Just be warned: this game is totally addictive!
I can see why Perplexus was nominated for the Educational Toy of the Year. We'll have to wait until next month to find out if it won. I hope it does; I voted for Perplexus!
Buy It:
You can find the Perplexus Original at Amazon and retailers everywhere.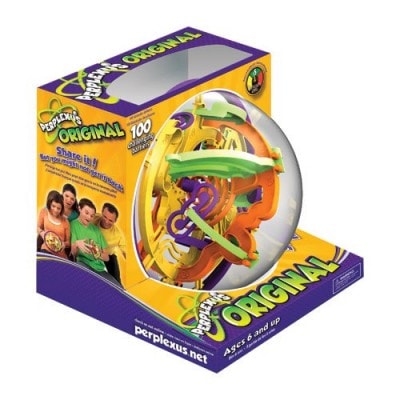 Disclaimer: Thank you to PlaSmart for the free product I was sent to review. I received no monetary compensation and my opinions are my own and were not influenced by the sponsor.