The Rockboard Scooter is a new take on the regular scooter. It's actually two scooters in one, combining the versatility of a shredding scooter with a kick model.
Each scooter is equipped with advanced Rockboard Propulsion Technology, which features a revolutionary steel power-drive chain that tears up the pavement and keeps kids active and entertained with every up-and-down propel. For a more casual ride, kids can adjust the two-position locking joint and the Rockboard turns into a low-profile kick scooter for easy cruising.
With an ultra-strong steel box frame and front fork, die-cast aluminum deck, and a rear spring-enhanced suspension, the Rockboard Scooter is built to last and results in a smooth ride, even on uneven surfaces.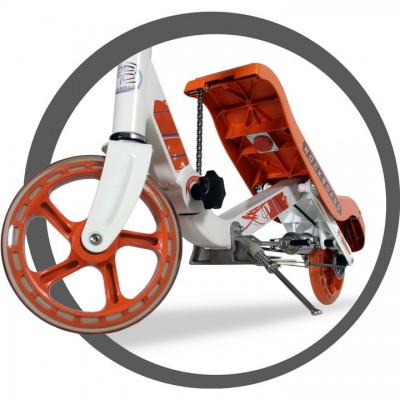 The Original Rockboard Scooter has an adjustable handlebar height of 48 inches, weighs 20.8 pounds, and comes in four color options: white, orange, blue, and pink. It can hold up to 200 pounds of weight.
I was thrilled when I was sent an Original Rockboard Scooter to review. My son Nathan is 8 years old and he loves using his scooter: I knew the Rockboard would be a huge hit. He was so excited when he saw the box. My two little ones were sick for a couple of days and I didn't have time to take the scooter out and take pictures at first so he had to wait for a little bit. I was pestered so much my head began to spin! Once we did have a chance to take it out of the box, I realized I could have done it quicker than I thought.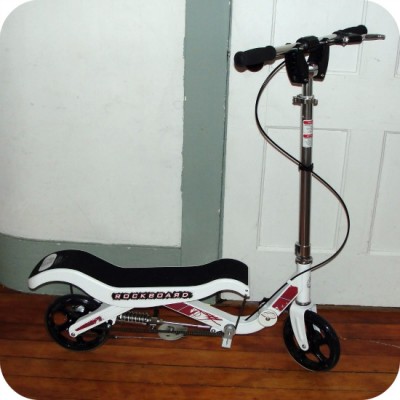 The scooter is already assembled and all you have to do is unfold it and adjust the handlebars! Once put together, Nathan raced outside with it. In no time at all, he was already using the rocking method.
We live in the foothills of the White Mountains, so here in New Hampshire our region is very hilly. Our street is no exception and it's hard for the little ones to ride their tricycles. Regular scooter use can be challenging. So I wondered how Nathan would fare with his new Rockboard. I shouldn't have worried; the propulsion technology behind the Rockboard Scooter is so amazing, Nathan can go uphill with it, without kicking! I was so impressed when I saw this! He can go pretty fast too. The Rockboard Scooter can reach speeds up to 10 mph which is pretty cool!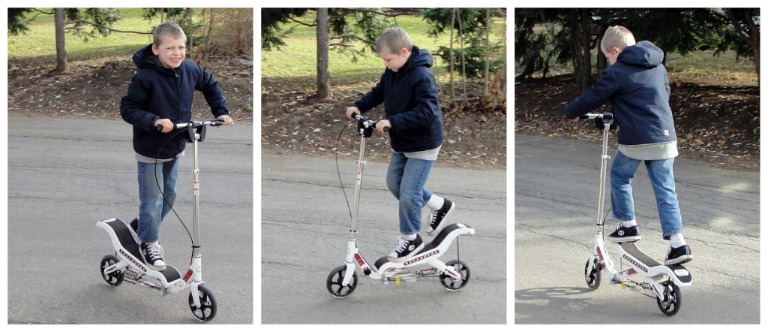 The Rockboard Scooter has become one of Nathan's favorite outdoor activities. He is always asking me if he can go out from and use his Rockboard.

I love that the Rockboard Scooter can be folded up for storage. See how small it can get?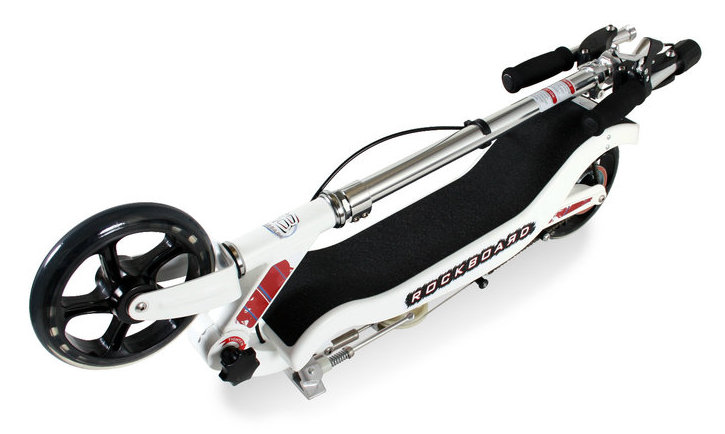 I also think it's really neat that the Original Rockboard can hold up to 200 pounds. My husband & I can use it too. Of course, that's if Nathan would ever give us a chance!
It's recommended for ages 8 and up, but for the younger children, there is a Rockboard Mini Scooter, which is built just like the bigger one, but on a scaled down version and can hold up to 90 pounds.
With hours of fun and exercise all in one, the Rockboard Scooter is a great idea for kids on your Christmas gift list!
Buy It:
You can find the Rockboard Scooter at Target
The Original retails for $199.99 and the Mini retails for $159.99
Disclaimer: Thank you to Rockboard Scooter for the free product I was sent to review. I received no monetary compensation and my opinions are my own and were not influenced by the sponsor.