This post brought to you by Pep Boys. All opinions are 100% mine.
Did you know that October is is headlight safety month?? I just learned this myself! The condition of ones' headlights is not often something we think about, is it? But we should! Dim headlights and hazy headlight lenses can reduce visibility on the road. As Daylight Savings time approaches in the next couple of weeks, and kids hit the streets for trick-or-treating, making sure your headlights afford you clear nighttime visibility is all the more important!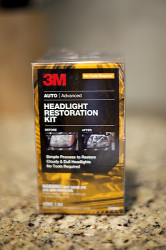 Another reason to keep up with the health of your headlights is that a car can actually fail its yearly inspection if the headlight lenses are in bad shape (at least here in Texas!). My neighbor actually commented the other day that he couldn't believe my car passed inspection with the headlights looking the way they do! And you know? I had never really noticed. But once I did stop to take a look at my headlight lenses, I was astonished at how yellow and foggy they were.
Solutions for unclear headlights typically range from drill-based restoration systems to professional refurbishing that can cost more time and money than most of us can afford. I am a busy mom with little time to spend taking my car in to have the oil changed, let alone getting the headlights worked on! Happily, the 3M™ Headlight Restoration System offered by Pep Boys stores gives you the ability to do the work yourself in the comfort of your own garage or driveway, and it comes with peace of mind knowing that the potential for cracked headlights or damaged paint is drastically diminished compared to tool-based systems. The 3M kit requires no tools (just some elbow grease!) and comes at a fraction of the cost of professional cleanings.
This past week I had the opportunity to try this kit myself! 3M sent me a whole bucket of goodies, including tape, a tape dispenser, sticky notes, a sticky note dispenser, a whole collection of sponges, disinfectant wipes, a microfiber cloth, bandaids, a padded mailing envelope, a Command hook, and of course, the Headlight Lens Restoration Kit!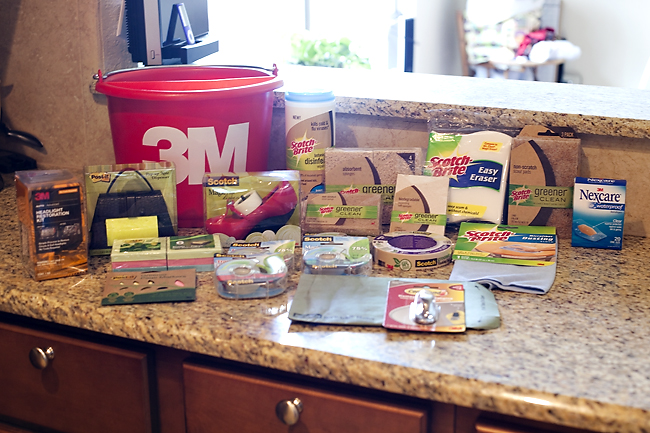 A couple of days ago Samuel and I decided to just dive in and try it out! I wasn't sure what to expect and was pleasantly surprised at how easy and fast it was!! I set Samuel up in the driveway with some toys, knowing I had limited time before he would demand my attention, and I got to work. I followed the very clear instructions, using the masking tape from my bucket of goodies to tape around the headlights, then I went through each step, sanding and buffing away.
Within 10 minutes time I stood back and was amazed at how different and CLEAR my headlight looked! In that instant, I was sold. I can hardly believe that years of wear and tear on my headlights were simply erased just like that! I have no doubt that the restored clarity of my yellowed, hazy, gross headlight lenses will make my night time driving all the safer!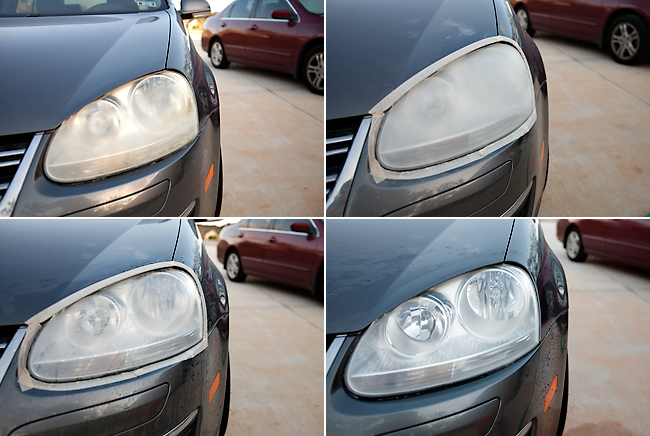 Because the Headlight Restoration Kit works easily on most plastic lenses, including taillights, trailers, snowmobiles, emergency vehicles light bars, plastic motorcycle lights, I can't wait to try it out on our car taillights, as well as our tractor and our trailer!
If you have yellow, hazy, dull headlight lenses, you can't go wrong with this product! And when you get your kit, be sure to print out the $5.00 off mail in rebate that Pep Boys is offering through December!
Win It!
1 lucky winner will receive their own bucket of goodies from 3M, including the Headlight Restoration Kit!
CLOSED