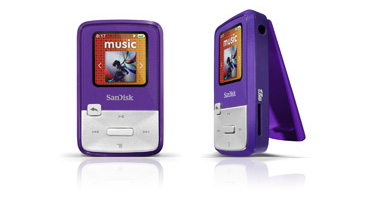 I love music; it uplifts me when I'm feeling down, it's fun to get silly with the kids to upbeat music, it helps energize me when I'm tired and still have hours to go during the day, and I love a good playlist when I'm working out. I don't have time to go to the gym, but staying fit is important to me. I work hard to stay healthy and whether I'm walking briskly around the block or using a fitness DVD, I try to exercise at least 4 times a week. I usually end up doing my 15-30 minute home walking video because it can be challenging to get all 4 kids out for a walk everyday, especially when the weather is poor. I love my home fitness, but the music to that gets boring. And that's when an MP3 player comes in handy.
The SanDisk Sansa Clip Zip MP3 player is the perfect solution. This little powerhouse MP3 player is perfectly portable, sturdy, has a 1.1″ full color screen, has an 8 GB capacity, easily clips on so it's completely hands free, and has many more features. And it's very affordable at a price of just $49.99.
The player has a stopwatch so you can time your workout, FM radio, an easy-to-expand memory slot (you literally just pop in the card and your player has more memory!), and its compatible with just about every media outlet including iTunes. Available in 7 colors, this player also has the unique option to let you do voice recordings.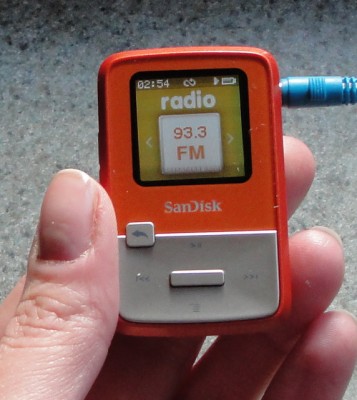 There is a lot of competition out there, so what makes this one great? A couple of things stood out to me about this mp3 player. It's very light, yet it feels sturdy. I always worried that my old mp3 player would get broken. I get the feeling that this Sansa Clip Zip player is pretty durable. While this may seem like a trivial detail, as a mom, it's anything but. One less thing to stress about is always good!
I love that I can clip this player onto my shirt or pants so easily. I can run or be as active as I want and it stays put. I don't have to worry about it flying out of my pocket or what do I do if I don't have a pocket? I used to tuck my old player in my pants, but that's just not very practical, especially for more strenuous exercise. Oftentimes I simply couldn't use it for exercising.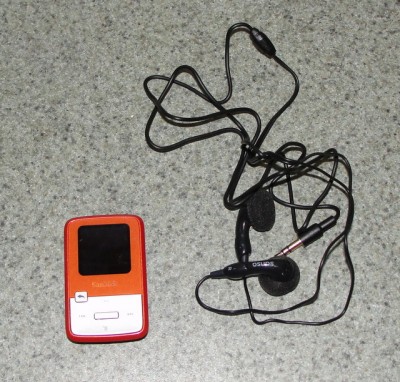 The sound is very nice quality and I found the player easy to navigate. The buttons are easy to push and move from one option like a particular album to another option, like FM radio. The FM radio is another nice feature and I found you can even record it! I also loved the stopwatch. Sometimes you just want to exercise without watching the clock, yet you do need to be done at a certain time. This is the perfect solution. I also liked that I could add extra memory so easily. With other mp3 players, if you want more memory, you have to buy a whole new player. No such issues with Sansa Clip Zip.
I didn't like the earbuds that came with it; they were too large and uncomfortable. However that seems to be pretty standard with mp3 players and I had my own set that I simply changed out.
Another advantage of this mp3 player is how easy it is to add files to it; you just connect the player to the computer, then drag and drop the files you want into the folder that opens. There is no need to download extra software or go through multiple steps. I don't think it can get much easier.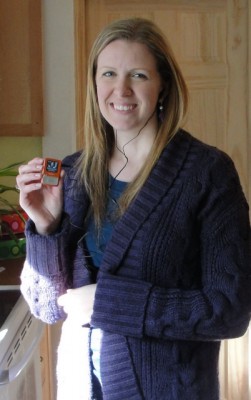 I am extremely impressed with my new SanDisk Sansa Clip Zip mp3 player. You get a lot of bang for your buck with this, especially compared to competitors. SanDisk really thought of everything. I highly recommend this player.
Buy it on Amazon! (affiliate link)
Disclaimer: I wrote this review while participating in a campaign by Mom Central Consulting on behalf of SanDisk and received a product sample to facilitate my review, and coupons to giveaway.