If you're anything like me, you have a major sweet tooth. It's hard for me to not finish my meal off without a little something sweet. But dessert after every meal? We all know that's not a good idea – at least for those of us trying to maintain a healthy lifestyle. That's why I'm always on the lookout for healthy snacks that are sweet enough to satisfy that craving.
When I received three different flavors of Yasso Frozen Yogurt Bars, I couldn't wait to try all of them. But, the true California girl in me had to first read the labels to see what these bars were all about. Recently, I've been loving Greek yogurt. It's a great way to start off my day and I know that it is packed with protein and is low in calories and sugar. With that knowledge, I simply wanted to know what else was in these bars…
Happiness. That is what is in these bars. Yasso makes their frozen Greek yogurt bars with rBST-free milk, absolutely no artificial sweeteners or high fructose corn syrup, and they have managed to make them naturally gluten-free, all natural, and only 70 calories. 70 calories for a sweet snack that also provides nutritional value? Sign me up. I also learned that they are a great source of calcium, a much-needed component to our everyday diet.

Now that I was sold on its nutritional value. My husband and I both decided to try each flavor. I mean, why not? We'll call it a special occasion of some sorts.
Three flavors: Raspberry, Blueberry and Strawberry.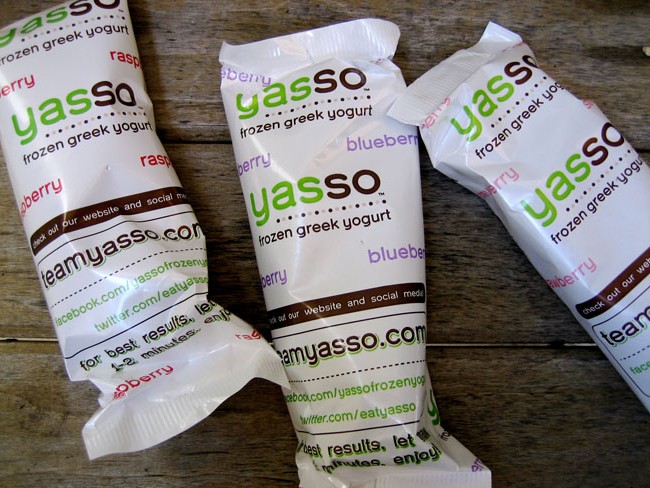 The box says to let thaw for 1-2 minutes for best results. This allows the bars to soften a little and really helps to bring out the flavors. I tried blueberry first, and loved it. It had a refreshing taste that was just sweet enough to satisfy my sweet craving, but not too strong to make your taste buds go crazy.
They only got better, too. Next was strawberry, and then raspberry. Raspberry ended up being my favorite. I loved it!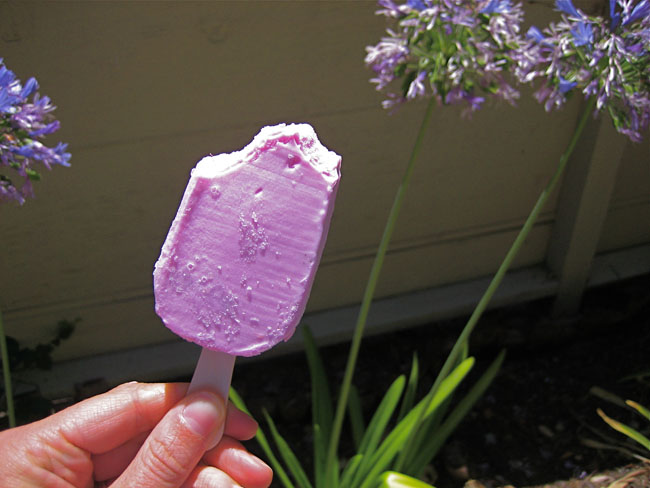 These bars are great for a refreshing summer snack, but could also be great for a cool night treat as well. Since they weren't too cold, you probably don't have to worry about a brain freeze (that was one of husband's favorite parts!). They also didn't seem to melt so fast that you have to worry about them dripping all over your hands. Seems like it would be a great snack for kids!
As you can see from the picture above, I took bites out of these bars. They were so good that a simple lick was not enough for this sweets-craving palate. The bars are delicious and they're good for you. I finally found a solution to my dessert-loving and healthy-wanting diet.
You can find Yasso Frozen Greek Yogurt online here or at select grocery stores for $4.99 per box.