Cleaning may seem like a never ending battle at times, but there are products available to make it easier. Scrubbing Bubbles has been a trusted household name for years; I remember as a little girl that my mom always used Scrubbing Bubbles cleaner to clean the bathroom and it was her favorite cleaner. The little "scrubbies" are pretty cute too.
Now Scrubbing Bubbles has a product that makes one of the yuckiest cleaning jobs much simpler.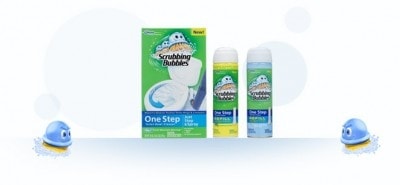 The innovative Scrubbing Bubbles One Step Toilet Bowl Cleaner makes it easy to maintain a clean toilet bowl with just a couple quick sprays a day.
The powerful cleaner works on toilet rings, hard water marks, and lime scale.
So easy – step and spray!
The 360° sprayer cleans the complete bowl, even under the rim
No batteries are required
Refill lasts up to 30 days when used as directed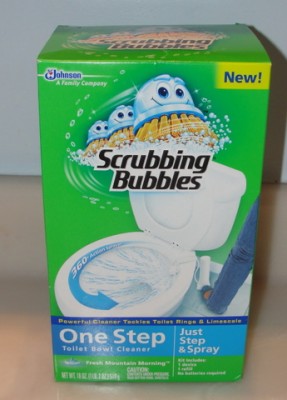 Before installing my new toilet bowl cleaner, I cleaned the toilet first as it's recommended to start with a clean toilet to get the best results. The device has a base that connects to the toilet bowl sprayer with a small hose and it comes already attached.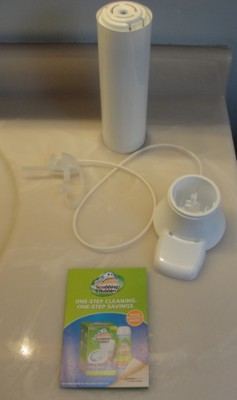 Installation was easy: all I had to do was put the device on the ground next to the toilet and attach the sprayer to the toilet rim. The little clip fits over the toilet bowl rim and works with all types of toilets. There was a moment where I wondered if it was going to fit my toilet, but after I wiggled it, the sprayer settled in. I did find that the clip-on sprayer doesn't attach quite as well as I'd prefer. The kit recommends that you "level the sprayer" within the toilet bowl rim so to best aim the cleaner. I wasn't able to do this despite my best efforts.
Next, I installed the cleaning solution refill into the base. It was easy to push it in and the "click" told me it was all the way in. Then I put the white cover over it. I really like this white cover; it creates a much more neutral environment and less of a this-is-a-cleaner look.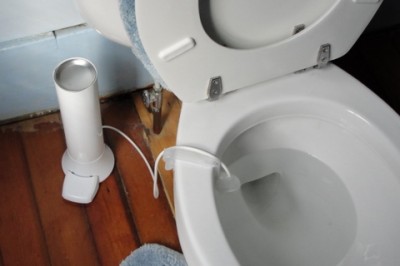 I've been using my Scrubbing Bubbles One Step Toilet Bowl cleaner for about 2 weeks now and I have been pleased with the results. I haven't found it to be quite as good as it claims, but with 6 people in my family and only one bathroom, it's a pretty tall order to maintain the toilet's cleanness without any help from me.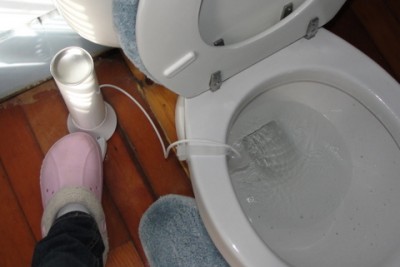 I step on the system 2-3 times a day and where I had previously needed to scrub the toilet every couple of days, I now only have to do a quick scrub-over with the toilet bowl brush (no extra cleaners) once a week. My opinion is that if I had been able to adjust the sprayer to a more optimal lower spray level within the toilet, I would need to do it even less. However due to the size and make of our toilet, the spray level doesn't really hit directly under the rim.
Any extra time I can save leaves me more time for other things in my busy days. My Scrubbing Bubbles One Step Toilet Bowl Cleaner does just that. And it makes maintaining my bathroom easier. Thanks for another great product, Scrubbing Bubbles!
You can buy this and other great Scrubbing Bubbles products at stores everywhere and online.(affiliate link)
Disclaimer: Thank you to Scrubbing Bubbles for the free product I was sent to review. I received no monetary compensation and my opinions are my own and were not influenced by the sponsor.