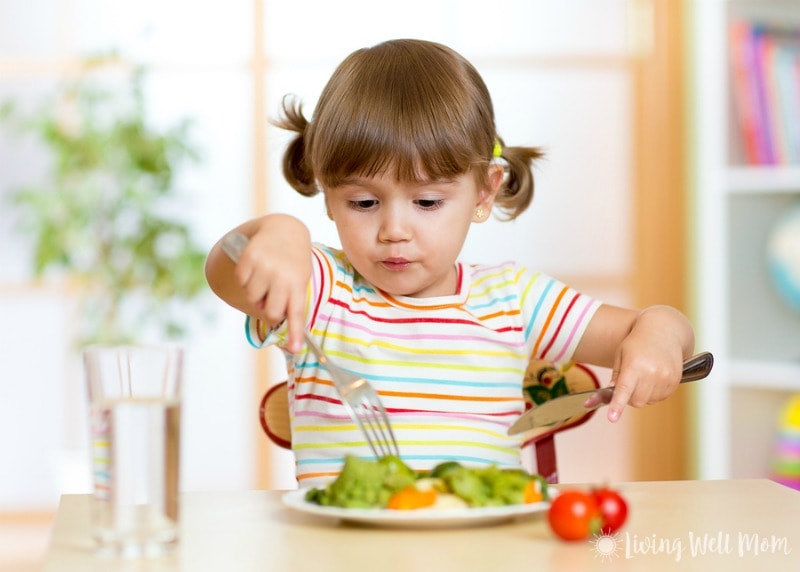 It's not always easy to get kids to eat healthy food. Sometimes they can be very intent on eating their 4 favorite foods over and over again with no variety whatsoever. You might wonder if you'll ever get some green beans into their little tummies. But getting kids to eat healthy doesn't have to be impossible, nor does it have to end in a fight.
I've learned a few things over the years as a mom of four and even though I still have two picky kids – my 9 year old daughter and my almost 5 year old son, Luke, I have a few secrets for how to get kids to eat healthy.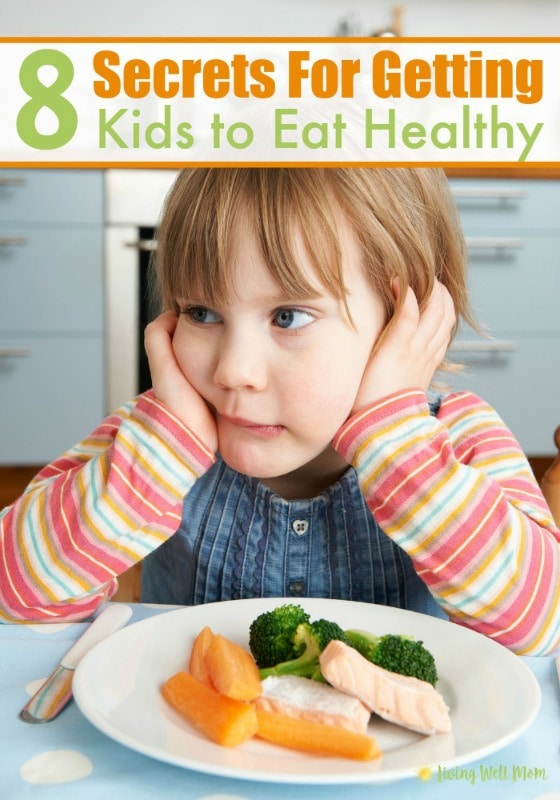 8 Secrets for Getting Kids to Eat Healthy Food
1. Be a good example.
Kids learn by example. Eating healthy yourself is one of the best ways to teach this important lesson to your children. If the kids have to eat their broccoli so does Mom and Dad.
2. Don't make it a battle of wills.
Forcing your kids to eat veggies or other healthy foods will just make it more difficult, especially with strong-willed children who are quite willing to stand their ground for a very long time. Instead, try simple motivation, such as an occasional dessert when they clean their plates. In our house, no one is required to completely clean their plates (I feel that that rule encourages overeating), but if anyone wants dessert, they must finish all their food.
3. Small changes
If you need to make changes, don't overhaul your entire family's diet overnight. Try changing one thing at a time. For example, you could offer a healthier alternative for an after school snack instead of chips or cookies. Smaller changes are more likely to succeed.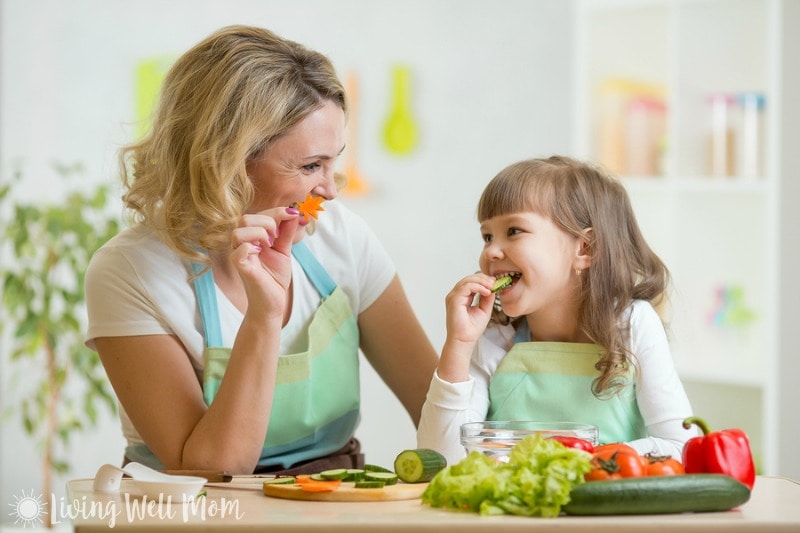 4. Sneak healthy foods into a special treat.
Kids are smart and if you add peas to their favorite casserole, they're going to know it and almost certainly refuse. Instead, introduce new food, that's healthier, and make a big deal out of it.
My children love healthy green smoothies as an after school snack. They're allowed to put their favorite fruits in the almond milk as long as they use spinach too. They've quickly learned that they can't even taste the spinach so this is one of our favorite ways to get good healthy greens into our diets. My kids love this so much, they remind me if we run low on on our greens! And as a bonus, they've gradually realized that spinach isn't so scary afterall and will voluntarily eat it with tacos or salads. Check out my Tropical Green Smoothie recipe here.
5. Pay attention to what they're asking for.
This may sound silly, but children, especially younger children, will often crave something their bodies need. My youngest, Luke, adores a spoonful of coconut oil and asks for it almost every day. I'm not sure why, except that his body must need some good fatty acids.
If your child has an insatiable sweet tooth, they may have leaky gut or candida (a yeast overgrowth that sometimes occurs after antibiotic usage and causes sugar and carb cravings). It's worth asking your doctor.
6. Let the kids help plan the menu.
Get your children involved with meal planning and they'll feel more a part of things and will be less likely to resist when it comes down to serving dinner. Of course you'll want to give them reasonable choices so they're not planning out mac and cheese and pizza all week, but with a little guidance, this really does work!
7. Get the kids involved with cooking or baking.
Even if it's something as simple as packing snacks for preschool, they'll love helping you prepare food and help out in the kitchen. And as with the last tip, they'll be far more likely to actually eat it later. As an added bonus, this is a great way to spend quality time with your children teaching them a useful skill while you're doing something you would need to do anyways!
All four of my kids adore helping me in the kitchen. In fact, we have a schedule where they each take turns; otherwise they fight over who can help!
Luke calls himself "Chef Lukie!" and insists on wearing everything from his mittens (oven mitts) to his chef's hat and apron when he helps me. (So cute!)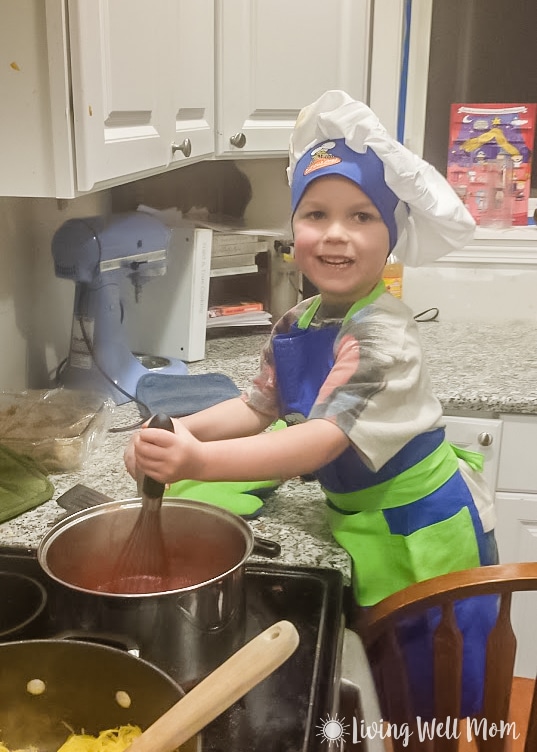 8. Make it convenient and fun.
If possible, choose healthy snacks or meals that aren't too complicated and it will be easier to continue with healthy habits. Plus convenient snacks are ideal for on-the-go snacking, like applesauce pouches.
What's your favorite tip for encouraging children to eat healthier foods?