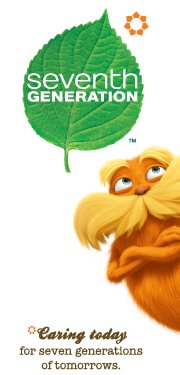 Seventh Generation is known for their eco-friendly products that are gentle for our little ones. Their diapers & training pants are hypo-allergenic and contain no chlorine, fragrance, petroleum-based lotions or latex.
This month, Seventh Generation is releasing a new and improved design with more flexible tabs for a better fit, while training pants now have an absorbent core that's made with more renewable materials. There's also a new addition to the Seventh Generation family this month: Overnight Diapers that are absorbent enough to keep baby and bedding dry through the night or prolonged periods of time.
In addition, Seventh Generation has partnered with the Dr Seuss's "Lorax" movie and is featuring limited edition Lorax prints on all diapers and training pants. Their hope is that the Lorax prints will help remind us to take care of the earth, along with spending quality family time together with reading good books, like The Lorax.
Beginning March 2nd, you can register for a free The Lorax scrapbook with the purchase of any three Free & Clear products, while supplies last.
I was sent a package of the new Seventh Generation training pants for my 2 year old, Joshua. My hope is that he will be potty trained soon, but in the meantime, he can be quite a heavy wetter. The training pants held up very well and we had no leaks whatsoever. My favorite part of the Seventh Generation diapers is that they work so well and they're still very gentle. Joshua has sensitive, eczema-prone skin, and I'm glad I don't have to worry about the diapers bothering him. And the Lorax featured on the diapers is adorable! I loved the back where it says Lorax Approved.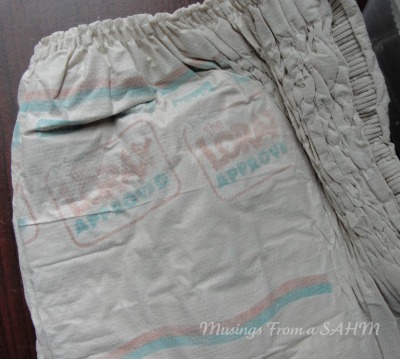 We also received The Lorax book and I enjoyed reading this to my children. The Lorax was always one of my personal favorite Dr Seuss books because not only is it really fun and colorful, but it has a good lesson; that we must take care of the things we are given and never take them for granted.
Buy Seventh Generation Diapers in stores and online.
Disclosure: Thank you to the sponsor for the free product I was sent to review. I received no monetary compensation and my opinions are my own and were not influenced by the sponsor. The Seventh Generation Diapers prize pack, product and information have been provided by Seventh Generation through MyBlogSpark.