Cats are unique creatures. Unlike dogs who follow their masters around without fail and shower affection at every chance they get, you have to earn a cat's love. For most cats, anyways. But once you do, it's a faithful, special love.
I've mentioned our kitty, Shadow, before. I've shared his antics with "early" Christmas presents and he helped me show you my popular DIY Mess-Free Cat Litter Box. He's just a year old and he's part "munchkin", which means one of his parents had really short legs. Shadow's legs are a little shorter than normal, but not enough for him to be considered a "munchkin" himself. We didn't get him for that reason – we got him because we wanted a kitten and it just worked. He's an absolute love and a perfect fit for our family.
My husband jokes that Shadow is the real Editor-in-Chief of this blog, because the cat likes to sit near me when I blog and "supervise." He will occasionally try to climb on my lap for some cuddles. I always think that's his way of saying "Ok, that's enough blogging. Time to stop!" because it's nearly impossible to write when he's sitting on top of my computer.
I've always said that animals choose their people. Especially cats. I'm Shadow's "person." His favorite thing in the world is to cuddle like a baby in my arms while I scratch under his chin. He's in kitty heaven when I do that. And Shadow can purr. Of course, it has to be on his terms. If I go find him and pick him up, he will pretend to not like it. But he usually comes slinking back for some more scratches.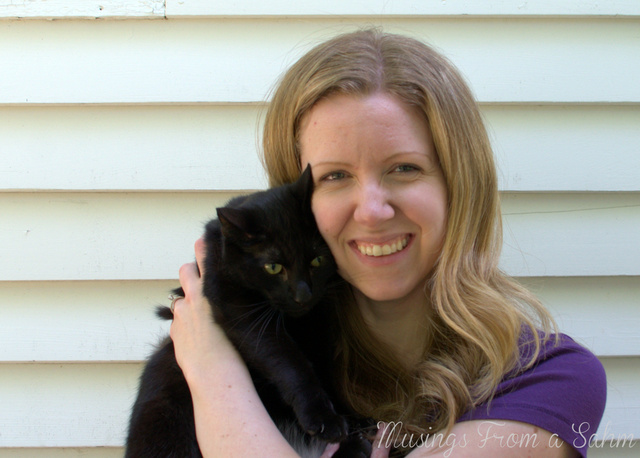 What amazes me the most with Shadow is how he knows when I need some extra cuddles. Last night I had a lot on my mind and was really frustrated. Nothing terrible, just a situation that was bothering me and I really couldn't do anything about it right then. I tried to watch some tv with Nate, but I still kept thinking about it. Then here comes my Shadow, striding into the room like the king that he is. After a couple minutes, he jumped onto the couch and, in the most round-about way possible, walked over and climbed into my lap. He sat and purred with me for a good 1/2 hour and that, more than anything, really helped take my mind off things.
It's a very special bond indeed between a cat and their "person." (Only dogs have masters, cats would never allow that!)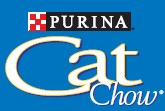 Purina Cat Chow is celebrating cats and cat people. They're conducting a nationwide search to find people and their special "cat stories." From now until July 31st, you can submit your special cat story at YourCatStory.com and be entered to win a fantastic prize. Five grand prize winners will receive a $5,000 cash prize, a one year supply of Purina Cat Chow cat food for one cat, and their story will be shared through a Purina Cat Chow brand online video. An additional 5 runner-up winners will each get $1,000 cash and a one year supply of Purina Cat Chow cat food for one cat. Then 40 honorable mention winners will get a $100 gift card.
People will vote for their favorite cat stories from August 28-September 18,2012. The lucky winners will be announced on October 1, 2012.
Do you have a special cat in your life? What's your Cat Story?
Disclosure: Purina® Cat Chow® partnered with bloggers like me to help share information about their Real Stories Project. As part of this program, I did receive compensation. However my opinions are my own and were not influenced by Purina. Purina Cat Chow's policies align with WOMMA Ethics Code, FTC guidelines and social media engagement recommendations.