My little boy loves battling imaginary enemies, so he was very excited when we got the opportunity to review JAKKS Pacific's new line of Slugterra™ toys based on the animated series, Slugterra™, a sci-fi, action-comedy adventure series airing on Disney XD.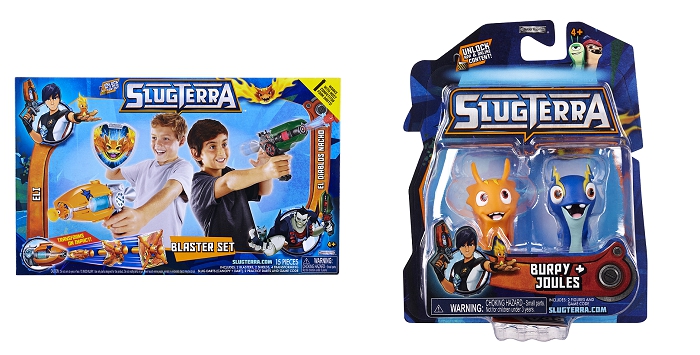 He received a Blaster Deluxe Versus Pack which arrived complete with two Slugterra™ Blasters, two shields and transforming Evo slug darts that open on impact to look like a velocimporhped battle slug. He also received the Slugterra™ Basic Figure Two Pack which comes with two, highly-detailed 1.5" collectible figures from the Slugterra series that can be attached to the Blaster for play. With over 30 fun figures planned to be available in 2013, fans can collect all of their favorite Slugterra critters such as Burpy, Joules, Spinner, Doc and Banger!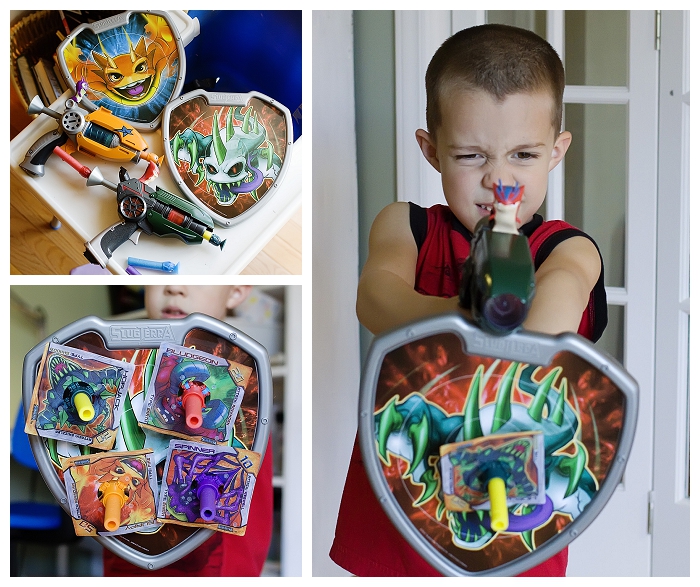 We had a lot of fun playing the game described on the back of the Blaster box. Opponents shoot darts at each other's shield earning points for hits. The Slugterra Blasters take two hands to fire, so after we figured out that we needed to take turns shooting at the opponent's shield we had a great time playing. Our transforming darts didn't want to stick to the targets, so we just fired the darts without their (removable) canopies.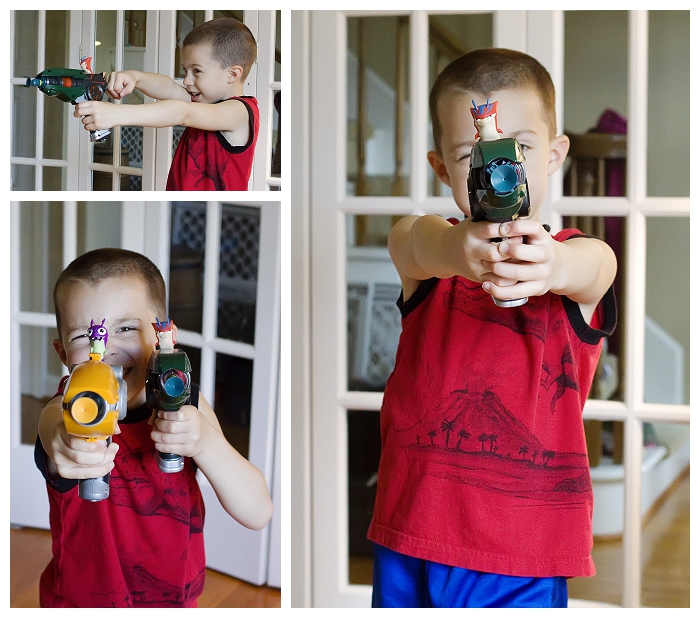 Michael has not been without his blasters and figures since opening the box. The figures, which he can attach to the gun, or remove to use as target practice, really enhance his imaginative play. These Slugterra Blasters fire over 15 feet and the suction cups on the darts work really well, so he's had a wonderful time shooting at walls and windows all over our house. He can't wait for a visit from his boy cousins, who will be more receptive to Blaster fun than his sisters, who are known to shriek when he points a Blaster their way.
* * * * *
Now, switching gears to a different toy, I'm going to tell you about my favorite new toy– Fly Wheels®. Looking for speed, power, performance and stunts? The Fly Wheels® line features replica wheels and propellers that look just like the wheels on real vehicles and planes – only on a smaller scale – and a rip cord and launcher that sends Fly Wheels soaring. Fly Wheels® has it all – speeds up to 200 scale miles per hour and the ability to soar up to 30 feet high!!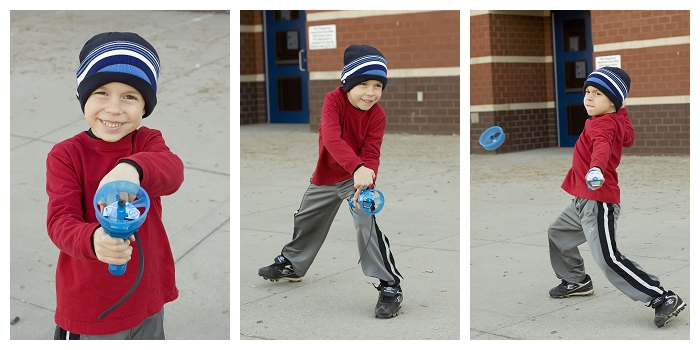 During sports season, our family spends 3 nights a week and most of Saturday at the ball fields. I always have 4 children to supervise and entertain while just one of the kids is practicing a sport. Fly Wheels® is the perfect toy for practice nights- kids (and adults) of all ages love it! Though the package says it is for 8 year olds and up, my 6 year old quickly mastered the technique of making the wheel soar. All the younger children come running to chase the wheel as it floats towards the ground.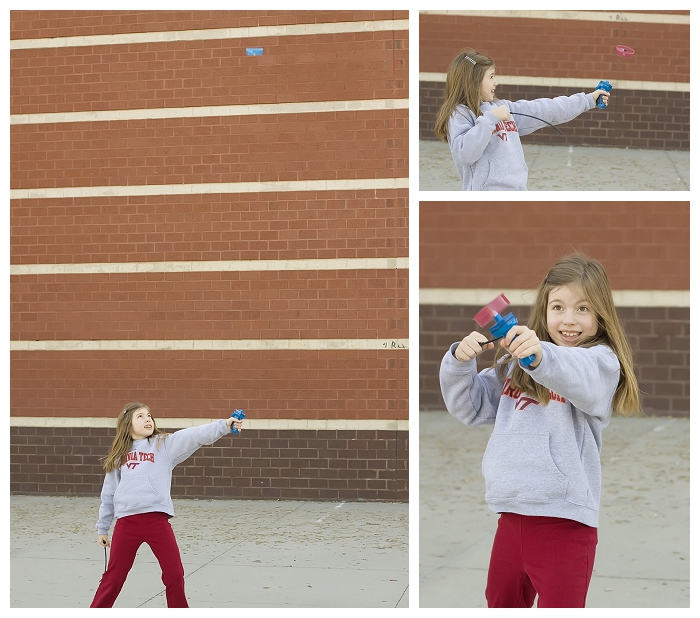 This tiny toy packs a big punch of fun…and for sports night that is essential. When carting bags of sports equipment, coolers, chairs, a diaper bag, and my camera with a baby on my hip; Fly Wheels®, which fits in the outside pocket of my diaper bag is the perfect toy!
Fly Wheels® are the toy on my 'to buy' list for upcoming birthday parties this spring and summer! Perfect for the backyard, the park, or even the beach, you just can't go wrong with Fly Wheels®.
Buy It!
Fly Wheels are available at Toys "R" Us, Target, Walmart and Kmart. Appropriate for ages 8+.
Win It!
1 lucky winner will receive a Fly Wheels Flight!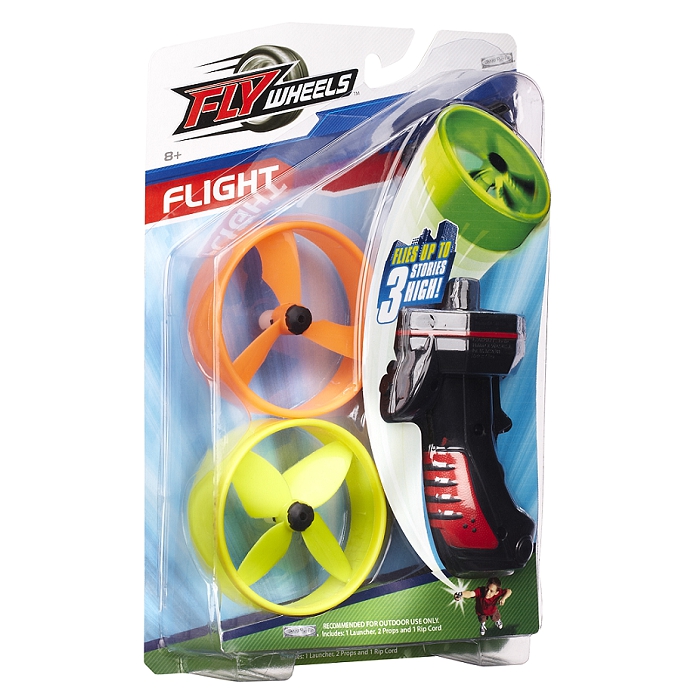 CLOSED