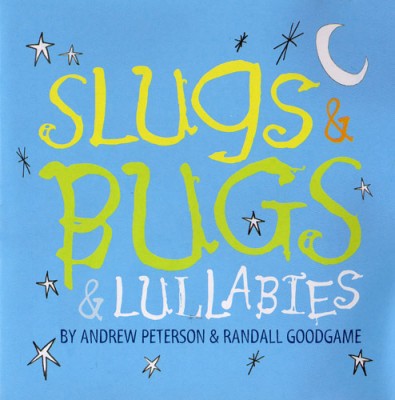 Slugs & Bugs & Lullabies is a collection of fun silly songs for children. Created and written by Randall Goodgame and Andrew Peterson, both writers for Veggie Tales songs, this CD is pure fun and enjoyment for kids and parents.
I was happy to review this album because I love to hear about new music for my kids and this is exactly what I like to recommend to others. Slugs & Bugs & Lullabies is simply delightful to say it in a word. The music is fun and silly but it didn't drive me, the mom, insane! I actually really enjoyed it myself. I put it on repeat and found myself singing along to the melodies.
The words are fun, simple, and easy to pick up and teach your kids. But they're not obnoxious like some children's music, where you find yourself wanting to go bang your head into the wall. Or where you get a stupid tune in your head for the rest of the day. Nope, not Slugs & Bugs. There's a fine line between fun for kids and yet not driving the parents crazy and Randall Goodgame and Andrew Peterson have found that magic.
One of our favorite songs is Tractor Tractor. With simple lyrics and a catchy tune, I sang and dan
ced with the kids and we all had fun. Even Luke loves it and now, whenever he hears Tractor Tractor he smiles and starts bouncing up and down or swaying back and forth. It's so cute. Even my oldest, Nathan got a kick out of this song and was laughing and enjoying himself.
There are 18 original titles in this CD and they are all great. A couple others that I particularly liked were Beans (talking about a son who won't his beans – sound familiar?) and Beautiful Girl, which is a precious lullaby for a daddy's little girl. Oh so sweet!
Randall Goodgame tours around the country with his live show. Check out tour dates and when he will be in your area on the Slugs & Bugs website.
A new Slugs & Bugs album, called Slugs & Bugs Under Where? was just released on October 25th and is available at Family Christian Bookstores.
Slugs and Bugs and Lullabies is a great CD and I highly recommend it.
Buy It:
You can find Slugs & Bugs albums online and in Family Christian Bookstores
isclaimer: Thank you to Slugs & Bugs for the free product I was sent to review. I received no monetary compensation and my opinions are my own and were not influenced by the sponsor.