My sweet Joshua suffers from congestion with possible allergies. In the upcoming fall and winter months, he tends to get colds more easily than my other children where, on occasion, it goes to his lungs and causes a mild asthma attack. He has an inhaler/nebulizer, but obviously, I'd prefer to keep his lungs from getting irritated in the first place.
One great way to help is to regularly use a cool mist humidifier. And our new Crane Adorable Humidifier is the perfect solution. This BPA-free humidifer uses quiet ultrasonic technology that can deliver up to 24 hours of cool, soothing moisture. It helps provide non-medicated relief for dry coughs, colds, nasal congestion, and dry skin.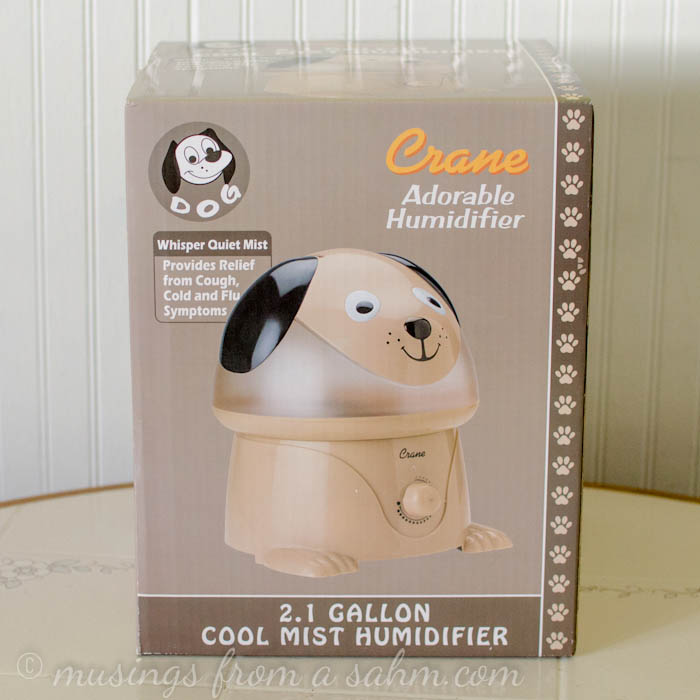 Isn't this humidifier absolutely adorable? That would explain why it's part of the Crane Adorables line of products. And there's many more adorable characters to choose from, including a duck, elephant, owl, even Hello Kitty and Spongebob!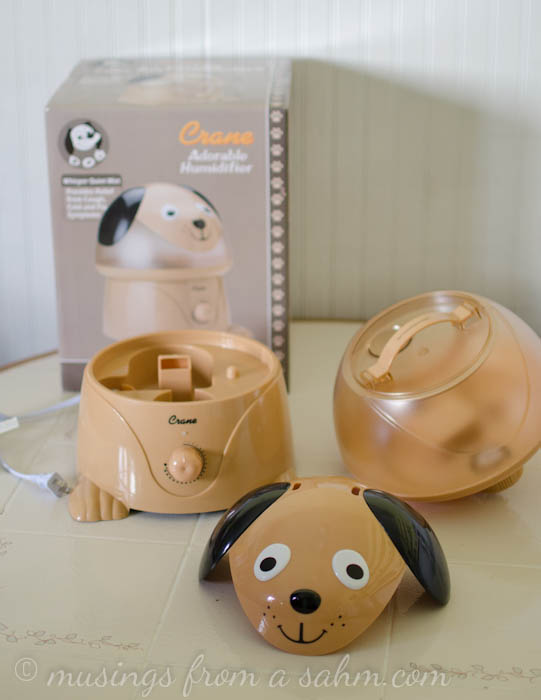 These humidifiers are more than just cute; they're very effective and user-friendly. The Crane Cool Mist humidifier doesn't need filters or fancy pieces. You simply fill up the unit with water. If you have lots of minerals in your water, you'll want to use filtered or distilled water to keep it from getting clogged. Our tap water is very soft, so this wasn't an issue for us.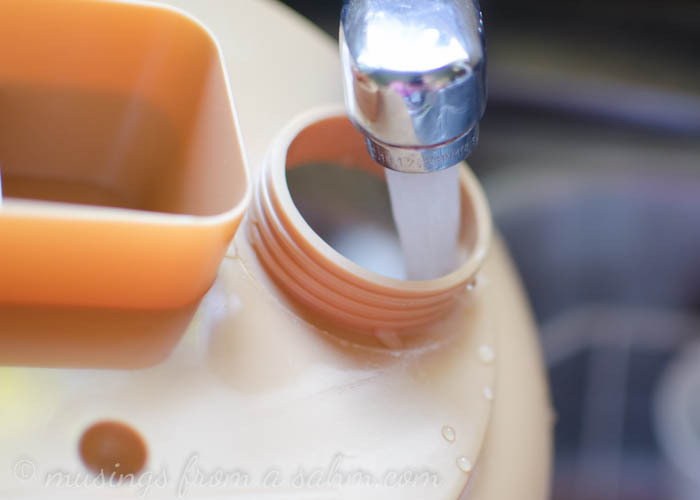 Screw the lid on…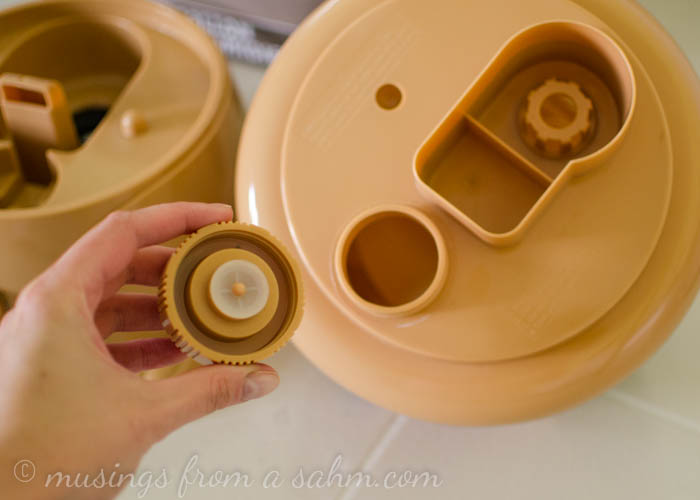 …and stack the pieces together.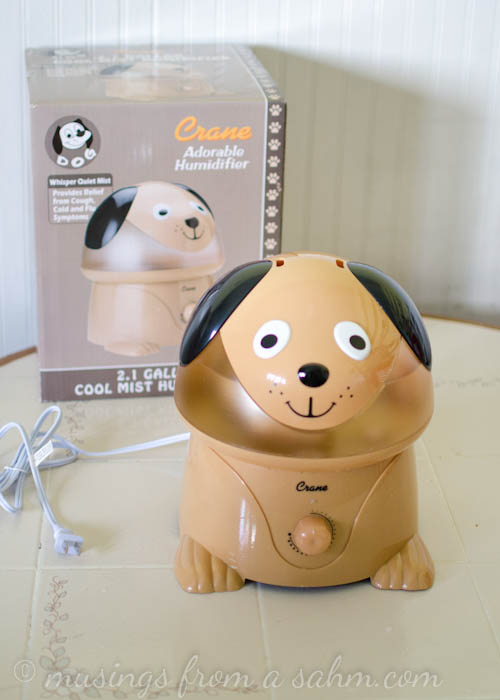 And turn it on with the simple dial that allows you to easily move from light mist to heavier mist.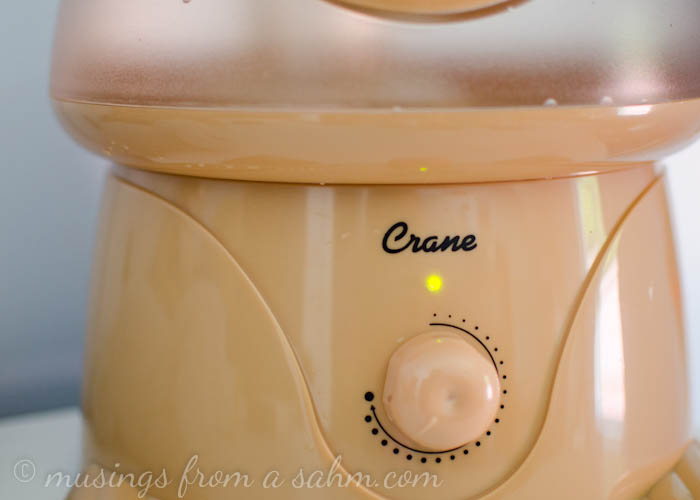 The Crane Cool Mist holds 1 gallon of water. The automatic shut off feature is one of my favorite parts of this humidifier. If the water runs out, I don't have to worry about it overheating; it just turns off! I've always been a little paranoid about things catching fire, especially near my children, and I was constantly checking the water level of our old cheap humidifier. The automatic shut-off feature alone makes this Crane humidifier 100% worth the cost, in my opinion – you can't put a price on peace of mind for mom!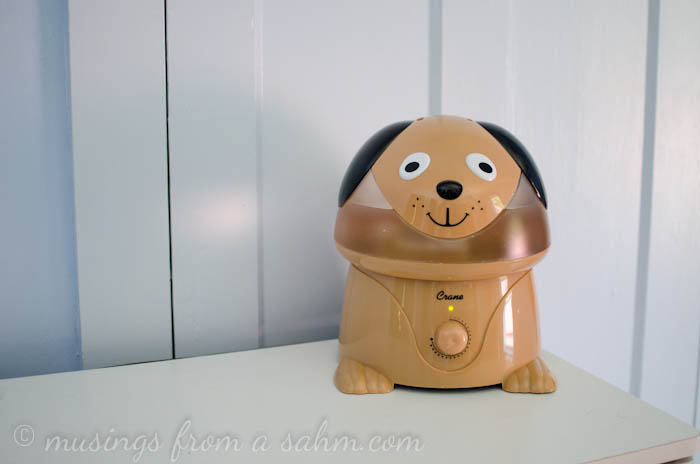 Another added benefit of cool mist humidifiers is that they can help sooth dry skin. Joshua has mild eczema that flares up more in the cold dry winter months so this will be great.
A few other advantages: there's no worries about kids getting burned like with a warm mist, and this unit is very quiet and compact. You can hardly hear it so it won't keep anyone awake at night.
It's not quite fall yet and so far, everyone is still healthy. Hopefully, we'll stay that way, but once the cooler fall months kick in and that first seasonal cold creeps in, I know we'll have our handy Crane Dog Cool Mist Humidifier handy.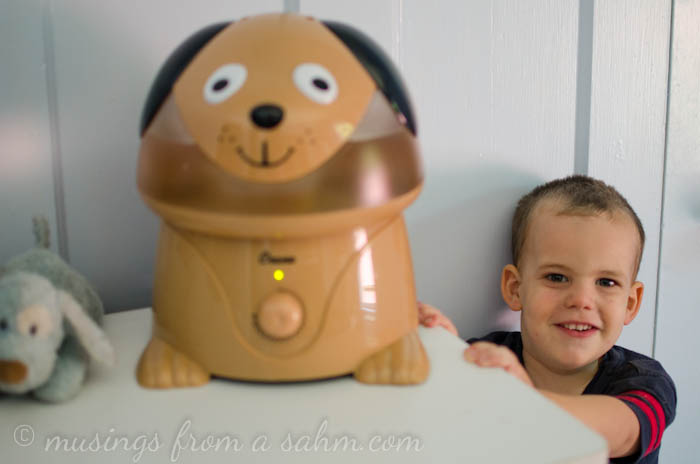 I highly recommend the Crane Adorables Cool Mist humidifiers – it's perfect for both moms and kids. And for the quality and convenience that these units offer, I think the price is very reasonable too.
You can purchase Crane Humidifiers at Sylvane.com or on (affiliate link) Amazon.