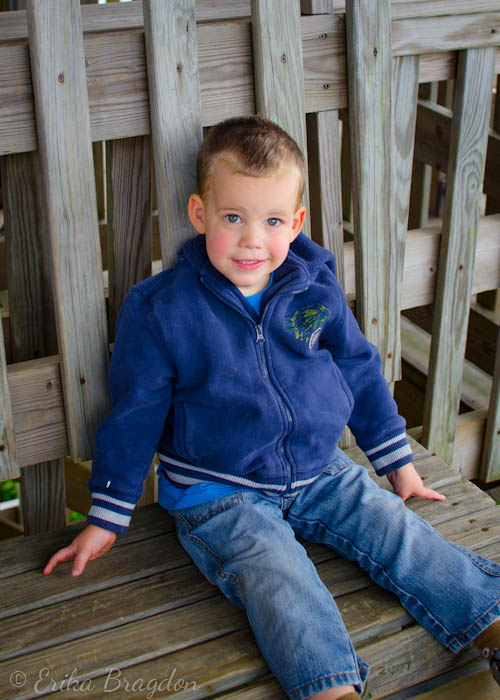 We're sending our sweet little Joshua to speech therapy.
We have a hard time understanding him a lot of the time, because he's so "nasally" and doesn't enunciate well. He's often frustrated because he can't communicate what he wants and it's been tough for all of us.
Last month, we decided it was time to get a professional opinion. We had to wait until school started and last week I went in for a meeting with the special ed team. They agreed that we need to check him out, so on Tuesday, I brought Joshua in for his "evaluation." The speech therapist and special ed preschool director were so nice and patient with him as they worked with him. Joshua's pretty shy, so at first he wasn't too cooperative, but he gradually warmed up to them and began pointing to pictures as they asked and even answering their questions.
I'll be honest – I was afraid they would say Joshua was "slow." Ever since our meeting last week, I've been trying not to worry. I felt in my heart (still do) that he's fine, it's just his speech is holding him back now. But it's hard when people ask you to analyze your child and point out their weaknesses. Of course this was for Joshua's own good and there was nothing bad about it, but as a mom, it wasn't easy.
Tuesday was a relief. They said Joshua's right on track for his age (academically) and even has normal speech (full sentences, etc), but his articulation is very poor. I already knew that, so I was thankful to hear confirmation.
On Monday, I'll take Joshua in for an evaluation with the occupational therapist, because he's pretty clumsy sometimes. He tends to trip very easily and when he falls, he falls hard and doesn't catch himself like my other kids do. He doesn't walk funny or anything, it's just his balance seems a little "off." I've recently had three separate people suggest that it could be something with his inner ear. He is often congested (we're still trying to figure out if he has allergies – that's a whole 'nother post) and I think we need to pursue that farther.
On Tuesday, I'll meet with the special ed team once more and they'll present the IEP (Individualized Education Program) on where we go from here. The speech therapist told me on Tuesday that just from her angle, he absolutely qualifies for "intervention." One possibility may be for him to attend preschool there twice a week and they'll be able to work with him then.
Honestly, I'm relieved to be pursing this. I've tried to handle this by myself for too long and it's not working. I'm glad we have options. I'll keep you all posted. Just one more thing during this crazy time in my life!
Do any of you have/had children in speech therapy or experienced anything similar to what I've described with Joshua?
I'd love to get some feedback.