I'm tired, friends. I've been incredibly busy the past few months.
This weekend, I had posts to write, tons of photos to edit, and all I wanted to do was get stuff done around the house. Usually it's the other way around; I have tons to do around the house and I just want to blog. But I've been worn out with blogging lately. I'm not sure why. Maybe it's trying to keep up with everything going on in my life and there's just not much left in me to write.
Challenges
For me, writing comes from my emotions. And lately, I've been emotionally drained, which makes it really hard to get the words out.
There's a lot going on in my life right now – more than the usual life-with-four-kids stuff. Actually in the life of someone I love very much – and it's been tough. (Not Nate or the kids, thankfully.) Because it's someone else, I can't go into details. But I can ask you to please pray for this person and me.  Thanks, friends.
Put that on top of all the everyday stuff with kids – tantrums from Luke, who is completely immersed in the terrible-two's, Joshua's allergies and asthma, Emily's moodiness (is it possible for 6 year old girls to have mood swings? Because I swear she does!), and Nathan, who has actually been quite good lately.
And a husband who is working insane hours. I barely saw Nate all last week, after the many hours of overtime he worked, plus evening classes two nights a week. I'm somewhat used to his busy schedule, but sometimes it just gets to me.
Good-bye Shadow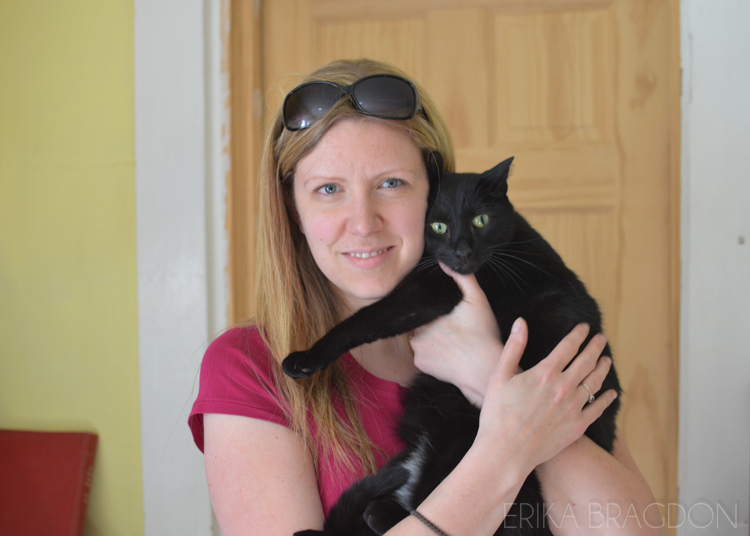 Yesterday, we gave Shadow, my sweet black kitty, away. I was crying off and on all last week; it broke my heart. We knew this was a possibility since discovering that Joshua is allergic to cats a few months ago. We had hoped to avoid it, but we knew Joshua would be better off. As much as I adore my animals, I love my kids more and Joshua has to come first.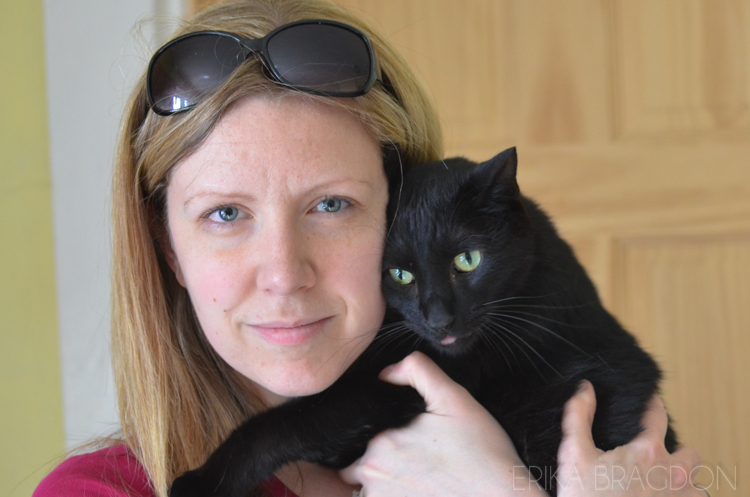 The good thing is we found a really great home for Shadow; the family was so sweet and excited to welcome Shadow into their home. That definitely helps, but still, saying good-bye yesterday was far from easy.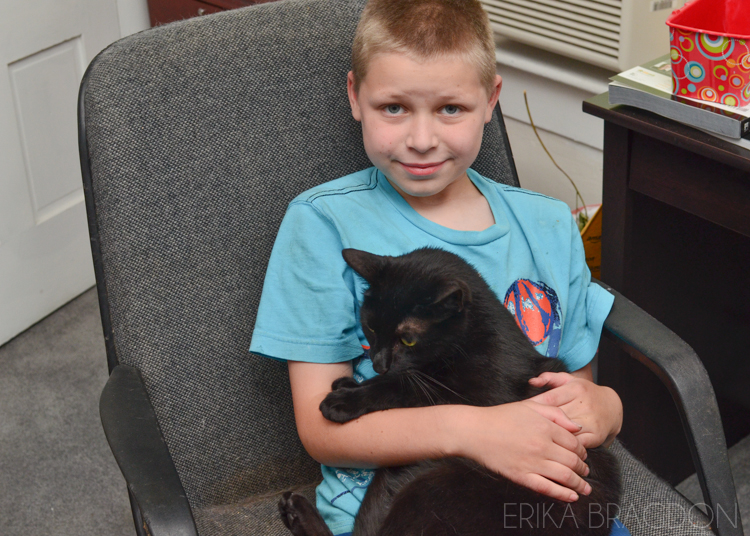 We still have Josie, Emily's cat, and will do whatever we can to help make it so she can stay. I'd hate to break my six-year-old's heart by taking her beloved kitty away. But with just one small kitty in the house (and she's often outside too), I am hopeful we can make it work with regular baths, brushing, and lots of vacuuming.
Blogging and Family
I've been too busy with blogging lately. My inspiration doesn't come from the computer, but from my life and most importantly, my family. Past experience has taught me this, but it's easy to get wrapped up in "what's new" in blogging and get stuck at the computer instead of well…living.
This summer, I am purposefully slowing down. I want to be able to head out to the beach for the day with friends. To tackle the many organizing projects I have ideas for. To just spend time with my kids, without telling them to "hold it this way" so I can get a photo. And I'm excited about it.
I took a break this weekend from blogging, and as a result, I have some cool new organizing projects to share with you, like how I cleaned and organized our minivan and a new swimsuit station I'm creating. We also cleaned out the attic and are working on slowly renovating our unfinished addition into a new bedroom. So yes, lots going on here in the Bragdon household.
I'm not going far though! I still have plenty of great stuff planned here at Musings. In fact, I'm in the process of having Musings redesigned, with fab designer, Jessica of The Pixelista, which I'm very excited about.
That's just a peek into my life. How have you been lately, friend?