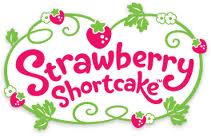 If you have a little girl, you probably have some Strawberry Shortcake things around the house. My daughter, Emily, just turned 5 years old and Strawberry Shortcake is one of her favorite characters. I am a big fan too; I've loved Strawberry since I was a little girl and still do. Strawberry Shortcake is such a sweet, caring, cheerful character and you don't see that too often anymore. It's fun to see my own daughter enjoying her now too.
One toy Emily requested for her birthday was the new Strawberry Shortcake Berry Bitty Market so I was really excited when I was given the chance to review it!

The Strawberry Shortcake Berry Bitty Market is just as cute in person as it is in pictures. The set has 30+ pieces and comes with a small Strawberry Shortcake figure. The other figures shown on the back of the box are not included, so keep that in mind if you buy this set.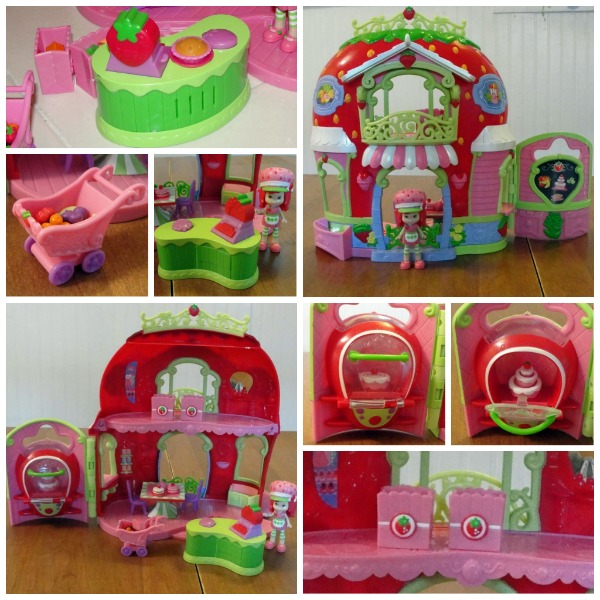 The back of the market is open for easy play-access and all the little accessories included are really cute. There is a little table and chairs for Strawberry and her friends to sit down and enjoy some yummy strawberry treats. The little shopping cart can hold the tiny pieces of food and other items and makes shopping a lot of fun. The cash register makes scanning noises and other fun sounds when you press down on it and it even opens up so the money can fit inside.
The "magic cake" that rises in the oven is cute, but it didn't work as well as hoped. You have to line up the tray just right to slide it into the oven and, even then, sometimes the oven door catches and the cake won't "rise." This caused some frustration for Emily, but she still loves it and usually just plays without "baking" the cake.
I really liked some of the extra small details, like the window ledge that moves and the mail slot where the letters can slide through. The two shopping bags are adorable and fit a lot of groceries too.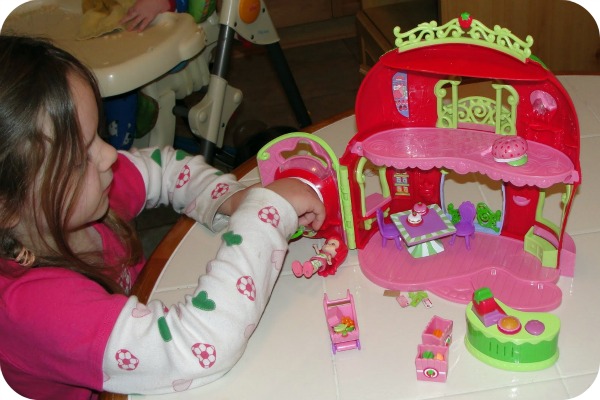 The Strawberry Shortcake Berry Bitty Market set is a lot of fun and did not disappoint. Emily has spent many hours playing with this and I know she will enjoy it for a long time to come. She's asked for some more Strawberry Shortcake characters for Christmas and I think she is going to get them!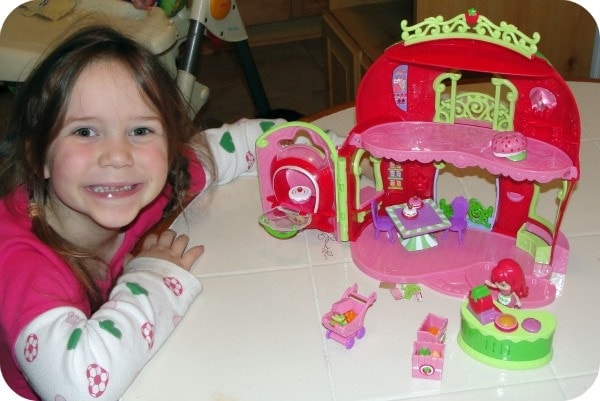 The Strawberry Shortcake Berry Bitty Market is a great way to get a little girl's Strawberry Shortcake collection started or a perfect addition to any existing collection. This toy is sure to please little girls all over this Christmas! It is recommended for ages 4 and up.
Buy It:
You can find the Strawberry Shortcake Berry Bitty Market in stores nationwide and on Amazon.com

It retails for $34.99.
Disclaimer: Thank you to Hasbro for the free product I was sent to review. I received no monetary compensation and my opinions are my own and were not influenced by the sponsor.