As a former special education teacher, I remember fondly choosing new products for my classroom, so reviewing Super Duper® Publications colorful learning aids and games brought back many happy memories. I played Super Duper's new games with my own children and found that while the products may be made primarily for a classroom setting, they are also great for homeschooling or even game night at home. Let me tell you about the 4 new games from Super Duper Publications I received for review.
TopicTalk™ Conversation Card Game • $32.95 • Grades 2 & up
TopicTalk is perfect for children needing extra help with social situations or expressive language skills. It allows children to practice starting conversation, taking turns in conversation, and staying on topic. My 2nd and 3rd grade daughters enjoyed playing this game together. One of them struggles to speak in complete thoughts, so this was a really fun way to encourage her to practice that skill. Since one of my children often dominates conversation, I also found this game to be a great way to teach children about the importance of listening to another person's opinion while taking turns speaking.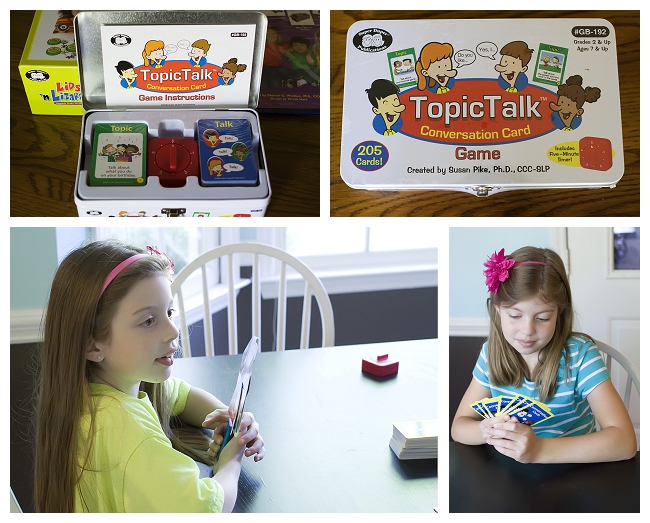 All About You, All About Me Fun Deck® • $12.95 • Grades PreK-5
This fun card deck sharpens expressive, comprehension and social skills with questions centered around getting to know someone. The deck includes a wide range of questions from simple facts such as asking the student's name or age to asking about things that make the student happy, what he or she would like to be when grown up, or telling about a time when he or she made a mistake. My daughters loved this game so much that they take it in the car to pass travel time and to the ball fields to use with their friends. I think this game would be great for classroom teachers wishing to build rapport with students and for building peer relationships in the classroom. This card deck would also be a fun activity at birthday parties, sleepovers, girl scouts..it's a great tool for breaking the ice in any group, large or small.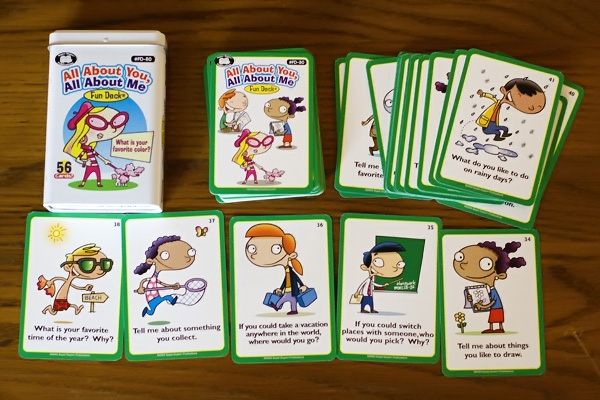 MagneTalk Early Classifying • $21.95 • Grades PreK-5
This magnetic game teaches classifying, vocabulary, critical thinking, and fine motor skills using a colorful magnetic board and photo tiles. I'm finding this game to be very versatile for both independent learning and one-on-one learning. Often, my preschooler wants to do school when I'm in the middle of teaching one of her siblings. This game is perfect for those times. Peyton can practice her sorting and classifying skills independently using the magnetic board and tiles. I've also used MagneTalk Early Classifying when working one-on-one with her; not only practicing classifying, but also working on her listening skills and her expressive language.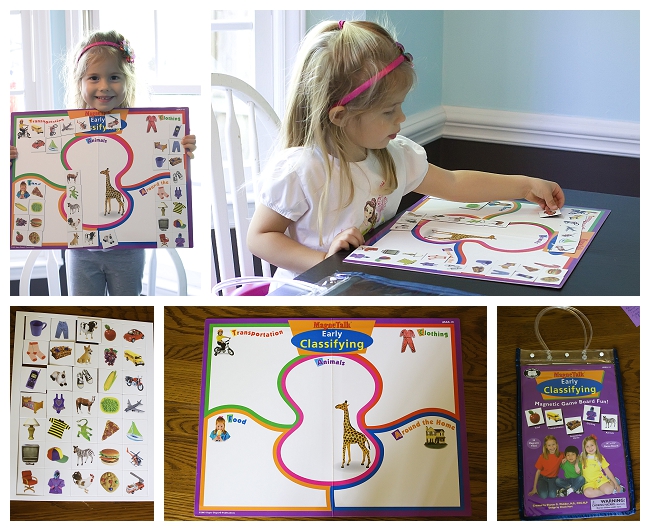 Lids 'n Lizards® Magnetic Photo Vocabulary Game • $39.95 • Grades PreK-5
Lids 'n Lizards is a magnetic photo vocabulary game that can be used to practice categorizing, descriptive language, vocabulary, and auditory and visual memory skills. The game was the favorite of both my preschooler and kindergartener- even my bigger kids wanted to play! It's super versatile, and can be used with a wide range of ability levels and ages with just a few changes in game play. We especially enjoyed playing "What doesn't belong?" and "Lost Lizard" using the ideas provided for varying game play. Another really great thing about this game, is that you can use it with any other magnetic teaching tools you may already have. I used sight word and phonics magnets for my kindergartener, and word magnets for parts of speech, rhyming, synonyms, and antonyms for my elementary school kids.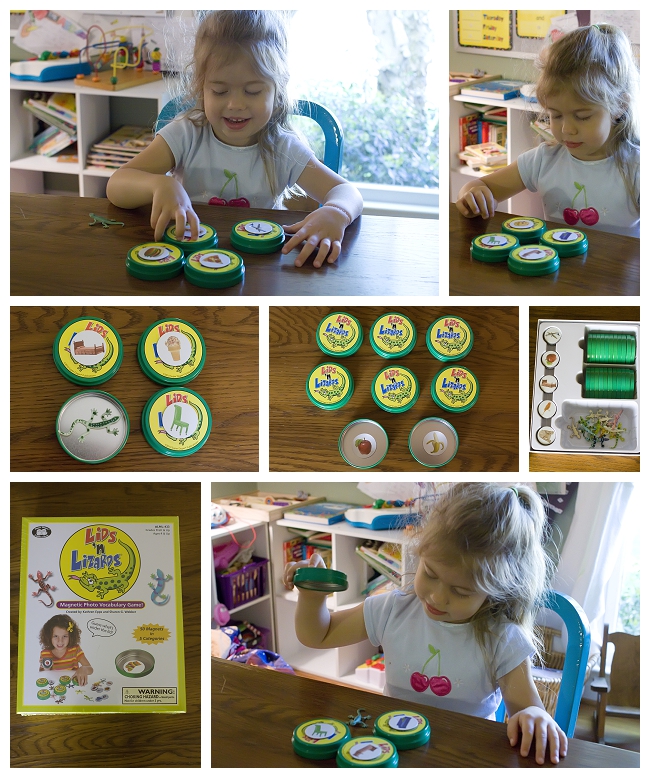 Overall, my children and I enjoyed playing all four of these Super Duper Publications games. I appreciate that each game included extra ideas of game play for variety and for working on different skills; this helps extend not only the fun of the games but also the learning potential and usefulness of each one. Another thing that I loved about Super Duper Publications games is the very useful website. Many of the games have a video both demonstrating how to play each game and how to vary game play.
Buy It:
Visit www.superduperinc.com
Musings from a Stay at Home Mom's blog readers save 15% OFF any Super Duper purchase with Promo Code: KSBLOG192
(Code expires June 30, 2013)
Win It!
1 lucky winner will receive the choice of one game pictured below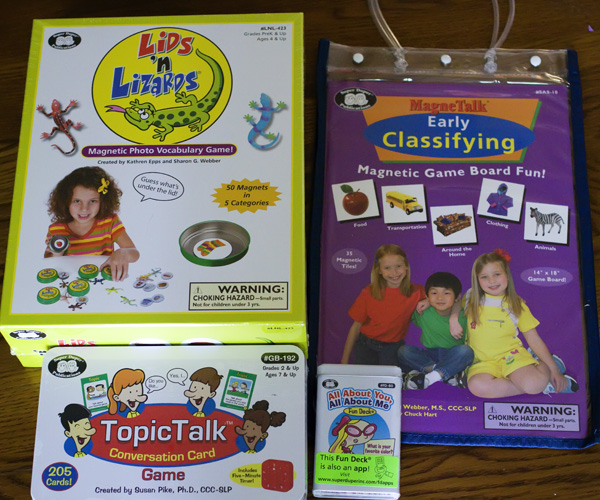 CLOSED