If often seems like the focus around holidays is always candy and sweets, at least when it comes to kids. I know the frustration of not wanting my kids to have too much sugar. Luckily there's some other great non-food and definitely non-sweet treats that kids will love just as much!
These Surprise Pumpkin Treat Bags are the perfect way to provide non-candy treats to kids, whether it's a class, a party, or even your own kids just for fun!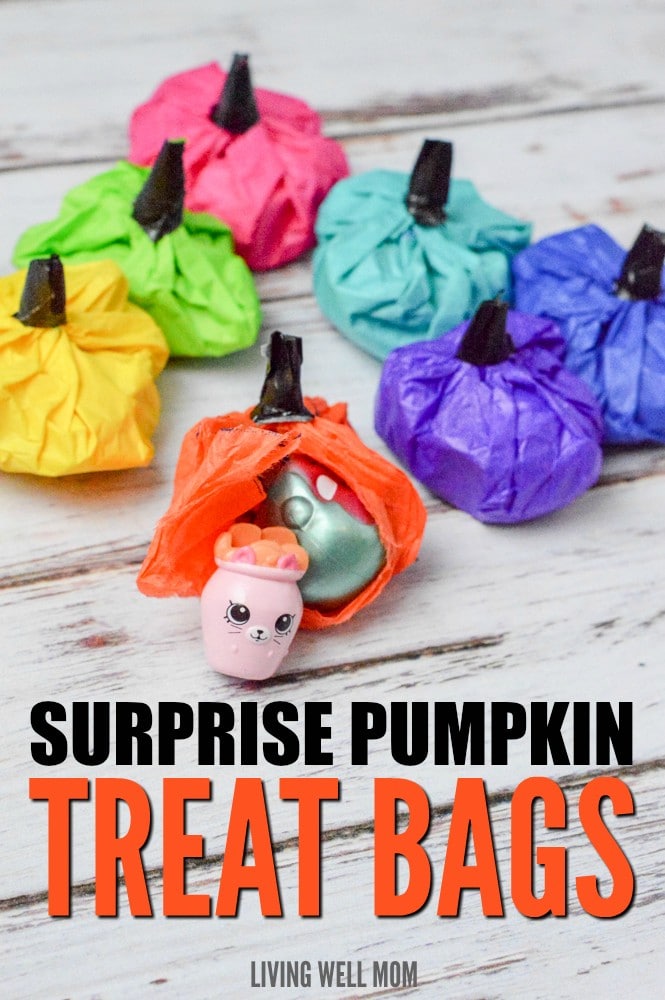 Surprise Pumpkin Treat Bags are fast and easy to make and they're great as party favors too!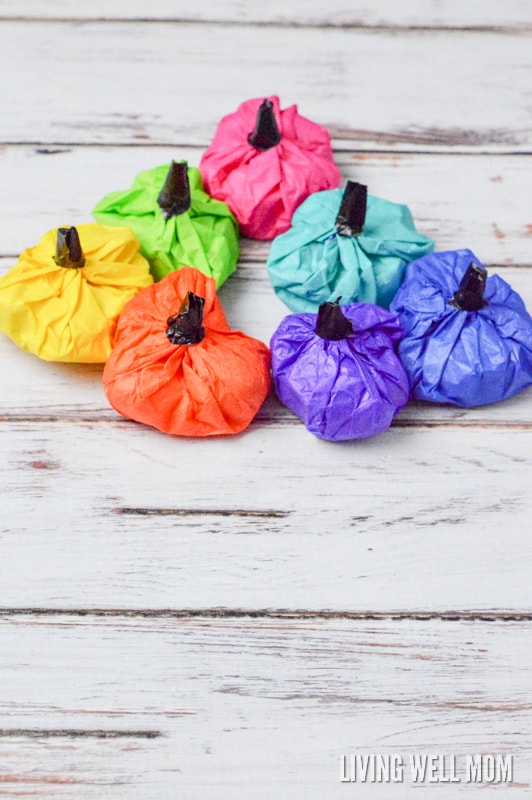 What You'll Need for Surprise Pumpkin Treat Bags:
The first step is to layer two pieces of tissue paper on top of each other. It can be any color or pattern; I chose orange to be our tutorial example.
You will need to draw a perfect circle on the tissue paper with a permanent marker. The circle will need to be 6″-10″ across. I use a cereal bowl to trace around it. You could also use a larger coffee can, a tupperware lid, or whatever you have easy access to.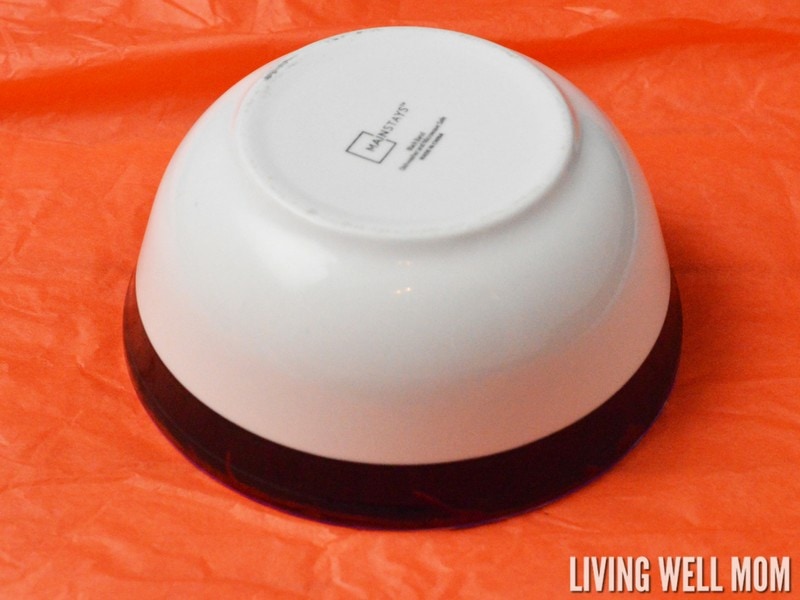 Trace the circle with a permanent marker, and then cut out the circle, making sure to cut through both layers of tissue paper.
Once your circle is cut out (don't worry about the marker showing, it won't matter to the finished product), you're ready to choose the treats for your pumpkin treat bags. You can choose whatever toys you want. Some ideas would be small erasers, stickers, Shopkins, Lego figures, Tsum Tsums, blind bags, bouncy balls, jewelry, Littlest Pet Shop figures, small animal toys, hair accessories for girls, etc.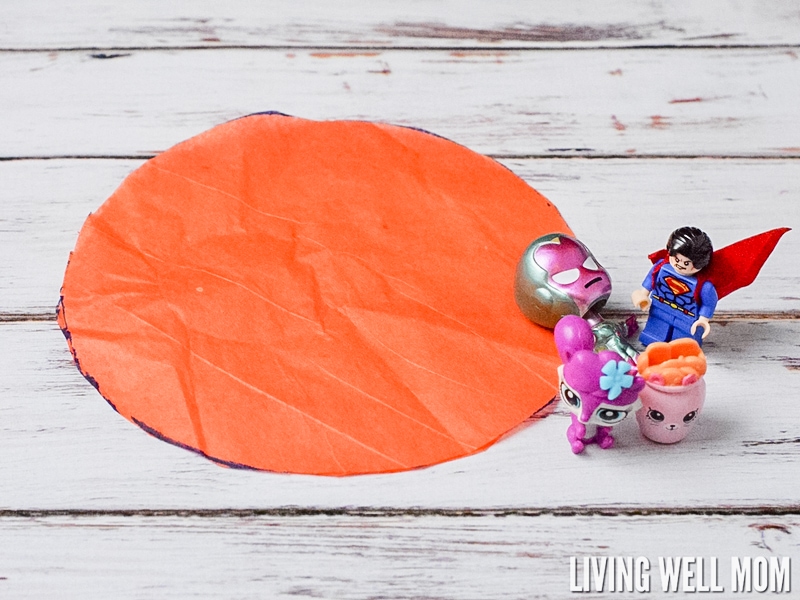 Once your "treats" are selected, you're ready to close them up into a fun little pumpkin treat bag! Figure out how many items will fit into your tissue paper circle, and then gently pull the tissue paper edges up to the center.
Allow for the tissue paper to gather, as it looks better this way, and will give little fingers a place to tear it open. Get as many of the tissue paper edge pulled to the center as possible, and twist it a little between your thumb and forefinger.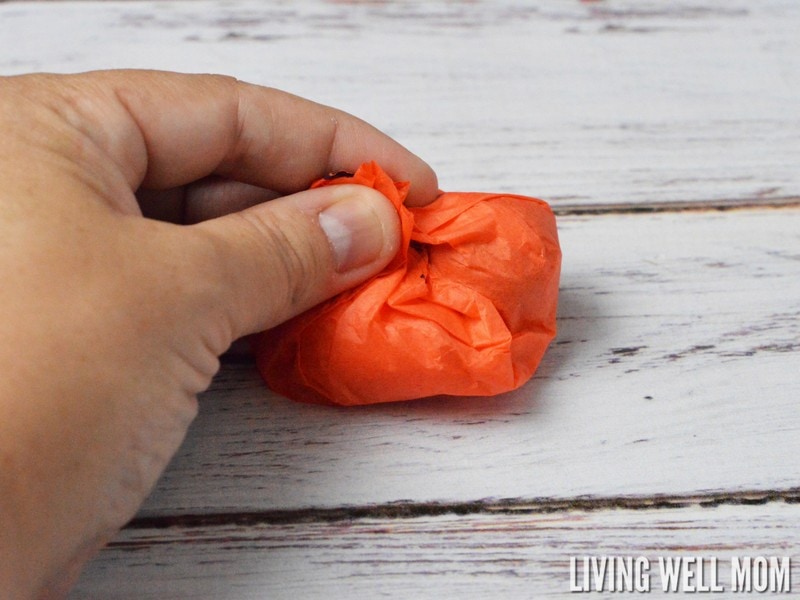 Using washi tape (we used black, but you can use any color or pattern!), wrap around the gathered tissue paper at the top. This will create your stem. Wrap several layers of tape to make sure it's secure.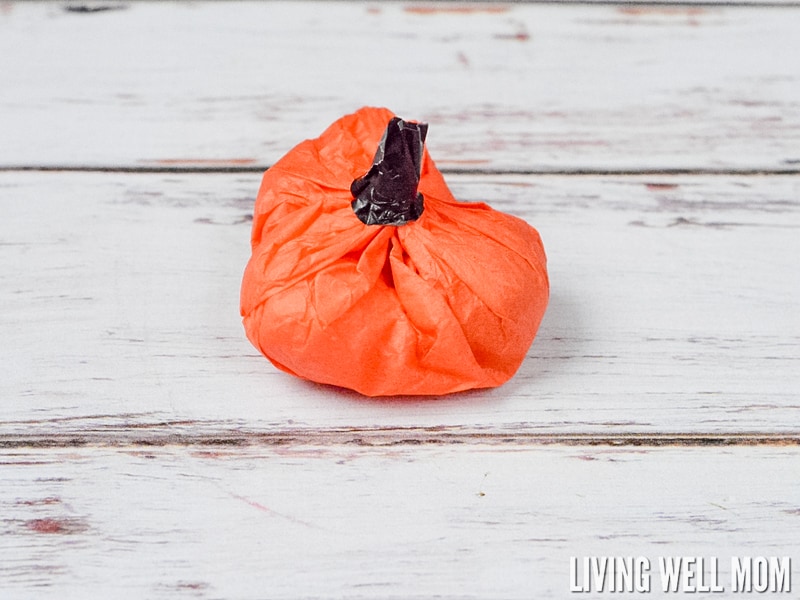 I love the shape this pumpkin has with the lumpy, rounded edges. Pumpkins in the real world have all different kinds of fun shapes and designs, so these pumpkin treat bags follow suit. Once you're finished taping, your surprise pumpkin treat bag is ready to make the day of the little one who opens it!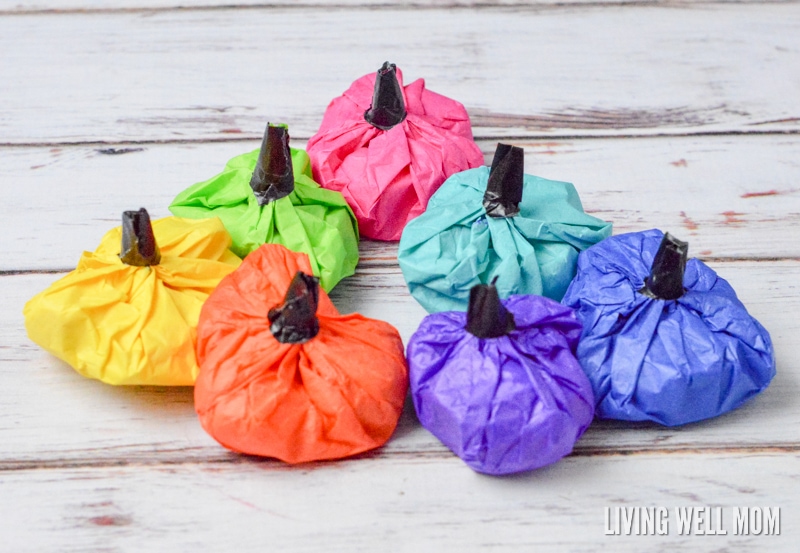 Kids will love tearing into their Surprise Pumpkin Treat Bags as they reveal their surprise!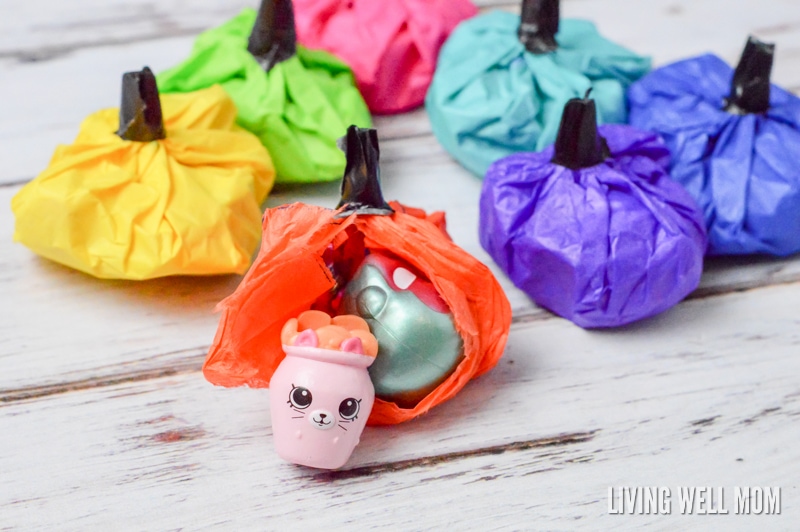 Surprise Pumpkin Treat Bags are great for a class, or even to hand from your door to trick-or-treaters! They can literally be filled with anything, so the price point is left up to the creator!
I loved all the different colors of these pumpkins – they're so bright and cheery! I think these would even be cute in a striped or polka dot patterned tissue paper too.
Surprise Pumpkin Treat Bags are really quick to make and definitely easy enough that even your kids can help put them together.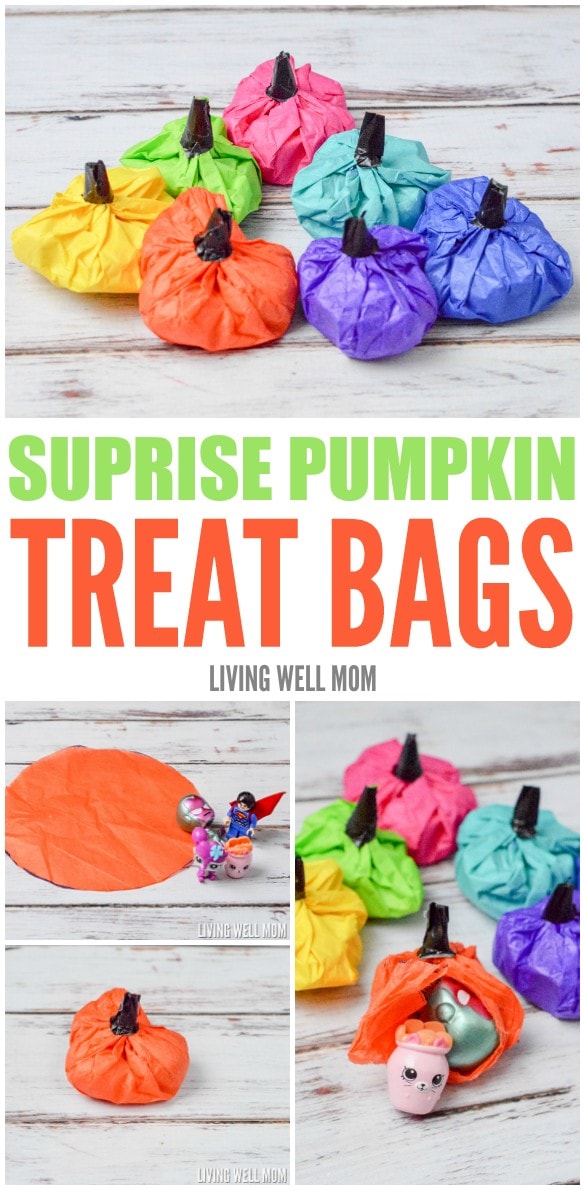 What will you put in your Surprise Pumpkin Treat Bags?