The First Years has introduced a fun new addition to their product line this year: Disney Magical Color Change Sippy Cups. These sippy cups "magically" change to a darker color once a cold liquid is poured into them. The double-insulated wall keeps the drink cool longer, but if the liquid warms up, the color fades away, making it easier for moms.
The color change sippy cups are BPA free and feature the Easy Clean Valve System, where the valve is built right into the lid, making it one easy-to-clean piece. They're also dishwasher safe, making it even better.
There are 6 Disney character varieties to choose from. Cups are 9 ounces and come in 2 packs.

I was sent a set of the Disney Cars sippy cups to review.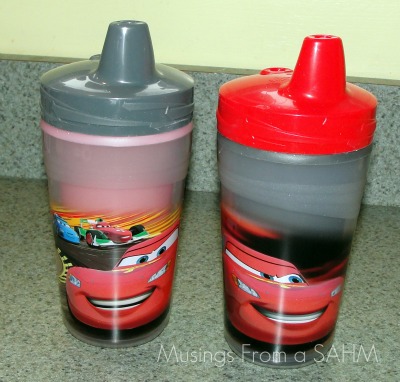 The first thing I liked about these cups is how bright and colorful they are. The characters really stand out and the kids love them. Luke, my 14 month old, who uses these cups is a little young to care about a particular character, but I know he likes the bright colors. And an older toddler will love choosing their favorite Disney friends.
My favorite part of these cups is that they don't leak. Yep, I said it. I finally found a sippy cup that is truly no-spill. With my 4 kids, we have used countless sippy cups and they have all leaked one way or another. The last kind we were using was from the cheap bins at Walmart and they leaked horribly. It was perfect timing when our First Years cups came in the mail.
They really work. I've found my kids shaking them upside down (you know how kids love to do that and spill the milk out) and these cups held strong. I am really impressed.
I know the Easy Clean Valve System makes the big difference. The lid is one complete piece. There are no small pieces to fit together just right and later lose or get frustrated trying to clean. This cup is easy to clean and easy to put together. Just pop the lid on and go!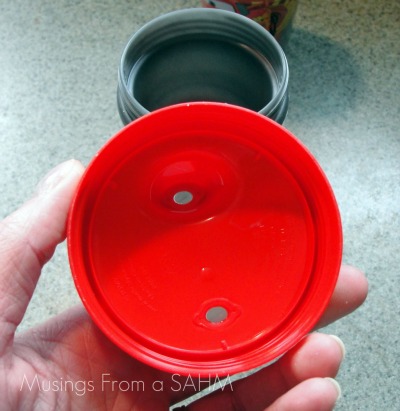 The color change feature is a lot of fun for the kids. They like watching it change when I pour the milk in Luke's cup and later, if the cup is left out, I love that I can check the color to see whether it's still good or not. No more guessing or wasting perfectly-good milk.
Check out my video review and the color changing action right here:
As I said in the video: These are my favorite sippy cups and if you're a mom with young children, you should definitely check these out!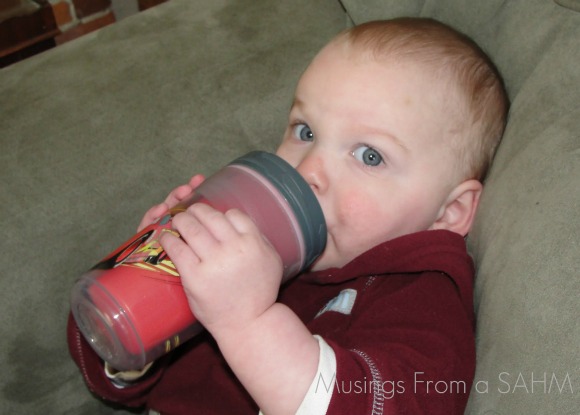 Buy It:
You can find The First Years Color Change Sippy Cups at stores (Walmart, Target, etc.) and online.
Disclaimer: Thank you to the First Years for the free product I was sent to review. I received no monetary compensation and my opinions are my own and were not influenced by the sponsor.