Last weekend, we took the kids down to Boston, Massachusetts to visit the Franklin Park Zoo. I've lived in New England for most of my life, but I've never been to this zoo before. And with Boston only two hours from our home in New Hampshire, we were missing out!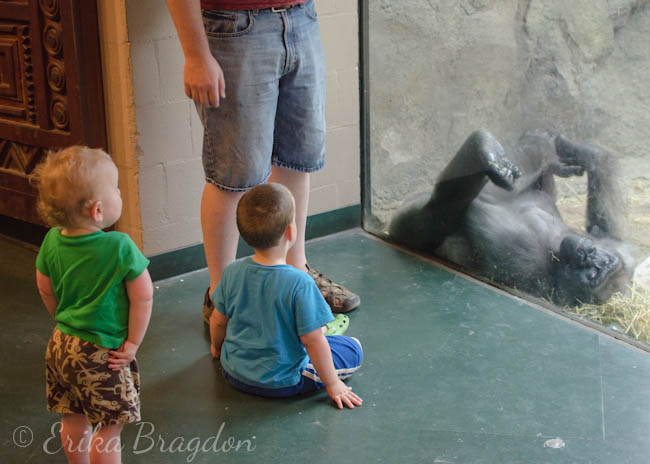 There's lots of animals and fun exhibits for the kids to enjoy, but it's not so much that it's overwhelming. We arrived around noon and enjoyed a full afternoon at the zoo. It was a very hot and humid 95º that day and we're not used to that kind of heat, but we still had a great time.
The Franklin Park Zoo opened a fabulous new playground the day we visited (July 15th.)
Here's a picture of zoo employee, Ashley, who very nicely posed with Nathan and Emily before the playground opened. It was her job to guard the entrance prior to the official opening. It was a good thing she was there too because there were tons of kids, ready to swarm it!
The playground was made possible by the Play 2 Dream foundation, which is dedicated to encouraging children in staying healthy, happy, and letting kids be kids. The playground definitely fits that description! It incorporates 30 different zoo animals into the design and children can have fun discovering the animals as they run and have fun.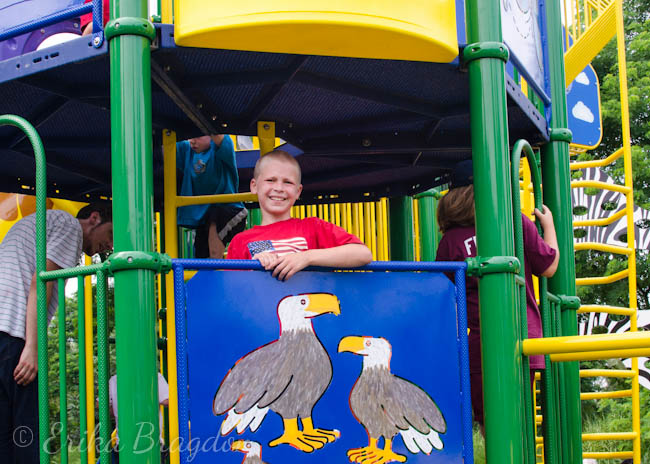 This was the coolest playground I've ever seen, with 10,000 square feet of fun. From twisting super-tall slides painted to look like a snake or giraffe to cute fish slides for little children, kids of all ages can have a blast here.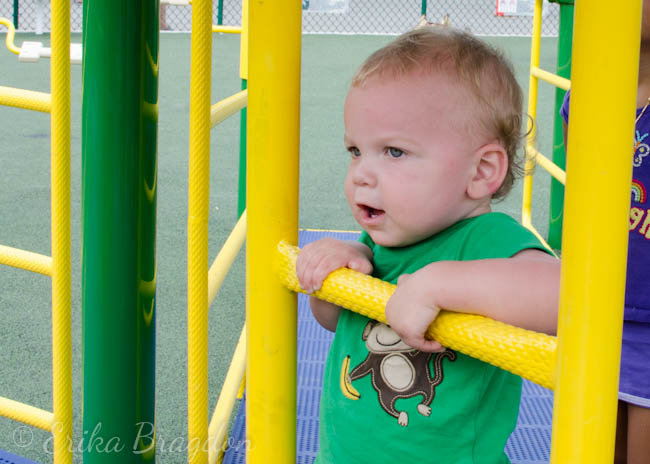 As a mom, there were two things I really appreciated about this playground, besides how much fun my children had:
There was a fence completely surrounding it, with only one way in or out. It meant I could relax and let my kids have fun, knowing they couldn't just run off.
The playground is built on a rubberized surface so it's safe and accessible for all kids. It was easy to bring the stroller in and I can see where it would be more handicapped accessible too. It also was a gentler surface so if one of my kids fell, I didn't worry about them being injured unlike other playground surfaces.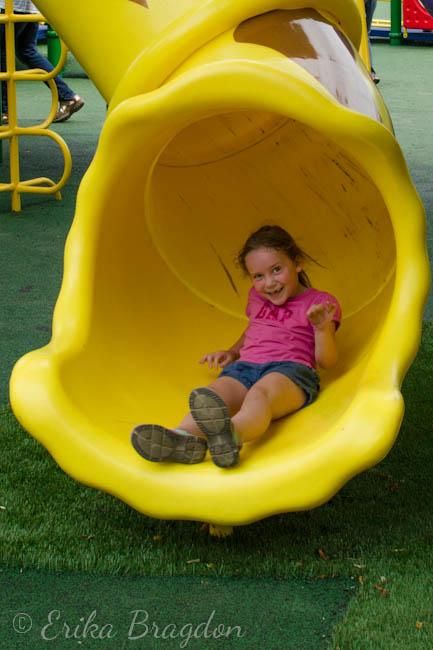 The playground is amazing, but that's just one part of the Franklin Park Zoo.
Little things, like this sign, which demonstrated how big a giraffe's vertebrate is, helped teach the kids some neat facts in a fun manner.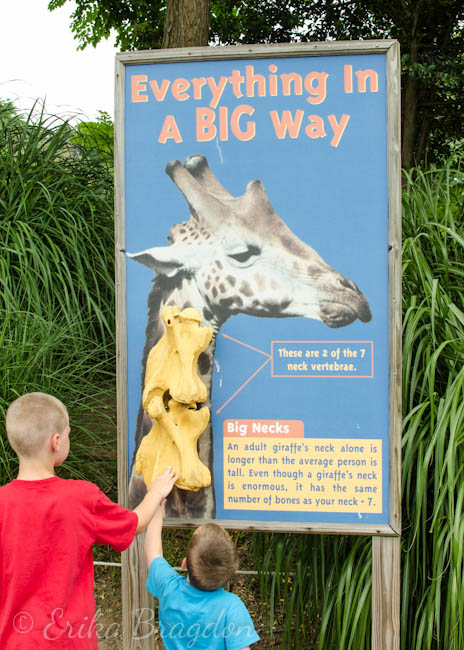 Another example is the kangaroo jump: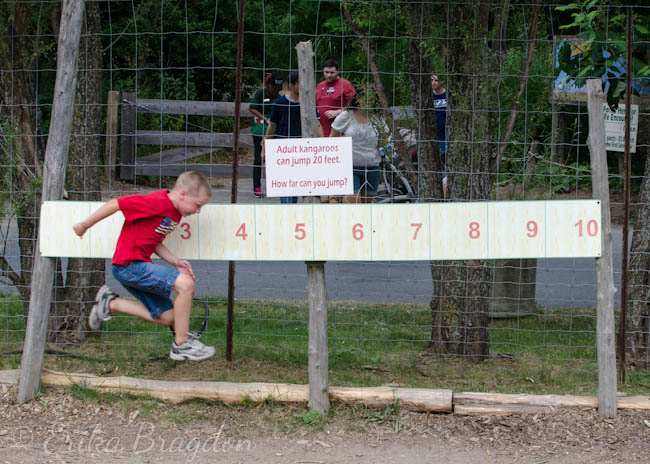 This summer, the Franklin Park Zoo is home to "Zoorasic Park," where you can stroll down a twisting trail with animatronic dinosaurs. To be honest, the extra admission cost for this feature was unnecessary, in my opinion – I think it should have just been included in the general admission. But we were given free tickets and it was a fun experience. Some of the dinosaurs were a little scary for Joshua and Luke, so we ended up hurrying through at the end. But if you have a dinosaur fan, this is a can't-miss feature of the zoo.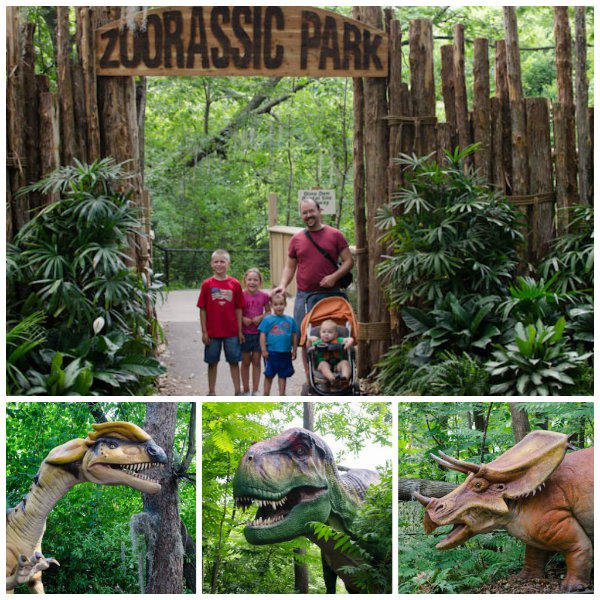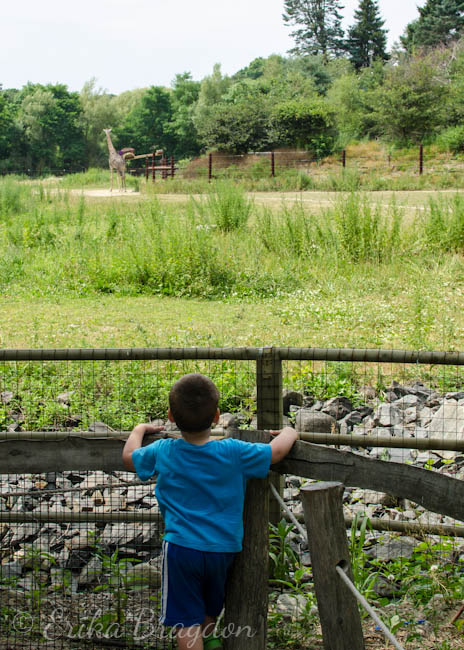 It was obvious that the zoo cared about their animals. There was one exhibit where an opossum was in a tiny area that didn't seem nearly big enough, but aside from that, all the animals looked pretty content. In one spot, we saw two camels in a small fenced area, which made me wonder. But then I saw a sign stating that one animal was confined for veterinary care and the other camel was there to keep her company. I thought that was very sweet.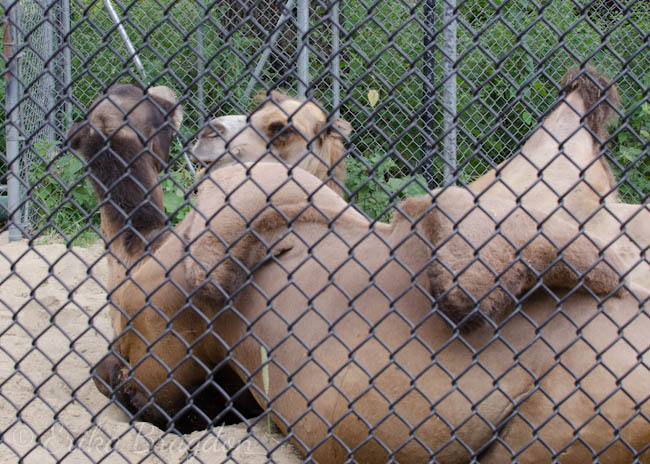 One neat spot was the bird area, where you could go inside with flocks of budgies (parakeets) flying around and you could even feed them. We have a parakeet at home, but it was an experience to see so many at once.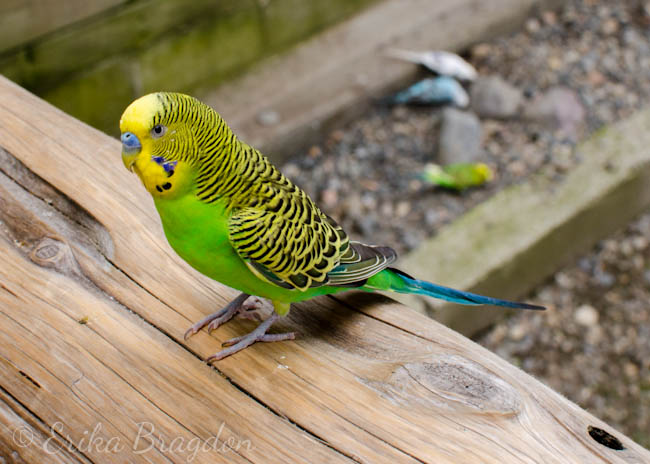 The butterfly house was my favorite. It was simply gorgeous and I could have spent hours in there with my camera. Of course I didn't – the kids were eager to get back to the playground – but these are two of my favorite photos: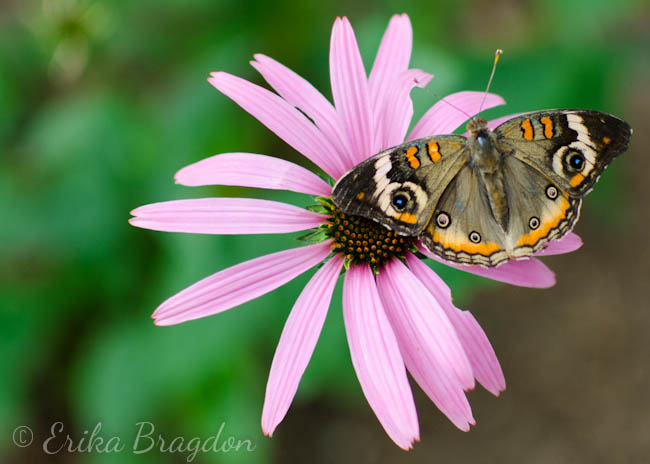 and this one: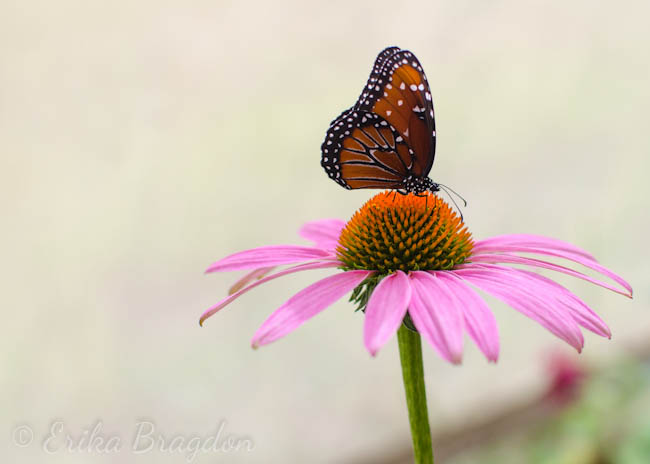 Last but not least, another highlight of our visit was at the end. We went down a path to see the prairie dog exhibit.
Here is Luke peering in: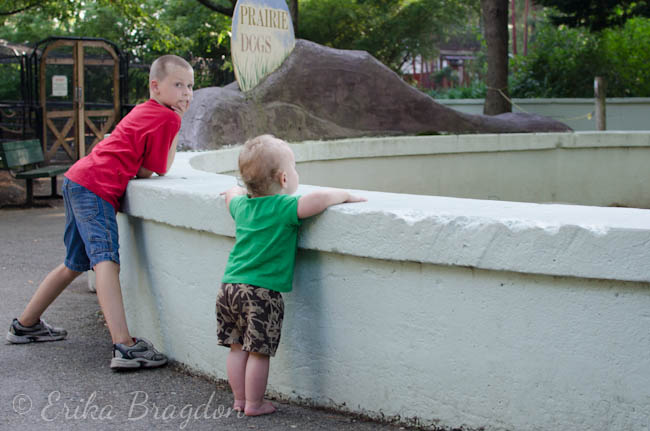 This is what he's looking at: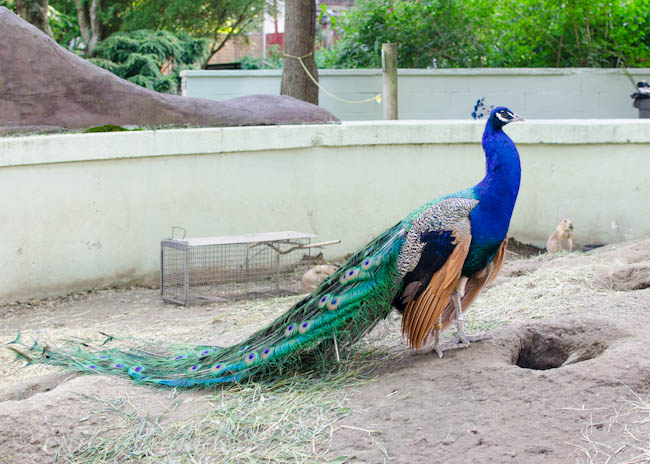 This beautiful peacock is somewhat of a zoo "pet." He wanders freely around the crowds and makes himself at home. According to a zookeeper, his favorite spot is the prairie dog home. The peacock loves to visit the little rodents, then he "shows off" to them, making sure they know who's the king.
Now, that's not something you see everyday!
It was so comical.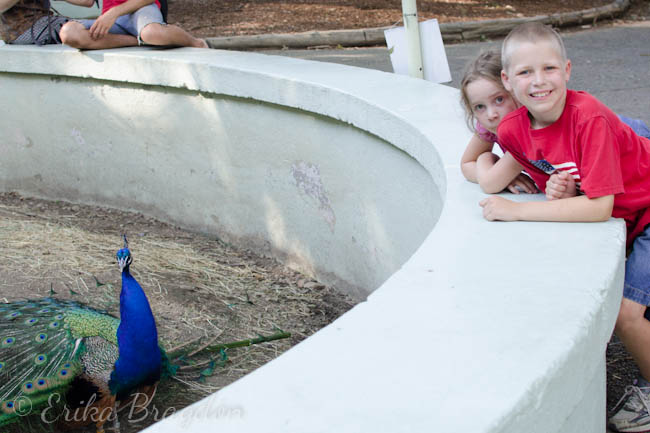 We really enjoyed the zoo, but there were a couple areas that needed some attention. Some platforms near the zebra exhibits that allow for a higher viewpoint needed repair on the stairs. And the zoo bathrooms were pretty disgusting with clogged toilets and in one bathroom, 5 of the 6 stalls wouldn't latch. Obviously, we weren't thrilled with that, but despite those small things, I would still recommend the zoo.
The Franklin Park Zoo is a place that can be enjoyed by people of all ages and offers great family memories. I think the admission cost of $17 for adults, $14 for seniors, and $11 for children ages 2-11 (under 2 is free) is very reasonable, considering everything that's offered. We had so much fun and I know we'll be back. If you're in the Boston area with your family, I highly recommend putting the Franklin Park Zoo on your list of must-see places to go.
Disclaimer: My family received free admission, thanks to the wonderful folks at the Franklin Park Zoo. I was not compensated monetarily for this post and all opinions are my own and were not influenced by anyone else.