Sleep. It's what every parent of an infant dreams of. Sadly, this includes me. I thought I was SOOOOO lucky that Samuel was sleeping 12 hours every night with just a couple of brief wakings to eat AND taking two good 3-hour naps each day, all without a struggle. And, of course, I just assumed this would continue. Now I look back and laugh at my naïve self of only a couple weeks ago. As a new mom, what I didn't realize is that 1) Babies change so rapidly, you just can't depend on something truly being permanent at this point, and 2) Samuel was about to hit what is known as the 4 month sleep regression.
Obviously, this review couldn't have come at a better time for me! So for the past couple of nights, after I've finally gotten Samuel into bed and asleep, I've propped my eyelids open with toothpicks and dove into what Nicole Johnson, sleep coach and owner of The Baby Sleep Site, has to say.
Ms. Johnson's e-book, The Three-Step System to Help Your Baby Sleep, is offered as a PDF to read on the computer or print out and as .epub and .mobi formats for reading on a Kindle, Nook, or iPad. I chose the Kindle version of the book and using their easy-to-follow instructions I got it loaded and was reading within a few minutes!
This book is a fairly quick read; it took me approximately an hour or so to get through it. It is laid out very logically and Ms. Johnson explains things in simple terms. I loved this because I didn't have to guess at what the author meant by something! When you have an over-tired parent looking for help, the last thing you want to do is leave him/her guessing. For example, Ms. Johnson begins by telling us that babies need a lot of sleep. Then she follows that up with a chart that actually shows sleep needs broken down by age. VERY helpful!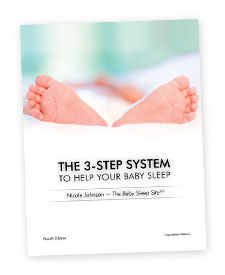 The book is geared toward babies under 12 months of age and covers topics including newborn sleep, ideal bed times, naps and schedules, shifting schedules, sleep routines, sleep associations, sleep training and coaching methods, nap training, night weaning, and transitioning to a crib and toddler/twin bed.
At the point I'm at right now with Samuel, I found the chapters devoted to sleep associations and sleep coaching methods the most helpful. While I have already established a bedtime "routine," I hadn't stopped to consider sleep associations. And while I had already started to think about how I will sleep train Samuel, I really didn't know what the different methods look like. Ms. Johnson was able to draw what I feel is an adequate picture for me so that I can make a more informed choice.
There are several very helpful appendices at the end of the book. I loved Appendix B, which is a quick age reference for what to expect at different ages. For example, at four months of age I should expect Samuel to be developing a morning nap shortly after waking in the morning.
Appendix D is also great as it provides blank sleep logs you can fill in to get a better picture of your baby's sleep. This will help you gauge whether your baby is getting enough sleep and can serve as a guide should you ever need to adjust baby's sleep schedule.
I would recommend this for a first-time parent who needs to start with the basics. The 3-Step System to Help Your Baby Sleep can be purchased in the form of three different packages, with the least expensive costing $27 and the most expensive costing $97. Each package offers various other "tools" in addition to the e-book. The various package details can be seen at www.babysleepswell.com/
Ms. Johnson by no means offers magical formulas that will make getting your baby to sleep easy. In fact, she is very up front and makes it clear that while some children will sleep train faster than others, rarely is it easy. There will likely be rough nights ahead, but if you persevere, you will eventually be able to enjoy nights of restful sleep once again.
That's what I'm crossing my fingers for!!
<