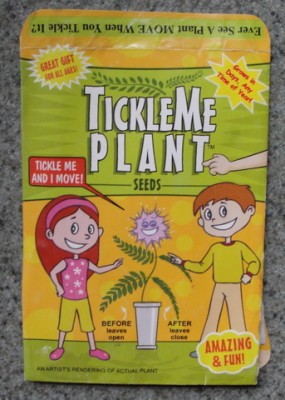 I found these tickle me plants in a catalog a couple years ago, bought 2 packs with the intention of giving it to Nathan & Emily at Easter, put them in a drawer, and promptly forgot about them. I found them this past spring (a year later) and was afraid it was too late. But since it wouldn't hurt to at least try to grow the seeds, the kids & I planted them.
They were very excited and we waited anxiously. At first it seemed the seeds might be bad, but then they started growing – all of them.
A couple months later, we have several large Tickle Me Plants. Nathan's is the largest because it's the only one in the pot, while Emily has two medium-sized plants (I really need to transplant one of them so they'll both grow better) and then Joshua has 3 or 4 smaller plants in one pot (again another transplant on my to-do-list.)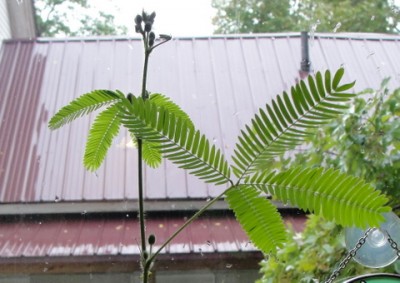 These plants look like any other tropical plant, but they aren't. The leaves close up at night or if they are touched. A gentle breeze can cause them to close up. They reopened a few minutes later. It's fascinating. (And as my friend noted, slightly creepy – they almost seem somewhat intelligent.)
Later, they even grew a small round pretty pink flower. Nathan's plant had one last week and Nathan promptly picked it before I could tell him to leave it alone.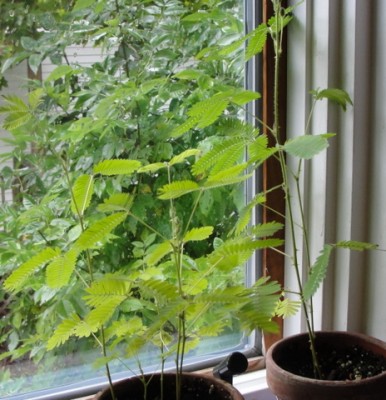 Tickle-Me-Plants are a great "science" project for school too!
I highly recommend Tickle Me Plants.
You can find them on Amazon here.