If you have kids, you know how often they get bumps and bruises. Or, you can be a klutz like me and manage to bruise pretty much on a daily basis. Since both of my girls inherited my lack of grace AND they love to run full throttle all the time….we have a lot of bumps and bruises.
My girls have sensitive skin, so we need to be careful what topical creams we use. Even a simple antibacterial cream can cause a rash, which can make it a bit tough to find creams that my girls will allow me to put on them.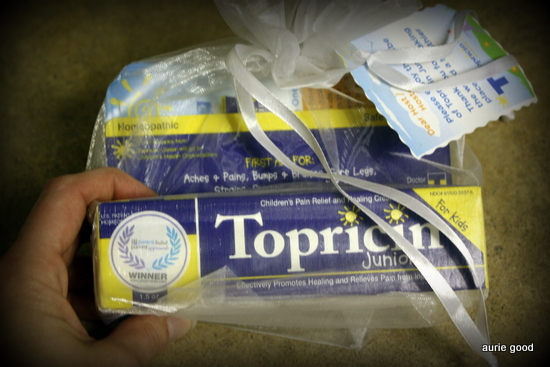 We received a 1.5 ounce tube of Topricin Junior to try. I was intrigued and checked out their website which claims that it is effective on the following:
Bruising, Bug Bites, Eczema, Growing Pains, Insect Bites, Joint Pain, Minor Burns, Muscle Sprains, Scrapes, Scratches and Strains.
I was wondering what we would need to try the cream on first….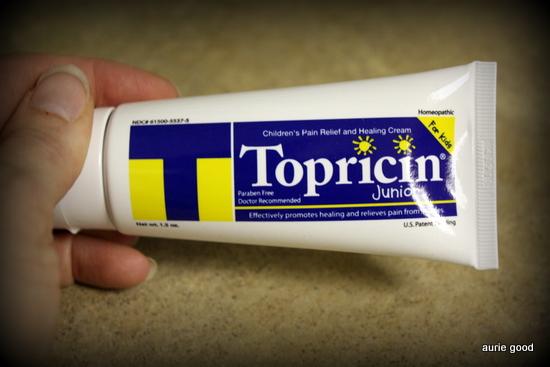 Thankfully it was only a minor scrape on my Bella girl. She was pretty adamant about not having some cream put on, but after I calmed her down and we tried it she was a happy camper. The cream is light, with no scent. It's not greasy and absorbed quickly.
About 10 minutes later I banged my hand in the washer door and tried the cream myself. I did notice the bruising died down very quickly and my hand was fine the next day.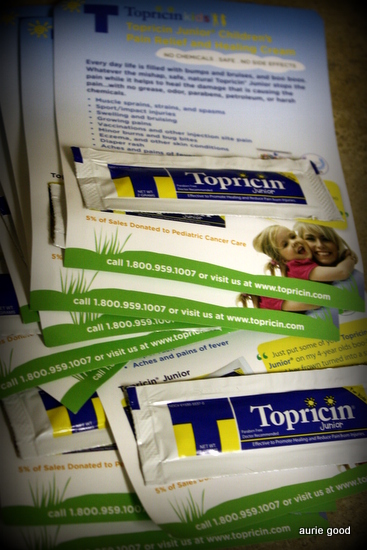 We were also sent some samples sizes which are perfect for our diaper bag when we are out and about. I've also given some of the samples to friends and they have all given rave reviews.
In short, I'm very impressed with Topricin Junior cream and will be adding it to our medicine cabinet!