VeggieTales is back with another addition to their collection of awesome children's movies. This time it's a holiday movie with a Veggie-version to the classic: The Little Drummer Boy. Junior Asparagus is the star in this adorable movie with a great message.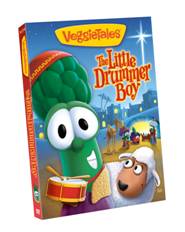 The movie starts with Junior who is sad and lonely after some tough times. He trusts and loves only his three animal companions: a sheep, donkey, and camel. He pushes others away and isn't happy until he stumbles upon the birth of Jesus. This life changing experience changes him and he learns about love, forgiveness, and hope.
This movie is really adorable and my children have watched this many times since we received it. I have enjoyed watching it with them too. I think Junior's pet camel is hilarious; when he kicks his legs out to Junior's drumming, I can't help laughing. It's good clean fun with a great message too.
The music is one of the best parts and the sing along songs "Can't Smile Without Ewe" and "The 8 Polish Foods of Christmas" are so much fun. I found myself singing along too! Grammy and Dove-Award winning BeBe and CeCe Winans are featured with their version of the classic song "The Little Drummer Boy."
Bonus features include: audio commentary, "The Little Drummer Boy" music video, behind the music, visit a drum factory with Junior, family activity: how to make a drum, and interactive book preview – Christmas Is Finally Here.
We were also sent VeggieTales: O Holy Night, a CD of Christmas music, featuring artists like Amy Grant, Wyonna Judd, Steven Curtis Chapman, BeBe & CeCe Winans, and Matthew West. I loved adding another great Christmas music CD to our collection and we really enjoyed this.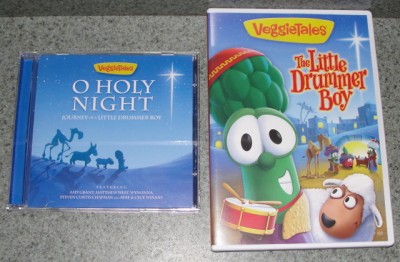 Find The Little Drummer Boy on Amazon too.
Thank you to the sponsor for the free product I was sent to review. I received no monetary compensation and my opinions are my own and were not influenced by the sponsor.