In just a couple months, our family will be making a long drive to North Carolina for my brother-in-law's wedding. It will be a wonderful, but I can tell you – I'm not looking forward to the 16 hour drive there. It's long, boring, and you can only do so much with the kids. It's especially boring for my almost 6 year old daughter, Emily. She's starting kindergarten this fall and isn't quite reading yet, so she doesn't have the option of reading a novel for hours like her big brother. But she's too old to take naps, like her younger brothers.
Enter VTech's MobiGo 2 Learning System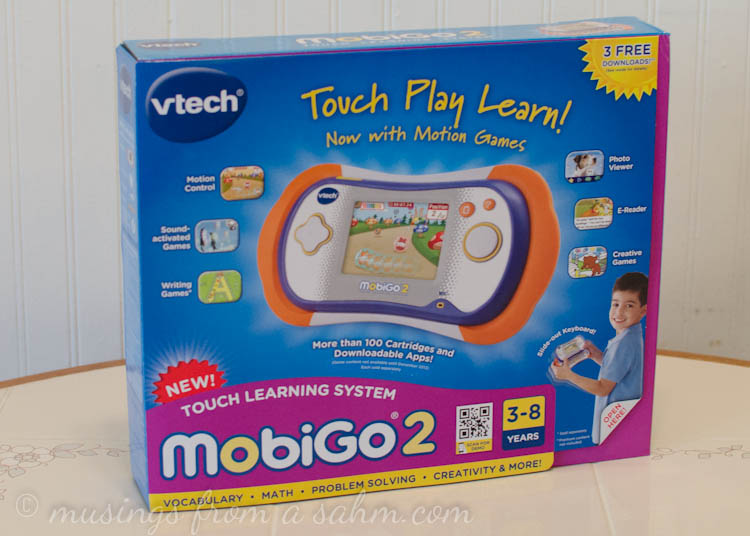 When I was sent a VTech MobiGo 2 Touch Learning System to review, I knew it was the perfect solution. This fun educational system encourages basic skills, such as math, vocabulary, spelling, reading, logic, drawing, and more and provides on-the-go play for kids ages 3-8 with a touch screen. It has everything the original MobiGo offered, plus two new features: a motion sensor that lets kids do action movements and a microphone where kids can speak commands, do cool effects, etc.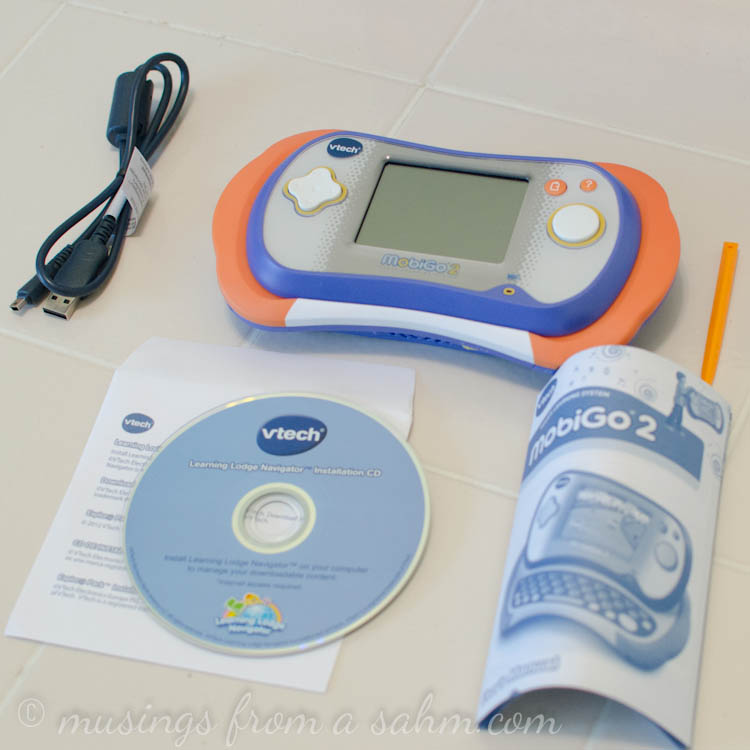 Even though the MobiGo 2 has additional features from the original version, it's offered at the same cost – an average retail price of $59.99. So many companies keep raising the cost of toys so I think it's fantastic that VTech chose to think of the consumer and not go that route.
On-The-Go Fun
MobiGo 2 comes preloaded with three fun games and is an e-reader, photo album, photo viewer, art studio, and coloring book. I appreciate the variety that can appeal to various ages, yet include all at the same time. There are certain features that are a little too advanced for Emily yet, but I know she'll be able to do them soon. For example, the photo album has a game where a photo is shown (something simple like a dog, fish, etc.) the name is spoken, and the child must type in the word. Emily could do a couple of the very simple words, like dog, but others were a little too advanced. That's great though because it gives her something to work toward.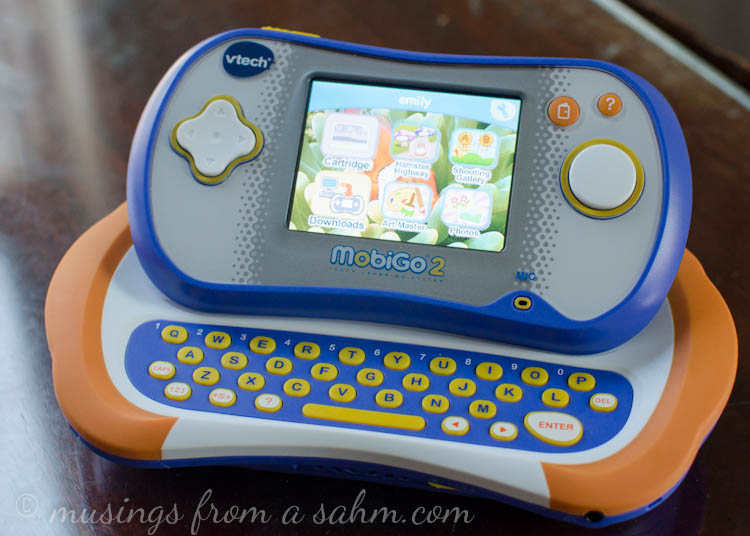 There's another game that's just plain fun, called Hamster Race, where kids can utilize the cool "motion" feature and move the device around to position the hamster ball as it rolls. It's a lot of fun. I even tried it out and found myself enjoying catching hamster lollipops and stars.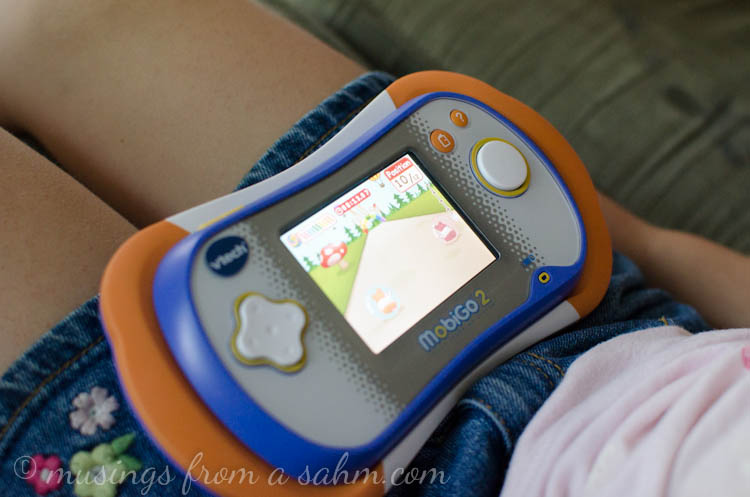 Emily's favorite game is the art studio. She loves being able to color, draw, use markers, put on "stickers." She goes back to this more than anything else and it definitely inspires creativity. She also loves the touch screen feature and tells me "This is my own iPad, Mommy, because it's so neat!"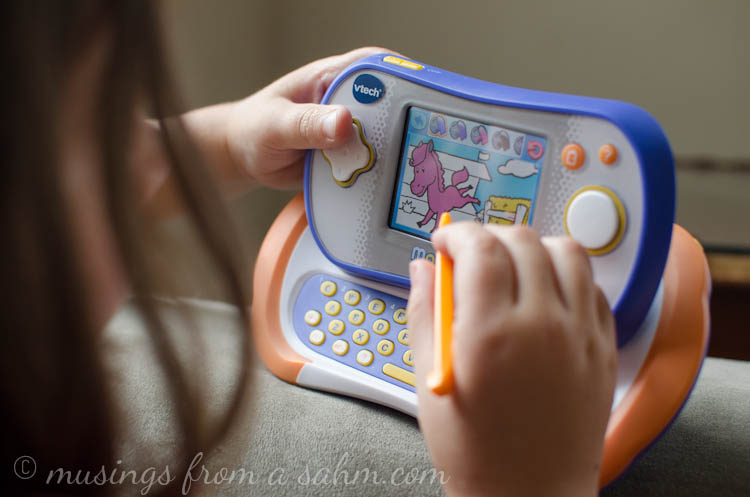 The system also has a QWERTY keyboard, which is one of my personal favorite features. I think it's great for kids to get used to a keyboard at a young age and this provides the perfect opportunity on their very own age-appropriate device.
My Overall Opinion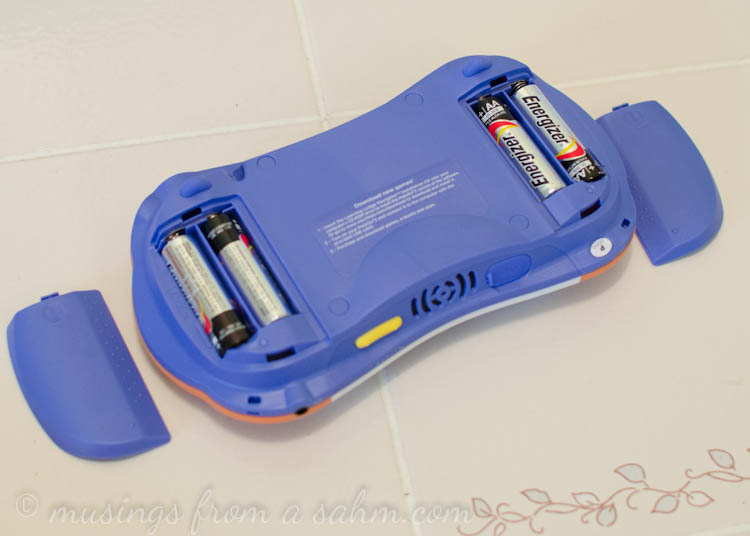 My only complaint about the VTech MobiGo 2 system is the batteries. It requires 4 AA batteries to run and that's a lot of batteries, especially when they don't usually last long in systems like this. Plus, I rarely remember to bring spare batteries on trips and the device is useless without them. I really wish companies would wake up and produce an on-the-go toy with a rechargeable battery system. It would be much easier for us parents.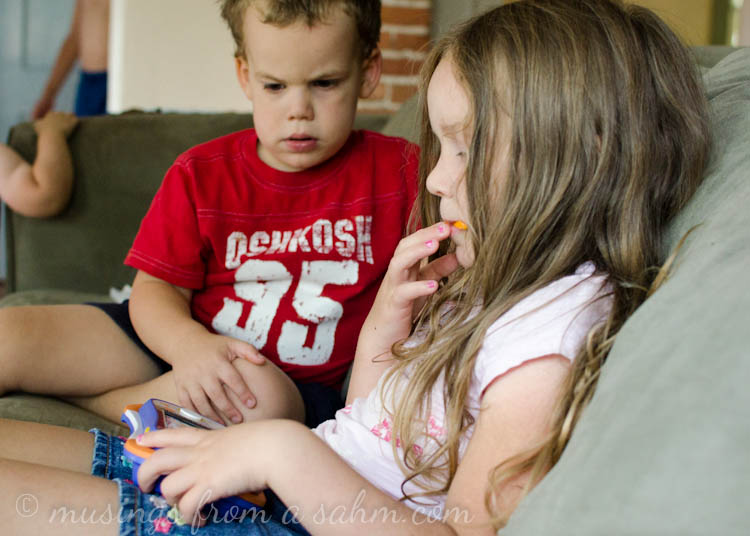 That being said, I still definitely recommend the MobiGo 2. In addition to all the cool features I've already mentioned, this system has expanded onboard memory and you can download over 80 apps from the VTech Learning Lodge Navigator™ at VTechKids.com/Download. While there, join Club VTech for added discounts.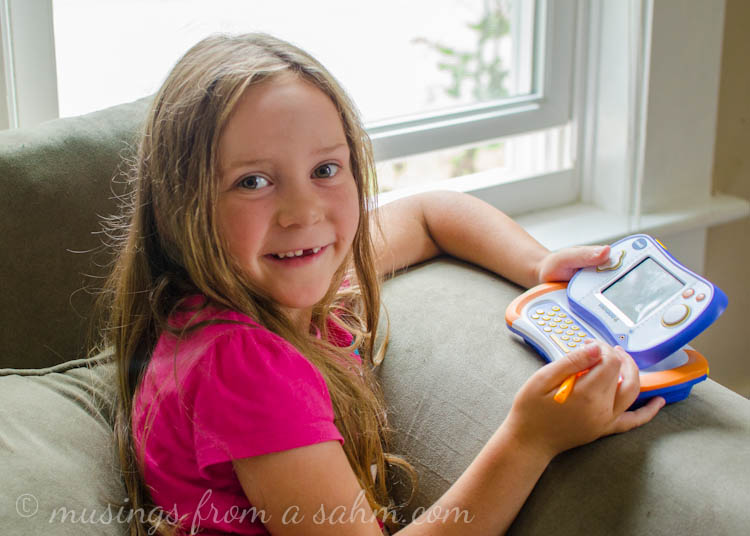 The VTech MobiGo 2 is a great learning system for kids and it's perfect for taking places. Whether it's waiting to pick up big brother from karate practice or a long drive to visit family or simply relaxing at home, this keeps Emily entertained and learning for hours. While it's a little expensive, you get a lot for your money and the fun can continue with new and added games and apps.
Disclosure: I participated in a campaign on behalf of Mom Central Consulting for VTech. I received product samples to facilitate my review.