Last year, I had the privilege of reviewing four winter coats in a "quality coat challenge" and my favorite was the Lands' End coat. It was the most comfortable and I though it had the best features. I wore that coat all last winter and it kept me cozy warm. I was very impressed with the quality and how well it held up too.
I'm a big fan of Lands' End. They consistently have dependable quality and their "Guaranteed.Period" policy where you return an item any time for an exchange or refund is amazing. As a mom, I need to know that the money I spend on clothes for my kids isn't being thrown away and I'm assured of that with Lands' End. I love knowing that I can buy a great quality coat for my son, Nathan, and know that it will last as I hand it down to my other boys. If something does happen? Lands' End backs it up. It's hard to find that kind of service these days and I really appreciate it.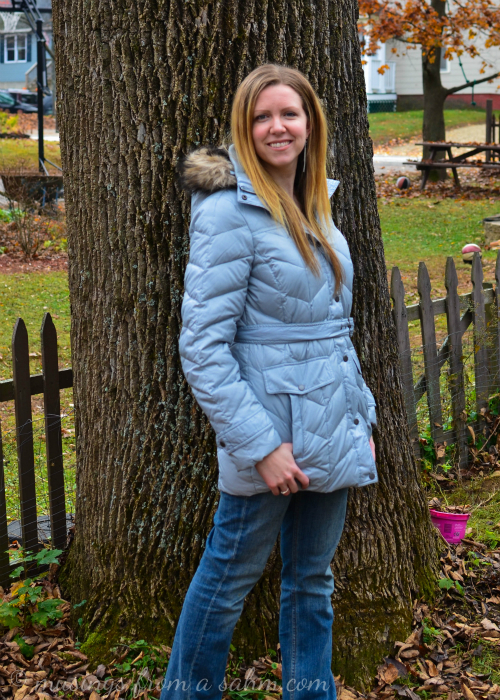 When I was asked to review a Lands' End Cire Down Parka this season, I was happy to accept. I chose the Silver Frost color as I wanted a lighter color. The color is just as pictured and I really like that it's light, but not too white. For the size, I asked for a Medium (10/12) tall, because I'm 5'8″ and have long arms. I often have issues finding shirts and coats that have long enough sleeves. The Long size worked out and the sleeve length was just right.
The Lands' End Cire Down Parka has these advantages:
600 fill power down adds warmth without weight
Ciré finish creates a shiny appearance
DriOff™ finish sheds rain, snow and other wet stuff
Detachable hood with removable faux fur trim
Hidden zip closure with snap storm flap
Belt can be buckled or tied (or removed completely)
Princess seams lend a more feminine shape
Two-way zipper for venting, moving room
Mid thigh length
Temperature rating: -30° to 0° Fahrenheit.
Here in New Hampshire, our winters can get pretty cold. Last year was pretty mild, so I have a feeling this year will be colder. Even though it can be hard to get my little ones bundled up and out the door during the cold days, it's so important to still get out. A great parka like this one is just the key to staying warm.
At the same time, I love knowing that I'm not sacrificing style for warmth. Some coats may be warm, but I wouldn't be thrilled with actually wearing them. Of course when it comes down to it, staying warm is the most important factor, but if you have the choice to be warm and look good? Why not?!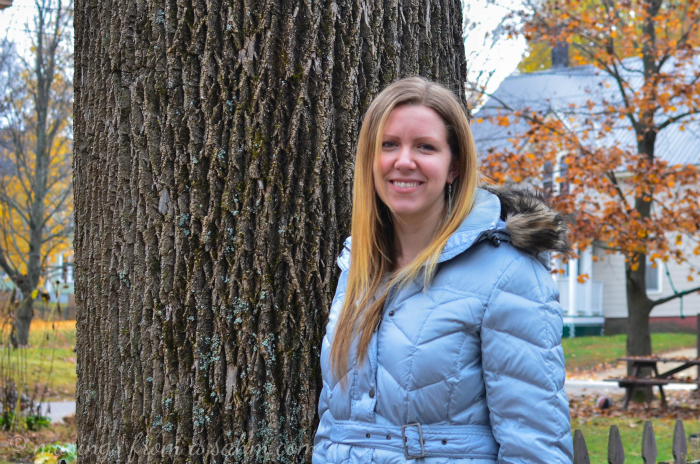 Let me show you some features of my Lands' End Cire Down Parka that stood out to me, starting at the top:
I love the faux fur hood. It definitely has that added element of warmth but isn't too big and bulky, like other fur hoods. And I can take the hood off completely if I want, with the simple row of buttons. The rib collar really keeps my neck warm. I don't know that I would even need a scarf with this coat! (I have to add that this coat is even "cat-approved" – you can see our kitten, Josie, sniffing around. She was quite pleased and wanted to sleep on it. But nope, that's my coat!)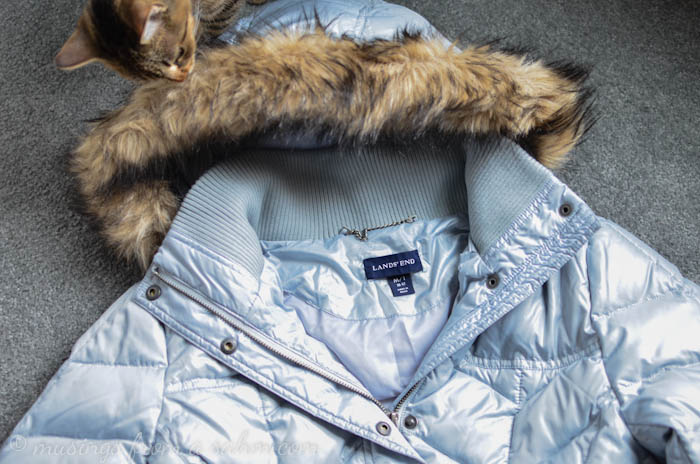 The zipper is my favorite improvement over last year's coat. The previous zipper was difficult to put together. This year? The zipper is two ways and it's a breeze to zip up. I noticed that immediately and was so pleased!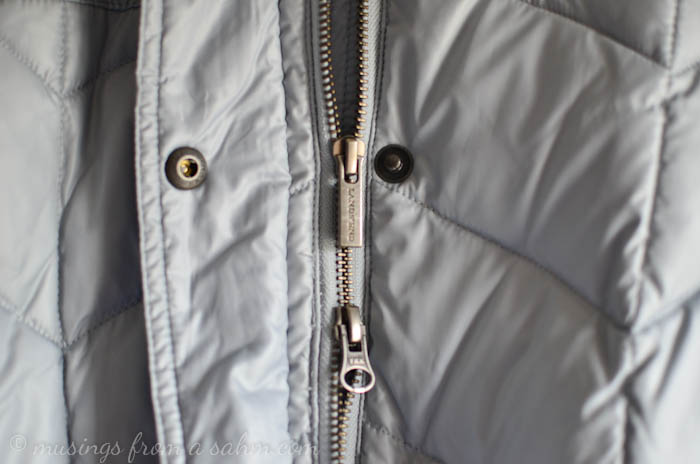 I'm not usually a fan of belts on coats, maybe because it's one more thing to put together, but mainly because I find them cumbersome and they often aren't flattering. But the belt on this coat is different. You can move it around however you want and tighten it. Or take it off altogether and the coat still looks good. It's very versatile, which is great.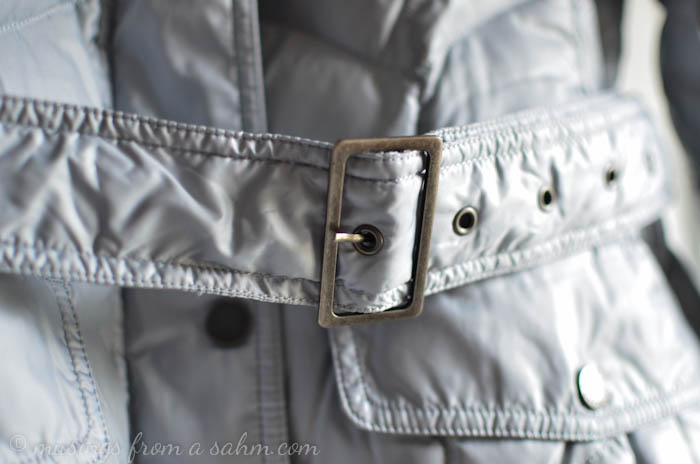 I felt like the pockets in this parka were designed just for me. I love side pockets where I can easily put my hands in and this coat has that, plus an extra set of front pockets that go straight down. If I have something like my phone where I don't want to risk it falling out, I can put it there and know it will be safe.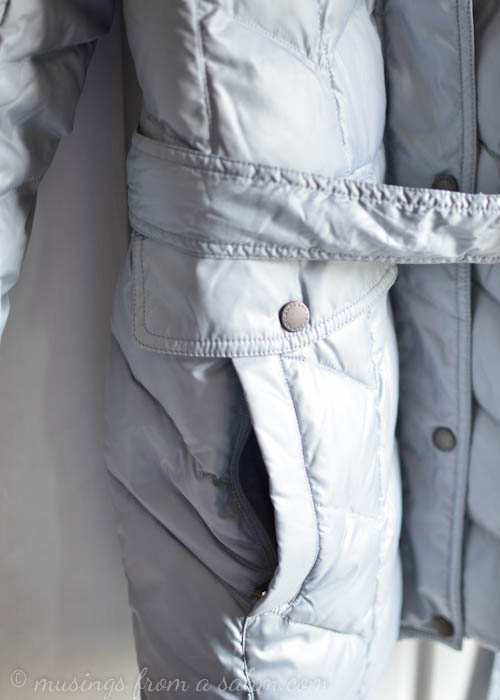 And's there one more pocket inside the coat too. It's smaller and perfect for stashing a phone or money, etc.
I already mentioned that I loved the length of the sleeves.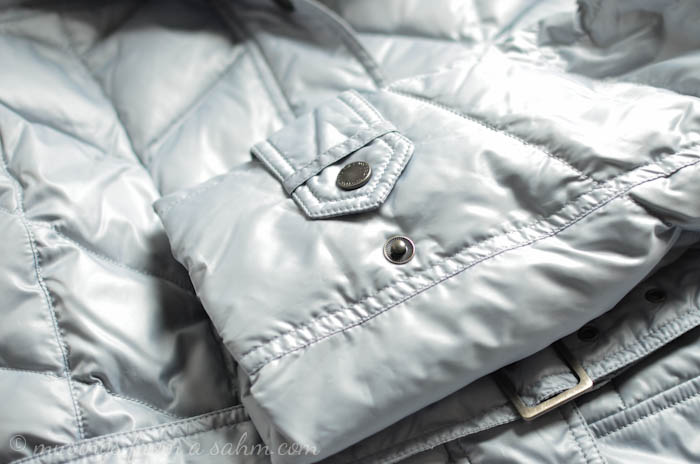 On top of that, there's an extra wrist "cuff" inside which makes the coat feel even warmer than before. I feel like nothing can get past these sleeves!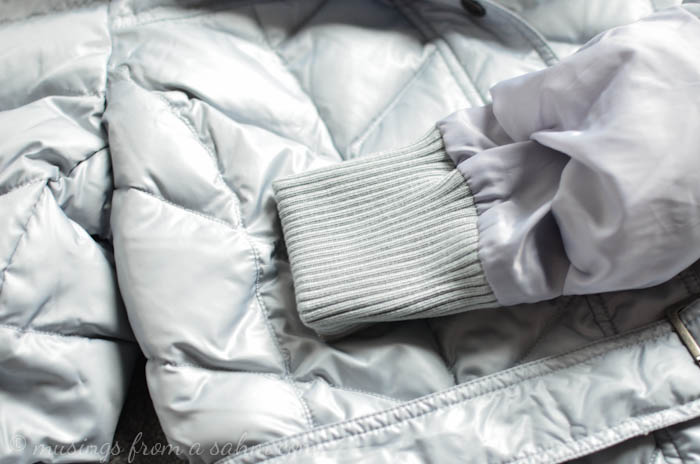 The Lands' End designers really hit the mark on this coat. The coat I reviewed last year was great, but this Lands' End Cire Down Parka is fabulous. It's warm and fashionable. I really feel great when I put this coat on and thanks to Lands' End quality, I know I'll be enjoying this parka for many years to come.
I highly recommend the Lands' End Cire Down Parka. If you're shopping for a new winter coat, it's absolutely worth checking out.
I even got a photo with three of my four kids smiling. All it took was Dad taking photos of Mom in the coat and there they were! Haha! Thanks, Lands' End!
Win It!
1 lucky winner will receive a Lands' End Cire Down Parka in their choice of color and size! (RV $159)
CLOSED