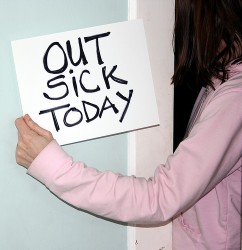 I'm sick. Yep, mama has caught the sick bug. Only mama doesn't get sick days.
I'm not surprised. I've been running straight lately and haven't taken much time to rest. The kids are a lot better – especially Joshua – but with all the germs roaming our house, I guess it was bound to happen. I think I'll get over it quickly as long as I go to bed early tonight and get some rest. I'm tired.
The next couple weeks are going to be pretty busy. A week from Friday we (Nate & me & the kids) are traveling to upstate New York in the Adirondacks to see my extended family. My cousin is getting married and pretty much the whole family will be there. I'll get to see my dad, my mom, my stepdad, my siblings, and aunts and uncles. We're driving (it's only about 4.5 hours) there Friday and then coming home late Sunday night. It will be a short but hopefully sweet.
I haven't seen my brothers in over 5 years and they've never met Emily, Joshua, or Luke! It's hard when they're in Texas and I'm in New Hampshire. Between work, busy schedules, and that little thing called money, it's been way too long since I've seen them. I'm excited.
We probably won't have cell phone service and I'm doubtful there's internet either, but even if there is, I'll probably be too busy. So I won't be around for those couple of days.
Then, last week, I heard from my dear mother-in-law. I really am blessed because I do mean dear with all my heart – I adore my mom-in-law; she is so wonderful and sweet and understanding! She and dad-in-law have been wanting to come up (they live in North Carolina) for a visit soon. Again, with work schedules it's been difficult. Mom was calling to ask if we'd be available the 2nd weekend in October. Yep, the very weekend we are going to New York. Go figure. That was the one and only weekend they would be free to come up. She was very understanding when I told her we already had plans. But it's actually going to work out ok. My in-laws are coming next Wednesday and I believe will be spending Thursday with us before we leave. Then we'll come back Sunday night and my in-laws will be here Monday and Tuesday.
See? I meant it when I said we'd be busy. It's a good kind of busy, don't get me wrong! But it won't leave me with much time for anything else. This is the kind of thing where I could get really stressed. But I'm going to do my best to not be. I want to enjoy the next couple of weeks and what happens happens and stressing isn't going to change anything, only make it worse for me.
That's why you may have noticed that the giveaways have slowed down the last week. I don't want to be stressed that there's something needing my attention on here when I'm not around. But never fear, I have some great things coming when I get back! And I'm not planning to disappear for a week with nothing; I still have some posts scheduled to go up while I'm away.
Quick Joshua update: Our doctor visit yesterday went great. We now have a plan for what to do if Joshua has another asthma attack and I feel good about it. The doctor put him on Singulair again for prevention and we are also going to an allergist soon. I have yet to make that appointment, but there's no huge rush and with the craziness of the next couple of weeks I'm not going to even think about it until we get back.  Thank you all so much for your thoughts, prayers, and comments. I am so grateful – you all have encouraged me so much!