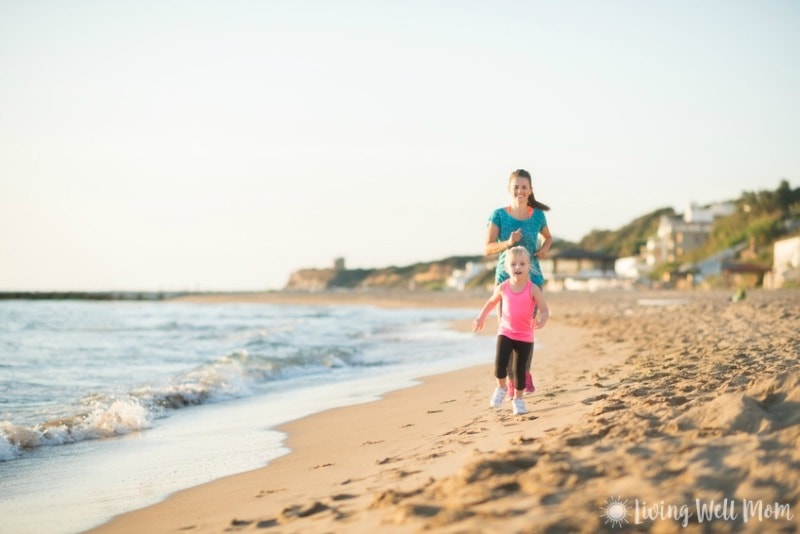 We moms tend to live pretty busy lives and it can be tough to fit in exercise. You see all these moms everywhere who seem to be running marathons or at the very least exercising regularly when you can barely find time to walk to the mailbox. Don't give up; you just need some realistic fitness tips for moms to inspire you!
Seriously, how can you even think about running 5 miles a day when your days are so full? You change diapers, wipe dirty faces, kiss boo boos, attempt to clean, make meals that you can only hope the children will eat, then turn around and do it all over again.
It's easy to get caught up in the midst of everything and not find time for yourself. But you can't afford to do that. If you don't take care of yourself, it will catch up to you and affect, not only you, but your entire family.
In truth, by looking after ourselves, we are taking care of our family. And one important way to do so is to stay active.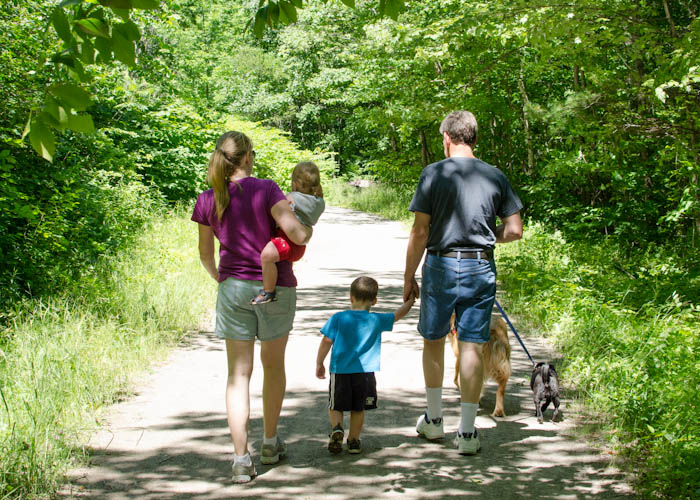 Usually, when I hear "exercise," I think of gyms and work-out sessions with a trainer, etc. Me? I can't afford a gym membership and even if I could, I don't have the time! Plus I wouldn't know what to do with my little ones. But that doesn't mean that I can't exercise and stay in shape. And that's where these realistic fitness tips for busy moms come in handy.
For some of us, exercising may be about the number on the scale or the size of our clothes, but that's not what my focus is here. I exercise because I feel great when I do. I feel more alive and it puts me in a great mood. I have more energy and I'm more likely to make healthier eating choices.
So here's a few realistic fitness tips for busy moms that will help you stay active and healthy without that expensive gym membership.

Simple Fitness Tips for Moms
1) Walk as much as you can
Pay attention to little things like parking farther away, taking the stairs instead of the elevator, etc. This activity does add up and help you get some exercise.
2) Take simple walks around the neighborhood with your kids.
It doesn't have to be about speed walking and getting your heart rate up. Those are good things, but if you have small children walking with you (in my case, I push Luke in the stroller but 3 year old Joshua walks), it's not realistic. Just enjoy the fresh air and the time outside with your kids. Not only are you getting some activity, but you're teaching your children that it's important to be active.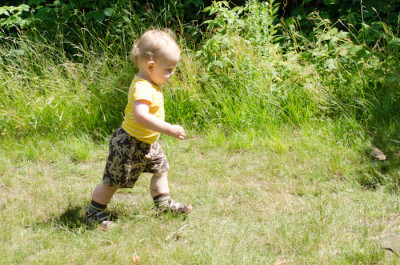 3) Try an exercise DVD.
Here in New Hampshire, the weather often makes it impossible for us to take a daily walk, especially during the upcoming winter season. So I depend on my work-out DVDs (my favorite is my Leslie Sansone Walk at Home
DVD) to help me stay consistently active. I'm not talking about one of the strenuous "get fit now" series that are so popular now days, but a simple 20-30 minute walk/jog at home in my living room. That's what works for me and I find it easy to fit into my busy schedule.
Another advantage to my daily exercise DVD is that it encourages my kids to stay active too, just like our walks. They often join in and I really enjoy the time we spend together exercising.
4.) Play with the kids.
Join a dance party and shake your booty! You'll burn calories while you spend time with your kids! It doesn't get much better than that!
Do what works for you. Don't give up because you don't have an hour a day (or even 30 minutes) to devote to staying active. These realistic fitness tips for busy moms can and do add up and you will find yourself healthier, both mentally and physically.