Do you find yourself with broken Christmas ornaments after they were stored from last year? It's always a bummer when you find that shattered ornament whether it was a family heirloom or even a simple ball ornament that you really liked.
Christmas ornament storage doesn't have to be expensive nor does it have to be very fancy.
Today I have a simple idea for how to store Christmas ornaments in a way that will preserve and keep them safe for years to come. It sounds complicated, but it's so easy and you might already have the supplies around your house!
What You'll Need for Christmas Ornament Storage:
*I should mention that I don't buy specialty ornament bins or even Christmas-colored storage boxes. I like to use simple clear bins so I can see what's inside and easily choose which bin I need when decorating.
The secret to storing ornaments so they don't get broken is simple: small plastic cups. I use clear, short cups, but you can also use any size cup you want depending on the size of your ornaments.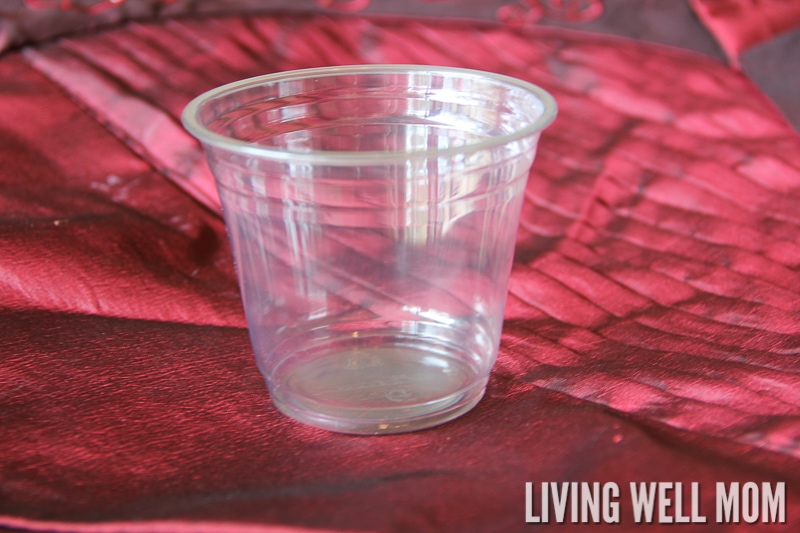 You'll need as many cups as you have ornaments. Start placing the plastic cups right-side up and right next to each other in the bottom of your bin to make one layer.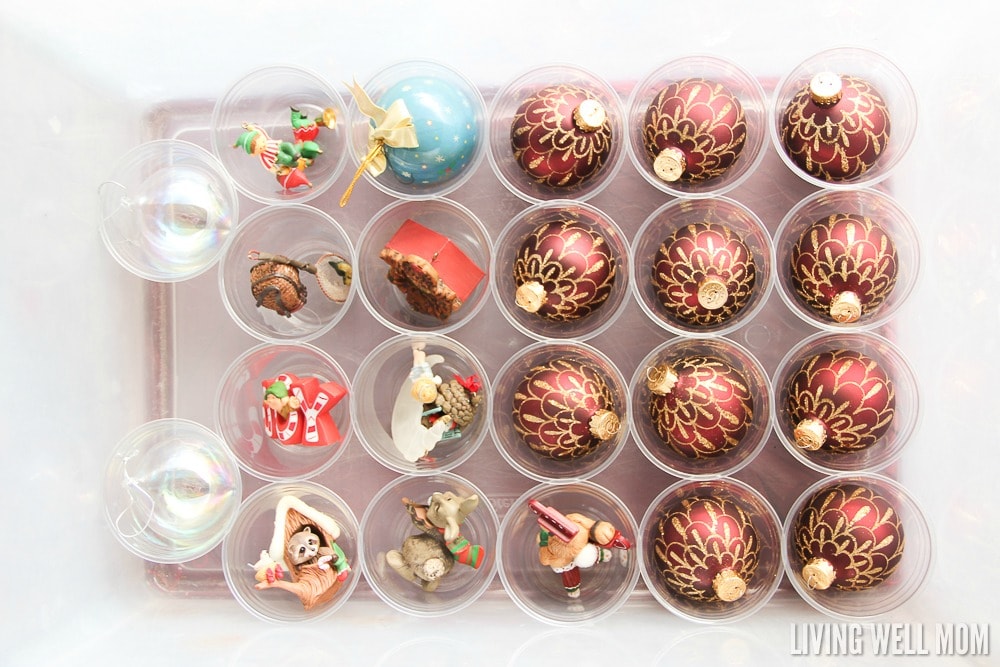 Fill each cup with a ball ornament or other ornament that will fit making sure it does not extend past the top of the cup.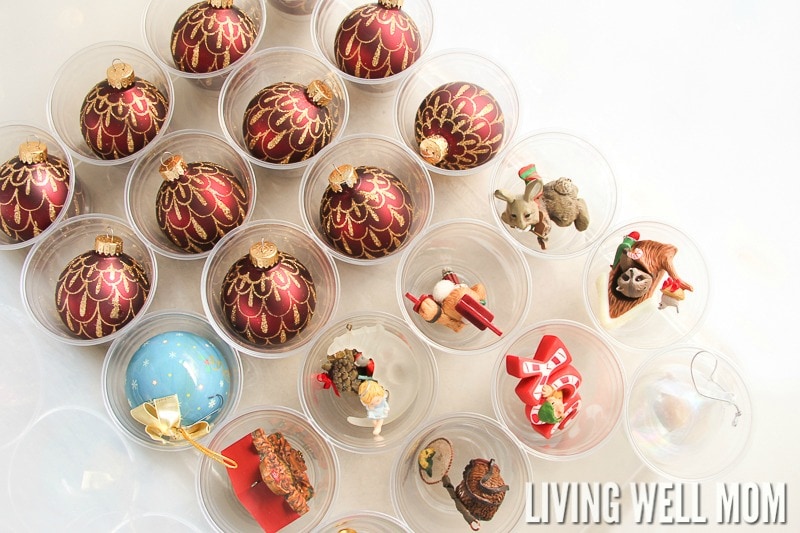 Once you have filled the first layer of cups with ornaments, place a piece of cardboard on top. This will create a flat surface for you to place another layer of cups for ornaments.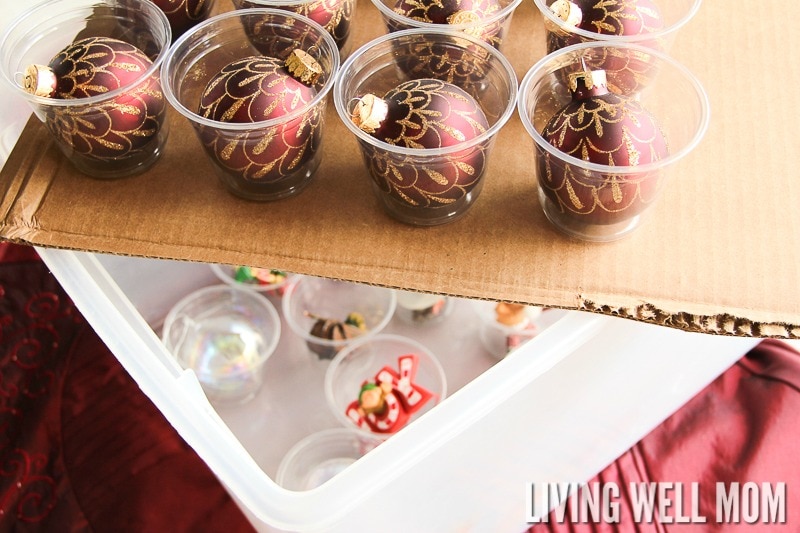 You can continue in this fashion until you either a) run out of ornaments or b) run out of room in your bin.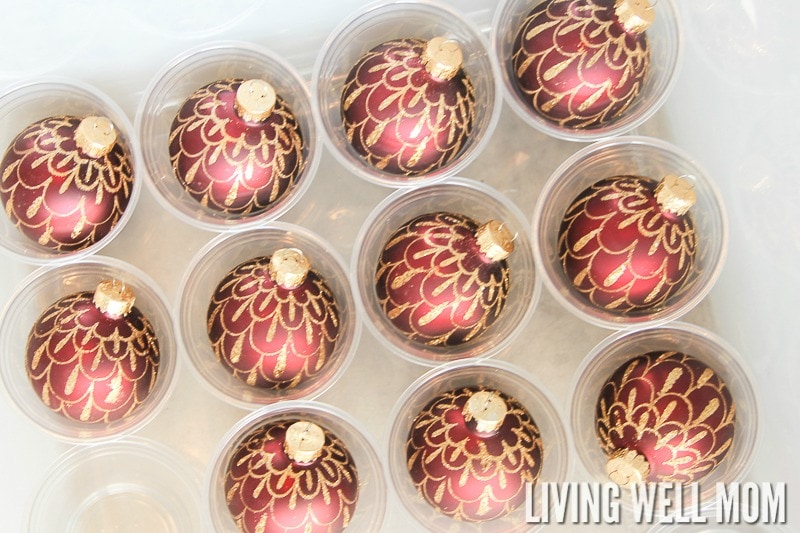 Here's a bonus tip for you. If you have some space left at the top of your last layer of cups, place another piece of cardboard on top of this last layer. This new layer is great for placing flattened gallon-size Ziploc bags
of tree Christmas lights or beaded garland.
We wrap our lights and smaller garlands very carefully in a circular bundle and store them individually in gallon-size Ziploc bags. The Ziploc bag prevents them from becoming tangled, and they lay nice and flat. Using the layers of cardboard in your Christmas ornament storage bin, helps protect your ornaments and Christmas lights.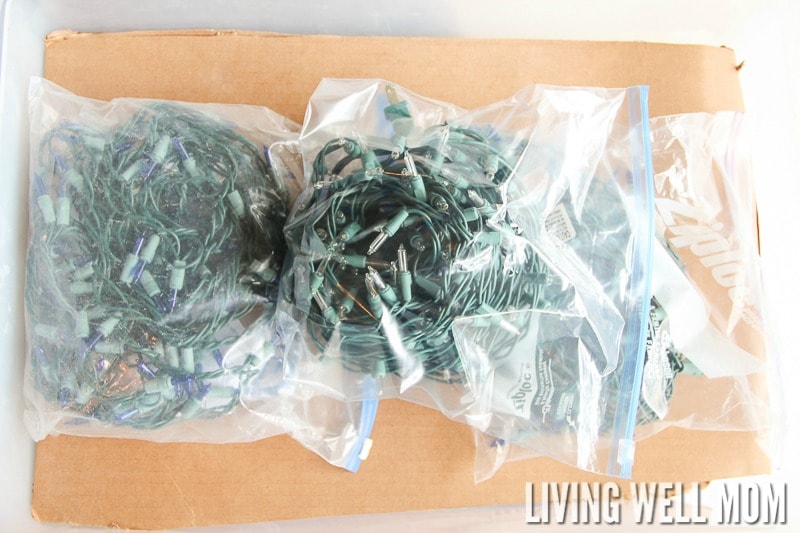 Christmas ornament storage can be super easy! Now you won't have to worry about keeping your fingers crossed that your Christmas ornaments will make it through another 365 days. The cups are sturdy enough and stable enough to protect even the most delicate ornaments and breakable Christmas bulbs.