Mosquitoes can quickly ruin a pleasant summer evening, but you don't have to turn to chemicals like DEET to repel them. Today I'll share 3 essential oil mosquito repellent sprays, including a baby-safe bug spray recipe, that WORK for naturally repelling bugs.
Plus you'll learn how to make an essential oil mosquito repellent roller
too.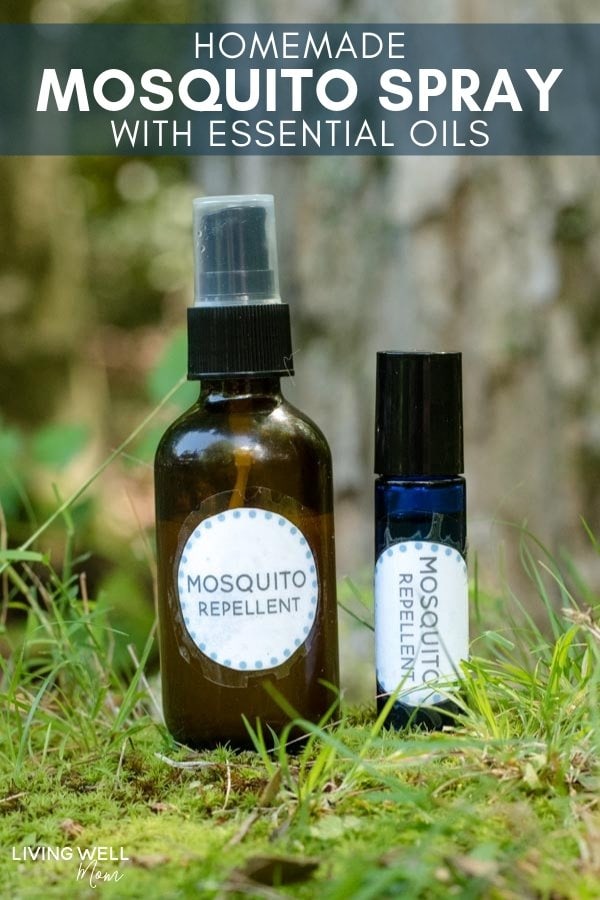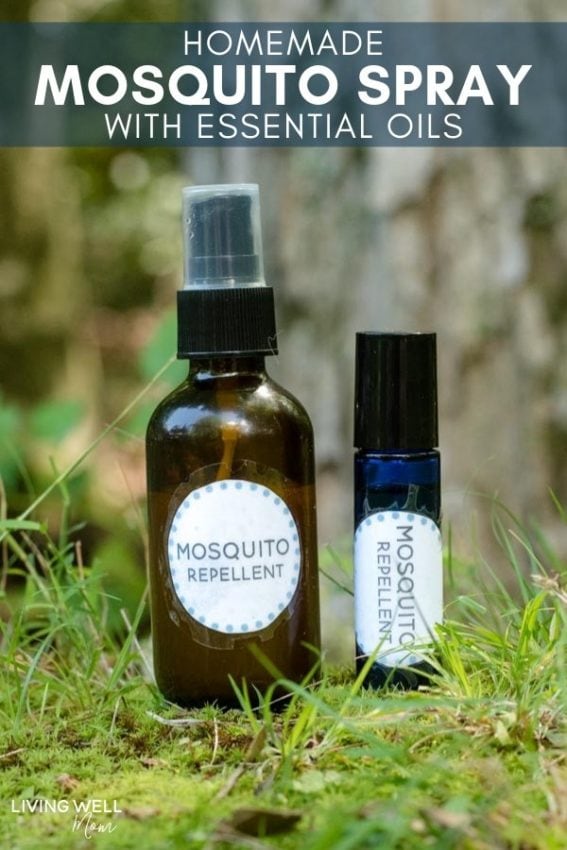 All About Essential Oil Mosquito Repellent
I live in the woods of New Hampshire and we have an abundance of mosquitoes every year. I've tried many different versions of ready-made natural bug repellents, but I always come back to our homemade mosquito repellent recipes.
Erika Bragdon is a Certified Essential Oil Coach from the Essential Oil Institute
This post has a lot of information so use this list to skip ahead for faster reading:
Why should I use an essential oil mosquito repellent?
Essential oils work very well to effectively keep the bugs away.
A homemade mosquito spray with essential oils is very fast and easy to make and it's not expensive, compared to natural store-bought repellents. That's because the essential oils will last a long time and give you many batches.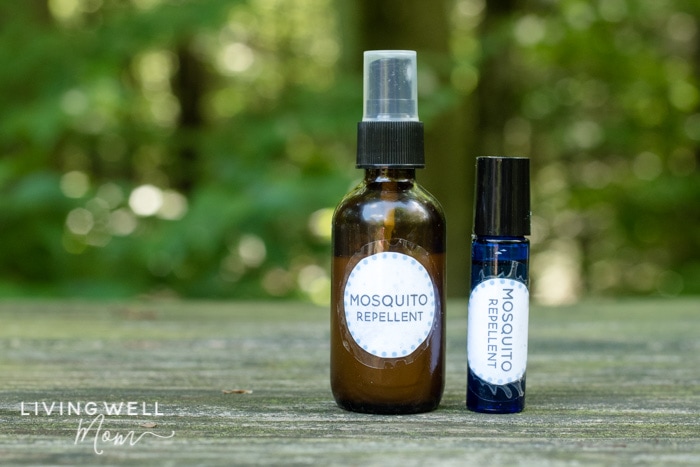 How long does essential oil mosquito repellent last?
My family and I have tested this mosquito repellent recipe in quite a few "buggy" situations:
hiking in the White Mountains. It lasts for 2 hours with no bites.
fishing on a hot, humid day (favorite mosquito weather). It lasted for 2 hours with no bites.
around our front yard fire pit on hot, muggy nights. The spray lasted for 1 hour with no bites, while the roller blend lasted for 2 hours.
sitting outside with my chickens. It lasts 1-2 hours.
Keep in mind that natural mosquito repellents do not last as long as the chemical versions. I have personally not found one version – homemade or store-bought – that lasts for 6+ hours like the DEET versions do.
There's always a cost to everything and if you want to avoid chemicals with your family, you will need to re-apply your homemade mosquito repellent more often.
In my opinion, that's a small price to pay for knowing my children are not being exposed to potentially harmful chemicals. And the mosquitoes do remind you of when you need to reapply!
If you and your family do get bitten by mosquitoes when your essential oil mosquito repellent wears off, essential oils can come to your rescue again! Check out this super easy essential oil mosquito bite relief roller blend.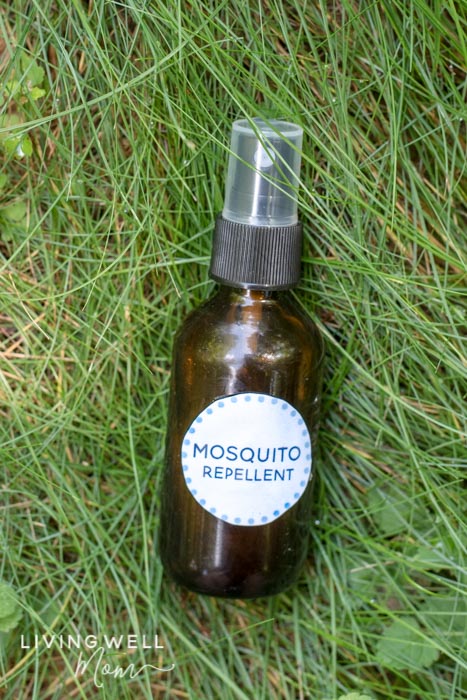 Related: Check out my Homemade Natural Bug Repellent Lotion for even longer-lasting results.
What essential oils keep mosquitoes away?
Have you ever wondered why there are many different recommendations for all-natural bug repellents? Why would one essential oil mosquito repellent recipe work so well for one person, while another had success with a completely different blend?
The answer? There are at least 176 different species of mosquitoes in the United States alone, and over 3,000 in the world!
So if you've used an all-natural insect repellent in the past without any success, it doesn't mean all-natural repellents will never work for you. It just means the pesky mosquitoes you're trying to repel hate something else more. And you'll want to try different varieties.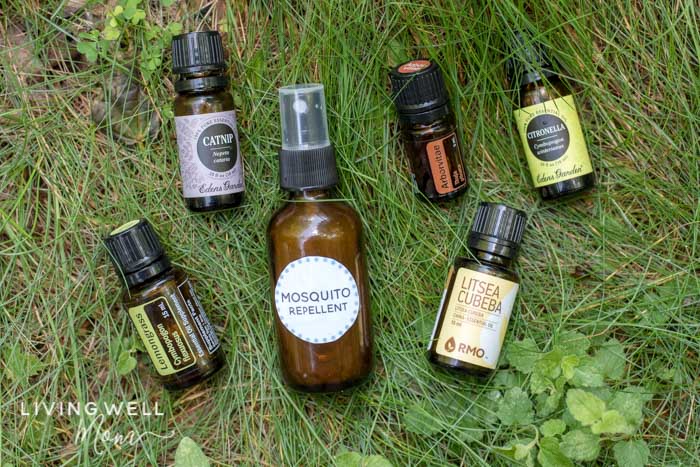 In this post, I'm including 3 different recipes so you can have options to try as you figure out what blend works best at repelling mosquitoes for you.
Essential Oils that Repel Mosquitoes:
Studies on essential oils for repelling mosquitoes:

Are essential oils as mosquito repellents safe for children?
I am not a medical professional and the information presented here is merely for educational purposes and not intended to replace medical advice. It is your responsibility to do your own research, consult with your medical provider, and make safe decisions for yourself and your family.
One of the challenges with using essential oils for repelling bugs is that sometimes you need a higher concentration of oils than is typically recommended for use with kids (or adults) in order to effectively deter the bugs. But there are some important things to keep in mind.
Essential oils are very potent and a high concentration can potentially cause problems too. Just because essential oils are "natural" does not mean they are automatically safe. Read this Common Sense Essential Oil Safety page for more information.
Using essential oils safely with children depends on a few factors:
Essential oil quality – using cheap oils may mean they have had extra ingredients added that reduces the pure oil. This can cause irritation &/or reduce the beneficial qualities. This does NOT mean you have to buy super expensive essential oils. Click here to read more about how to choose quality essential oils beyond the brand.
Essential oil species – as with most things essential-oil-related, there are many conflicting opinions in this area. Some say certain oils, like peppermint, should never be used on children 6 and under, while others say it is safe.
In this post, I've listed safer substitutes for any oils that are not recommended for use with kids under certain ages.
Essential oil dilution – again this is an area where people have very different opinions. Some say you should not use essential oils at more than a 1% dilution rate for young children while others are more liberal in their dilution.
My personal opinion is that it's wise to always start with a higher dilution rate (less essential oils). Then, after you've tested out the blend and only if you're not seeing the desired results, you may choose to slightly increase the amount of essential oils. But even then, you should keep the other factors in mind – the quality of the oils you are using, which oils you are using, and also how old your child is.
Bottom line: do your own research and talk with your medical provider so you can make the best decision for your family.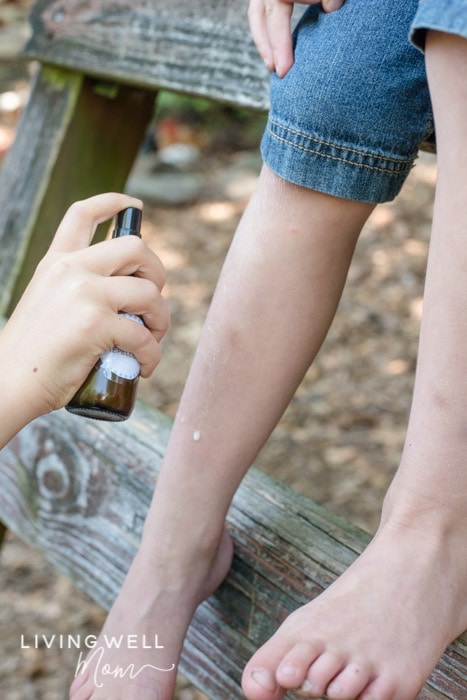 4 Essential Oil Mosquito Spray Recipes to Try
I personally use a higher concentration of essential oils with my own family (ages 8+) than what I have listed in this post as we've found the blends to be not as effective for us in the lower dilution rates.
You will find the commonly recommended diluted rates in the blends here. If you want to increase the number of drops as I did, you should only do so gradually and after you've tested out the original recipe.
For this post, I have included some safe essential oil bug blends for kids at a 1% dilution rate. You will also find a mosquito repellent recipe specifically for babies too, along with additional safety recommendations.
Essential Oil Mosquito Spray Recipe #1
Homemade Mosquito Spray Ingredients:
*If you use a larger container, make sure you increase the essential oils accordingly.
For under age 6, try this blend instead…
…with approximately 1 oz of water and 1 oz of witch hazel or apple cider vinegar. This is diluted to about 1% which is the conservative safety recommendation for children.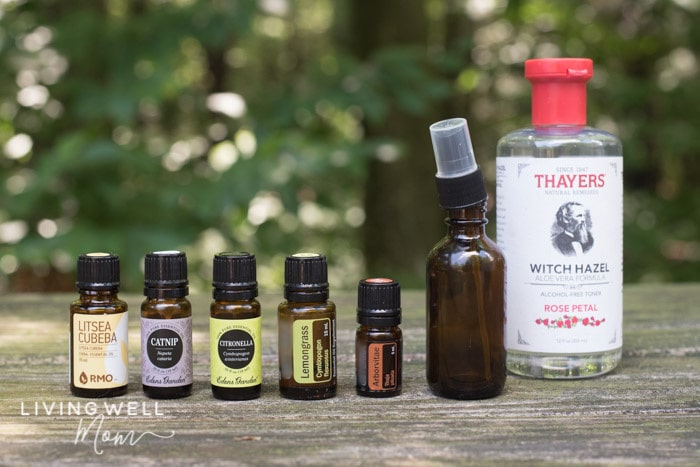 Essential Oil Bug Spray Recipe #2
Homemade Bug Spray Ingredients:
*If you use a larger container, make sure you increase the essential oils accordingly.
For ages 2-6, try this blend instead…
…with approximately 1 oz of water and 1 oz of witch hazel or apple cider vinegar. This is diluted to about 1% which is the conservative safety recommendation for children.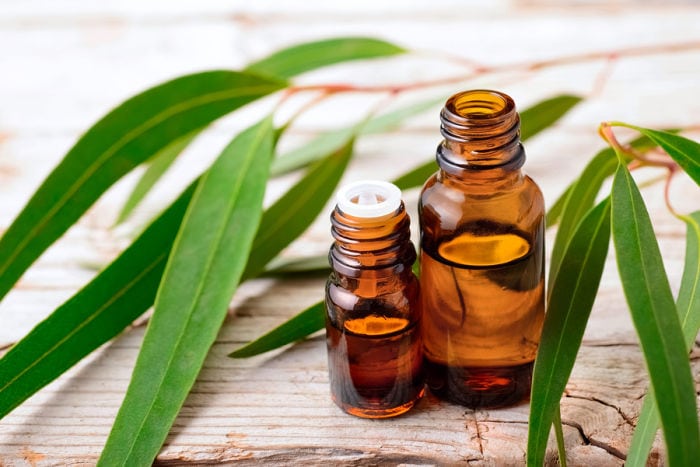 Essential oil mosquito repellent recipe for babies:
Recipe #3
These essential oils are typically considered safe for topical use in children 2 and under.*
*Safety:
0-3 months – do not use
3-12 months – for extra caution, spray over clothing, not directly on the skin
12-24 months – spray lightly on the skin
How to make Homemade Mosquito Spray:
1. Add the essential oils to your spray bottle.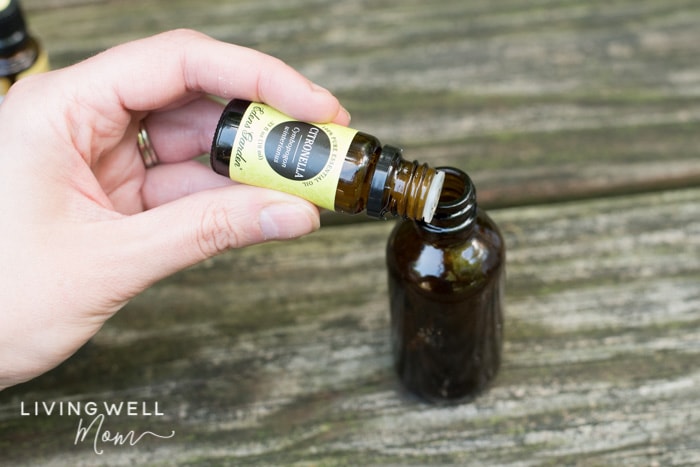 2. Fill your bottle about half way with witch hazel.
You can eye-ball it; exact measuring is not required.
3. Fill the remainder of the bottle with distilled water.
4. Label your bottle
BONUS: Grab this free printable homemade mosquito spray label.
Optional: use a label maker
or permanent marker
and masking tape
.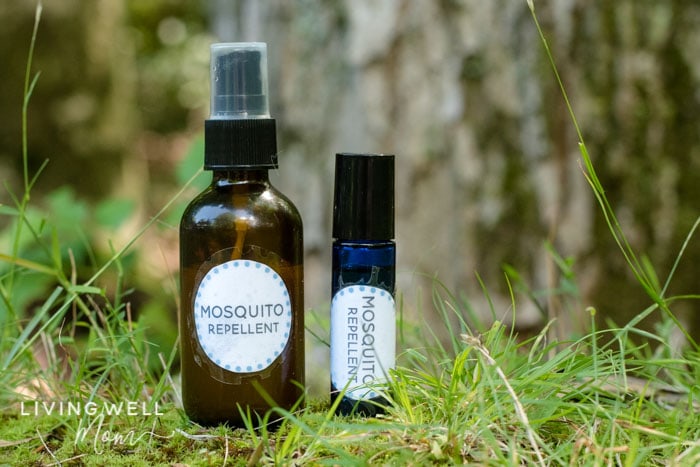 Tips for Effective Use
To get the best results with your homemade mosquito repellent, follow these tips:
Shake well before using.
For adults and older children, spray all over for the best results, especially on the neck, knees, ankles, etc.
NEVER spray in or near your eyes. If the mosquitoes are especially nasty, you can spray a little on your hands and then carefully rub on your forehead, cheeks, etc.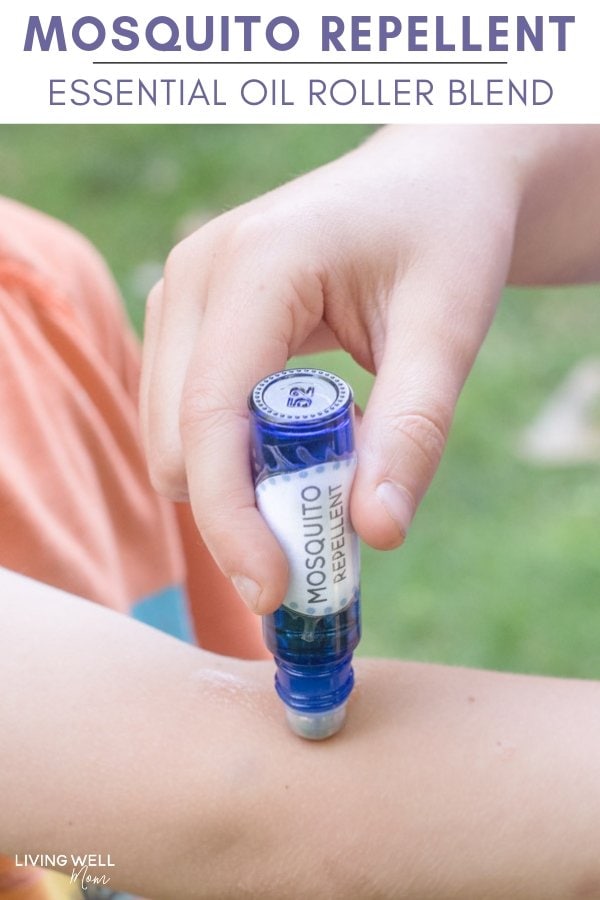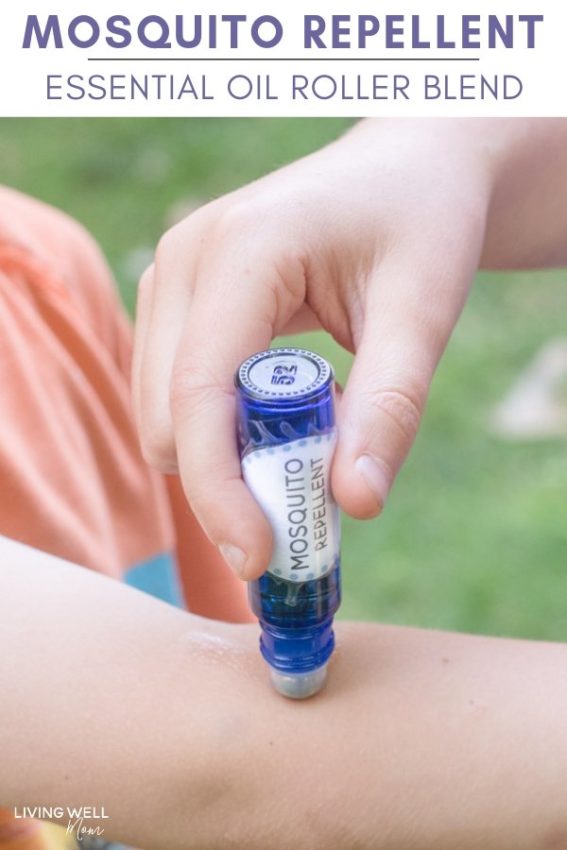 Essential Oil Mosquito Repellent Roller
An essential oil roller blend is a great alternative to a spray and actually lasts longer in my family's experience.
Mosquito Off Roller Blend Recipe #1
The above blend is about a 10% dilution rate. In my personal experience, it doesn't work as well when I've tried lower with my children.
This blend is a good place to start with young children:
1.5% diluted rate for this blend: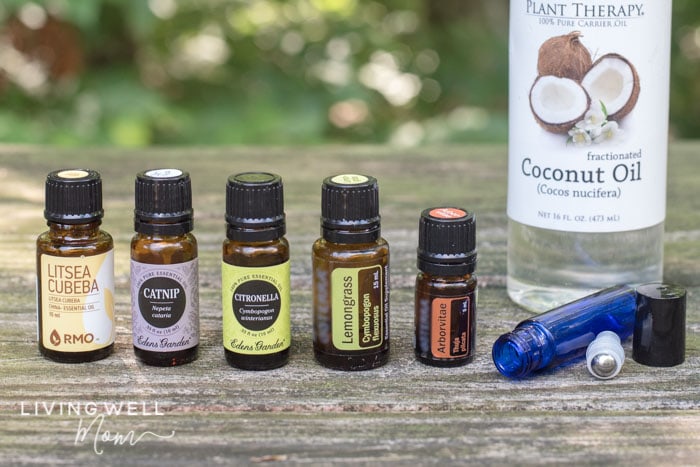 Mosquito Repellent Roller Blend #2
1.5% diluted rate for this blend:
Do not use essential oil roller blends on infants under 3 months. Even after that, I would recommend waiting until about 1 year to use roller blends.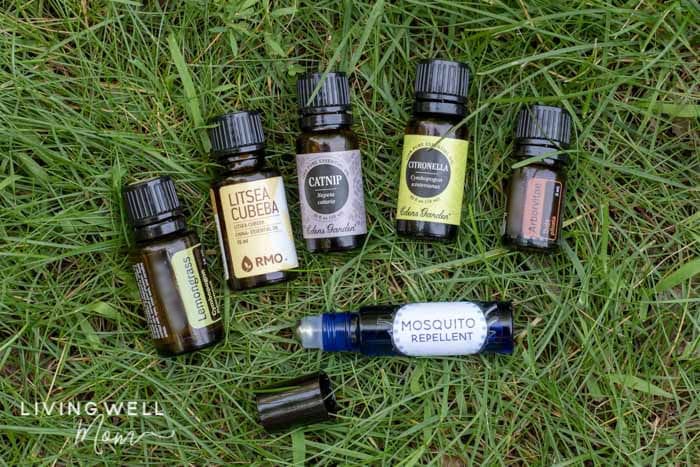 To make your roller blend…
Add the essential oils to your roller bottle…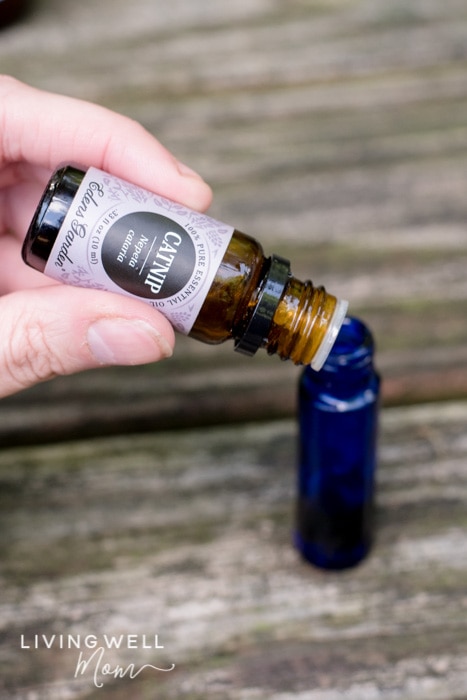 …and fill with fractionated coconut oil. Add the roller ball and cap.
Where do I apply this essential oil mosquito repellent roller blend?
Shake well; this helps distribute the oils more evenly.
You may apply this to the back of the neck, elbows, knees (including behind), ankles, and wrists.
If it's super buggy out, I have occasionally rolled this on my temples and forehead to ward off those annoying mosquitoes.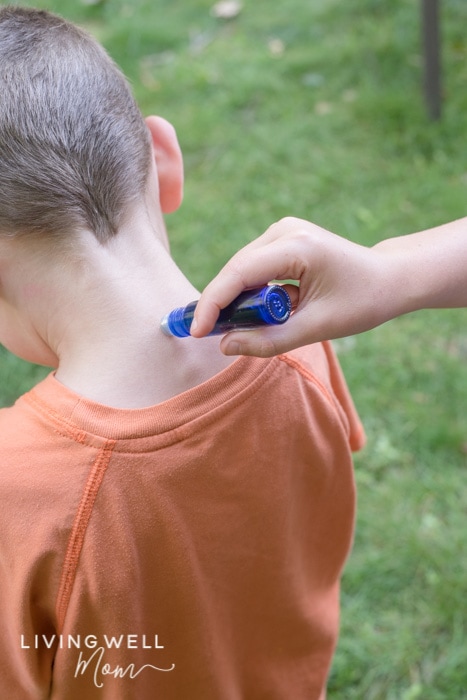 The Fastest Essential Oil Mosquito Repellent Method
Don't have the supplies to make this homemade mosquito spray? Or don't feel like buying the different essential oils you don't already have?
I highly recommend Eden's Garden Repel essential oil blend.
It works VERY well to effectively keep away mosquitoes and other pests, like black flies, gnats, flies, etc. and it's inexpensive.
I've used it often when I haven't had a spare 5 minutes to mix up one of my own blends. One day, I was waiting with my kids for the bus (school runs into late June for us) and we started getting bit up horribly by both mosquitoes and black flies. I ran inside, grabbed my bottle of Repel and my carrier oil, and quickly diluted it and rubbed it on my kids and myself. Immediately we noticed the bugs starting to ignore us. I even experienced one mosquito fly up to my arm then fly away. Success!
Buy it here: Eden's Garden Repel
You can get a ready-made Repel Roll-on too.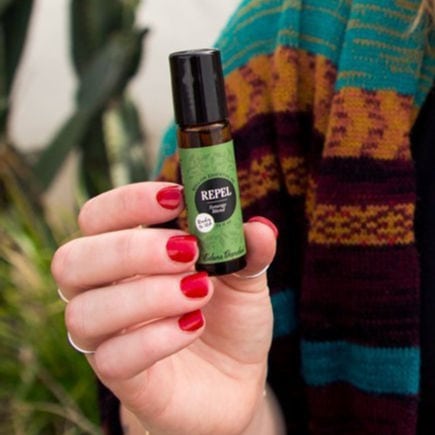 Ready-made DEET-Free Natural Insect Repellents
Herbal Energetics sells a ready-made bug repellent called "Don't Bug Me". It's in gel-form so it tends to last longer, plus it includes bug repelling herbs, like thyme.
Maui Excellent sells an effective "organic bug block." I used this when I was in the jungle of Maui last year. I was getting bit up horribly until I bought this and it really worked! Find it here.
Badger is a good brand we've used in the past and recommend.
Remember, if you DO get bit by mosquitoes (we do too when I forget to use my repellent!), check out this essential oil mosquito bite relief blend!
I hope you have great results with this homemade essential oil mosquito repellent spray. And remember, if your results aren't quite as good as mine, you probably have a different mosquito species, so you should try experimenting with different combinations of oils.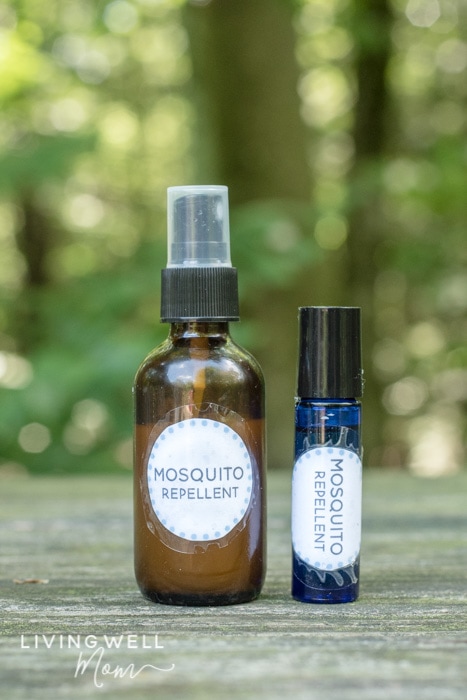 Related Posts
Pin the image below to save the essential oil blends for later.