Imagine this: you are at your child's sports game or spending time hiking, and while you should be enjoying a blissful time, you are instead plagued by itching, swelling bug bites! I've been there too – that's why I always carry these essential oils for mosquito bites.
I have always been super sensitive to mosquito bites. The stings make me swell up quickly and a single bite will bother me for days. Two of my children are the same way. A few years ago, I turned to essential oils for natural mosquito bite relief and I was amazed at how easy and effective it is.
Not only do essential oils work quickly to relieve itching and irritation from bug bites on myself and my kids, but in 9 out of 10 times, we only have to apply the essential oils once and the itch never comes back to bother us again! That's way better than some of the other itch-relief methods we've tried in the past.
Essential Oils for Bug Bites
If you've wondered what the best solution for mosquito bites is, essential oils are definitely worth trying.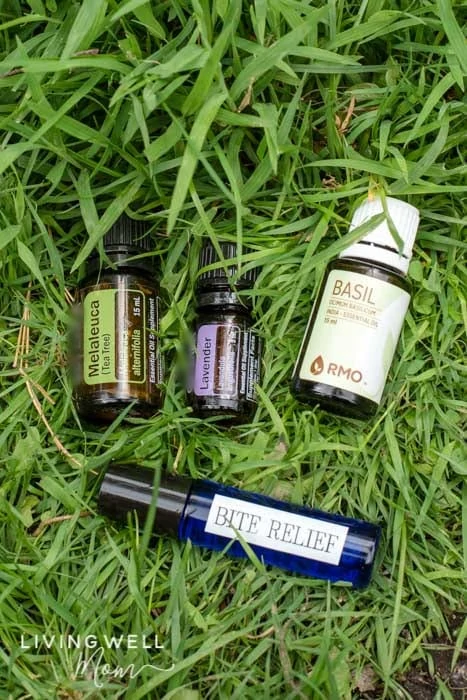 Of course, the easiest way to deal with mosquito bites is to avoid them in the first place. There are many natural ways to repel bugs like our homemade mosquito repellent spray.
But mosquito bites still happen on occasion – often when we get busy and forget to apply our DIY insect repellent lotion.
When itchy bug bites do happen, from mosquitos or other pesky insects like black flies, gnats, etc., you might wonder what essential oils will work the best.
Below you'll find a list of the top 10 best essential oils for bug bite itch, along with their Latin names (some essential oils are called by different names, so this will help you make sure you're finding the same essential oil mentioned in this post), plus safety recommendations.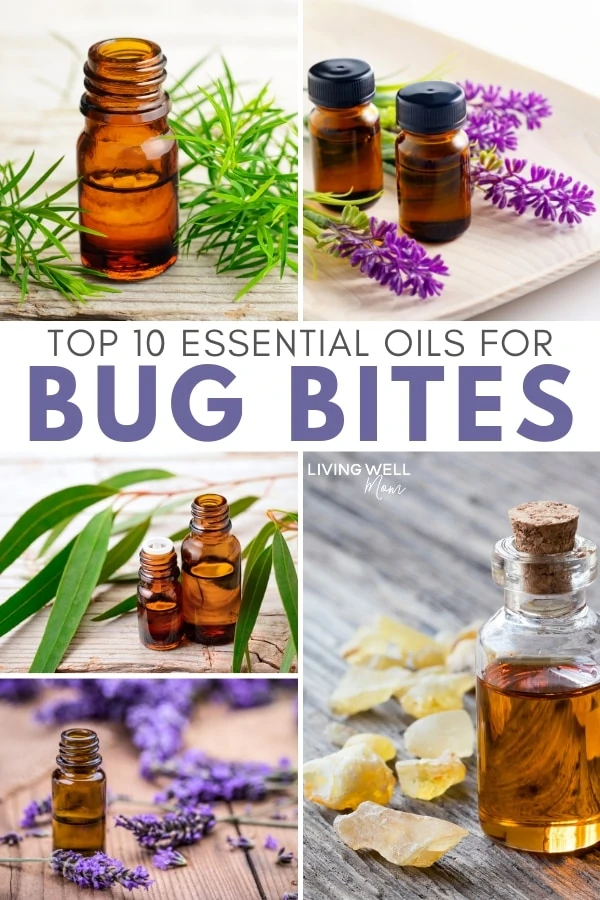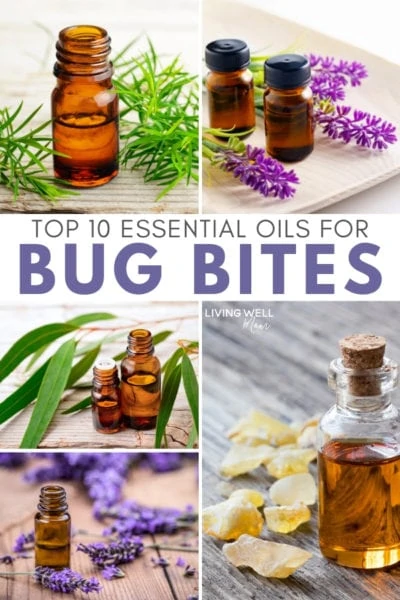 Erika Bragdon is a Certified Essential Oil Coach from the Essential Oil Institute.
The Top 10 Essential Oils for Mosquito Bites
If you've wondered what essential oils are good for mosquito bites, here are 10 of the most popular.
1. Lavender oil
Latin name: Lavandula angustifolia
Lavender essential oil is one of the most well-known, popular oils and that's because it has many amazing benefits. Lavender is great for itchy bug bites because it helps to soothe and has the potential to reduce itching.
It's one of my favorite essential oils for mosquito bites and we use it all the time.
Safety: Lavender is generally well tolerated.
2. Basil essential oil
Latin name: Ocimum basilicum
Basil essential oil is another of our favorite essential oils for mosquito bites because it can help calm inflammation and irritation.
Safety: Basil should not be used during pregnancy and it is also not recommended for use in those who have epilepsy.
3. Tea Tree Oil (Melaleuca)
Latin name: Melaleuca alternifolia
Tea tree essential oil is great for soothing itchy skin.
Safety: Tea tree is generally well tolerated.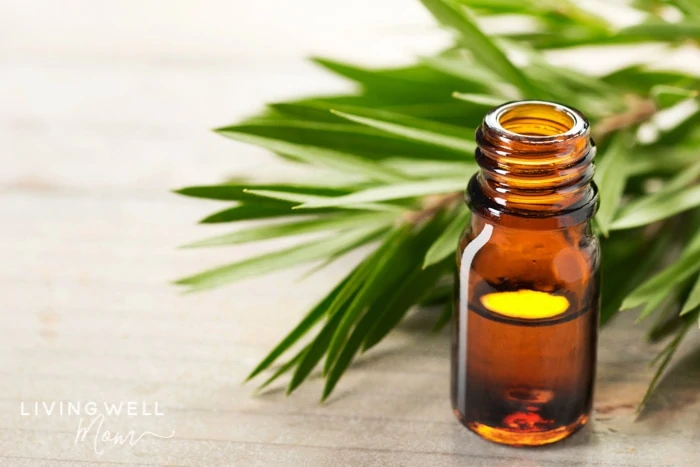 4. Frankincense essential oil
Latin name: Boswellia sacra
Frankincense essential oil is wonderful for calming and soothing.
Safety: Frankincense is generally well tolerated.
5. Roman Chamomile essential oil
Latin name: Chamaemelum nobile
Roman chamomile essential oil is soothing and great for any skin irritation.
Safety: If you are pregnant, check with your medical provider before using Roman Chamomile.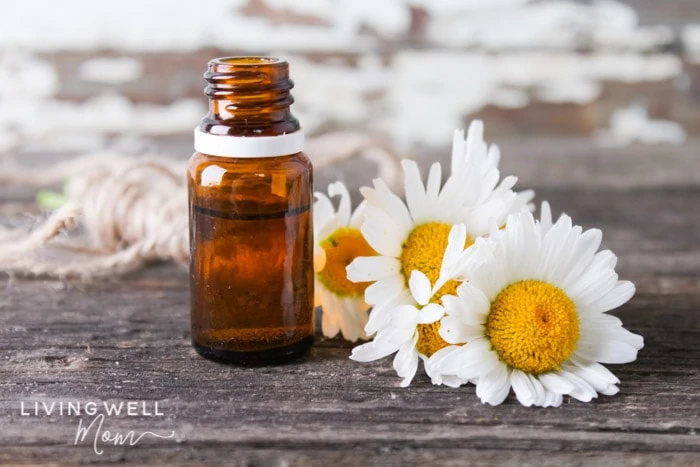 6. Patchouli essential oil
Latin name: Pogostemon cablin
Patchouli essential oil may be helpful for irritation, plus it's a great essential oil for repelling insects too.
Safety: Patchouli is generally well tolerated.
7. Eucalyptus essential oil
Latin name: Eucalyptus radiata
Eucalyptus essential oil can be helpful for wounds, so if you have an especially irritating mosquito bite, this essential oil may come in handy.
Safety: Always dilute eucalyptus well and do not use it on or near the face of children under age 10. (This is due to the 1,8 cineole component.)
8. Coriander essential oil
Latin name: Coriandrum sativum
Coriander essential oil can be helpful for itchy skin and rashes.
Safety: Coriander is generally well tolerated.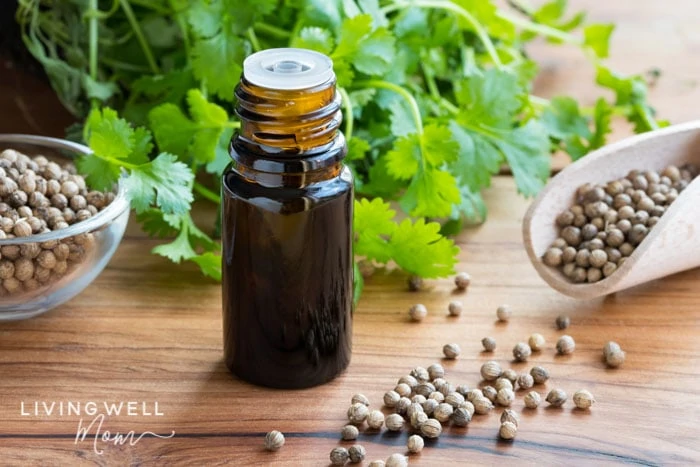 9. Ylang Ylang essential oil
Latin name: Cananga odorata
Ylang Ylang essential oil is very soothing for painful, itching skin irritation. It's also calming and soothing in general.
Safety: Always dilute Ylang Ylang well to avoid skin irritation.
10. Holy Basil essential oil
Latin name: Ocimum sanctum
Holy basil essential oil has wonderful soothing and calming properties for irritated bug bites.
Safety: Always dilute Holy Basil well to avoid skin irritation.
BONUS 11. Helichrysum essential oil
Latin name: Helichrysum italicum
Helichrysum essential oil is wonderful for any kind of skin damage and may help with scarring etc. It's one of my favorite essential oils and I've seen a huge difference in wound healing when using it personally.
While it is more expensive, Eden's Garden offers a more affordable option and a small bottle will last a long time.
Safety: Helichrysum is generally well tolerated.
Essential Oil Roller Bottle Recipe for Mosquito Bites
Now that you know the best essential oils for bug bites, here's our favorite essential oil roller bottle blend for relieving mosquito bites.
This is one of my favorite natural remedies. I love this "Bite Soother" essential oil mixture in a roller blend because it's:
no mess
handy for travel
easy to apply
no-waste (compared to a spray bottle)
You simply roll this mosquito bite relief blend over the bite and within a minute or two, you can experience relief.
Please read my Essential Oil Common Sense Safety page before using this essential oil recipe. I am not a medical professional and the information presented here is merely for educational purposes and not intended to replace medical advice. Do your own research, consult with your medical provider, and decide what is safest for you and your family.
You'll need:
Note: I love Rocky Mountain Oils and Eden's Garden for essential oil brands. (I used to use cheaper brands from Amazon, but these two brands are more effective in my opinion and very affordable.)
How to Make this Roller Blend for Mosquito Bites
While you can simply dilute these oils with your favorite carrier oil and apply as needed, it's not very practical to carry whole bottles of essential oils and a carrier oil on-the-go.
So that's where this essential oil roll-on recipe for bug bites is perfect. It's great for on-the-go use and combines these three amazing essential oils into one simple blend.
Step 1: Add the essential oils to your roller bottle
Add 5 drops of lavender essential oil, 3 drops of tea tree essential oil, and 2 drops of basil essential oil to your 10ml roller bottle.
All three of these oils are fairly gentle and some people even use them "neat" (without diluting), however, I don't recommend using any oils "neat" because they are very potent; a carrier oil will reduce the risk of skin irritation and save you money by stretching your oils even further.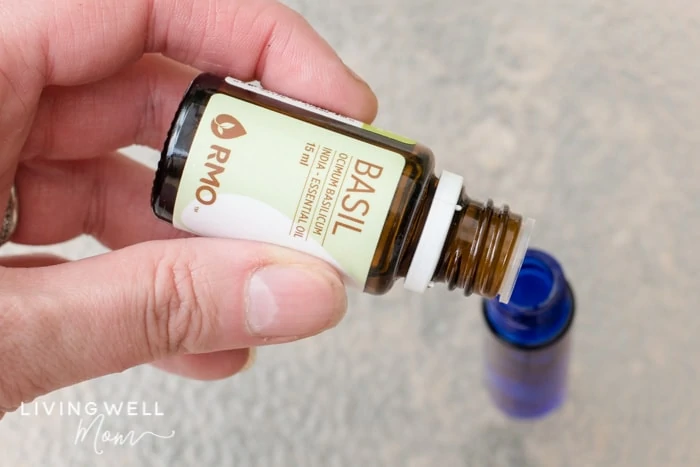 Step 2: Fill with a carrier oil
Fill your roller bottle with fractionated coconut oil or your desired carrier oil
Step 3: Cap and shake well
Firmly and carefully push the roller ball into the bottle. Top with the cap and shake to combine the essential oils and carrier oil.
Step 4: Label your roller bottle
Don't forget to label! You can use masking tape and marker or a label maker.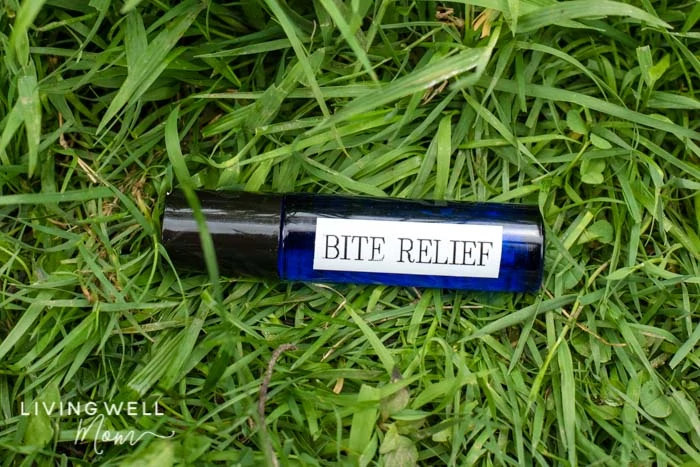 How to use this roll-on for the best bug bite relief
Simply roll this onto any mosquito bites (or other itchy bug bites) when you need relief. You should experience relief within just a couple of minutes.
You can apply 3 times a day as needed. But as I mentioned before, we usually only need to apply this once (twice at the very most.)
I've been amazed at how effective this simple mosquito bite relief remedy is, plus I love having this as an all-natural option for my family.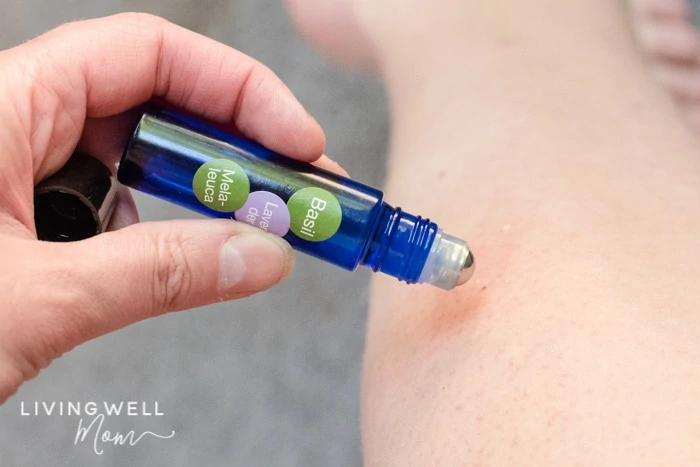 My 4-year-old niece gets bitten up a lot by mosquitos too and her mother was equally impressed when we used this roller blend on her. (My sister ordered her own roller bottles and now makes this blend often as she loves how effective it is for reducing irritation from bug bites.)
If you've been looking for an all-natural way to soothe mosquito bites, then this is a great option. Essential oils for mosquito bites can be very effective and be a better option than many of the typical insect bite relief ointments and sprays available.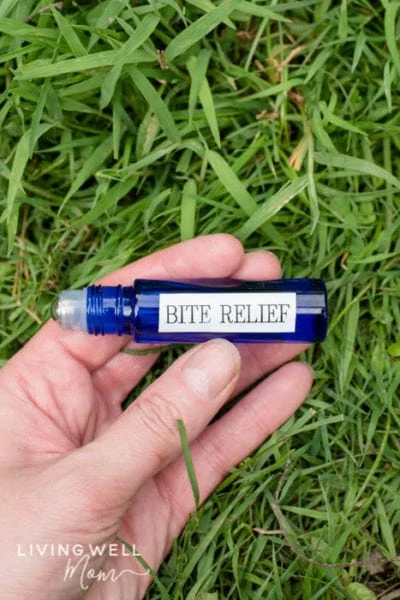 Don't feel like buying the essential oils and making your own blend? This "Don't Bug Me" natural repellent from Herbal Energetics both repels and soothes bug bites.
Download the Free Mosquito Bite Relief Guide
If you are anything like me, learning how to use essential oils for itchy bug bites will seriously improve your quality of life…at least the time you spend outside!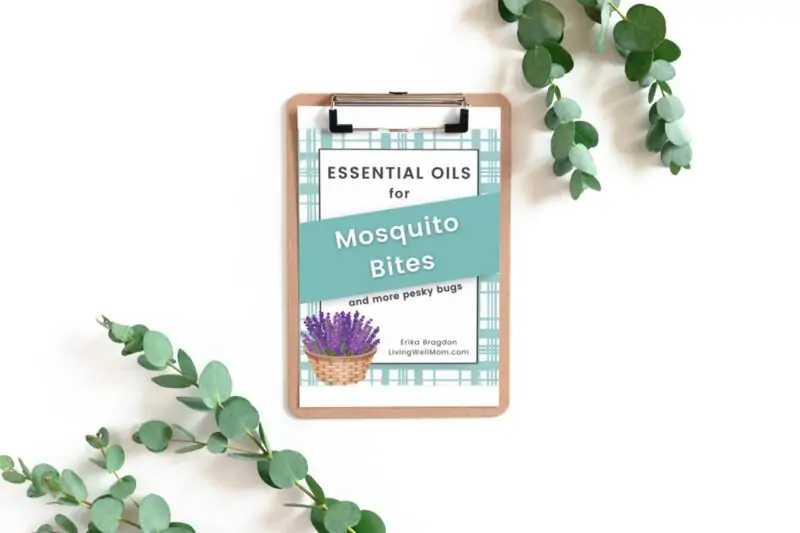 This free download has an additional 2 roller blend recipes with instructions and tips. It even includes free printable recipe cards!
You can be a great friend and make someone's day by whipping up a batch for them and gifting it along with the recipe card so they can make their own next time.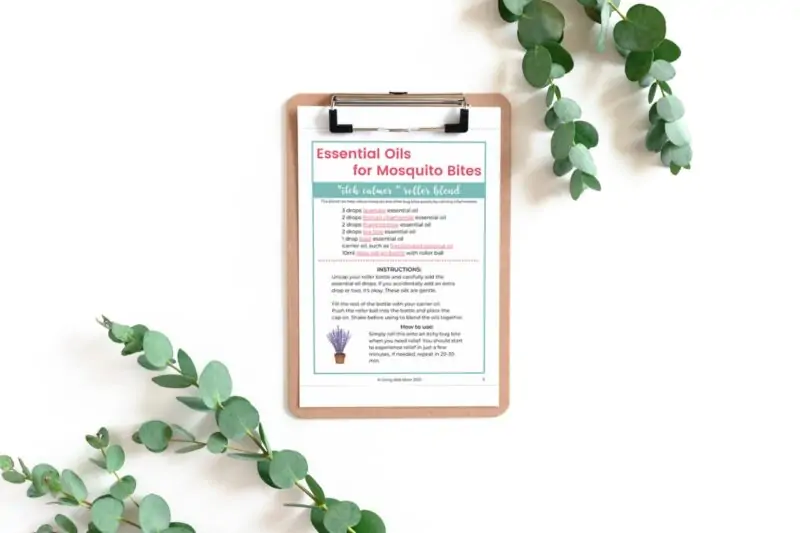 Grab the free download here:

More Posts About Essential Oils