Making pet rocks is a creative activity that allows the imagination to run wild – without fear of the project not turning out well. Check out these fun and easy pet rock ideas to make them yourself!
Today, I have a super fun activity for kids that's great for toddlers all the way to tweens. If your teen is artistic, you might even be able to convince them to try out this project too!
We're making painted pet rocks! They are inexpensive and super easy to make since you can probably find plenty of rocks in your backyard. Here in New Hampshire, we joke that we grow rocks – and it's true!
We have so many rocks, no matter how much we may till an area of soil for a garden, there are always more making an appearance. Is it really any surprise that we're called the Granite State?
Rock Painting Supplies Needed
Here's a complete list of supplies to use when painting pet rocks:
Rocks – Ideally, you'll want smooth rocks – not jagged and rough ones. Also, avoid super big rocks that kids may be prone to dropping on their siblings' toes. 😉
Acrylic Paint (in desired colors) – I found an acrylic paint kit with a variety of colors at Walmart for just $12, but you can also find an acrylic paint set from Amazon. From personal experience, I recommend avoiding craft stores like Michaels because they can be expensive – especially when it comes to acrylic paints.
Paint Brushes – all-purpose paintbrushes in varying sizes are great for this project.
Paper Towels or Cardboard – To contain the paint mess, of course!
Googly Eyes** – optional but fun
Glue Gel – for the googly eyes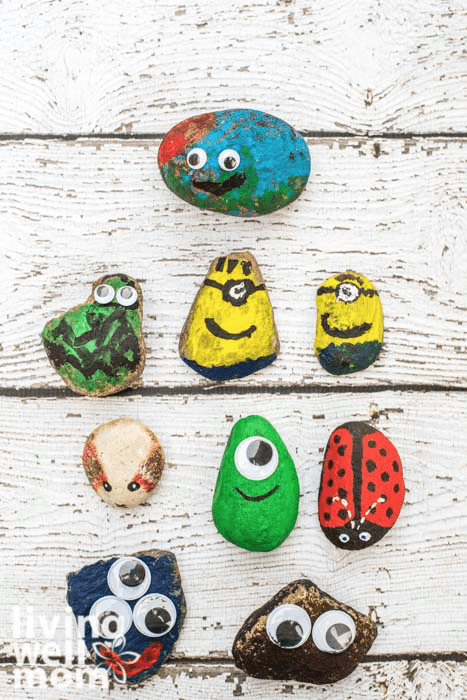 **A small warning – Be aware of the googly eyes with small children who may put things in their mouths. The glue gel does a good job of keeping the eyes stuck on, but we've still had a couple stubborn googlies pop off.
How To Make Pet Rocks
The process of making painted pet rocks really is simple. I'm breaking it down and adding some helpful tips to reduce mess.

1. Set up your children's work area by putting down cardboard or paper towels to protect the table from paint spills.
2. Give them some paint (I don't recommend giving them the entire tube!) and a paintbrush and let them paint their rocks!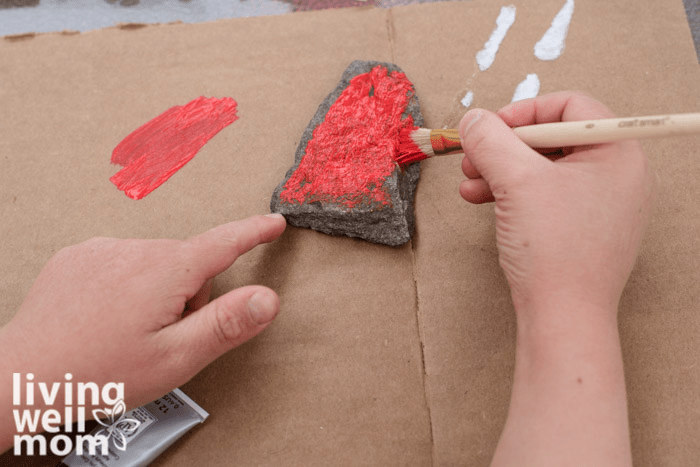 3. Let the rocks sit out for 1-2 hours to ensure they're fully dry before adding a patten on top of the base coat.
4. Wait another hour or so then attach the googly eyes with superglue.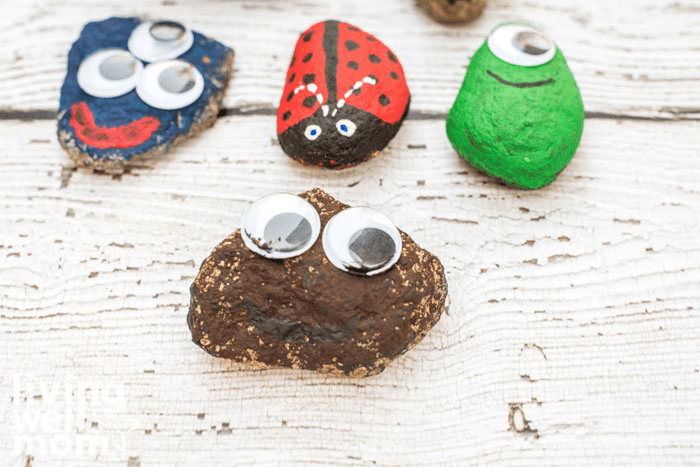 Helpful Tips
Acrylic paint can be removed by scrubbing with water, but it's much harder to clean up than regular watercolor paints.
I also recommend having your children (especially younger ages) wear old clothes that you won't mind getting ruined with paint. Or, use a smock if you have one.
I personally like using cardboard to cover my kids' workstations. Something even as simple as a broken-down cereal box works really well!
Pet Rock Ideas: What The Kids Made
I decided to let my kids have at it with this project, and see what they came up with. I squirted a small amount of paint onto their cardboard pieces, and they started painting.
One of the benefits of this activity is that painting is a great way for younger children to practice fine motor skills. My 5-year-old, Joshua, has struggled with holding his pencil properly. Thanks to his awesome kindergarten teachers, he is doing much better now.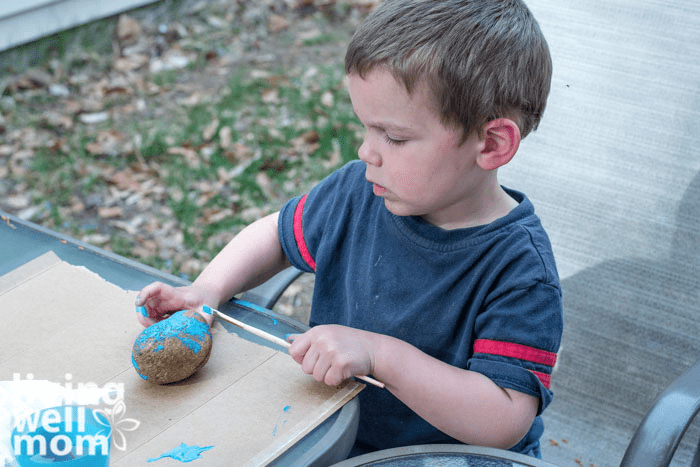 See how he's practicing his skills without even realizing it?
Luke just went to town and started painting his rock. He did a great job!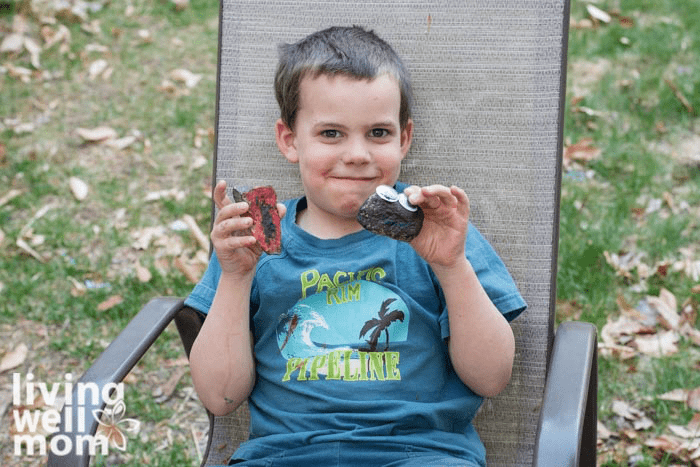 Emily (she's 8) knew exactly what she wanted to paint – a turtle and a butterfly. She had so many great pet rock ideas that she went on to make pet rocks for everyone in the family!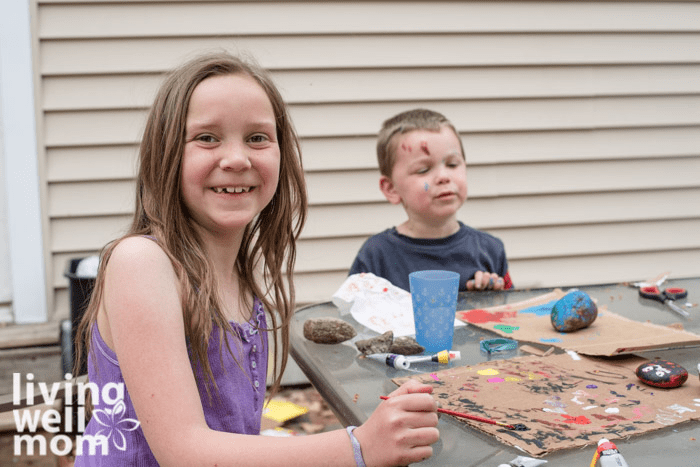 Nathan is the artist in our family, and at age 12, he came up with some pretty amazing pet rock ideas. His first creation was a rainbow rock.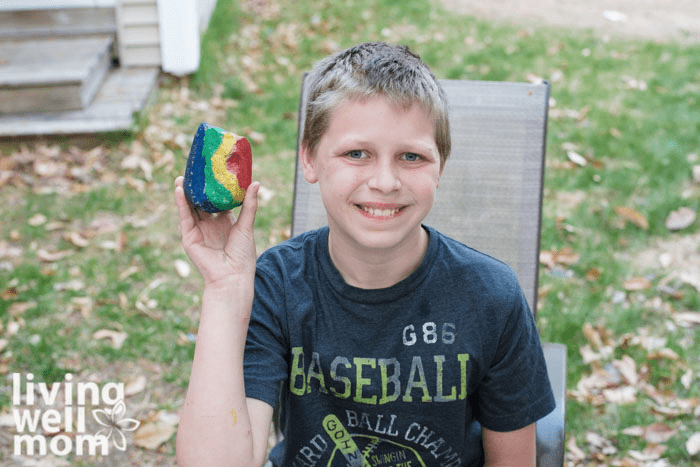 His next creation was a bumblebee and a Minion!
Emily loved the idea and made two of her own minions. I think they both did an awesome job, especially considering they didn't copy a picture. This was all from memory!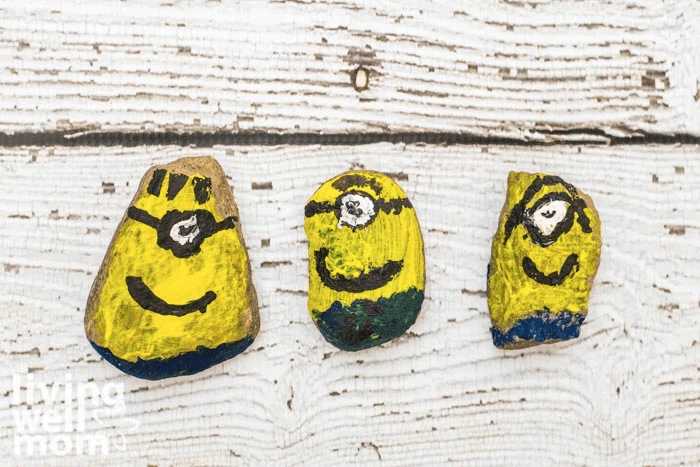 I explained to the kids how their pet rock paintings would turn out better if they waited for the paint to dry between layers or different colors. But kids don't like to wait, so some of the colors ran together a little.
This project was a lesson in patience too! 😁
More Variation Ideas
If your kiddo has a hard time coming up with ideas for painting their pet rocks, you can try one of these in addition to the ones we tried:
Flower or cactus pet rocks
Pet monsters
Movie-inspired ideas like Mickey, Minnie, Superwoman, Daniel Tiger, etc
Animals like: cats, lions, snails, owls, fish, mice, monkeys, pandas, etc.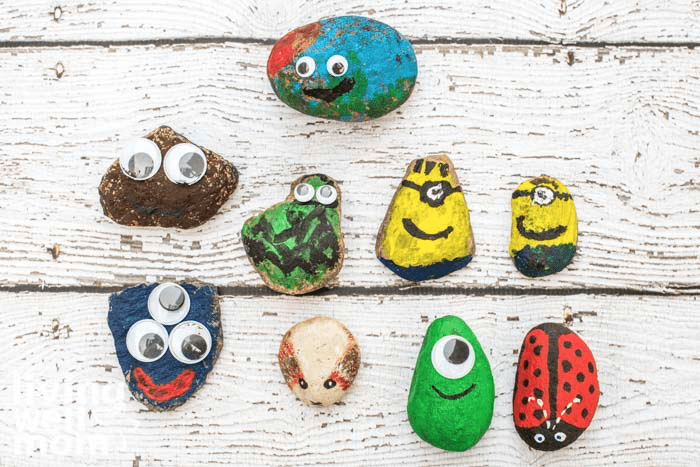 What To Do With Painted Pet Rocks
Ok, so your kids made pet rocks. What can they do with them once they're done? Here are some ideas:
DIY Gift – Pet rocks can be a great homemade gift from your children! Think about Mother's Day, Father's Day, birthdays, or even just an everyday I-love-you gift for Grandma.
Give Pet Rocks A Bath – If your kiddos hate bath time, use the excuse that their pet rock needs a bath too! You'll end up with a clean kid and a clean rock. I call that a win-win! Just make sure to seal the rock before dunking it in the bath or you risk the color running.
Make A Home For Your Pet Rocks – The kids could do this inside or outside and use whatever materials are on hand: a shoebox, straw, grass clippings, sticks, etc.
Use As Paperweights – Pet rocks make the best paperweights ever! They're fun, colorful, personalized, and made by your kids. I can't think of anything more special – or useful!
Lawn Decor – Every yard needs a little splash of color! Use pet rocks to add some personality and color to the backyard. They're especially noticeable when you don't have any flowers blooming.
FAQs
Here are a few questions that I've seen readers ask about making pet rocks.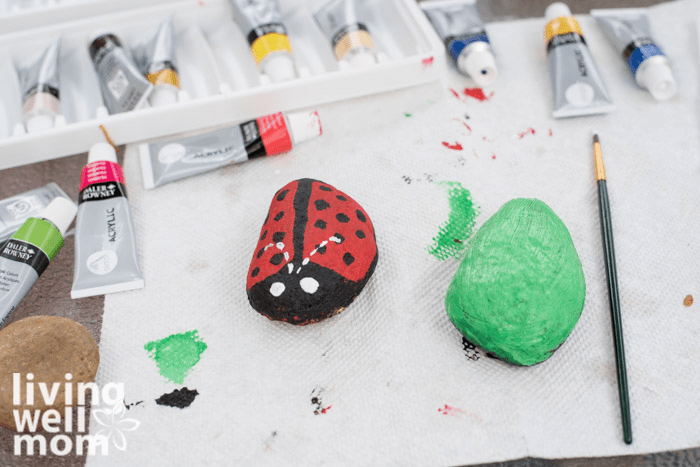 Do you need to prime rocks before painting?
Generally, I say primer is not necessary, but you can use it if you want to. However, it adds another step and makes the kids wait longer. We didn't use primer and didn't feel the need for it.
Primer is useful for making the paint stick to the rocks and helps create bold paint colors without needing to paint multiple layers.
Will acrylic paint wash off rocks?
Acrylic paint can wash off rocks since it's water-based. However, while it likely won't happen in just a few rainstorms, it will happen eventually.
If you want your painted pet rocks to stay like they are the day you make them, use self-sealing (outdoor) acrylic paint or spray your dried rocks with a spray sealant.
Can you seal painted rocks with clear nail polish?
Yes, you can! However, depending on the size of your rocks, the process will take much longer than simply spraying the rock down with a sealant.
Hours Of Cheap Entertainment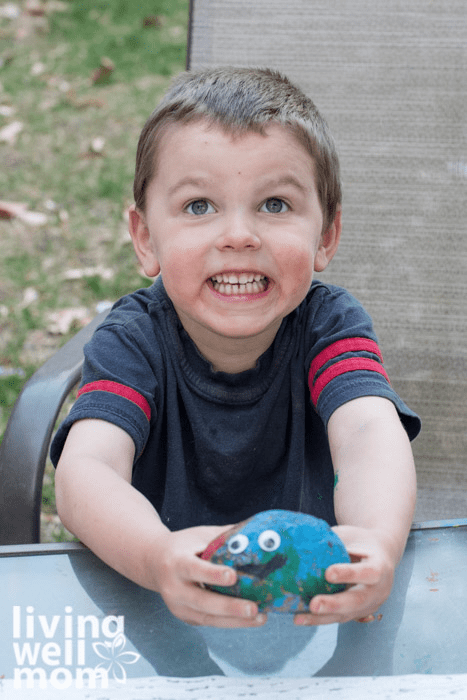 My kids spent a couple of hours painting their pet rocks – even I was surprised at just how much fun they had.
With a literally unlimited supply of rocks, the only thing stopping them from painting more than they did was me. (Mean ol' mom did eventually make them clean up, finish chores, and head to bed on time!)
Luke was very proud of his work. He was not so happy when I scrubbed him down later though!
The next day, all three kids proudly brought their pet rocks to school to show their teachers and friends. And at home later, they spent another hour or so playing with them.
I'm so glad we made our pet rocks. If I had realized just how much fun this activity for kids would be, we would have made them a long time ago!
Try Making Pet Rocks Yourself
Pet rocks are so much fun because, just like with homemade playdough, the possibilities are limited only by you and your kids' imaginations!
You can start by simply painting a rock all one color and then superglue a couple of googly eyes on it. Or, get artistic and paint an animal or a favorite character, like the Minions.
I surprised myself by enjoying this fun activity just as much as my kids did! I made a couple of pet rocks, and later, my sister joined us and painted a hamster. So much fun!
More Fun Activities For Kids
Pin the image below to save the pet rock idea for later.