Family road trips can be long and boring but with a little planning ahead, you can have a fun selection of printable road trip games that will keep your kids (including preschoolers, tweens, even teens) occupied for hours.
Today I'll show you how to easily make a DIY travel binder (no craftiness required) that's a perfect way to store and use printable road trip games for kids.
Your whole family will thank you for this fun activity!
Best of all, you don't have to be crafty or DIY-included to make this homemade travel binder; it's really easy to make and the supplies are simple too.
We've had some great trips in the past, and honestly some downright terrible ones, so I have a few tricks up my sleeve.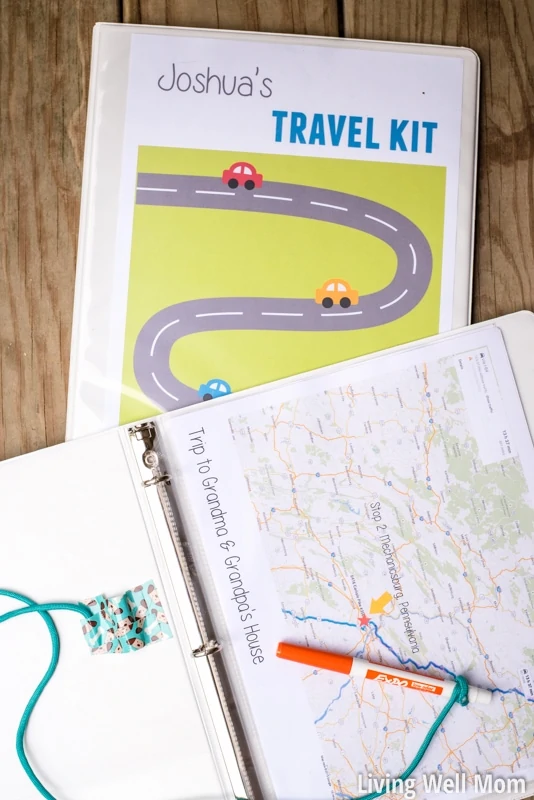 Road Trip Activity Binder
For our most recent trip, I came up with this road trip activity binder. I made one for each of my children. It's simple and filled with fun games to play on a road trip that worked well to keep them busy…and off their tablets and phones!
The best part of this DIY kids travel binder is you can add whatever activities you like and easily personalize it for each child. Plus can reuse it again and again for future road trips!
Another nice feature is it includes an attached dry erase marker and holder so your kids won't lose their markers in the dark crevices of your car!
You'll find a huge list of printable road trip games and activities from more awesome bloggers and sites below.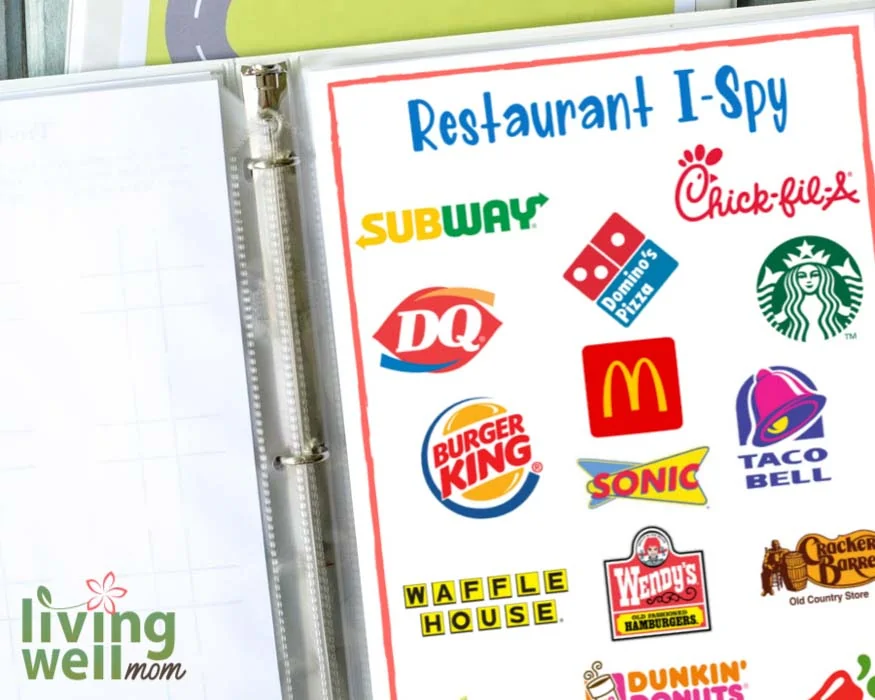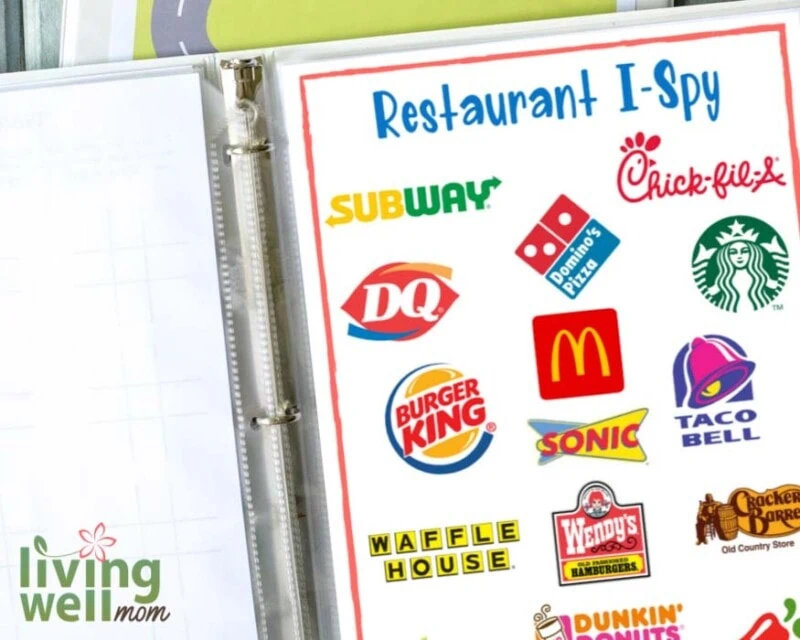 Get this restaurant ispy bingo here
1/2″ binder with a clear pocket in the front (I found 6 at BJ's for $8)
1 dry erase marker per travel binder *dark colors work best
craft cord (I used a shoelace-type craft cord at Walmart that works great)
hot glue gun & glue sticks
decorative mini duct tape
optional – map of the route you're traveling through Google Maps or other software (see more below)
free printable travel activities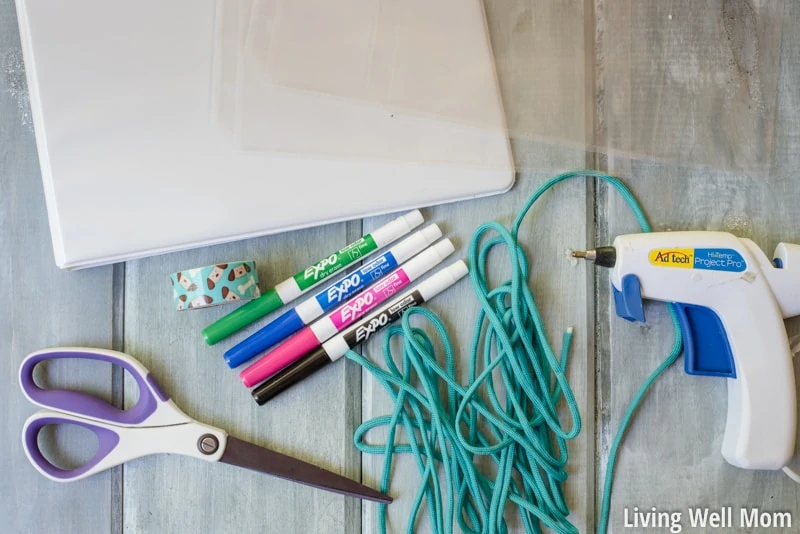 How to Make a Kids' Travel Binder:
You can download the free printable cover for your child's travel binder by clicking here.
Write your child's name at the top.
Insert this cover into the front of the binder.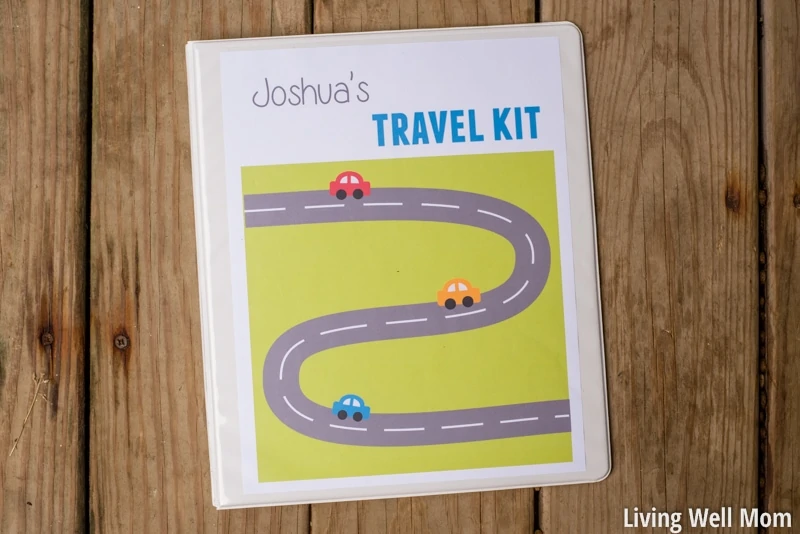 Now make the simple holder for your child's marker.
Cut off a 2-3 inch section of the decorated duct tape. Cut a small 3/4-1″ section of tape and add to the middle of the long piece's sticky side.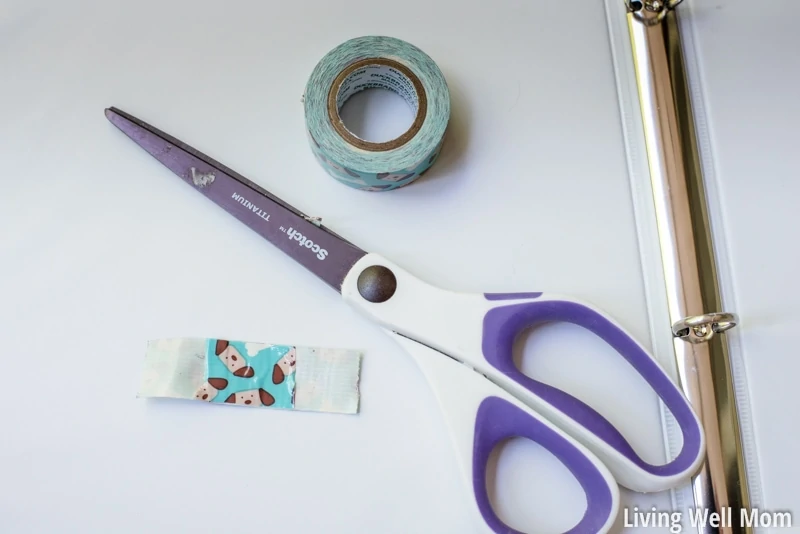 Do this again for a second piece.
Using the dry erase marker as a guide, attach the tape to the middle top of your child's travel kit binder.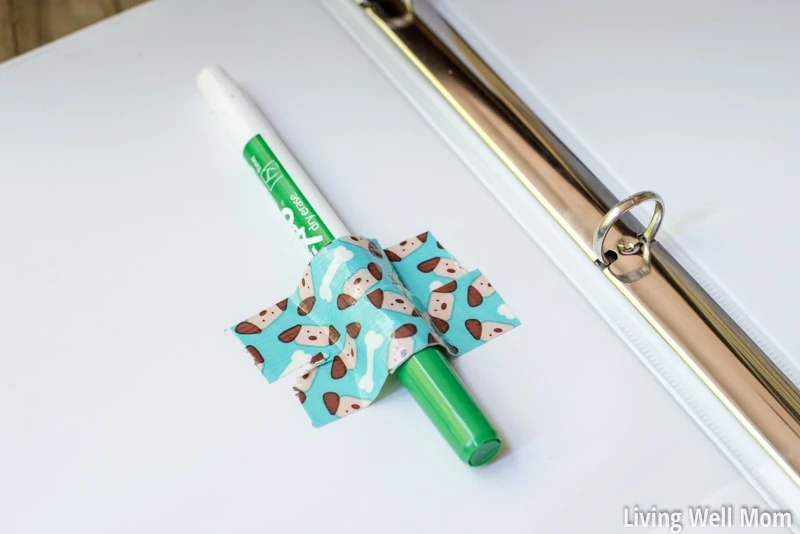 Add two pieces of tape to the sides – this adds extra strength to the marker holder.
Now, cut off about 2.5 feet of craft cord (you'll need enough cord to comfortably reach around any pages in the travel kit binder.)
Tie one piece to the top of the dry erase marker. Hot glue this in place.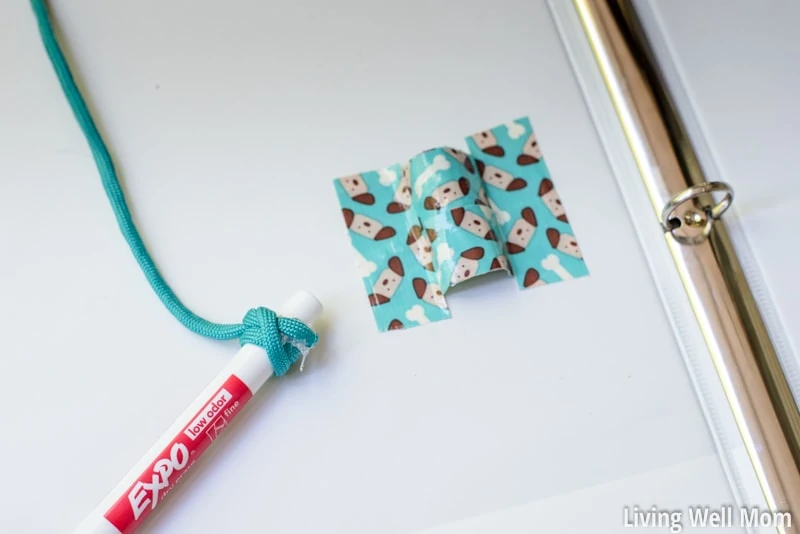 Tape the other end of craft cord to the marker holder.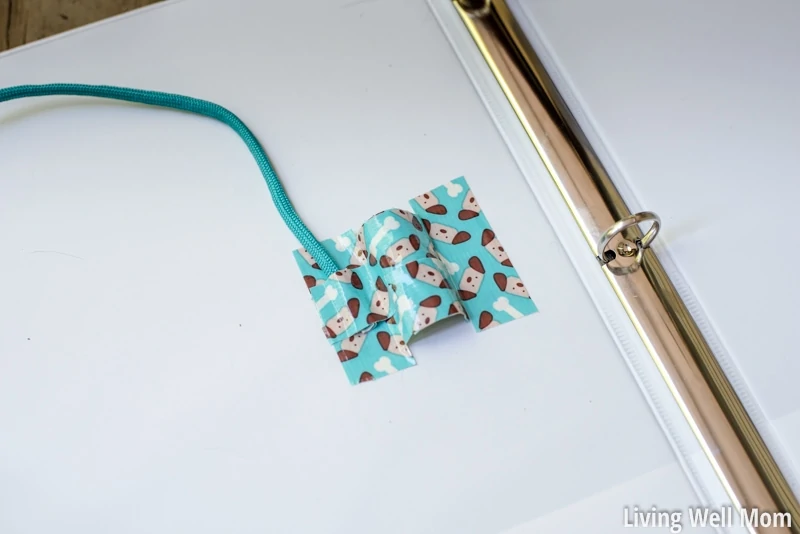 And you're done with the attached marker and holder for your travel kit!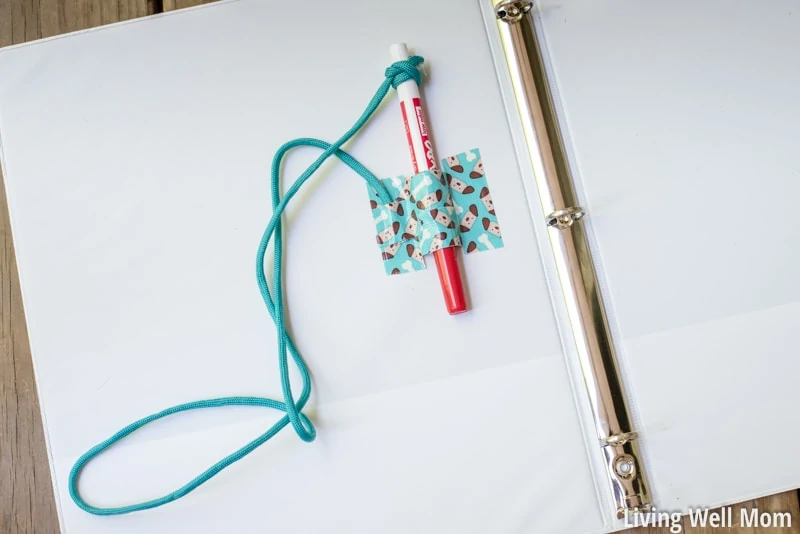 Map Activity Road Trip Printable
The free printable map activity is my favorite part of this kids' travel binder. It's perfect for elementary-aged kids on up because they can follow along as you travel.
It's a great way to teach kids how to read maps in this age of GPS too! Plus you'll hear less "Are we there yet?" with this simple addition!
I did include these map printables in my younger children's binders (Josh, age 6 and Luke, age 4) simply because they like to follow their older siblings and I knew they would still enjoy it.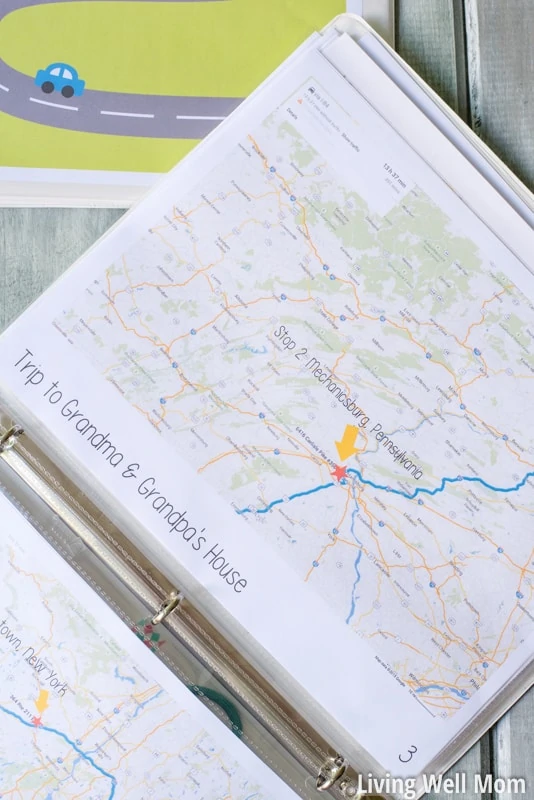 Kids can trace the route with the attached dry erase marker and they'll love seeing the progress you're making.
I recommend going a step farther and plan out your route including stops so your kids can see exactly how far between stops.
Go to Google Maps or some other map program. Map out your route and stops.
Then save and print out pages, depending on how long your trip.
Our trip has 5 pages for each way – 5 for traveling to Grandma and Grandpa's house and 5 for traveling home. I uploaded each page to the free Paint program and added stars to mark where our stops with a big star for our destination.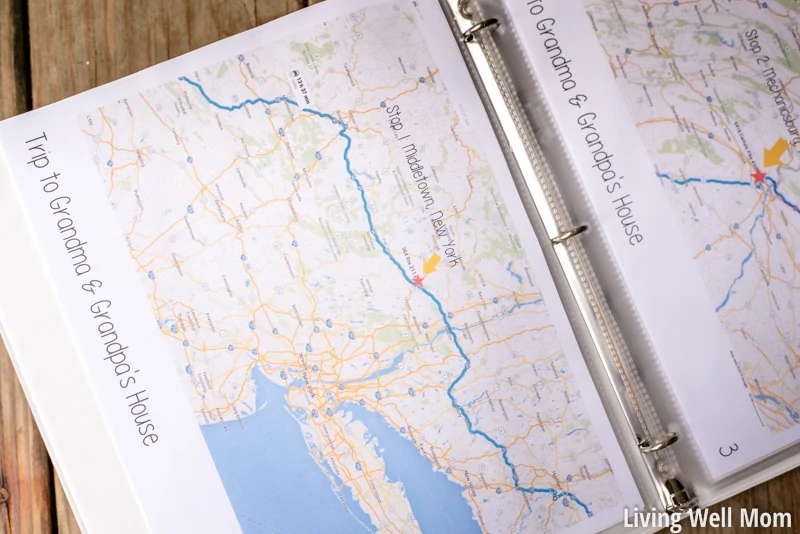 This simple road trip binder printable alone will make your trip easier!
Last, but not least, print out activities for each of your children, depending on their ages.
Including Bingo…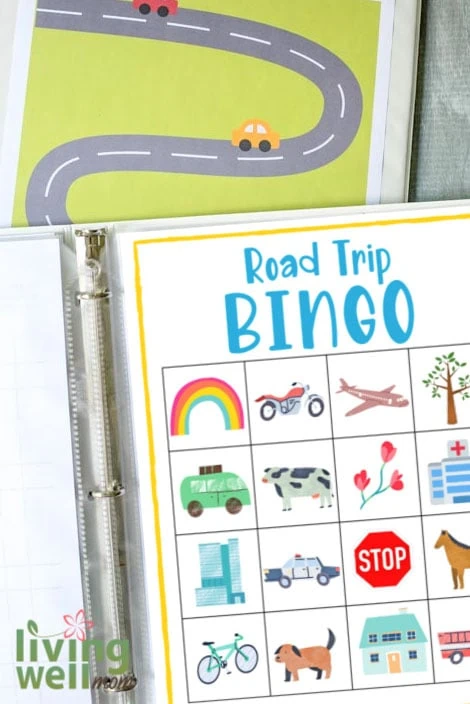 Even a travel journal…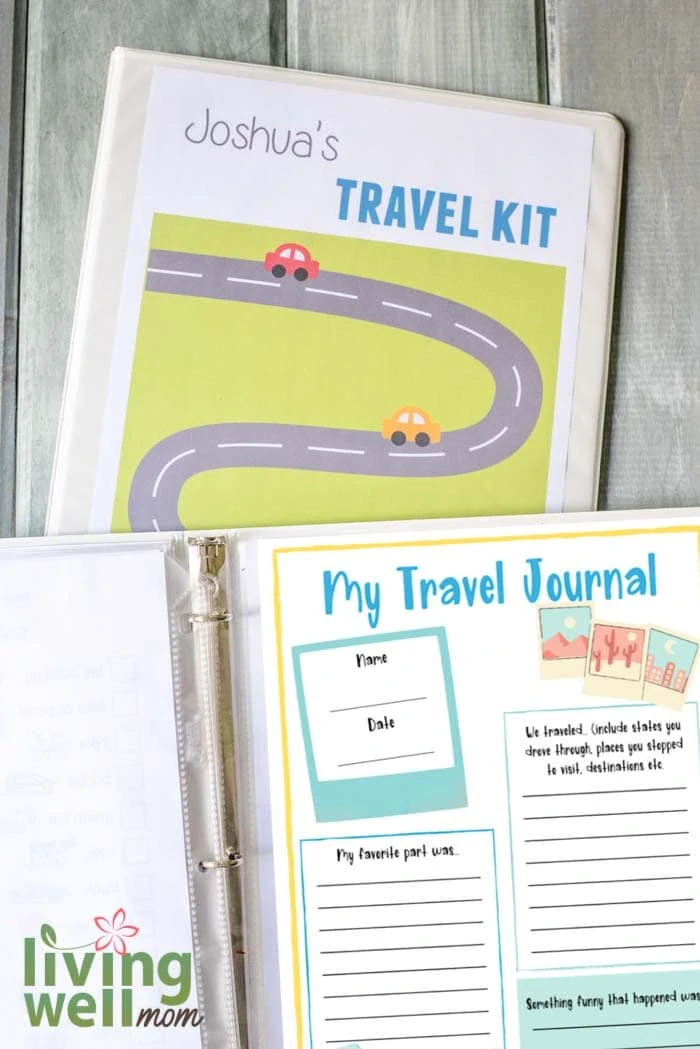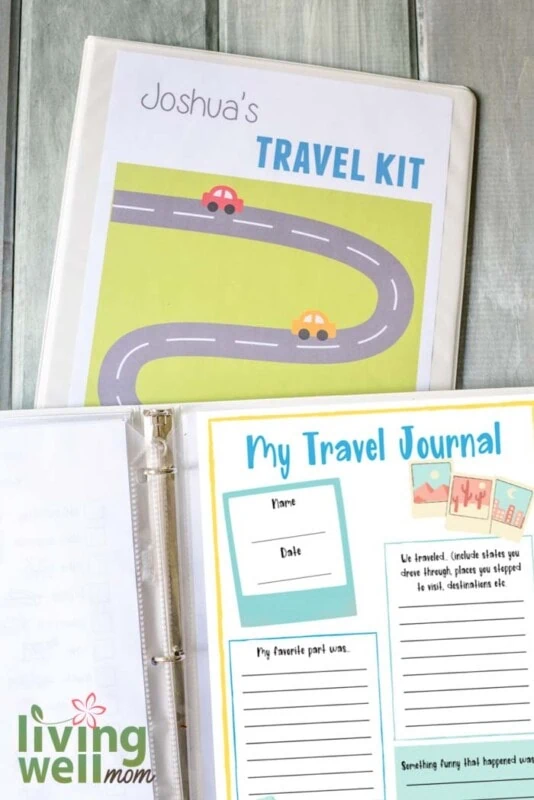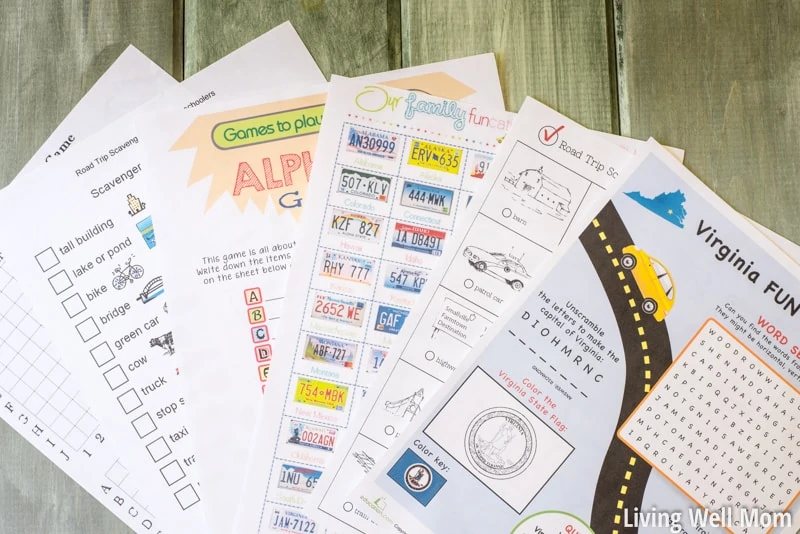 Free Printable Travel Games for Kids:
I Spy / Scavenger Hunt Games
Bingo Games
License Plate Game
Coloring Printables
Disney (includes coloring pages, printable memory games, activity pages, etc.
Crayola (includes tons of other games like mazes, bingo, + more)
More Printable Travel Games & Activities for Kids
Kids Activities Woo – Printable Pinwheels
Classroom Jr – Summer writing prompts
Kids Activities Woo – printable mad lids
education.com has a huge select of activities including fun facts for each state, bingo games, drawing tutorials, mazes, matching games and more.
Mother's Home has several printable road trip games including hangman, tic tac toe, battleship and more.
Mom's minivan has over 100 fun car ride games and activities for kids
Minitime has 25+ few road trip car games to choose from
Picklebums – cute free drawing prompts
Country Cottage – Dr. Seuss Cootie Catcher
Get the Printable Travel Games Set
Get everything in one place with the Ultimate Travel Games Bundle!
This exciting set features 30 printables, including:
7 iSpy games – including restaurants, car models and colors, highway signs, and more
license plate iSpy
2 scavenger hunts
9 bingo pages
4 classic games – tic-tac-toe, dot connecting, battleship, hangman
5 drawing prompt pages
2 travel journal pages
1 reward coupons page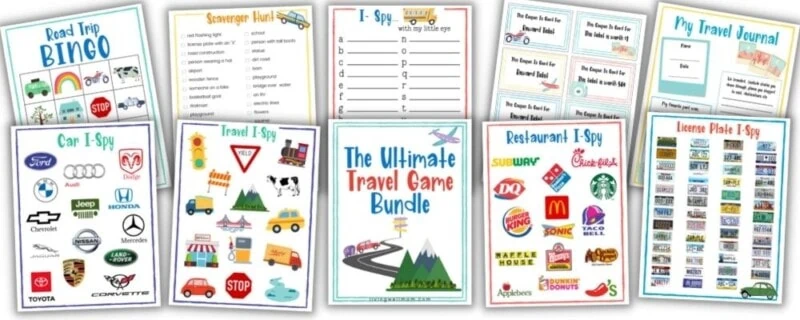 While these this handy travel activity binder and road trip printables can't make the miles disappear, together, they can definitely help make the whole trip go by faster and smoother for the whole family.
Happy travels!
More Road Trip Tips:
Just pin it below to find the instructions later!