It seems like ticks are getting worse every year and with things like Lyme disease to consider, it's more important than ever to keep these bugs from coming in contact with our families. That's why I make sure to always have this essential oil tick repellent spray on me every time we are outdoors.
We live in the woods of New Hampshire, one of the worst areas for ticks and Lyme disease. I try to use all-natural repellents with my family because I'm not comfortable using chemical repellents like DEET on my family.
Luckily, we've had great luck making our own homemade essential oil tick spray for my family. In fact, we haven't found any ticks when we use it. And my kids play outside in our yard (with long grass) and the woods (where ticks live abundantly) almost every day. The only time I've ever found a tick crawling on one of my kids is when we forget to use our homemade tick repellent spray.
Essential Oils for Ticks
Erika Bragdon is a Certified Essential Oil Coach from the Essential Oil Institute.
The "secret" to repelling ticks naturally is geranium essential oil. Geranium oil (specifically the species, Pelargonium graveolens) has been shown in studies to be just as effective at keeping ticks away as DEET.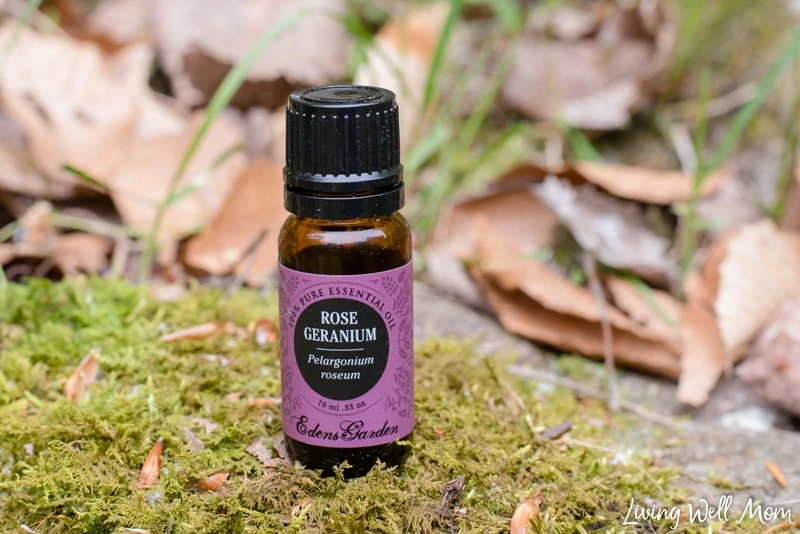 The Latin or scientific name is important here – that's the Pelargonium graveolens part. Some essential oils are labeled Rose Geranium while others are just plain Geranium. That's where the Latin name is key.
I have used both of these brands with great results.
From a cost comparison perspective, Rocky Mountain Oil has a better deal.
I have not used other brands and I can't attest to their effectiveness. I've heard that some people have had mixed results with the NOW brand.
For more cost comparisons with popular essential oil brands:

Tick Spray for Dogs
By the way, you can make your own all-natural tick spray for dogs too. Click to grab the easy recipe—the last thing you want is to spend all the energy to protect yourself and your kids, only for your poor dog to drag in ticks.
DIY Essential Oil Tick Repellent Spray
Please read my Essential Oil Common Sense Safety page before using this essential oil recipe. I am not a medical professional and the information presented here is merely for educational purposes and not intended to replace medical advice. Do your own research, consult with your doctor, and make safe decisions for yourself and your family.
Essential Oil Tick Repellent Spray Ingredients
4 oz (or larger) spray bottle (this is the one I used in the photos)
water (distilled, filtered, or spring water is best)
You can also make a roll-on bottle. You'll need 10ml glass roller bottles for that.
You may have noticed that there is not a carrier oil, like fractionated coconut oil, recommended in this recipe. This is because I wanted to be able to spray this on my children's clothes, socks, shoes etc without worrying about oil stains. You may replace the apple cider vinegar with fractionated coconut oil if you would like, just be more cautious when using on clothing so you don't leave marks.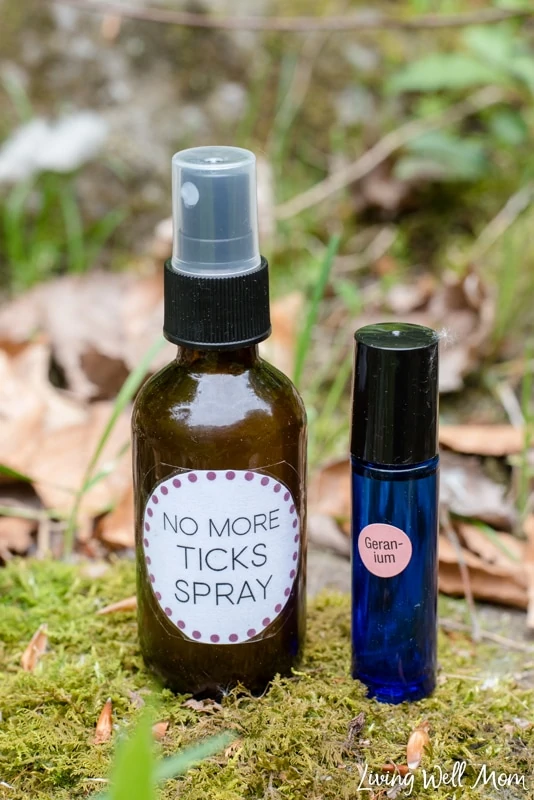 I prefer the essential oil tick repellent spray bottle because it's easier and quicker to apply (with four kids), but the roller blend works just as well and you can be more direct about exactly where you want to apply it.
How to Make a Homemade Tick Spray
Fill your spray bottle about 1/3 of the way with apple cider vinegar. You don't have to measure or be exact. Apple cider vinegar may help keep mosquitoes away too so that is an added benefit!
I recommend using 30-40 drops total of essential oils for a 4oz spray bottle. This amount has worked well to keep the ticks away for my family.
Add 10 drops each geranium, cedarwood, citronella, and lemongrass essential oils.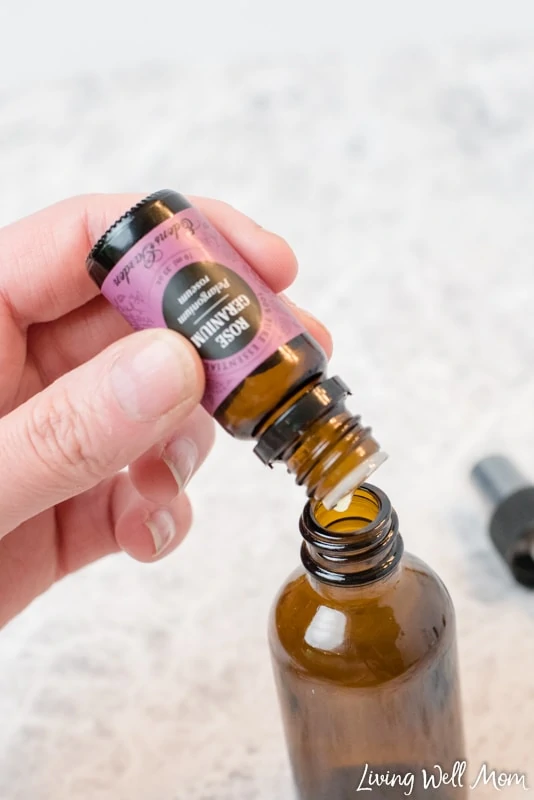 Fill the rest of the bottle with water.
Bonus: Attach this free printable "No More Ticks" label to your spray bottle. You can download and print it here. (Right click, save, then print.)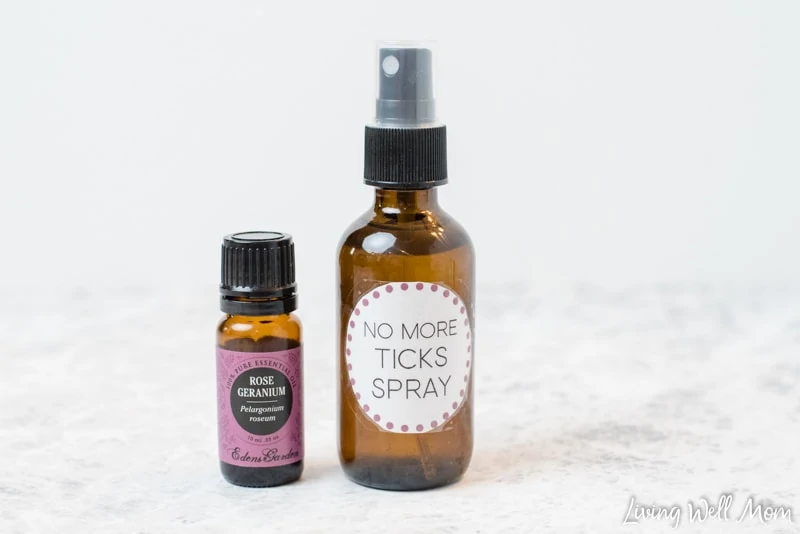 Homemade Tick Repellent Video Tutorial
I also made a simple, quick video showing you how to make this homemade tick repellent. Check it out!
How to Use this DIY Natural Tick Spray
Shake before using each time to help mix the essential oils for a more even application.
Spray well, especially on your ankles, feet, and legs and anywhere you are more likely to encounter ticks. If you're hiking in the woods, spray it on arms/shoulders etc too. (Always avoid your face, ears, eyes, and nose.)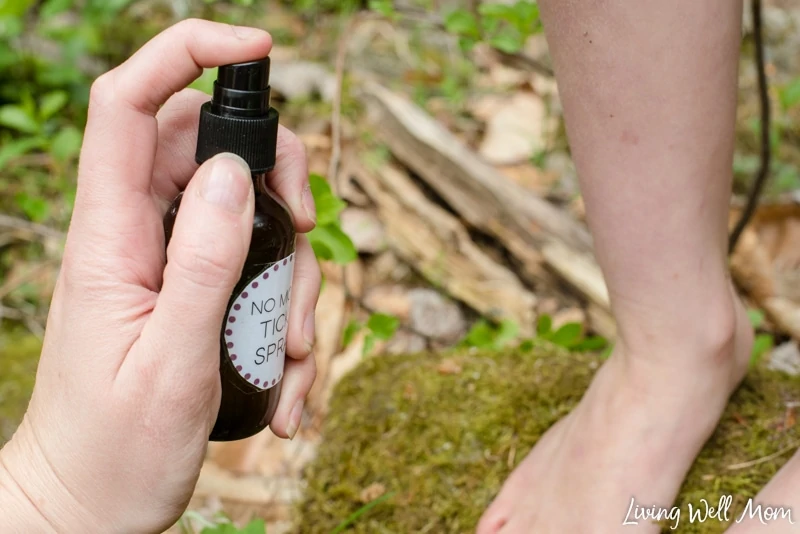 I've used this on clothes without any staining, but as a precaution, I recommend you test an area before spraying this all over your favorite shirt. Just in case.
Bug Repelling Essential ↓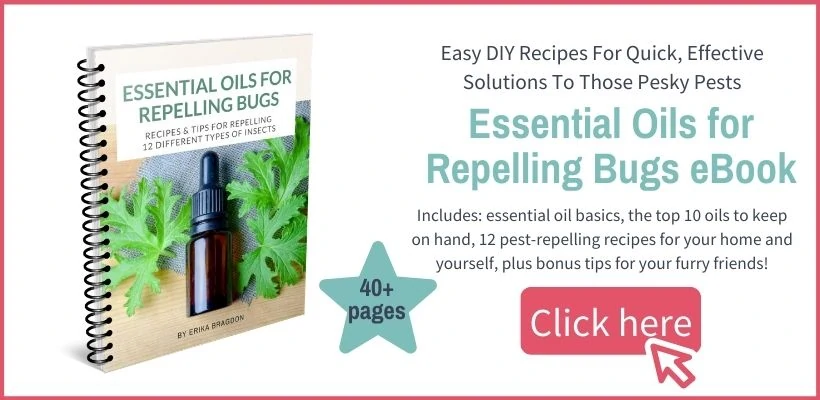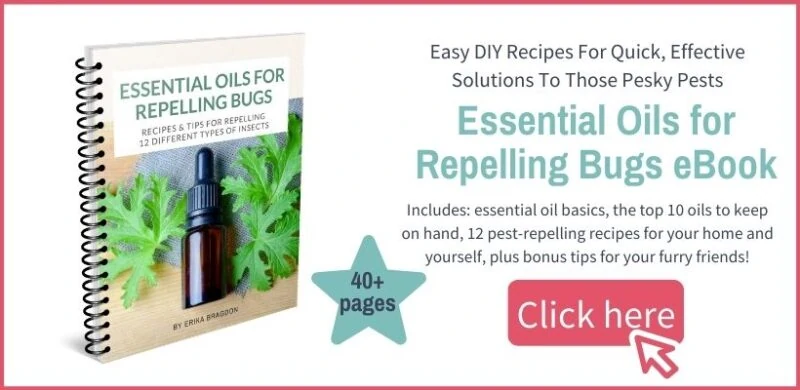 DIY Essential Oil Tick Repellent Roller Blend
If you prefer a roller blend, you can easily make one too. Here's what you'll need to have on hand.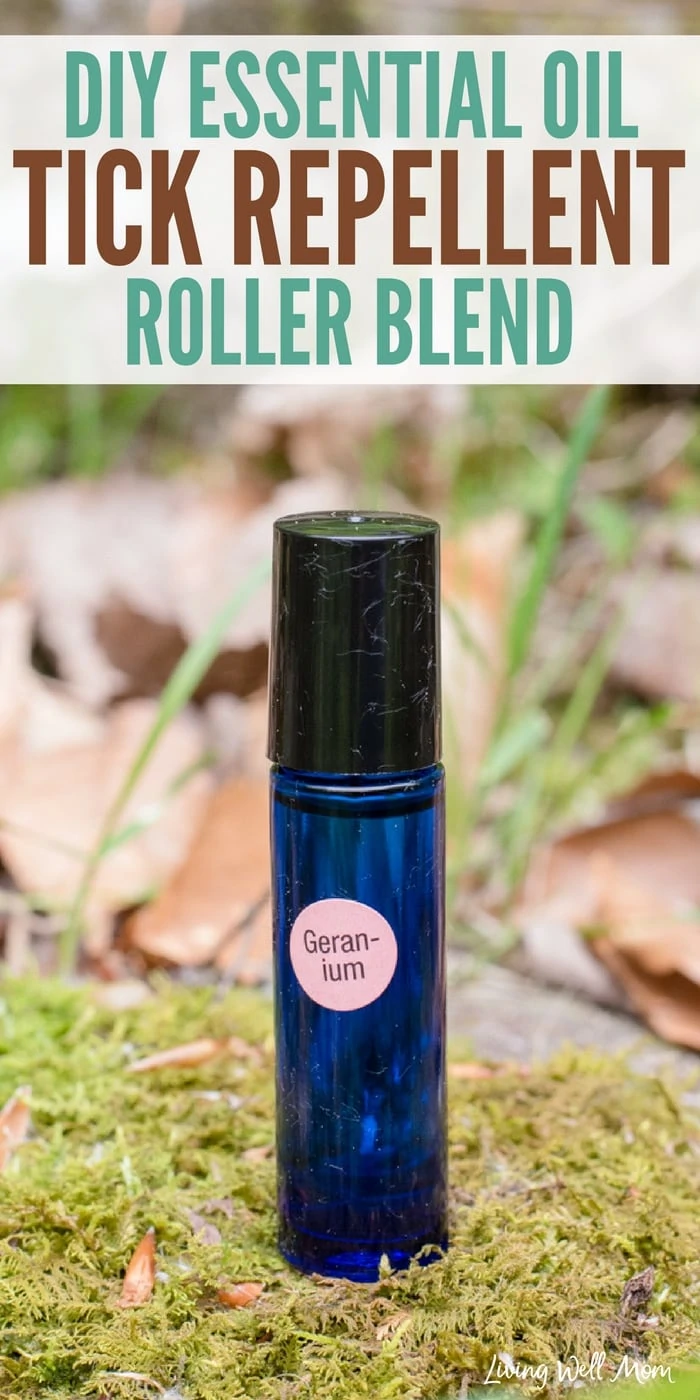 Essential Oil Tick Repellent Roll-On Ingredients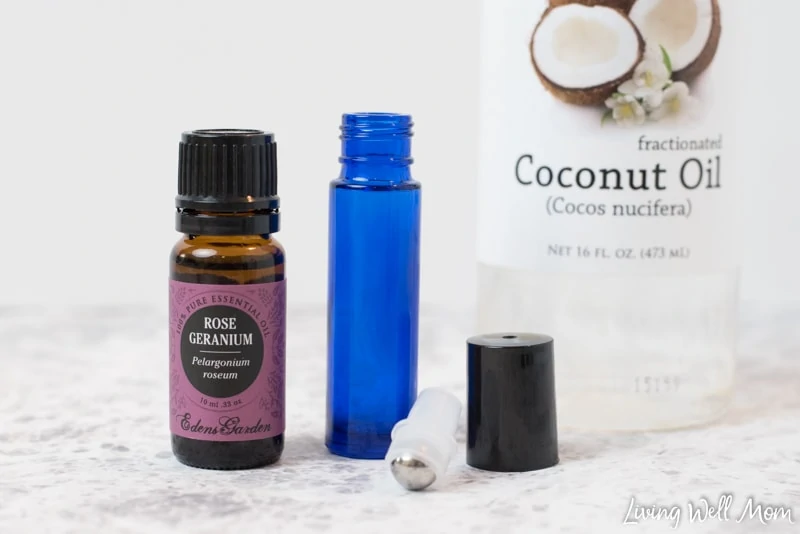 Add 3-4 drops each of geranium, cedarwood, lemongrass, and citronella essential oils.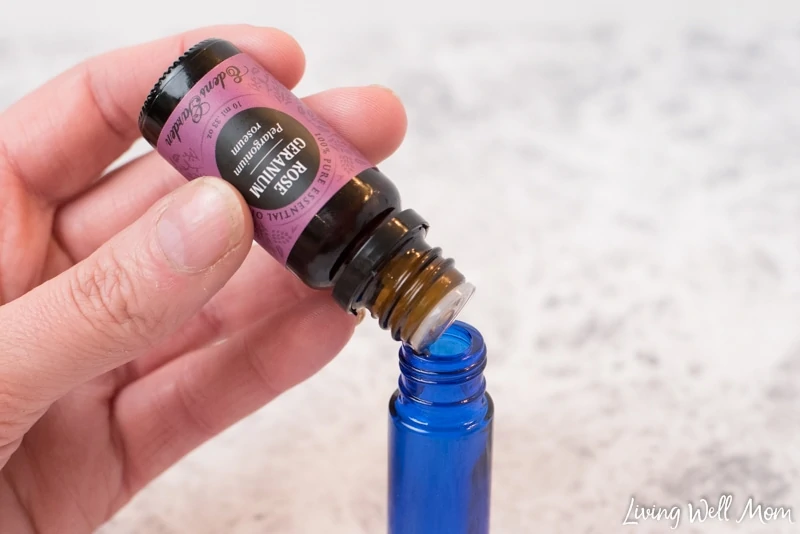 Fill the rest of the bottle with fractionated coconut oil. (Make sure you leave enough room for the ball stopper. I didn't once, it wasn't pretty!)
Add the ball stopper, then shake well.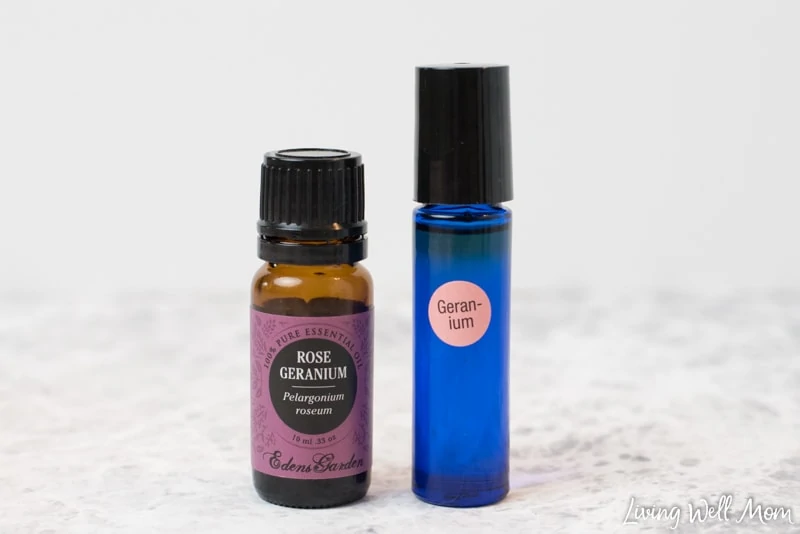 Apply to the ankles, lower legs, wrists, behind your ears, neck, etc.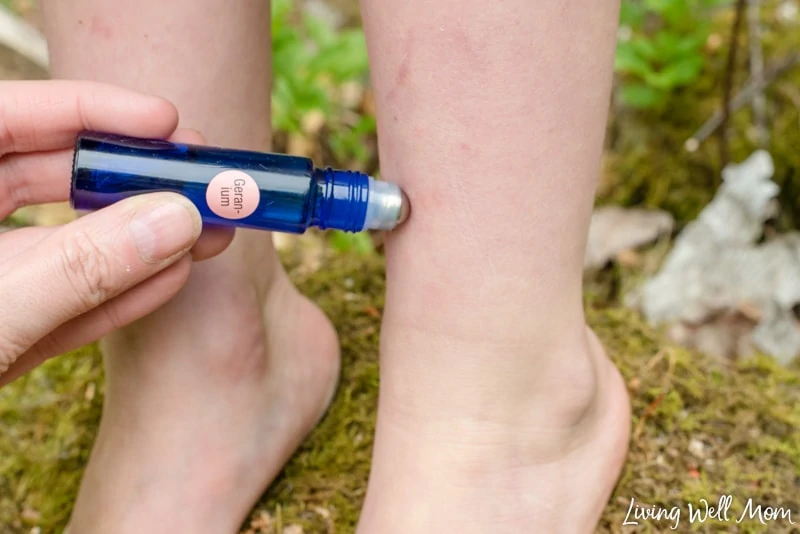 I spray or roll either of these essential oil tick repellent mixes on my kids once a day, usually in the afternoon when they get home from school. Unlike mosquitoes, I haven't found that this needs to be repeated every couple of hours, but your needs may vary.
I still do regular tick checks on my kids, just to be safe. One of the best ways to prevent tick bites is simply to check for ticks and hopefully catch any BEFORE they bite!

Related Posts:
Pin the image below to save the instructions for later!

I hope this all-natural DIY essential oil tick repellent blend works as well for you as it has for my family!