Sometimes simple is best. That's where these Chunky Monkey Bites are so amazing. My kids adore this fun treat with bananas, peanut butter, and chocolate. And who wouldn't?
These little Chunky Monkey Bites are so tasty! And it helps that they're simple to make. The most complicated part (and it's not hard at all) is dipping the banana bites into the chocolate!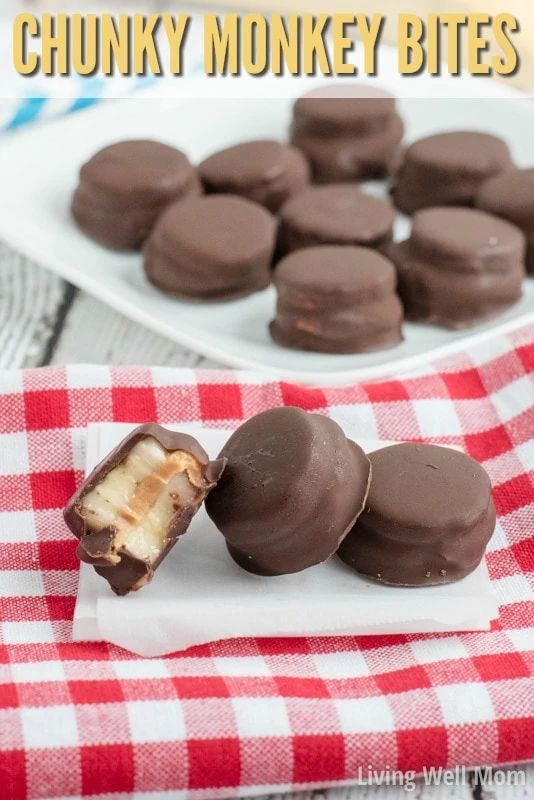 This fun treat is a perfect less-processed Valentine's Day treat – or any time! We're making Chunky Monkey Bites along with a "Rainbow Fruit Salad" for our little Valentine's Day party at home.
The only downside? Chunky Monkey Bites disappear quickly! But that's okay, because they don't store well for long.
How to Make Chunky Monkey Bites:
Ingredients:
2 bananas
1/3 cup peanut butter (or almond butter)
1 pkg chocolate chips (we use this soy-free brand)
Your little helpers can help you cut the bananas into pieces…(don't let them use a sharp knife, like I show in this photo for obvious reasons!)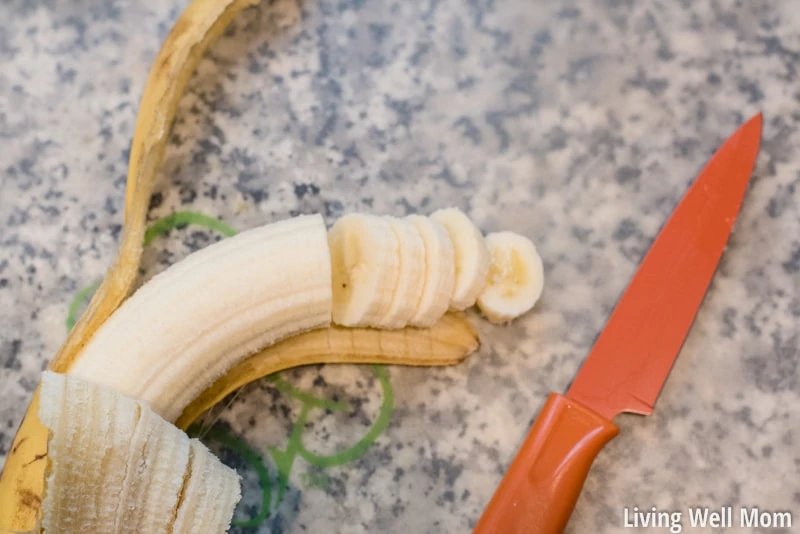 Lay the bananas on a parchment-paper lined cookie sheet. You'll need two bananas for each "Chunky Monkey bite" – this is a great time to encourage counting by two's or even multiplication with your kids!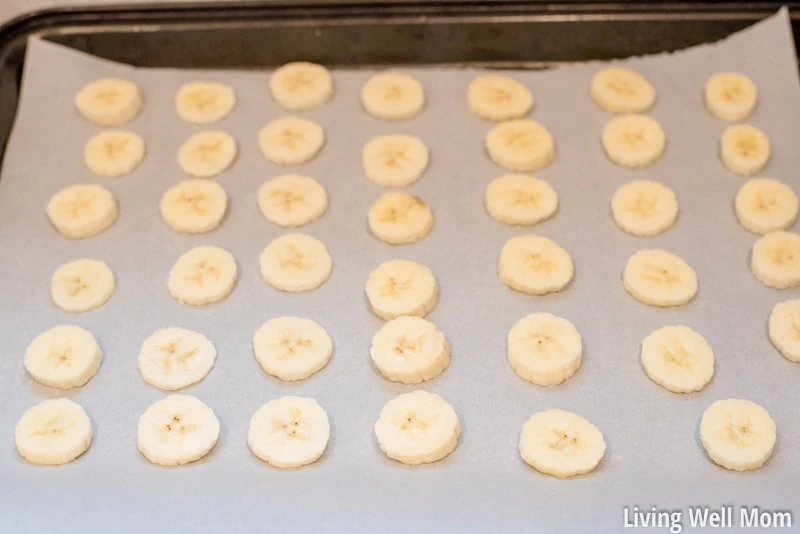 Spread a little peanut butter onto every second banana slice. To make it even easier, spoon some peanut butter into a sandwich baggie and cut a little bit off the corner. Now you (or your helpers) can simply squeeze the peanut butter out. This is much quicker, simpler, and less-messy than using a knife.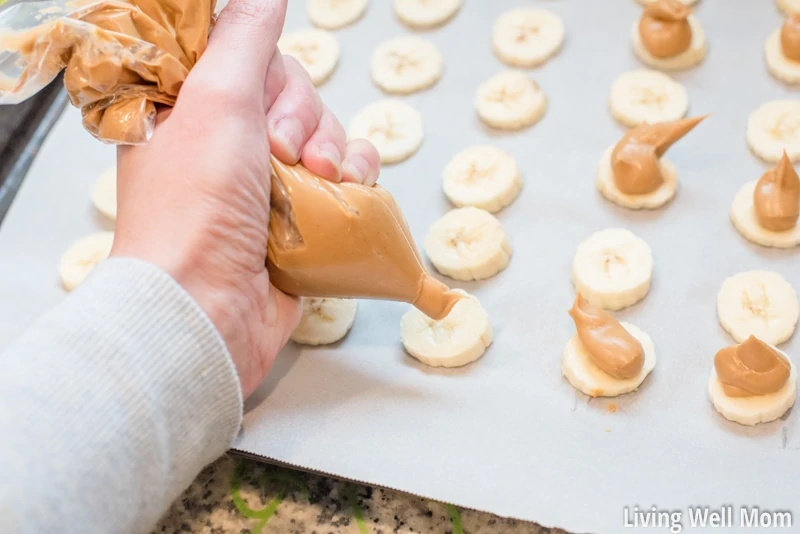 Top each dollop of peanut butter with a banana slice, making a little a "sandwich." Even little helpers will love to help with this part!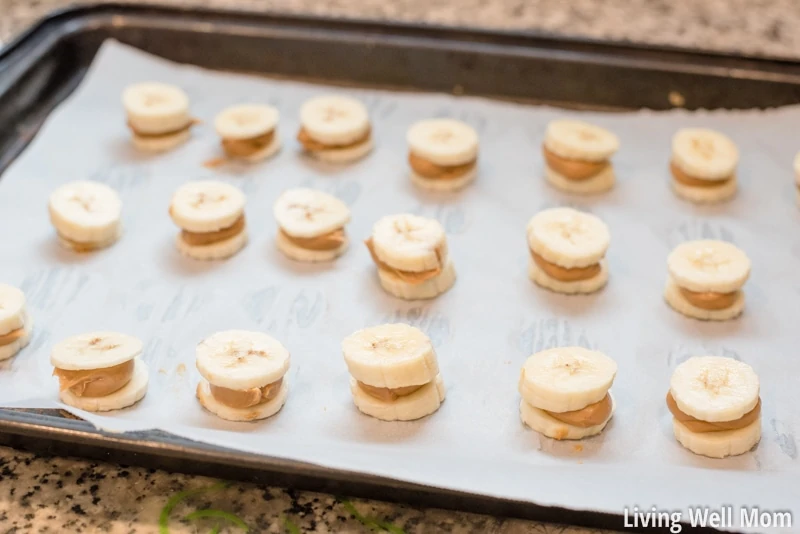 Now you can stop here and enjoy a simple peanut butter and banana snack. Or tell your kids you're making "Chunky Monkey Bites" and wait just a bit longer!
This next step is important: freeze the banana sandwiches for at least 30 minutes, preferably an hour. This will allow the chocolate to stick to the bananas vs sliding off like it will if your bananas are room temperature.
When the bananas are almost ready to use, melt the chocolate with just a little bit of coconut oil, about 1 teaspoon. This helps thin the chocolate a little, making it easier to use.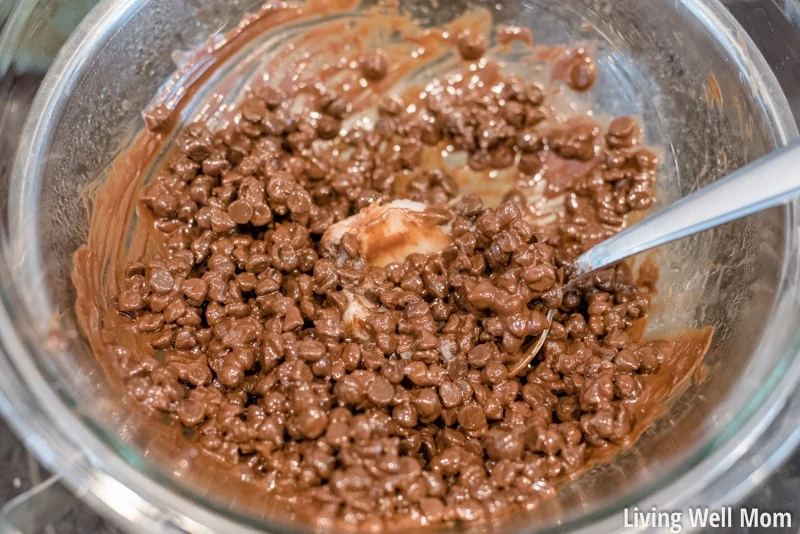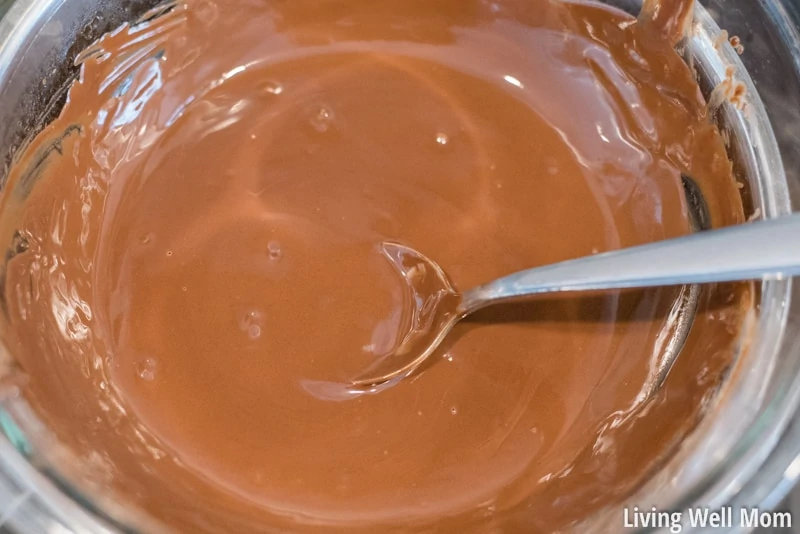 When your bananas are ready, use a fork to dip each piece into the chocolate. You should probably do the chocolate dipping, though your little helpers will be happy to help you lick out the chocolate bowl when you're done!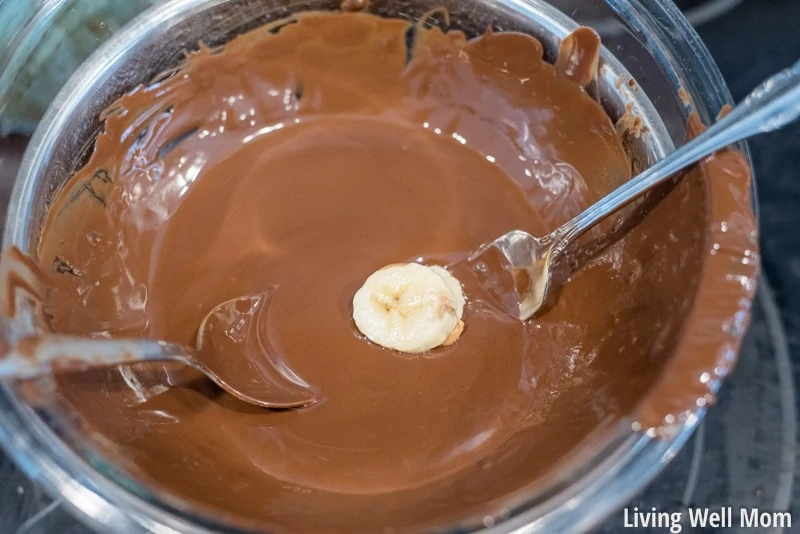 Return to the parchment paper sheet.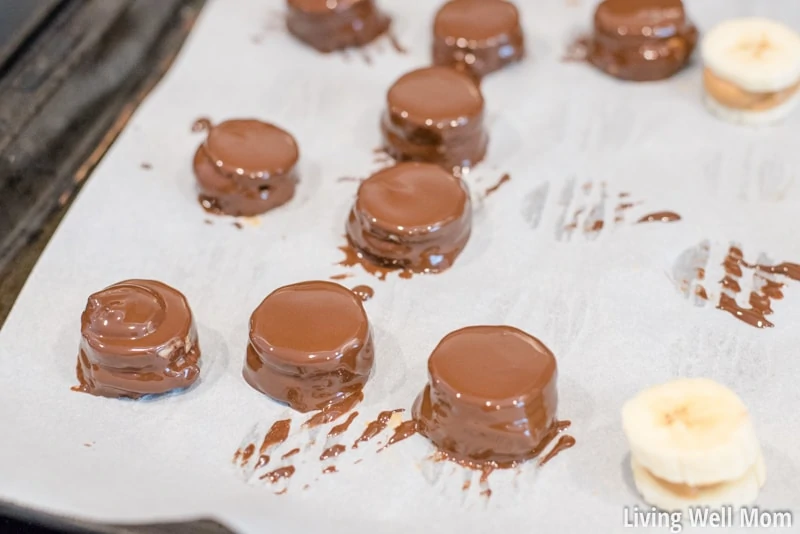 Freeze again for another hour or so until the bananas are hardened.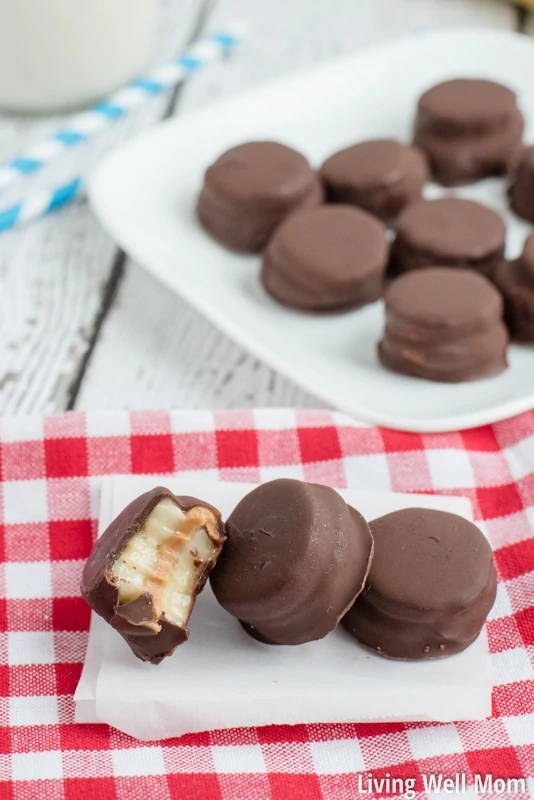 You will need to keep your Chunky Monkey Bites cold or the banana will try to separate from the chocolate, making a bit of a mess. They'll still taste good, but they won't look as nice.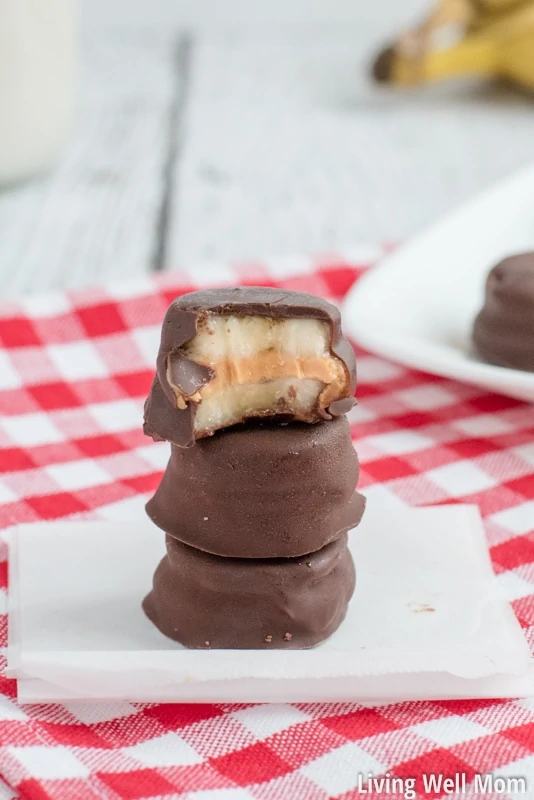 Print
Chunky Monkey Bites
With chocolate, peanut butter, and banana, tasty Chunky Monkey Bites are a hit with kids and perfect for a less-processed treat or even an after-school snack.
Author:
Prep Time:

20 mins

Total Time:

20 mins

Yield: approx

18

pieces

1

x
2

bananas

1/3 cup

peanut butter

1

pkg (10-12 oz) chocolate chips

1 tsp

coconut oil
Instructions
Slice the bananas into medium-sized pieces and place on a parchment paper-covered baking sheet.
Add a small amount of peanut butter to every other banana piece, then sandwich together.
Freeze for at least 30 minutes.
In the meantime, melt the chocolate chips with the coconut oil.
When the bananas are chilled, dip each banana "bite" into the chocolate.
Return to the parchment paper and chill again until the bites are solid.
Keep in the refrigerator.