This natural tick repellent for dogs will keep your furry friends sane and itch-free this year. This essential oil blend is a mess-free spray that will keep your dog happy and healthy.
Got ticks? Those little blood-suckers can be a real pain for dogs and us as their humans. Luckily, there's a very simple all-natural tick repellent for dogs that's effective at keeping those pests away.
Erika Bragdon is a Certified Essential Oil Coach from the Essential Oil Institute.
The Dangers of Ticks
Bailey is our long-haired black cocker spaniel and as you can imagine, it's not easy to spot ticks on him until they're already embedded and large. (Yuck!) We also have another sweet dog named Skippy.
And because we live in the woods of New Hampshire, we are in prime tick and Lyme country; ticks are ABUNDANT around here.
Ticks are not only a nuisance, but they can carry disease pathogens that are harmful to both humans AND pets. A few include:
These diseases can be serious and life-altering. Needless to say, you don't want ticks brought into your home whether it's on your pet or you. That's why I ALWAYS use a natural flea and tick repellent for dogs when we go hike.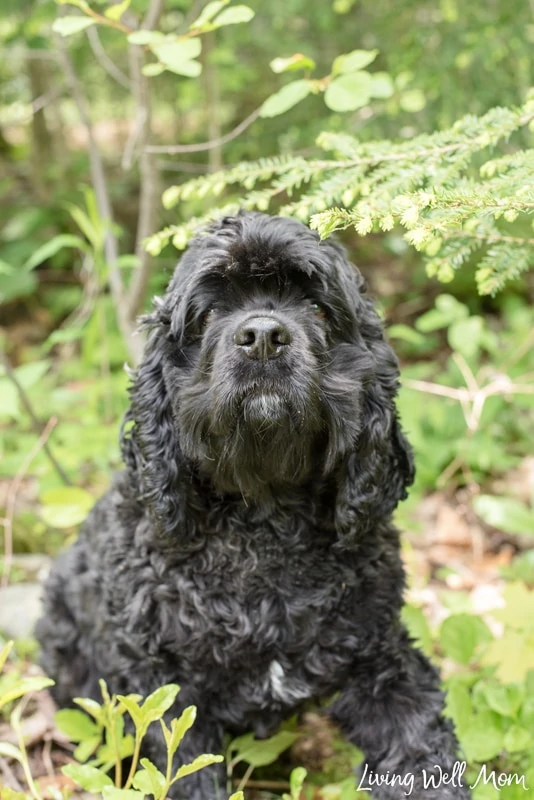 Natural Tick Repellent for Dogs
I try to avoid using chemical flea and tick repellents because of the potentially toxic ingredients. They're not something I'm comfortable putting on my dogs, especially when my children love to snuggle with our animals.
Fortunately, there are some all-natural options that work very well without the chemicals.
I've been using this natural tick repellent for dogs for several years now and it really works.
Please read my Essential Oil Common Sense Safety page before using this essential oil recipe. I am not a medical professional or a veterinarian and the information presented here is merely for educational purposes and not intended to replace medical advice. It is your responsibility to do your own research, consult with your doctor, or in this case – your vet – and make safe decisions for yourself and your family.
Rose Geranium Oil for Ticks
I use a quick and easy essential oil tick spray for my dogs. It includes 4 simple ingredients and it works really well for us.
The key ingredient is Geranium essential oil. It's also called Rose Geranium essential oil.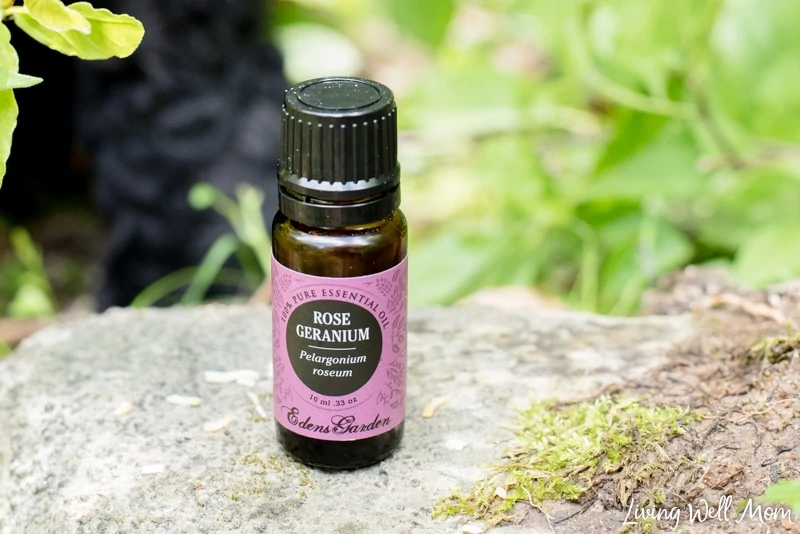 Did you know you can use rose geranium to repel ticks from people, including kids, too? Read more about that here.
Geranium oil (specifically the species, Pelargonium graveolens) has been shown in studies to be just as effective at keeping ticks away as DEET.
The Latin or scientific name is important here – that's the Pelargonium graveolens part. Some essential oils are labeled Rose Geranium while others are just plain Geranium. That's where the Latin name is key.
I have used both of these brands with great results.
From a cost comparison perspective, Rocky Mountain Oil has a better deal.
I have not used other brands and I can't attest to their effectiveness. I've heard that some people have had mixed results with the NOW brand.
For more cost comparisons with popular essential oil brands:
Grab this free price per drop comparison sheet here (comparing 60+ popular oils across 5 different brands.)

2020 Update and Recommendation:
The last two years have been horrendous for ticks. They are worse than ever and this year, they are predicted to be even worse (I didn't think that was possible) due to a milder winter. Fun times! (Nope!)
I came up with a different method of using essential oils as a natural tick repellent for my dogs. A homemade tick SPRAY using geranium and cedarwood essential oils. (Scroll down for the easy recipe.)
I used to drop 1-2 drops of geranium essential oil directly onto my dog's back between his shoulder blades (like the chemical repellents recommend) and it worked pretty well. My vet had okayed that too.
But as I've learned more about essential oils and earned my certification as an essential oil coach (independent of any essential oil company), I've taken a different approach for 2 reasons:
I'm no longer comfortable putting essential oils – even a mild gentle oil like geranium – directly onto my dog's skin. This is because essential oils are very potent and I believe there are safer, just as effective ways to use the oils
I had to apply the oil onto his back almost every day for this to be effective. Again I am no longer comfortable doing that.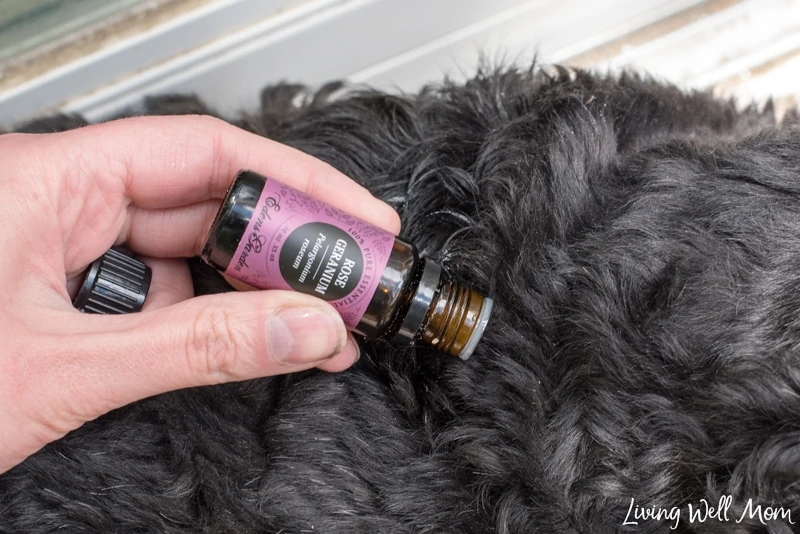 Instead, I use and recommend making this simple DIY tick spray for dogs with just 4 ingredients.
DIY Natural Tick Repellent for Dogs:
This spray is gentle yet effective thanks to a custom blend of ingredients. Keep your pet (and your family) tick-free with a few spritzes a day!
Important Safety Notes:
#1 Do NOT use this tick spray for cats. Cats are VERY sensitive to essential oils and it is NOT safe for cats.
It is okay to spray this on your dog if you have cats, just don't spray it ON or right near your cat.
#2 Please check with your own vet (preferably a holistic vet as they would understand natural methods, including essential oils more thoroughly) and do your own research before using this or any essential oils on your pet. And always use common sense. Remember essential oils are very potent!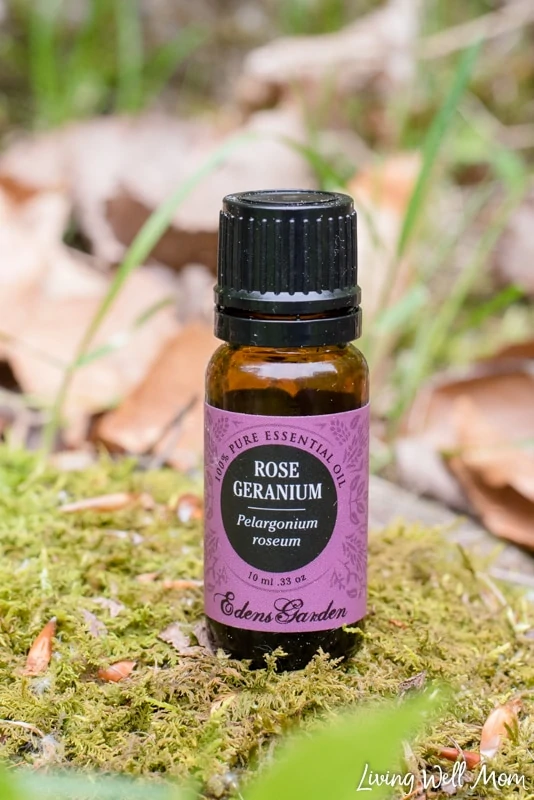 DIY Tick Spray Ingredients
You will need:
4 oz (or larger) spray bottle (this is the one I used in the photos)
water (distilled, filtered, or spring water is best)
*Did you know that apple cider vinegar by itself can help repel ticks?
Note: I decided not to use any coconut oil or other emulsifiers with this recipe as I didn't want to deal with any oily messes on my dogs' fur. You will need to shake this tick spray well before each use to mix up the essential oils.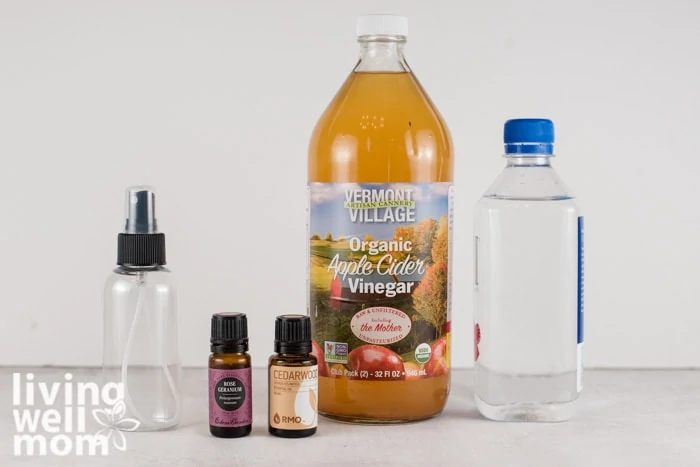 Step by Step Directions for the Natural Tick Repellent for Dogs
Here's how you can make an effective tick repellent for dogs. You'll be surprised at how quickly it comes together—and how well it works. You can also scroll down below and watch the video too!
Step #1 Add apple cider vinegar
Fill the spray bottle approximately 1/3 of the way with apple cider vinegar. You don't have to measure or be exact.
Step #2 Add the essential oils
Add 10 drops geranium essential oil…
…then 5 drops cedarwood essential oil. If you have a larger spray bottle, increase the number of drops accordingly. So if you have an 8 oz bottle, use 20 drops geranium and 10 drops cedarwood, etc.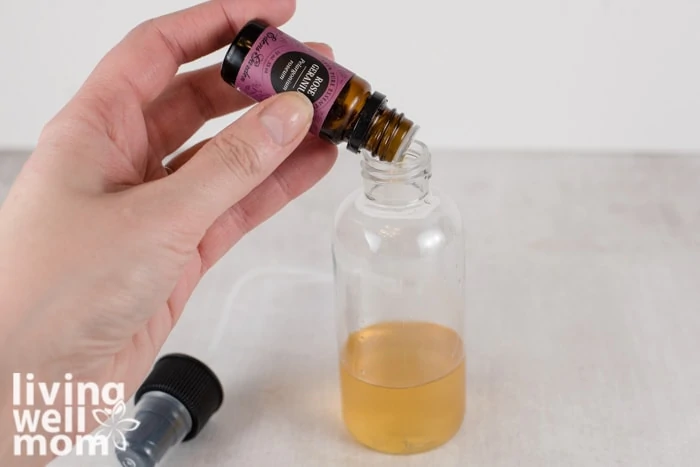 Step #3 Add water
Fill the rest of the bottle with water, leaving enough room for the cap.
Step #4 Cap and shake well
Shake well before each use.
Bug Repelling Essential ↓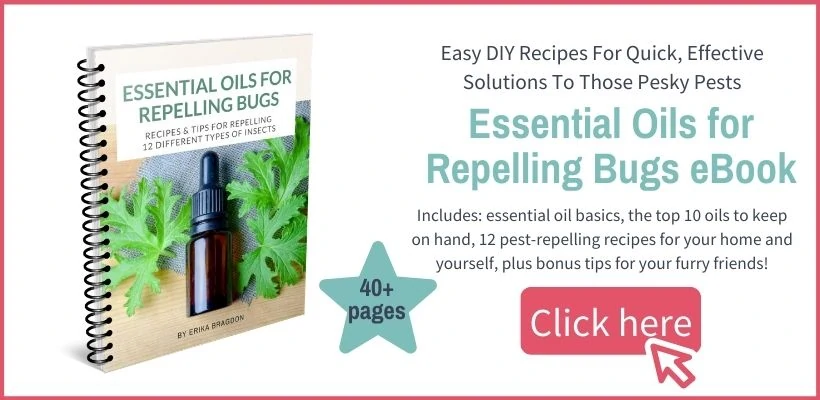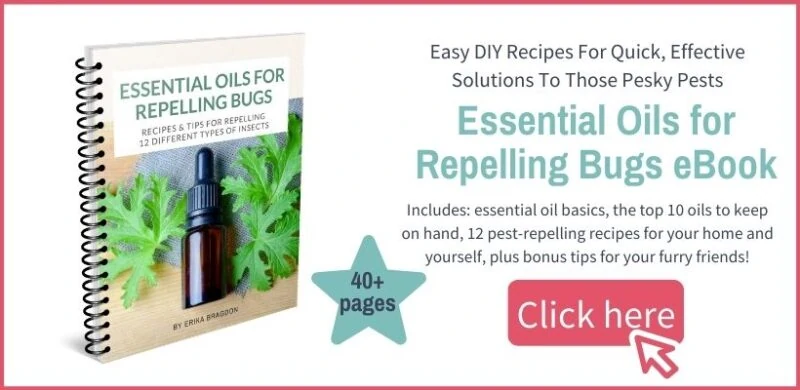 Optional, get this free printable label and attach using clear packing tape: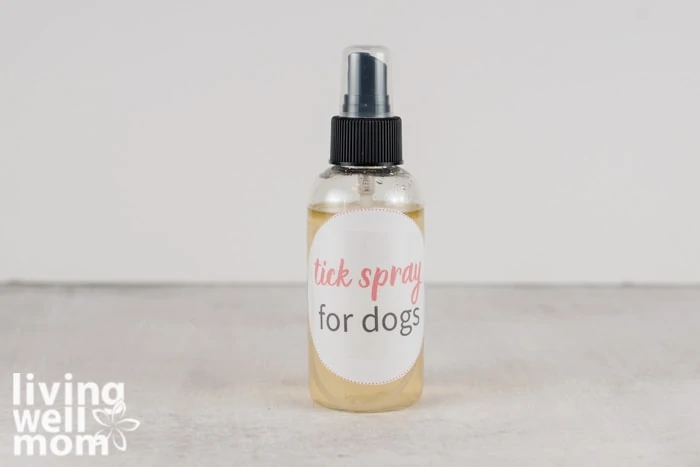 DIY Tick Spray for Dogs Video Tutorial
How to Use this Tick Spray for Dogs:
This tick spray has worked very well for our dogs. It works best when you apply it every 3-4 days.
We can usually go 3-4 days between sprays before we start noticing ticks on our dogs.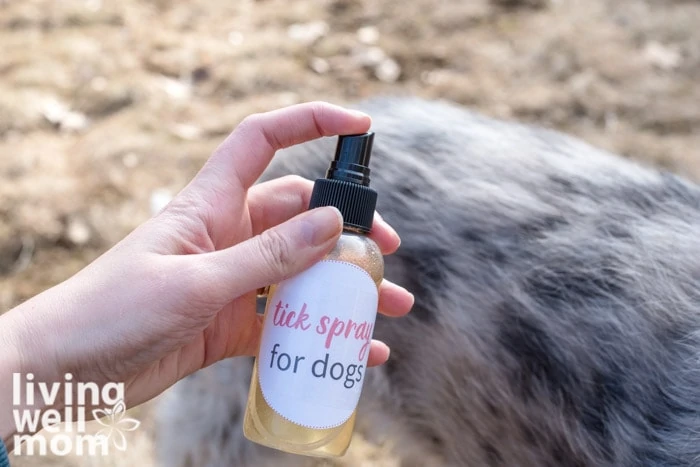 If your dog is only occasionally exposed to ticks – maybe you go hiking on the weekends, then you can spray this on him/her beforehand.
I spray my dogs' paws, legs, under their bellies, and backs.
Do not spray around your dog's eyes, ears, or nose. Avoid his/her face.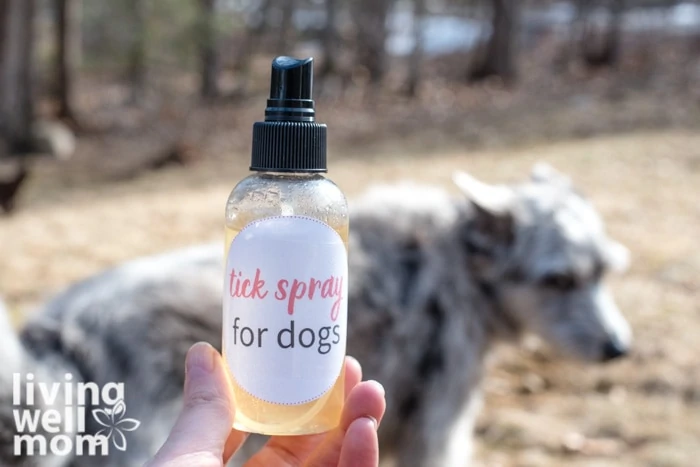 I hope this simple all-natural tick repellent helps your dog as much as it has helped us!

Remember to use the rose geranium oil frequently for the best all-natural tick protection.
Want to find out how to make a DIY Natural Essential Oil Tick Repellent for kids and adults too? I'll show you how to make it as both a spray and roller bottle! Click here.
Pin any of the images to save the repellent recipe for later!