While it has always been recommended to wash produce before you eat it, the events of the last year have made us all reexamine our disinfecting habits. Thankfully it's easy to keep your food safe with this DIY fruit and vegetable wash!
DIY Fruit and Vegetable Wash
Pesticide residue on fruits and vegetables can be a concern when buying all organic is not an option (or affordable), as it is for most of us. But there is a simple home solution to help with this – a homemade fruit and veggie wash is simple to make and can help remove dirt, bacteria, wax, and pesticides easily.
Today I'll show you how to make your produce wash that is cheap and more affordable than store-bought versions and works well.
There are three different ways to make your DIY fruit or veggie washes, including a spray recipe and two different veggie wash soaks. I prefer the produce wash soak but have friends who love the spray. Whichever you pick, it works perfectly!
Why can't I just use water?
If you concerned about washing off extra pesticides or the wax coating you find on many fruits and veggies, then you need something stronger than just tap water.
The acetic acid in the vinegar, along with the citric acid in the lemon essential oil or lemon juice will help remove pesticides, along with dirt, bacteria, or wax. You won't find that with water alone.
Disclaimer: we're not a professional lab and unfortunately can't show you scientific proof as to exactly how effective these homemade fruit and veggie washes are, however, based on our research on the ingredients we are using, I am comfortable stating that they are more effective than water alone.

Do I need to wash every fruit and vegetable?
In a word, yes. However, some produce has been proven to be more contaminated with pesticides than others. If you want a list of places to really focus your cleaning efforts on, I'd suggest starting with the Dirty Dozen.
2021 Dirty Dozen Produce List
While just about all non-organic produce includes some level of pesticides, this 2021 Dirty Dozen list usually contains the MOST pesticides.
This list includes (in order from the most to the least):
Strawberries
Spinach
Kale/Collard/Mustard greens
Nectarines
Apples
Grapes
Cherries
Peaches
Pears
Bell and hot peppers
Celery
Tomatoes
Some people will choose to buy organic fruits and vegetables on the dirty dozen list to minimize pesticide exposure and buy regular produce for everything else. Whether you choose to do that or simply buy regular produce all around (because organic is often VERY expensive for some things), this natural veggie wash can help.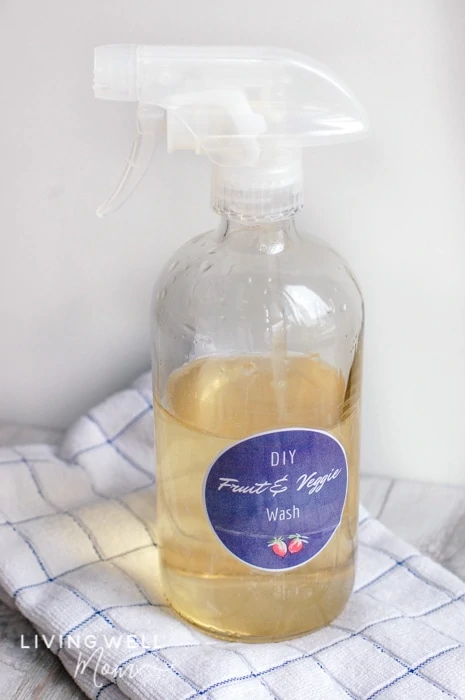 Remember, I'm going to show you three different methods to keep your produce clean. Choose whichever works best for your family!
Recipe #1 – Fruit and Vegetable Wash Spray
Ingredients Needed:
How to Make the Produce Spray
This homemade produce spray is very easy to make. Here's how you do it:
Step 1. Add the ingredients to a glass spray.
Vinegar, water, and lemon essential oil.
If you don't have any lemon essential oil, you can substitute lemon juice instead.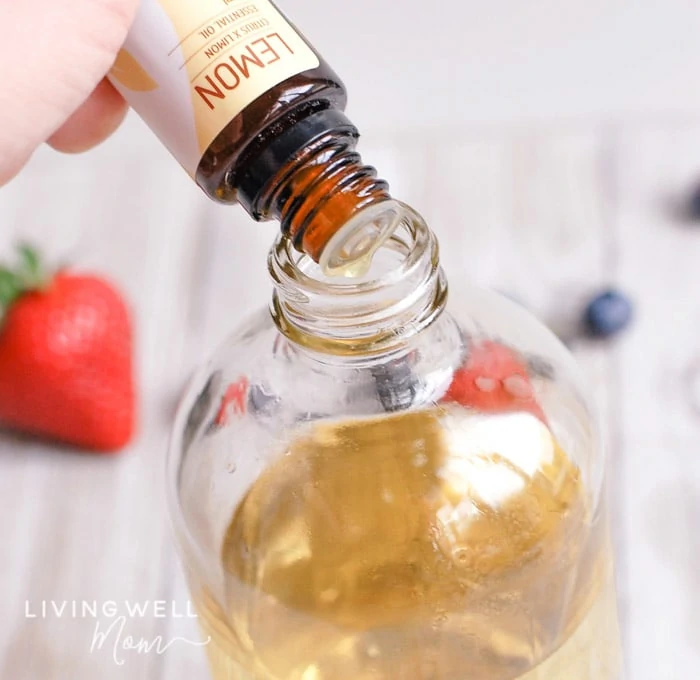 Optional Step – download your free printable fruit & veggie wash label when you join my email list here:
https://f.convertkit.com/f2e8528968/ff2f96154c.js
Step 2. Shake well
When all three ingredients are added to your bottle, you can gently shake it and its ready to use!
Step 3. Spray your produce
Allow it to sit for 10-15 minutes on the counter.
Step 4. Rinse in cold water.
Then rinse again in cold water and your fruits and veggies are ready to eat or prepare!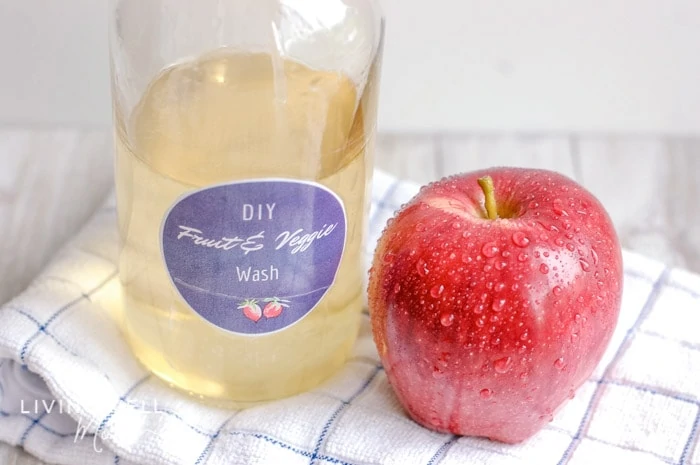 Recipe #2 DIY Fruit & Vegetable Wash Soak
This is a simple produce soak that allows you to keep your foods squeaky clean.
What you'll need:
How to Make this Soak
Step 1: Fill your bowl with a ratio of 3:1 water to vinegar.
Add vinegar (apple cider or white) and water.
Step 2: Add lemon essential oil or lemon juice
lemon essential oil or lemon juice.
Step 3: Add your fruits or vegetables to the bowl
Step 4: Allow your produce to soak for 10-15 minutes
Don't step this step! It's crucial!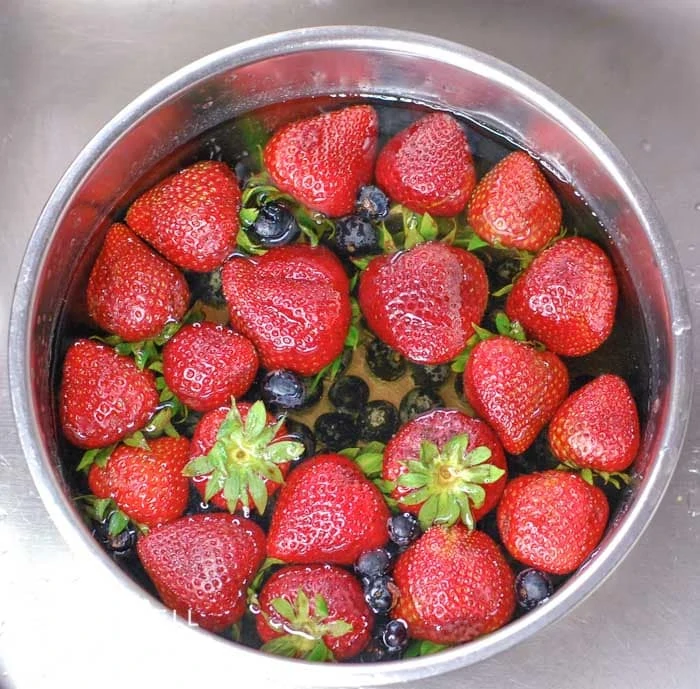 Step 5: Rinse your produce well
After your produce has soaked, gently pour it into a strainer and rinse well with cold tap water. An even better trick would be to find a strainer that fits into your bowl, so you can soak your produce in the strainer, and then just lift it out of the soak to rinse.
Recipe #3 – Homemade Fruit and Vegetable Wash Soap
This last method uses baking soda and salt to help you exfoliate off all those potential germs!
What You'll Need: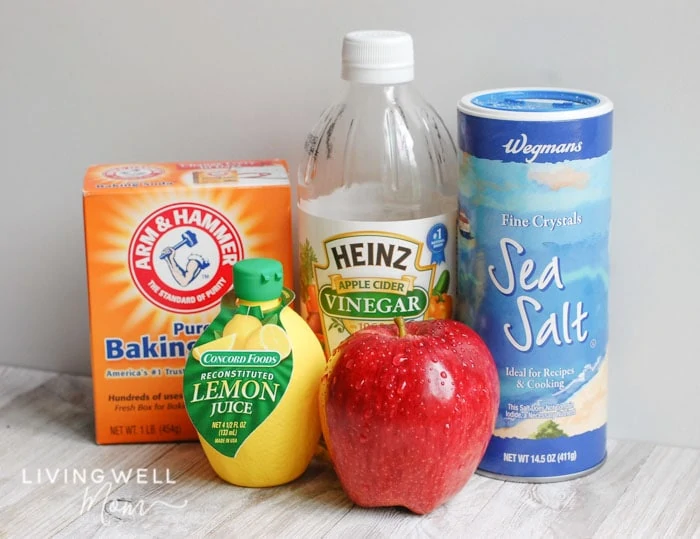 Step by Step Directions
Step 1: Add vinegar, salt, lemon essential oil or lemon juice, and baking soda into a large mixing bowl
I prefer making using this scrub in a bowl rather than a sink – I'll explain more below about why.
Step 2: Fill your bowl with water.
Step 3: Stir
..until the ingredients are well mixed and the baking soda and salt is dissolved
Step 4: Add your fruits and vegetables
Allow your produce to soak for 10-15 minutes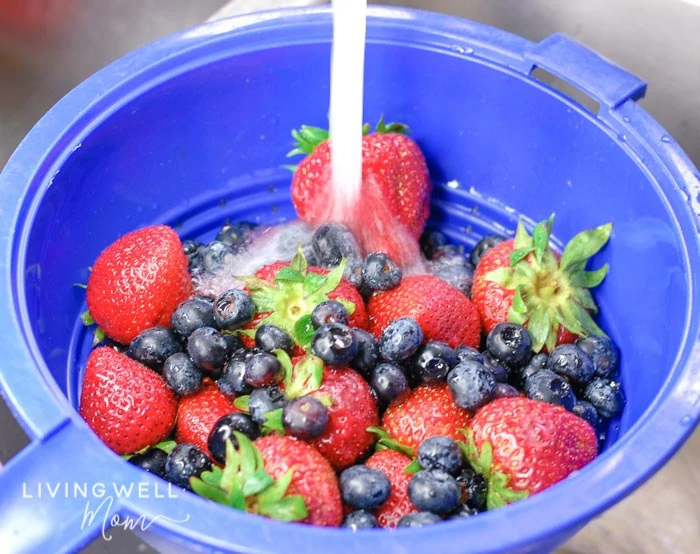 **Note that we are using a bowl for this natural fruit and veggie wash, instead of filling the sink.
First, your sink is the dirtiest place in the kitchen, so you'd have to fully scrub it clean before you try and clean your produce in it. Second, you would end up using more vinegar since the volume inside a sink is much larger than just using a mixing bowl – and that's just a waste.
Plus you can save your produce wash and use it over and over in a day and it won't tie up your sink space.
#5 Rinse your produce well
Once your fruit or veggies are well rinsed, either dry them off with a towel or let them air dry on a towel. For small or delicate fruit like berries, it's easiest to just let them air dry on a towel. Keep in mind that the berries can also leave stains, so its best to use a towel that you don't mind if it gets some fruit juice on it that could possibly stain.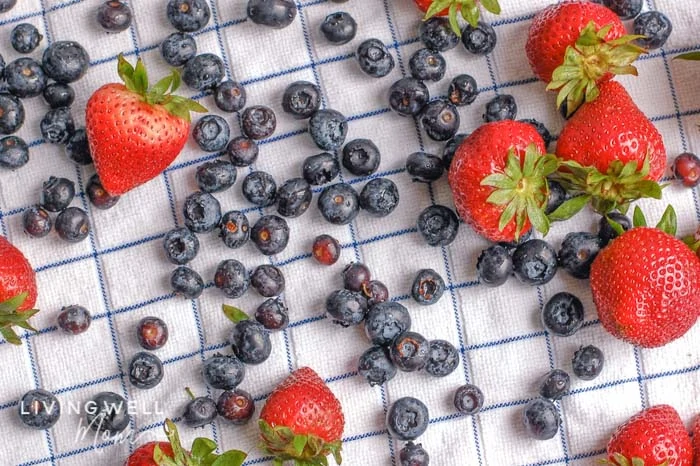 Now that you see just how easy it is to make your own homemade fruit and veggie wash, be sure to get some more vinegar next time you are at the store and have your lemon essential oil close by! By doing this, you can keep those fruits and veggies cleaner, with fewer pesticides, and ready to eat!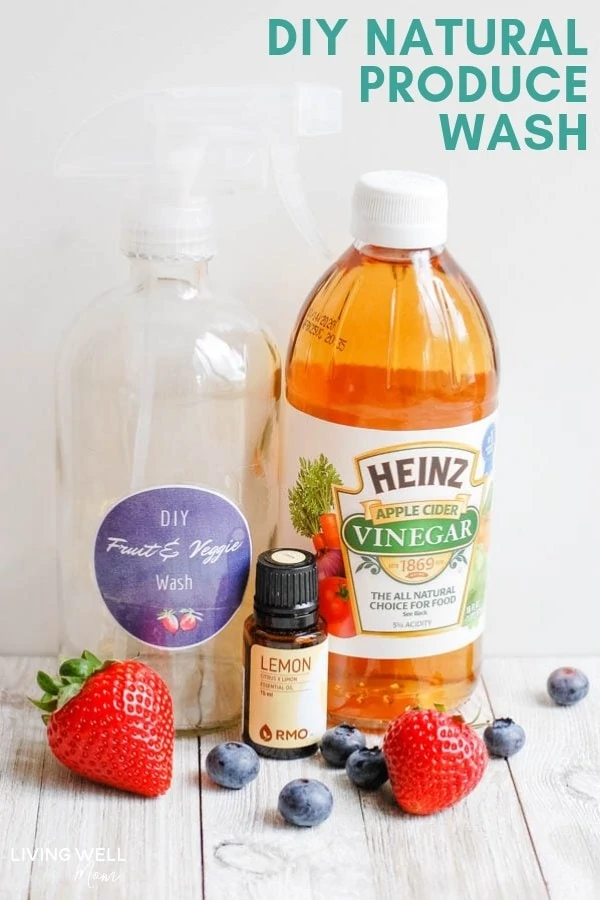 Which Essential Oil Brand is Best?
For the best results, you will want to choose a high-quality essential oil brand that is 100% pure and offers third-party testing for quality control. Read this post for more info on how to choose essential oils that work for you and your family (beyond the brand.)
My favorite essential oil company is Rocky Mountain Oils, followed by Eden's Garden, and Ancient Apothecary by Dr. Axe
.
More Posts about Cleaning with Essential Oils:
Print
Natural Fruit and Veggie Wash Soak + Spray
Clean your produce naturally with one of 3 easy-to-make, frugal homemade fruit and vegetable wash recipes using common household ingredients including vinegar and optional essential oils. Helps remove pesticides, dirt, and wax for cleaner produce.
Fruit & Veggie Wash Spray
Produce Wash Soak #1
Produce Wash Soak #2
Instructions
Spray Instructions:
Add the ingredients to a spray bottle. Shake well before using. Spray your produce and allow it to sit for 10-15 minutes. Rinse in cold water before using.
Produce Soak Instructions
Add ingredients to a large mixing bowl. Place your produce into the bowl. Let it soak in for 10-15 minutes. Rinse your produce well before eating or setting aside for later.
Pin the image to save the recipes for later.